Festival Diary, Day One: 'The Book of Henry' Premieres and Americans Prove They Know How to Party
Each day through the end 2017 LA Film Festival, Film Independent blog correspondent Cortney Matz will be recording her experiences and offering an insider's perspective on how to enjoy this year's festivities.
OPENING NIGHT
Everyone is so excited. Everyone. The crowds of people milling outside the ArcLight Culver City. The yellow-clad festival volunteers. The packed theater(s) full of people waiting to take in the first film of the 2017 LA Film Festival, all faintly humming with the same electrical undercurrent. The fancy folks in slick duds, the shop talk, the passersby wondering what's happening. Everyone is excited—and so are we.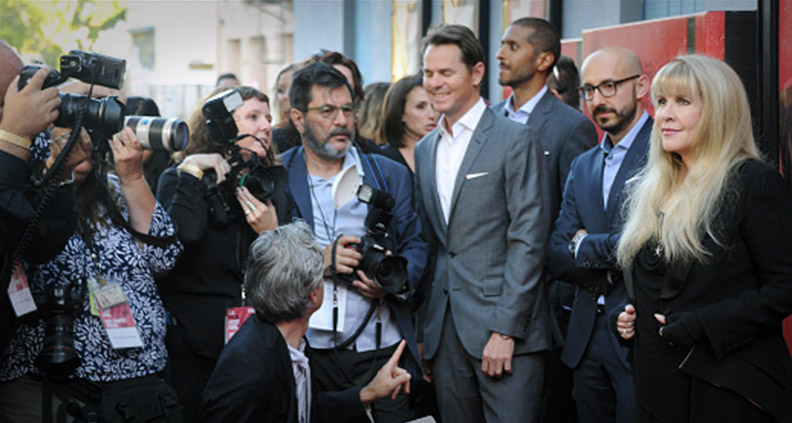 It's only 7pm on June 14—Day One, Opening Night—but we battle traffic, find parking and navigate the Culver Studios maze to find Theater 2 and claim our seats. We bless each yellow t-shirt we see, because Volunteers are like an interactive GPS: human road signs, smiling and attentive, helping us get to our show on time. We're blown away by the beauty, quirk and gripping drama of Festival opener The Book of Henry, starring Naomi Watts and directed by Colin Trevorrow. We laugh at the precocious innocence of 11-year-old Henry (Jaeden Lieberer) and feel his outrage that the world is a broken place, and that so few people want to do anything about it.
We sit silently as the credits roll, marveling at how genre-defying, singular and independent the film is. Feeling warm and welcome, we settle a little more cozily into the role of "indie filmmaker" that we already identify with. We prevail on strangers to take pictures of us in front of the step-and-repeat—which actually turn out pretty good! After Instagram has a chance to agree, we find our way to the Festival Lawn for the after party, where crowds swoop in on tables of fancy food and hobnob in clusters while the Maker's Mark bartenders hustle to mix drinks and the DJ fills the air with a groove.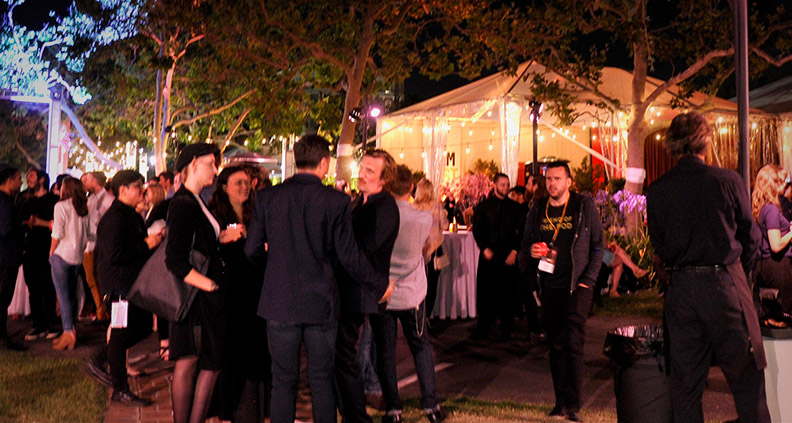 We see some friends, acquaintances and people we work with. But above all, we meet some new friends, acquaintances and people to work with (among them some Canadians who claim that America has no idea how to party, to which we reluctantly agree). Eventually, we make it over to that photo booth that somehow makes everyone look wonderful—and guess what? We do look wonderful.
Sometime around midnight, the music really starts to get good and we start to dance. Our dancing will influence others to dance, and before you know it even the Canadians are impressed. And we won't be able to believe that it's just the first night.
Watch highlights from Opening Night below:
The 2017 LA Film Festival is currently underway, June 14—22, headquartered at the ArcLight Cinemas Culver City, with additional screenings at ArcLight Hollywood, ArcLight Santa Monica, LACMA and The Theatre at Ace Hotel. Check out the Festival Guide here.
Stay tuned to our Twitter, Facebook and Instagram for the latest new additions and updates. And don't forget to subscribe to our YouTube channel for more exciting announcements. Tickets and passes are on sale now.
Sold out screenings? Get in with a Festival pass. In addition to screenings and special events (even when sold out) Festival passes provide entry to our super-fun Festival Lounge, featuring a 21+ hosted bar and the opportunity to rub shoulders with Festival filmmakers and other film industry professionals. Buy yours. Film Independent Members save up to 25%.
(Header: L-R, The Book of Henry's Bobby Moynihan, Jacob Tremblay, director Colin Trevorrow, Dean Norris and Jaeden Lieberer)