Lena Vurma on Winning the Sloan Distribution Grant and the 'Math' Behind a Successful 2020 Release
Lena Vurma is a Berlin-based Swiss producer, Film Independent Fellow and recipient of Film Independent's 2020 Alfred P. Sloan Distribution Grant for her current film Adventures of a Mathematician, an award-winning German-British-Polish co-production. The film premiered 2020 at Palm Springs IFF and will be released in the US by Samuel Goldwyn 2021.
In this special guest post, Vurma talks about what it was like to release a film during this very weird, very challenging pandemic year—and how Fi's Sloan Distribution Grant helped. Learn more about Alfred P. Sloan grants here.
***
Based on Stanislaw M. Ulam's autobiography of the same name, Adventures of a Mathematician is the thought-provoking story of a Jewish-Polish mathematician who, in the 1930s, flees to the US, where he helps to build the world's first nuclear bombs in an attempt to save his family back home in Europe.
The film is an emotional journey, taking viewers on back to the age when science lost its innocence, ultimately shaping the world we live in today. As filmmakers we strove to present a fresh take on the history of the 1940s and '50s and draw many parallels to the challenges of present day, all through the story of an immigrant confronted by the breakdown civilized European while simultaneously working to create a new world.
Our director Thor Klein uses atomic weaponry, science and the backdrop of the emerging Cold War situation to mirror Stan's innermost feelings. The pressure-issue of the bomb reflects Stan's physical condition, and the contradictory equation "building bombs to make the world safer" is expressed in his unhealthy inner psychological balance.
Despite their powerful intellects these mathematicians must face their emotions. Even the power of the genius to daydream, and to intellectualize everything, can't overcome the guilt that follows Hiroshima.
Adventures of a Mathematician is a German-British-Polish co-production supported by government funds, tax credits, private equity and grants—among them two Film Independent Alfred P. Sloan grants for Production and Distribution.
As lead producer of Mathematician, I started working on the film in Fall 2015, when I optioned Ulam's autobiography.
It would require a whole extra case study just talking about the financing and making of the film—maybe I'll get the chance to do this another time. But here, I want to focus on the special year that was 2020 and how our film was able to build momentum and generate sales despite not having the planned festival year.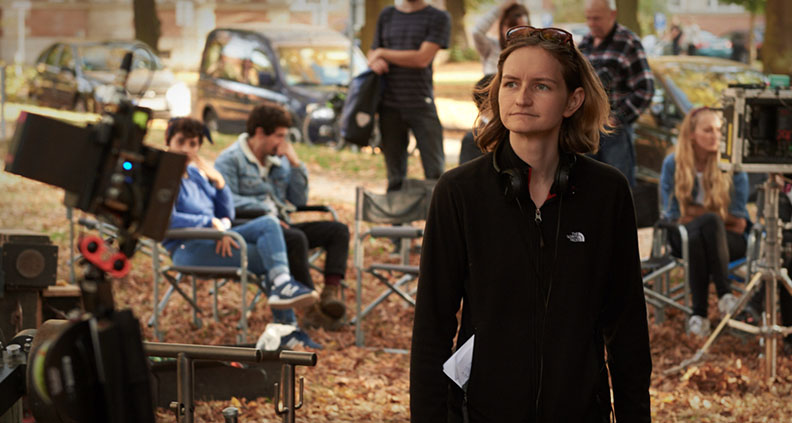 Being a young team, we were running on a tight budget for a period piece. Thanks to the many sacrifices of our whole cast and crew, we were able to shoot the film in fall 2018 in Germany and Poland, with a small second unit in New Mexico and post-production in 2019 in the UK.
Due to the nature of the story, our goal was to premiere at a North American film festival, and from there take the film to Europe. Once we knew we wouldn't be in the final selection of Toronto or Sundance, and with Palm Springs IFF loving our film, we decided to premiere there in January 2020 instead of waiting for a festival later in the year—a blessing in disguise as we all know now.
The premiere was a big success, with sold out screenings and the festival even accommodating more screens for the audience overflow. Lili Rodriguez, Palm Springs' Artistic Director, wrote about the film: "With a deftly calculated script that recalls Greek theater, and gorgeous, period-perfect production design, Adventures of a Mathematician gives audiences a unique look at the private life of an incredible mind and a truly explosive time in world history."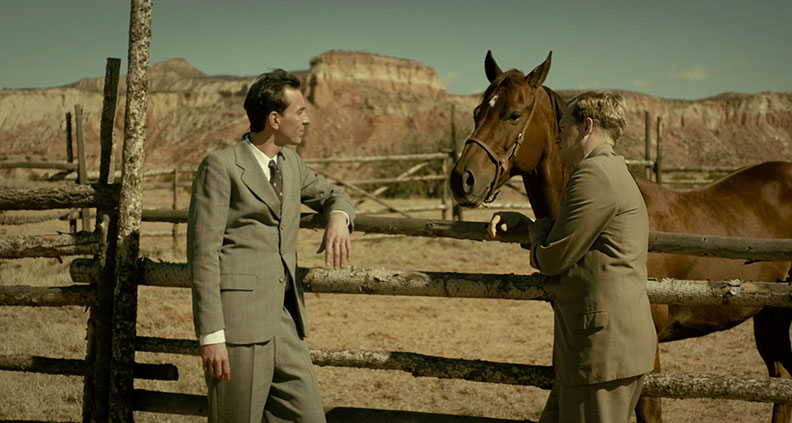 Thanks to our publicist Alma Parvizian, we got a nice review by the Hollywood Reporter, describing the film as "a compelling look at the dawn of the nuclear age." Our world sales agent IndieSales then showed our film at the European Film Market during Berlinale to international buyers. It garnered a lot of interest and entered a first round of negotiations for acquisition when the process interrupted by the closing of cinemas worldwide due to COVID-19 and the insecurity that hit about the future of the film industry.
Everyone—including us—had to re-think strategies and possibilities of how to release a film within the next year and set new priorities.
The first six months, we were hopeful to have physical screenings again after the summer, and did not show the film at any of the festivals that were forced to go online. Only one physical screening that happened, in June in South Korea as the Opening Film of the International Peace Film Festival in Pyeongchang. Although we could not attend, it was a summer highlight.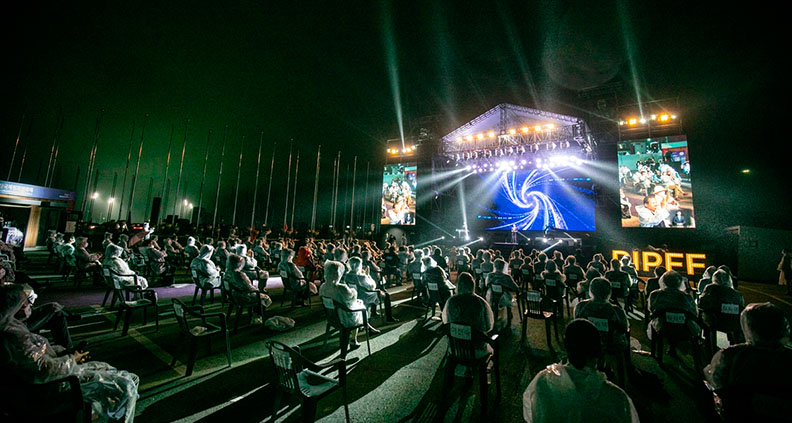 In fall, we realized when our German and Polish festival premieres were postponed—at Film Festival Cottbus and New Horizons Wroclaw—that we needed to change our festival approach and give hand-picked festivals a chance to play us online or in a hybrid version.
The ones we chose gave the best possible experience to their audiences and filmmakers by connecting us through live Q&As. We were especially happy about the hybrid Fort Lauderdale IFF, where we just won the Presidents Award for Best Film and the Audience Award for Best Drama. It is not the same feeling or energy as a room full of people, but it gives us a chance to build a great word of mouth for the film before the releases in the respective countries.
Thanks to the strong topic of the film—a true story that won't get old—IndieSales was able to sell the film for theatrical releases to key territories such as France, Russia, China and many more, besides having already distributors on board in Germany and Poland through our co-production. To sell a film in these times takes much longer than usual, and I'm very thankful that IndieSales keeps the negotiations and follow-ups running by championing our film.
To secure a US deal for a European film is always tricky. Throw in Coronavirus and it doesn't get any easier. We had several US distributors who were interested in Adventures of a Mathematician—but only once we were able to communicate that the film just won the prestigious Film Independent Alfred P. Sloan Distribution Grant, they came forward with their final offers.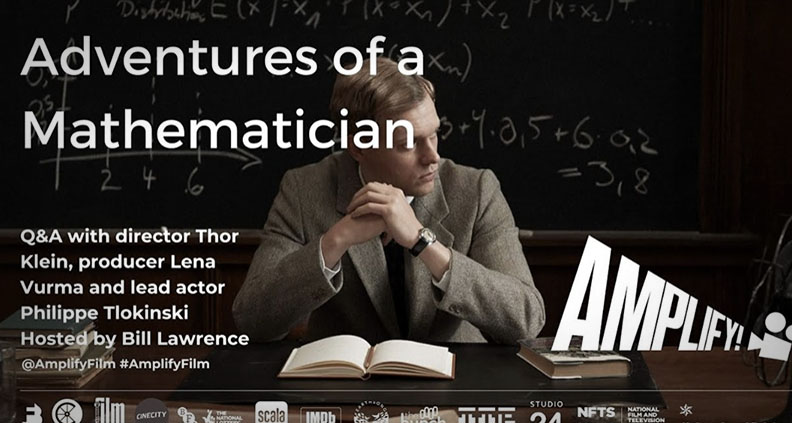 During the lockdown, I was reading, listening and observing closely the change of release strategies internationally and in the US. I learned a lot about virtual cinemas, hybrid releases, marketing and how to apply all of it to our film. This re-thinking and keeping an open mind for new paths also convinced Film Independent, who picked our film in the end for their once-a-year Distribution Grant.
The grant helped to give the final push to the US deal negotiations, and we're beyond thrilled to work together with Samuel Goldwyn, who have a strong line-up of celebrated European directors they've worked with—Agnieszka Holland, Wim Wenders and Thomas Vinterberg, just to name a few.
We're in close talks now to fine-tune the release strategy and adapt to the ever-changing situation next year. At the moment we aim at a duplex (hybrid) release: keeping the theatrical window for physical (if possible) and mainly virtual cinema. The release will be triggered by some event screenings to get press coverage, followed by a combination of physical theatrical distribution and virtual cinema.
The plan is to connect our film to a very pressing issue: The most important nuclear disarmament agreement between Russia and the US expires in 2021. The compromise that was laboriously reached over decades in the Cold War no longer applies. The US, Russia and China will have to find a new regulation in the next few months. Nuclear disarmament will be a major global issue for the coming year, and our film will be able to show when it all started.
We also aim to expand the audience through carefully selected partnerships and impact campaigns for a community based, mission driven release—such as colleges/ universities, peace movement circles, anti-nuclear groups, science associations, Jewish organizations and the Polish diaspora. Our aim is to create community experiences for the theatrical release with Q&As, introductions and discussion panels including scientists, historians, politicians and educational sessions.
Thor and I also just won the Breakthrough Filmmaker Challenge to shoot a portrait of a mathematician who will get the 2020 Breakthrough Prize. Besides the Nobel Prize and the Fields Medal, Breakthrough is the most important prize to win in the scientific world. We are honored to be associated with the foundation and will screen Adventures of a Mathematician for their members.
Looking back at this fickle year, where we only could attend our world premiere in person and had to be patient more than ever (like everyone else), we still felt we could reap from all the hard work we put into our film: besides winning festival awards, selling the film to key territories, being chosen for the Film Independent Sloan Distribution Grant and a German Distribution Award at Film Festival Cottbus, I also was selected as the recipient of the biggest German newcomer producer award by VGF.
It tells me it is worth to keep on pushing, doing everything you can for your film. And soon, we will be able to be in a room full with other people again and watch Adventures of a Mathematician together and hug afterwards.
Thank you, Sloan and Film Independent, for believing in us from the start.
To learn more about Adventures of a Mathematician visit the film on Facebook or Instagram. For more about Lena Vurma, please visit her IMDb page.
Film Independent Artist Development promotes unique independent voices by helping filmmakers create and advance new work. To become a Member of Film Independent, just click here. To support us with a donation, click here.
More Film Independent…