Festival Spotlight: Six True Life Tales about Musicians and the Music Industry
Believe it or not, the 2018 LA Film Festival kicks off next week. And hopefully by now you've had a chance to peruse our in-depth online guide—a dense tome whose only rival in terms of its brain-frying plethora of tantalizing options is the menu at any given Cheesecake Factory location. Trying to decide what to see can be an intimidating affair, with conflicting first-choice options and the logistical puzzle of negotiating different venues in different parts of the city. The good is, there's no wrong plan of attack. But what's the best option for you?
But just as the Cheesecake Factory has a cheery waiter named "Chet" to walk you through the day's seafood specials, so too are we here to help; devoting a special blog series throughout this penultimate Festival week giving you some choice film recommendations.
Let's talk music. Music—whether the act of performing, creating or selling it—is of course a prime backdrop for drama, especially for documentaries. So! Here now are six documentaries playing at the 2018 LA Film Festival (September 20-28) featuring true-life tales of struggling songbirds and triumphant troubadours that will have you calling "Encore!"
ECHO IN THE CANYON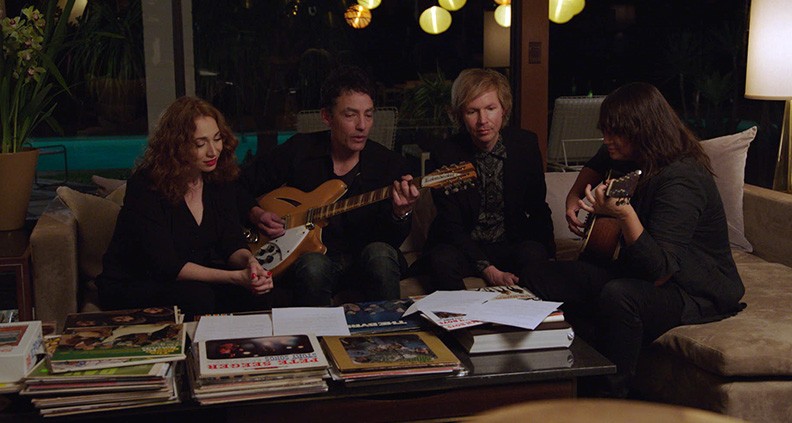 Why We're Excited: Echo In The Canyon explores how The Byrds, The Beach Boys, Buffalo Springfield, and The Mama's and the Papa's birthed the beginnings of the Laurel Canyon music scene and how the echo of these artists' work continues to reverberate. With appearances by Tom Petty, Brian Wilson, Stephen Stills, David Crosby, Graham Nash, Michelle Phillips, Jackson Browne, Ringo Starr, Eric Clapton, Roger McGuinn, John Sebastian, Lou Adler, Jakob Dylan, Norah Jones, Beck, Regina Spektor, Cat Power and others. Executive producer Jakob Dylan journeys to meet those who wrote these iconic songs, uncovering never-before-heard personal details behind the recordings from the very people who made them popular. (Jennifer Cochis)
As our special Opening Night film, the screening will take place at the historic John Anson Ford Amphitheater in Hollywood and will be followed by a live Q&A and musical performance featuring Jakob Dylan and many other of the film's subjects and interviewees.
KATE NASH: UNDERESTIMATE THE GIRL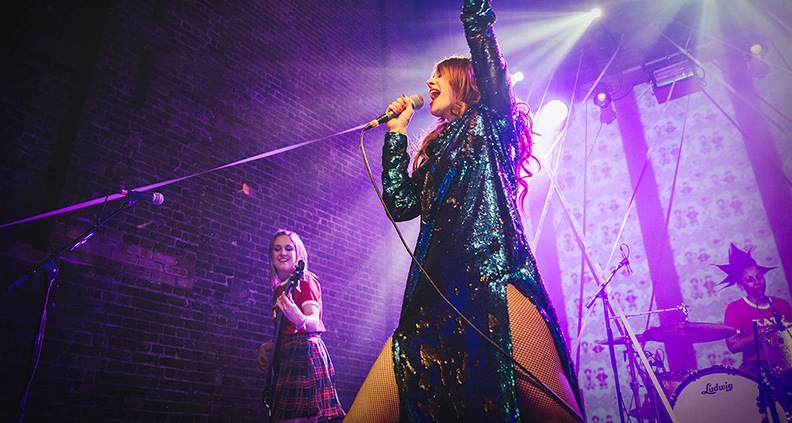 Why We're Excited: Musician and actress Kate Nash (GLOW) offers a vulnerable look at her life during a tumultuous period of creation and change. Starting with her origins on MySpace to her early record label success, tracing through her songwriting process and setting up a home in Los Angeles while ultimately facing betrayal and unexpected setbacks. Throughout, Nash flexes her individuality and bucks against the limiting stereotypes of the industry, her remarkable voice as an artist and as a human continuing to set her apart. (Drea Clark) 
MARIA BY CALLAS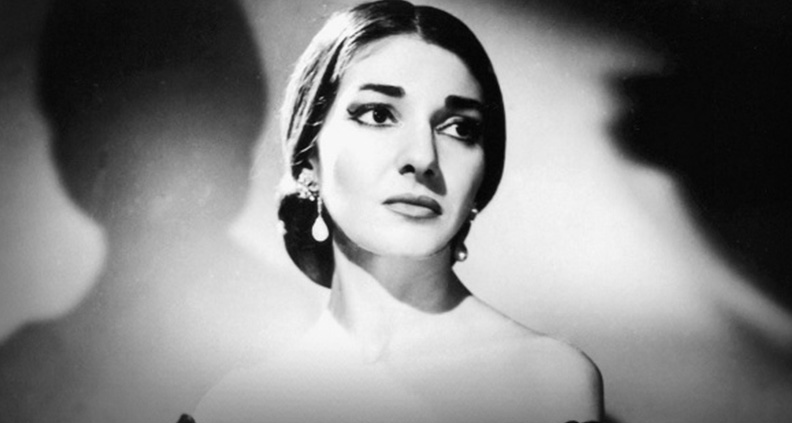 Why We're Excited: From first-time director Tom Volf, Maria by Callas is the definitive doc on the life and work of the Greek-American opera singer. Volf spent nearly five years working on the film, featuring never-before-seen (or heard) footage and unseen live performances. A portrayal of an artist on a quest for perfection who became a global icon, Maria by Callas is the story of a remarkable life told in the first person, revealing a diva as tempestuous as she is vulnerable, a legendary figure, filled with all the emotion expressed by her unique voice.
MR. SOUL!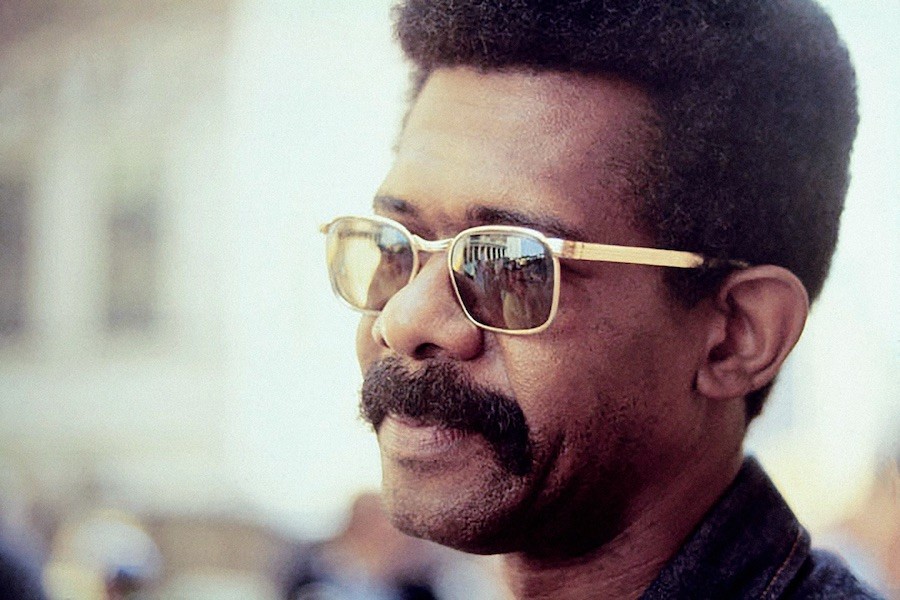 Why We're Excited: From 1968-1973, SOUL! was the first nationally televised all-black variety/entertainment show to be produced and hosted by an openly gay African-American, Ellis Haizlip. At a time of deep racial turmoil, Haizlip gave radical voice to the struggles and successes of the black experience, ushering giants and rising stars of black American culture onto the national stage. Directors Melissa Haizlip and Samuel Pollard skillfully utilize rare archival performances and new interviews to present a vivid portrait of this largely unknown yet enormously influential television series, and of the remarkable man who brought his personal vision of inclusion and social change to broadcast television. (Drea Clark)
STAMMERING BALLAD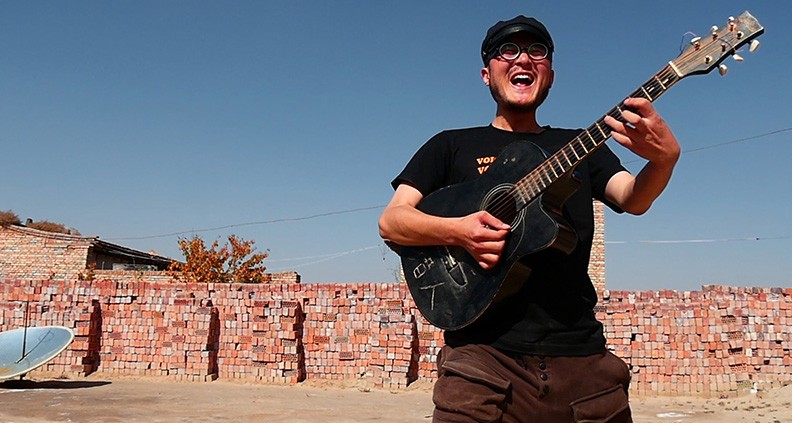 Why We're Excited: Ga Song is a nomadic musician who travels year-round to perform in small bars and clubs, his stutter fading away as soon as he begins to sing. Displaced from his childhood village, most of the singer's family is scattered throughout various areas. Ga Song is caught between two worlds—drawn to the opportunities of the city, but still pulled back to the countryside where his music is rooted. This largely observational film follows Ga Song's journey from urban to rural, from the stage into real life. Nan Zhang's debut feature is a beautiful tapestry of intersecting Chinese landscapes, with stunning vistas, wonderful music and charming subject at its center. (Stephanie Owens)
MUSIC VIDEO PROGRAM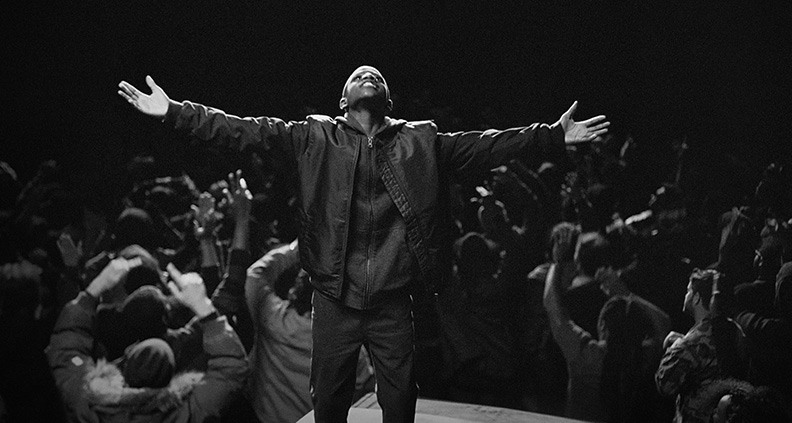 Why We're Excited: A unique, curated selection of 21 groundbreaking music video works running the gamut of visual and aural genres and styles from around the globe. Featuring new works by musical artists including Bobi Andonov, Serj Tankian, Anousheh, Thee Commons, Stam Goody, A Tribe Called Quest, ZHU & Nero, TOULOUSE, The Shins, YACHT, Tune-Yards, Chris Lake, Greenspan ft. Christen B, Rami Fortis, Capital, Rex Orange County, Noah Cyrus x One Bit, alt-J, Save the Emotion, Novo & Ed Tullett and Radiohead.
Individual tickets to screenings and events are available to both Film Independent Members as well as the general public. Festival Passes are currently on sale ass well—see all of our different pass options below: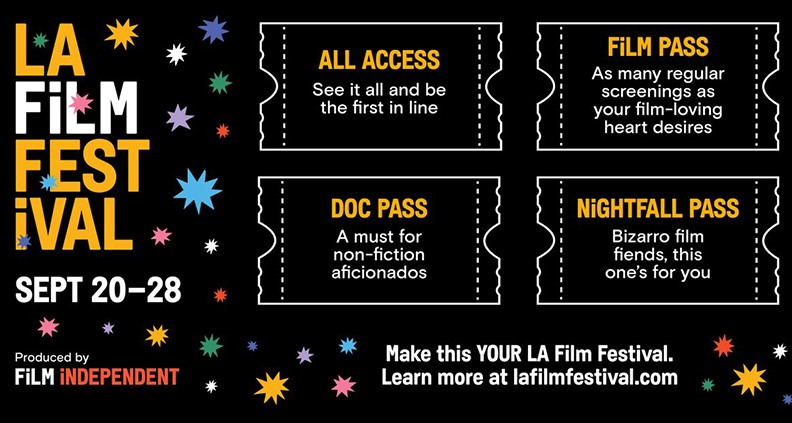 The 2018 LA Film Festival takes place September 20-28. Venues include the ArcLight Cinemas in Culver City, Hollywood and Santa Monica, as well as the new Loyola Marymount Playa Vista campus, the Wallis Annenberg Center for the Performing Arts and the Writers Guild Theater in Los Angeles. Hope to see you there!
Visit tickets.lafilmfestival.com and be sure to follow the 2018 LA Film Festival on Twitter, Facebook, Instagram and YouTube. Visit our official Festival Store by clicking here.
Presenting Media Sponsor is Los Angeles Times. Official Host Venue is ArcLight Cinemas. Platinum Sponsors are American Airlines, EFILM | Deluxe, HBO and TikTok. The University Sponsor is Loyola Marymount University School of Film and Television. Official Screening Partner is Wallis Annenberg Center for the Performing Arts. Festival Supporters are Directors Guild of America, eTech Rentals, Kona Productions, TREETI and Visit Seattle. Festival Affiliates are 21st Century Fox Global Inclusion, ATK Audiotek, Konsonant Music, SAGindie and Writers Guild of America West. Additional support provided by National Endowment for the Arts. Stella Artois is the Official Beer. IMDbPro is the Official Industry Resource. CITI is the Official Credit Card. The LINE, NoMad Los Angeles and Freehand LA are the Official Hotel Partner. Essentia Water is the Official Water. Hillersden Estate Wines is the Official Wine. Getty Images is the Official Photographer.
(Header: Maria by Callas)