Fighting in the War Room: 'Dr. Strangelove' Live Read Drops the Bomb on LACMA
"We'll meet again/don't know where/don't know when/but I know we'll meet again some day…" 
As the lights dimmed in anticipation of Film Independent at LACMA's January 21 Live Read of Dr. Strangelove it made sense that the night would open with the 1939 tune "We'll Meet Again"—originally sung by soldiers during World War II amid tearful goodbyes before heading off to battle.
The Film Independent at LACMA series kicked off the New Year with Stanley Kubrick's 1964 political satire and black comedy, guest directed by Mark Romanek (Never Let Me Go, One Hour Photo and countless music videos.)
Romanek recreated Kubrick and co-writer Terry Southern's paradoxical script (based on the book by Peter George) by casting some of Hollywood's best comedic performers.
Jason Reitman—the original director of the series—was in the crowd to support Romanek and the actors, watching his first-ever "Live Read" as an audience member.
The reading was introduced by Film Independent at LACMA curator Elvis Mitchell. Taking the stage, Romanek recounted how Kubrick originally wanted Strangelove to be a serious political thriller about a nuclear accident, but that after much research and consideration of the day's political paradoxes, decided to just go with the irony.
In case you weren't familiar, Dr. Strangelove (alternate title: How I Learned to Stop Worrying and Love the Bomb) is about "what could happen if the wrong person pushed the wrong button."
The plot centers around the actions of the deranged General Jack D. Ripper, who goes insane and issues a "Plan R"—an emergency war plan enabling nuclear bombs to be detonated by low-ranking soldiers.
In the original film, director Kubrick leveraged the then-omnipresent fear of nuclear conflict between the USSR and the US to create a hilarious black comedy.
Romanek introduced the cast—a prominent group of contemporary comedic legends well suited to tackle Strangelove's knotty dark humor, including:
Fred Willard as The Narrator
Shia LaBeouf as Jack D. Ripper, originally played by Sterling Hayden
Josh Gad as Lionel Mandrake, originally played by Peter Sellers
Sir Patrick Stewart as Dr. Strangelove, also played Sellers
Seth Rogan as General Buck Turgidson, originally played by George C. Scott
Johnny Knoxville as Major TK "King Kong", originally played by Slim Pickens
Catherine O'Hara as President Merkin Muffley, originated (again!) by Sellers
Colin Hanks as Colonel "Bat" Guano, originally played by Keenan Wynn
Olivia Wilde as Miss Scott, originally played by Tracey Reed
PJ Byrne as Alexei De Sadesky, originally played by Peter Bull
The "it" duo of the night was Shia LaBeouf as Ripper and Josh Gad as Mandrake, whose ongoing antics wittily deconstructed the absurdity of military hierarchy.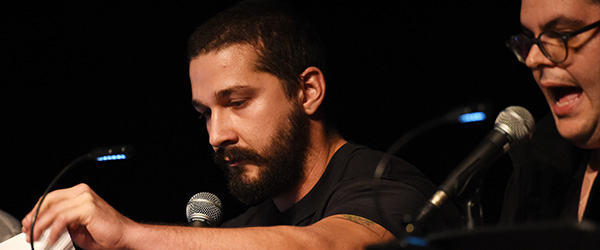 LaBeouf's grubby martial toughness and Southern accent brought Ripper to life. At one point he upped the ante by lighting a real-life cigarette on stage—which we're pretty sure was an impromptu ad lib.
Gad didn't miss a beat or step out of character, improvising by saying, "I don't think you're allowed to smoke in here," in Mandrake's scrawny British accent, punctuating the line with a nervous laugh.
Dressed in full military garb and a fake mustache, Jackass star Knoxville did not disappoint as the gung-ho world-ender Kong, re-creating the character's famous cowboy hat with a Roman galea helmet. At one point Knoxville's mustache came off, but luckily he came prepared to glue it back on.
As President Muffley, O'Hara delivered one of the film's funniest lines, "Gentlemen, you can't fight in here. This is the war room!" to which Rogan, as Turgidson, couldn't keep his composure, laughing at the irony.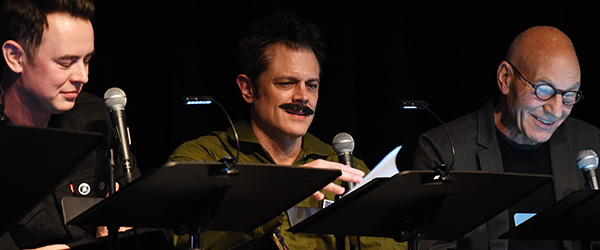 The crowd went crazy over Stewart's impersonation of Strangelove's titular nutty, wheelchair-bound ex-Nazi. His uncontrollable "Hail Hitler!" salutes, menacing antics and mad scientist mouth-frothing had the audience laughing uncontrollably.
But the night wasn't over yet.
Wrapping up, the crowd was treated to an unannounced surprise guest as Grammy winner Fiona Apple appeared on stage to sing "We'll Meet Again."
Mid-song, Knoxville tossed a whipped-cream pie into Apple's face—an allusion to Kubrick's original Strangelove ending, which featured a raucous pie fight between US and Soviet forces inside the aforementioned War Room. But Apple kept singing, eventually joined by both the audience and the cast.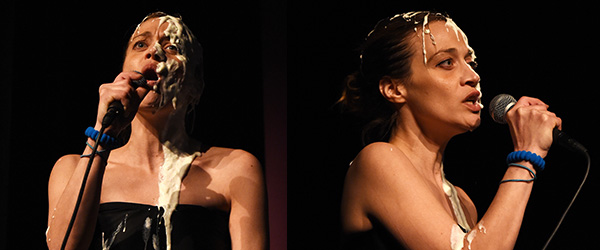 Afterwards, the crowd rose to its feet for a standing ovation. It was as if the entire audience had been sitting around a living room together listening to a the world's best cocktail party anecdote, the night filled with chuckles, giggles and tears of laughter.
As they filed out, the crowd continued to audibly hum "We'll Meet Again" under their breath…and hopefully we will, very soon.
---
For more information about Film Independent at LACMA, click here. For other upcoming events, click here.
To learn more about Film Independent please visit our website or YouTube channel. To learn to become a Member, click here.