Live Read Recap: All-Female 'Stand By Me' Earns Tears, Laughter at LACMA
If there was a theme running through Film Independent's March 17 Live Read of Stand By Me, it was nostalgia.
Maybe it was because the event, which brought series creator Jason Reitman and cast back to the LACMA stage to conjure Rob Reiner's 1986 adventure yarn, was the second-to-last edition of the current Live Read season, or maybe the sold-out crowd was just misty-eyed from one too many pints of St. Patty's Day cheer. Either way, the Bing Theater audience seemed primed for a double-dose of backwards-looking sentimentality—in the best way possible.
The theme of nostalgia informed the evening on several different levels. Reitman pointed out that Reiner's 1986 film was celebrating its 30th anniversary. This, for a movie that itself was already looking back the early 1960s—the same 30-year gap that separates 2016 audiences from Stand By Me's mid-'80s "present."
The film, adapted by Bruce A. Evand and Raynold Gideon from the atypical Stephen King novella "The Body," follows four precocious, pre-adolescent friends on a quest to find the location of a rumored dead body in the woods outside their rural Maine hometown, all while confronting fears both external and internal.
Since its release, Stand By Me has become a classic of coming-of-age cinema—famous for its set pieces involving runaway trains, leeches and truly epic barfing.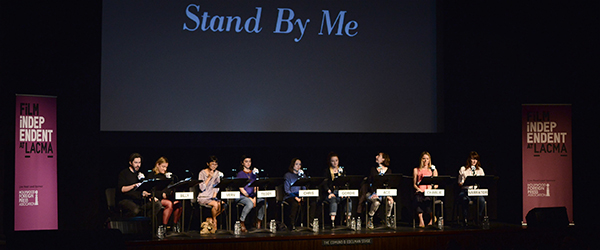 After a few words of introduction from Film Independent at LACMA curator Elvis Mitchell, Reitman took the stage and observed that, in addition to being Stand By Me's 30th birthday, 2016 also marked the 10-year anniversary of his own feature film debut, Thank You For Smoking—yet another instance of looking back.
But the other big story of the evening was the readings' gender-flipped cast, which followed in the tradition of 2013's all-female Glengarry Glen Ross Live Read. It was a clever twist—Stand By Me and Glengarry Glen Ross don't have much in common, but they do feature almost exclusively male characters in stories that are, each in their own way, about masculinity.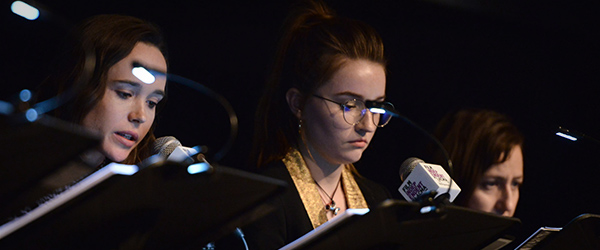 With Reitman in his regular directing role reading stage direction, the cast was completed by:
Rosemarie DeWitt as The Narrator, originally played by Richard Dreyfuss
Kaitlyn Dever as Gordie, originally played by Wil Wheaton
Ellen Page as Chris, originally played by River Phoenix
Molly Ephraim as Teddy, originally played by Corey Feldman
Charlyne Yi as Vern, originally played by Jerry O'Connell
Kristen Schaal as Ace (among others), originally played by Kiefer Sutherland
Collette Wolfe as Charlie (among others), originally played by Gary Riley
Sarah Thyre as Billy (among others), originally played by Casey Siemaszko
With Reitman referring to Page as "my own personal River Phoenix," it was clear the Juno duo was excited to be collaborating again.
The sense of camaraderie extended to the rest of the cast—Dever and Ephraim are both regulars on the ABC sitcom Last Man Standing and DeWitt starred in Reitman's 2014 drama Men, Women and Children.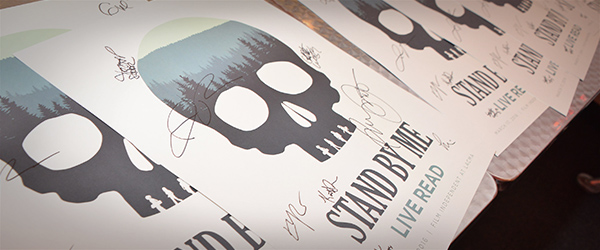 The cast—who, per Live Reads tradition, had not rehearsed the material prior to taking to the stage—stumbled only once or twice as they bushwhacked through the script's dense tangle of adolescent insults and malapropisms.
Thyre, a comedy and cartoon-voiceover veteran, threatened to steal the show at several points, deploying a variety of eccentric voices to portray many of the film's minor speaking roles—most notably, yokel store proprietor Mr. Quidacioulouo.
Ephraim turned in an effectively hotheaded performance to channel the damaged-goods Teddy—so memorably inhabited in his adolescence by quintessential 1980s dangly-earring enthusiast Corey Feldman.
Yi was the perfect person to fill Jerry O'Connell's pudgy Chuck Taylors, summoning her innate off-kilter energy to turn in an interpretation of comic-relief Vern as an excitable bumbler terminally unable to get out of his (her?) own way.
Page—perhaps the most well-known star on the stage—kept things low-key, approaching group leader Chris with soulful authenticity to create a character that seemed wise well beyond both his (the character's) and her (the performer's) years.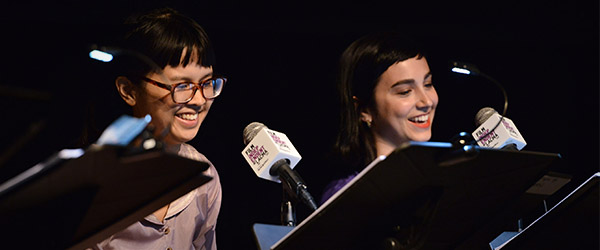 As budding writer and point-of-view character Gordie, Dever worked in tandem with DeWitt's Narrator (i.e. the adult Gordie) to contextualize the boys' bittersweet quest both in the moment, and from the distant vantage point of adulthood.
In his intro, Reitman noted that Reiner's ten-year stretch of films between This is Spinal Tap and The American President is one of the best runs ever turned in by a major Hollywood director—one that also includes modern classics such as Misery, The Princess Bride and When Harry Met Sally.
Rising for a standing ovation, it was clear the crowd was grateful to have reclaimed a piece of not only Rob Reiner and Stephen King's glory days—but a little bit of their own as well.
---
For more information about Film Independent at LACMA, click here. For more upcoming event, click here. To read recaps of previous Live Reads, click here.
Follow Film Independent on Twitter, Facebook and Instagram and see what else we're up to by subscribing to our YouTube channel. To learn how to become a Member of Film Independent, click here.