Film Independent Year-In-Review, Part Two: Fellows Success Stories
Welcome back to Part Two (of three!) of our 2016 Film Independent Year-In-Review. For us, these blogs are a chance to account for our labor over the past 12 month's and reacquaint ourselves with our mission: helping filmmakers make their projects, building and audience for those projects and working to diversify the film industry as a whole.
So think of these recaps as a nondenominational advent calendar—only instead of soapy drug store chocolate, each cardboard flap is opened to reveal yet another host of statistics charting the accomplishments of our family of creators, which is made possible through the support of (as NPR would say) people like you.
Last week, we looked at diversity. But today, our focus shifts to touting the accomplishments of our amazingly talented Film Independent Fellows—the filmmakers and creators who have participated in our Filmmaker Labs, Project Involve, Fast Track, Global Media Makers and other grants and awards programs.
If you're a filmmaker, then you already know that the biggest challenge any independent creator faces is getting the support of a likeminded community (along with the resources and practical know-how) to actually bring your vision to life. Through our Artist Development programs, we equip creators with the tools, resources, support and industry connections needed to get their careers off the ground and establish themselves as legitimate artists.
So let's start with Global Media Makers, a brand-new program presented in partnership with the US Department of State that gathered 14 international filmmakers from five different countries to join us in Los Angeles for a whirlwind month of guest speaker seminars, directing labs and industry field trips to places like YouTube Space LA, Netflix, CAA and major Hollywood Studios.
And though the Fellows have returned to their home countries, the project is still ongoing. Check out this short film from Global Makers Fellow Amin Dora, created through the program during the filmmaker's time in Los Angeles
Closer to home, it was another banner year for our Filmmaker Labs and Project Involve. Here are some numbers from the year in Artist Development:
32 Fellows participated in our Directing, Screenwriting and Producing Labs, receiving feedback and instruction on in-development projects from elite working filmmakers and industry executives.
30 filmmakers of varying underrepresented backgrounds participated in Project Involve. Over nine months, Fellows received mentorship from top industry professionals and partnered together to create six brand-new short films, which premiered at the 2016 LA Film Festival.
20 filmmakers took part in Film Independent's Fast Track, a three-day film financing market designed to help producers and directors "fast track" their projects through meeting with executives, financiers and agents, held each year at the LA Film Festival.
19 Fellows received project grants to finish their films. (For a complete list of Film Independent's myriad grants, click here.)
Additionally, 2016 saw several Fellows from previous Filmmaker Labs finally debuting their completed films to great acclaim on the festival circuit, with 170 Fellows being accepted into major US and international film festivals and 32 winning major festival awards.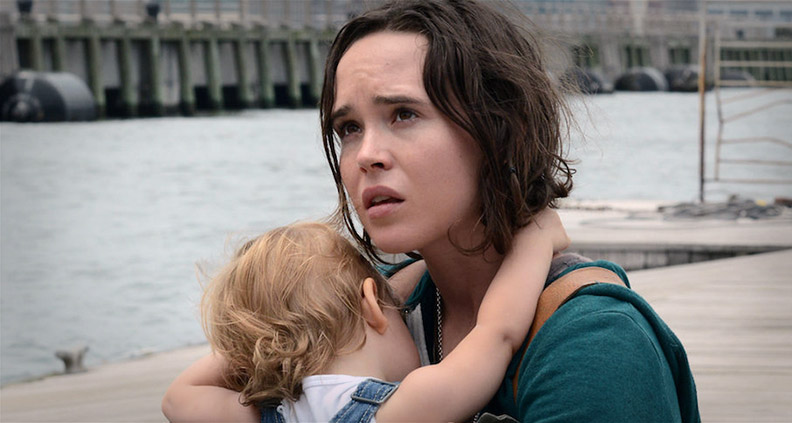 Among the lab-supported films premiering at this year's Sundance was writer/director Sian Heder's 2009 Directing Lab project Tallulah, which eventually scored a distribution deal with Netflix.
Of her Directing Lab experience, Heder said, "I'm so glad I got a chance to fail in this very safe setting. You always want to succeed with everything you make, and the thing the lab did for me was give me a chance to take a risk and fail in the presence of other artists who I really respected [and] to use that failure as a learning and growth experience."
Another homegrown Sundance success story was writer/director Andrew Ahn's Film Independent Spirit Award nominated Spa Night, supported by the 2014 Directing Lab and 2013 Screenwriting Lab. Ahn was also a 2012 Project Involve Fellow.
"Film Independent has been really helpful in other ways," elaborated Ahn. "We received the Film Independent Film LA grant and we also received the Film Independent EFILM | Company 3 Grant for color correction, so we really couldn't have made the film without Film Independent's help."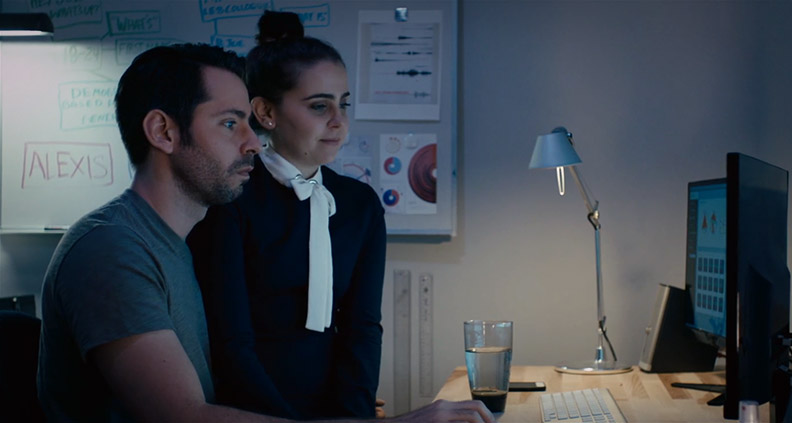 Another 2016 Fellow success story is Operator, writer/director Logan Kiben's Fast-Track supported feature. The film premiered at this year's SXSW and was released by The Orchard in November. Operator also received Film Independent's Alfred P. Sloan grant—which accounted for just $20,000 of the $650,000 in grant money we gave away this year.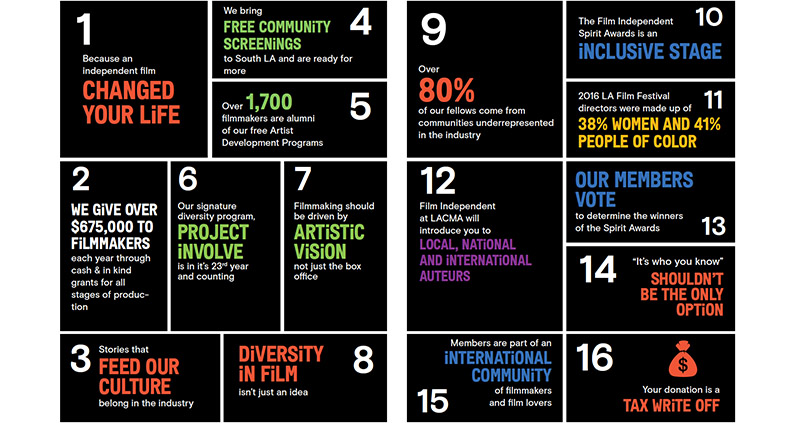 But enough tooting of our own proverbial horn. The simple fact is that these up-and-coming creative voices aren't only supported by Film Independent. They're supported by you—through your gifts, contributions and unending enthusiasm for our mission. So if you can, please consider making a donation to support Film Independent. All gifts received or postmarked before December 31 will be allowable for your 2016 tax deductions. Click here for more info. Want to check out our annual report? Read the whole thing here.
To learn more about Film Independent, subscribe to our YouTube channel or follow us on Twitter and Facebook. To learn how to become a Member of Film Independent, just click here.
(header: Project Involve Class of 2016)