Gender, Growth and Perseverance: Directors Coffee Talk at the LA Film Festival
The first thing anybody said was: "Everybody's so close. I feel a little intimidated."
That was Tim Miller, director of February's hit superhero comedy Deadpool and one of the three panelists in attendance at the Directors Coffee Talk last Sunday, June 5 at the LA Film Festival. Joining him were filmmakers Patricia Riggen (Miracles from Heaven, La Misma Luna) and Kimberly Peirce (Boys Don't Cry, Carrie). Peirce also moderated.
"One thing about directors is, you never get to work with other directors," Peirce said as she explained the plan for the day, a laid back talk between the directors and the Coffee Talk audience, at the historic Culver Hotel. "As I get older, I'm getting much closer to other directors," she said, "I find the conversations we have outrageous, fun and very informative."
Peirce began with her definition of the job:"What I think a director is, is a problem solver," she said. After all the artistry, preparation and work, things will happen and the director will have to be the one to figure out a way to work it out, and get the movie made.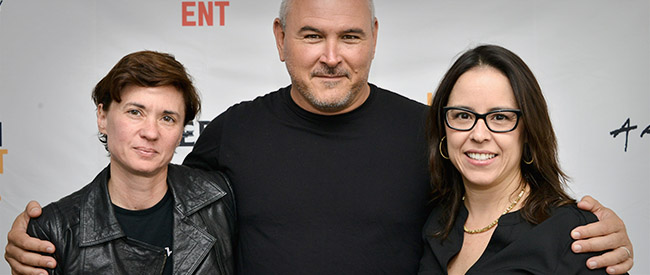 "Do you guys have any examples [of problems] that came at you, that were so outrageous and so unsolvable that you had to say to yourself, 'well, I had never seen this before but I gotta get my head around this and I've got to solve it?'" Peirce asked her fellow directors.
Miller was the first to comment. Of Deadpool, he said, "I was a first-time director so pretty much every day was that day. When I went in to the movie I just said, 'I don't know what I'm doing. I've never done this before. If there's something I'm doing wrong, please tell me.' I relied on my crew, who had much more experience than I did."
Riggen made the observation, "One day I hope that women that direct get to that point where you can come into the set and say, 'I don't really know what I'm going to do.'"
"Can I throw in support with what Patricia's saying?" Peirce asked, picking up on the theme of gender disparity among Hollywood directors. "We had a huge conference in Hollywood on this [issue] and we started to really explore what are the reasons that women are not working as much as they should be working? Why do we not having 50% parity in hiring?"
Peirce explained that she does a great deal of work with the DGA and film community at large to explore these issues, and find answers to some of these questions. Her findings support the idea that women aren't being given fair consideration for directorial jobs.
"A man can fail upwards, and a woman can also succeed downwards," she explained. Men will make a movie that will lose money, but somehow get hired to direct yet another big job—something Peirce attests you'd never happen with a woman.
Rather, you'll often see "Women coming out of the film festivals and having big successes—and they don't work again for a long time." To this, Riggen (whose films like La Misma Luna have screened at Festivals like Sundance) raised her hand.
After further discussion, Peirce offered some final words on the subject: "We're not going to solve this here. But I think what's important is, we're very competent and we've been doing this a long time. It didn't come from nowhere."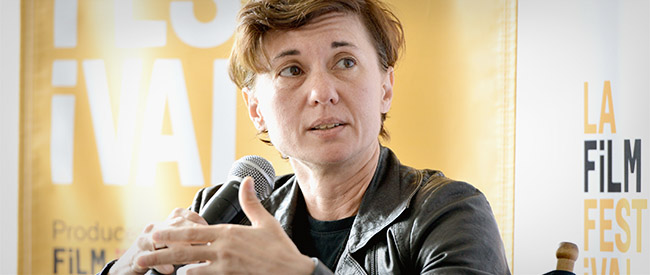 Gradually, the panel worked their way back to discussing on-set challenges. Riggen offered an anecdote from her work on 2013's The 33. During production, an unsatisfactory (white, male) 2nd-unit director has Riggen worried, but her producers wouldn't listen until her (white, male) Editor voiced agreement, saying, "Nothing that he's doing works."
Peirce offered up another tale of tangling with producers when planning to shoot scenes in Texas for 2008's Stop-Loss. A $5 million rental property was available for shooting, and the producers wanted Peirce to capture all her Iraq War scenes there, which would have been fine—if Texas had looked even remotely like Iraq. Her producers stressed that the location is worth $5 million.
"Yeah, but it's not worth anything to me," she insisted. But the producers were stubborn. So she took some great advice from her DP, the great Chris Menges. "If you just embrace a terrible idea, then they actually have to face a terrible idea," he told her.
Miller quipped, "I start fighting right away, and then if I lose, sulk."
Peirce moved on to discuss the panelists' growth as film director. Specifically in her case, how she became more comfortable with the equipment used to visualize her stories She said, "I've always loved character, I've always loved story. But you actually begin to realize [that doing it a certain way] is better and I'm going to like it in the editing room."
For his part, Miller hopes to have a similar "second-nature" relationship with filmmaking in time. "Deadpool didn't look as good as I think it should [have]," he said. "When I look at it, I see all my mistakes."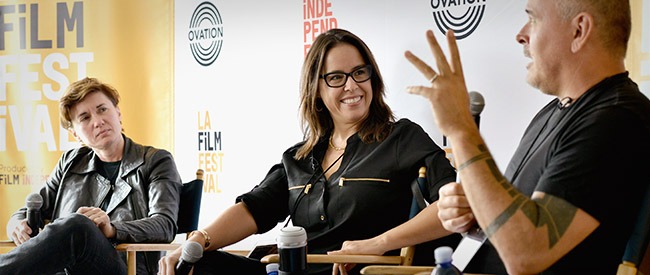 During Q&A, an audience member asked Riggen about challenges facing Latino directors. "I feel like we're actually in really good shape being Latinos," adding, "Except if Trump wins." But according to her, "being Mexican is actually cool in Hollywood."
Riggen also offered up some general advice, "The key is work. Work really, really hard. You work seven days a week. You work 16-hour days. You work your ass off all the time. The most important thing: do not lose your confidence."
Miller used his own situation to give young aspiring artists some hope: "[I was] 51-years-old before I got my first chance," he said. "I worked really hard for years and it hadn't happened. I had four different films in development. You just have to stay in the game."
Peirce agreed. As a graduate student, she had her debut Boys Don't Cry fall through at three separate occasions before finally being made. "If you have a story that's so strong it speaks to you the way life speaks to you, and you need to tell it. I will say every single day, don't take no for an answer, and also learn your craft. More and more."
---
The annual Coffee Talks, sponsored by Ovation took place June 5 at The Culver Hotel. The Directors panel is sponsored by Directors Guild of America, the Actors panel is sponsored by SAGindie, and the Screenwriters panel is sponsored by Writers Guild of America, West.
Read recaps of the 2016 LA Film Festival Coffee Talks panels here. See below for exclusive video highlights, and be sure to check out Film Independent's blog and YouTube channel.
To learn how to become a Member of Film Independent, click here.