Get to Know the 2018 LA Film Festival Shorts and Web Series!
Mark Twain supposedly once signed off a piece of correspondence by saying: "I apologize for writing you such a long letter; I didn't have time to write a short one." Which, apocryphal or not, likely rings true to any filmmaker out there fussing over final tweaks to their short film.
The effort required to successfully communicate an idea with a maximum of economy often exists in direct inverse proportion to temporal real estate ultimately consumed by said idea in its final form. Or to put it more simply: brevity is the soul of wit.
Last week, the LA Film Festival parted the kimono just a bit (more big announcements coming soon!) to reveal our 2018 competition lineup— including the 41 short films and 10 web series now laden forevermore with our leafy, symmetrical LA Film Fest laurels. And while many of these projects won't take any longer to watch than the time it takes to wolf down a Chipotle burrito bowl, don't be fooled. These projects are every bit as epic in their ambition, vision, execution and effort as any feature-length film.
This year's short film lineup was culled from 3,100 submissions representing 14 countries. The films will play before select features and as part of six separate short film programs. Web series will be shown together as Episodes: Indie Series from the Web. To learn when, how and where to watch, check out our schedule.
But enough preamble! Let's dive into our shorts programming slate and find out who we'll be spending just a little bit of time with this September 20-28. Enjoy!
SHORTS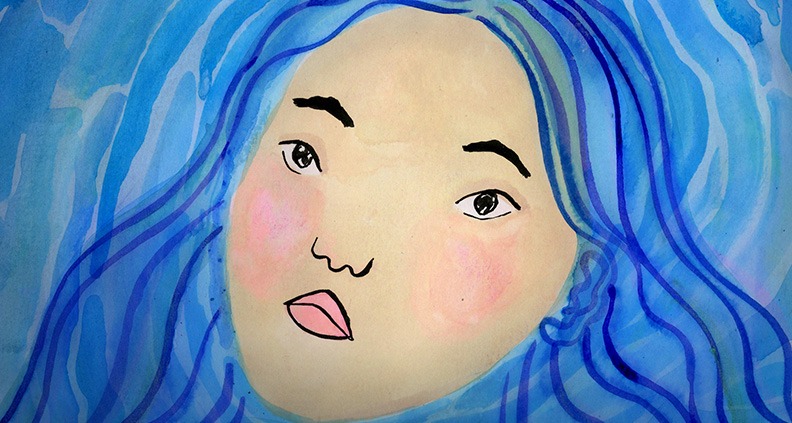 "This year's program represents a diversity in storytelling and storytellers that reflects the makeup and vibrancy of Los Angeles," says Landon Zakheim, LA Film Festival Head Shorts Programmer. This year, 53% of LA Film Festival shorts are directed by women and 66% by people of color. Associate shorts programmers included Sarah Harris, Carlos Hatcher, Adam Piron, Paul Sbrizzi, Cedar Sherbert, Jacques Thelemaque and Bethany Wearden-Clarke.
Agua Viva – USA (DIRECTOR Alexa Lim Haas) – A Chinese manicurist in Miami attempts to describe feelings she doesn't have the words for.
Audition – USA (DIRECTOR Richard Van) – Unable to find a sitter, an aspiring actress has no choice but to drag her three-year-old son to her audition.
Beastly Things – USA (DIRECTOR Zev Chevat) – A young artist encounters a vicious group of local schoolchildren and learns what beastly behavior truly means.
Black 14 – USA (DIRECTOR Darius Clark Monroe) – An archival social study examining the media coverage of a 1969 racial protest at the University of Wyoming.
Burn Bridge – USA/England (DIRECTOR Rhys Jones) – Hopelessly infatuated with his clueless best friend, an adolescent boy in North Yorkshire explores his sexuality and acts out with destructive behavior.
Caroline – USA (DIRECTORS Celine Held, Logan George) – A precocious six-year-old is faced with a big responsibility on a hot Texas day.
Cheer Up, Baby – USA (DIRECTOR Adinah Dancyger) – A young woman who has been sexually assaulted by a stranger on the subway is rendered with psychological menace and sensory dislocation in this elliptical tale.
Counterfeit Kunkoo – India (DIRECTOR Reema Sengupta) – In a city that houses millions, Smita fights a stubborn cultural bias while trying to rent a house in middle-class Mumbai.
Coyote – Switzerland (DIRECTOR Lorenz Wunderle) – After wolves attack his family, a coyote goes on a vision quest of revenge.
Cross My Heart – Jamaica/USA (DIRECTOR Sontenish Myers) – An American teenage girl visits her family in Jamaica and uncovers a secret that changes the way she sees the people she loves.
Delay – Iran/Italy (DIRECTOR Ali Asgari) – A man and his two children miss their flight and while waiting for the next flight, undergo a transformative moment.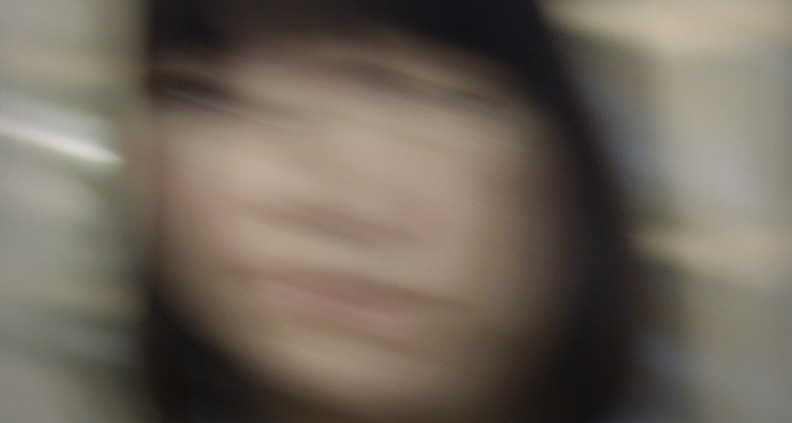 The Earth is Humming – USA (DIRECTOR Garrett Bradley) – In Japan earthquake preparedness is a way of life, and a full-blown industry.
Falling – France (DIRECTOR Benjamin Vu) – In 1994 France, a clever, gay, much-bullied young esthete and his naïve, athletic classmate develop an unexpected intimacy when they're paired up for a high school presentation.
Hair Wolf – USA (DIRECTOR Mariama Diallo) – In a black hair salon in gentrifying Brooklyn, the residents fend off a strange new horror: white women sucking the lifeblood from black culture.
Hierophany – USA (DIRECTOR Kevin Contento) – A Florida boy comes in contact with the sacred while living in the margins of the South.
Intercourse – Sweden (DIRECTOR Jonatan Etzan) – A passing joke between a couple blurs the lines and brings them to terms with how it has changed their relationship.
Jeom – USA (DIRECTOR Kangmin Kim) – A father and son, who share the same big birthmark on their butt wage war against this genetic blemish.
Kevlar – Sweden (DIRECTOR Tuna Özer) – A young man from the projects outside of Stockholm borrows his friend's jacket to impress a hip city girl and winds up at a party in a strange land.
Ladders – USA (DIRECTOR Andrew Stephen Lee) – The bright future facing a smart, ambitious Dominican teen becomes clouded with doubt following a pointed interaction at a fundraising gala.
Libre – USA (DIRECTOR Anna Barsan) – Undocumented immigrants forced to spend months in detention turn to private companies to secure their release on bond in this gripping documentary.
Lotus – Iran (DIRECTOR Mohammadreza Vatandoust) – After a controlled flood an old woman is left to gaze from her window at the island she's forbidden to visit, longing for the object of her affection.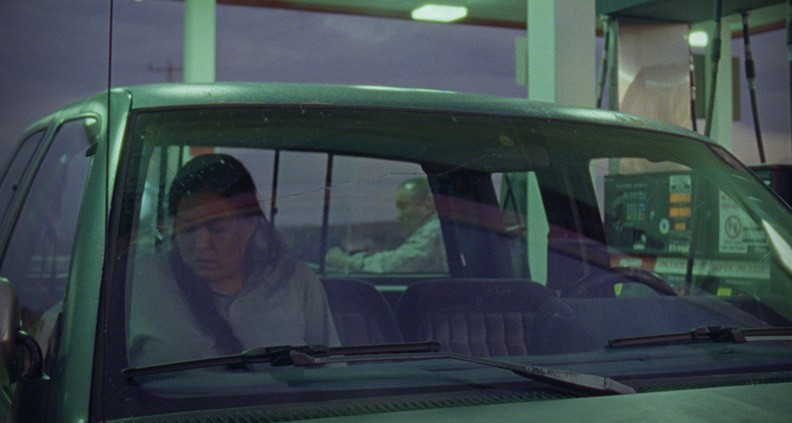 Mud – USA (DIRECTOR Shaandiin Tome) – On her last day of life, a woman faces the inescapable remnants of alcoholism, family and culture.
Nevada – USA (DIRECTOR Emily Ann Hoffman) – A young couple's romantic weekend getaway is interrupted by a birth control mishap in this stop-motion animated comedy.
One Leg In, One Leg Out – Canada (DIRECTOR Lisa Rideout) – A lively, strong-willed sex worker struggles to move from the streets and into a career as a social worker, hoping to help fellow trans sex workers find acceptance.
The Passage – USA (DIRECTOR Kitao Sakurai) – Fleeing a pair of mysterious agents sends a dim-witted mute on a series of absurd misadventures.
Room 140 – USA (DIRECTOR Priscilla Gonzalez Sainz) – Immigrants just released from detention centers spend their first night in Oakland at a motel paid for by a local pastor.
Roya – USA (DIRECTOR Shaina Pakravan) – On the night of a relative's engagement party, an image conscious Iranian-American mother clashes with her free-spirited teenage daughter.
Scratch – Spain (DIRECTOR David Valero) – A young DJ with a cognitive disability has trouble understanding the violent word around him; his actions subvert societal concepts of perpetrator and victim, apology and forgiveness.
Shadow Animals – Sweden (DIRECTOR Jerry Carlsson) – A young girl follows her parents to a party where the adults' behavior becomes increasingly strange.
The Shift – USA (DIRECTOR Elivia Genny Shaw CO-DIRECTOR Paloma Martinez) – For San Francisco's 911 dispatchers, the city is hard to escape.
Sin Cielo – USA (DIRECTOR Jianna Maarten) – Two teenagers pursue young love in the borderlands where life under cartel violence may be inescapable.
Skip Day – USA (DIRECTORS Ivete Lucas, Patrick Bresnan) – With graduation approaching, a group of high school seniors take a day at the beach to revel in the joys of being young in an increasingly unsteady world.
Swedi – Sweden (DIRECTOR Sosi Chamoun) – A woman in a grocery store contends with a clerk who won't leave her alone in this one-take shot.
This Magnificent Cake! – Belgium/France/Netherlands (DIRECTORS Emma De Swaef, Marc James Roels) – Set in colonial Africa in the late 19th century, this breathtaking stop-motion epic examines colonialism through five different stories.
This, My Favorite Mural – USA (DIRECTOR Michael Arcos) – The Latinx immigrant experience in Louisiana is explored through the eyes of a German woman who becomes obsessed with finding the artist who painted a tire shop mural.
The Things You Think I'm Thinking – Canada (DIRECTOR Sherren Lee) – On his first date since a devastating accident, a burn victim throws himself back into the world of relationships and the fear of allowing love back into his life.
True Love in Pueblo Textil – USA (DIRECTOR Horatio Baltz) – A young girl living in the Cuban countryside describes how it feels to be stricken with the world's oldest infliction: love.
War Paint – USA (DIRECTOR Katrelle Kindred) – For a bright South LA teen, what should be a happy 4th of July weekend becomes an unexpected lesson in the stark realities of power and racism.
Weekends – USA (DIRECTOR Trevor Jimenez) – A young boy shuffles between the homes of his recently divorced parents in this surreal hand-animated film set in 1980s Toronto.
While I Yet Live – USA (DIRECTOR Maris Curran) – African-American quilters from Alabama talk about love, religion and the fight for civil rights as they continue the tradition of quilting that originally brought them together.
Wild Wild West; A Beautiful Rant By Mark Bradford – USA (DIRECTOR Dime Davis) – The origin of artists is explored through paper, percussion and one provocative creative.
WEB SERIES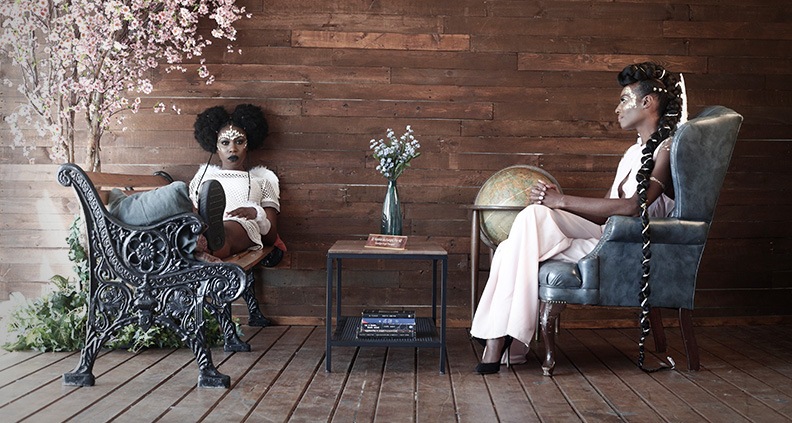 Programmed apart from the shorts competition, LA Film Festival Programmer of Television and Web Content Spade Robinson said of her section: "The episodic competition introduces LA audiences to a diverse, entertaining and meaningful set of stories that span multiple genres: magic and fantasy, documentary, drama and comedy." Of the 10 titles included in Episodes: Indie Series from the Web, 50% were directed by filmmakers of color and 30% by female filmmakers.
Revenge Tour – USA (DIRECTOR Andrew Carter) – He's been cheated on, living in a friend's living room and stuck at a dead-end job. But one night he finds an unlikely stress-reliever—rapping.
Flatbush Misdemeanors – USA (DIRECTORS Dan Perlman, Kevin Iso) – Two longtime friends adjust to their new surroundings in the brash environment of Flatbush, Brooklyn. Against a quickly ticking clock, they hilariously scramble to right a mistake that could end them both.
Kiki And Kitty – Australia (DIRECTOR Catriona Mackenzie) – The adventures of a young, indiginous Aboriginal woman in a big, white world where her vagina is a big, Native woman and her best friend!
Fresh – Australia (DIRECTOR Grant Scicluna) – A diverse range of characters make their living in an open Australian market. Their differences pull them apart and draw them together.
Robits – USA (DIRECTOR Christopher Parks) – This series follows the funny and nonsensical misgivings of three robots living in a post-A.I. world.
Tracy Buckles – USA (DIRECTOR Robin Nystrom) – A young woman becomes the victim of a despicable curse that prevents other people from hearing her voice. She joins forces with a down-and-out vagabond and a bumbling wizard in order to break free from the evil sorcery.
Psusy – New Zealand (DIRECTOR Anna Duckworth) – Two close friends drag us through their controversial, inappropriate, but always playfully feminist world.
Otis – USA (DIRECTOR Alexander Etseyatse) – A young, mentally unstable man attempts win back the affection of his ex-fiancée and daughter.
Avant-Guardians – USA (DIRECTOR Clarence Williams IV) – A woke(ish) guardian angel to the third Black President goes a little off her rocker and is mandated by God to see a therapist angel.
Pedal & Paint – USA (DIRECTOR Bradley Smith) – Illustrator and host Mike Dutton hops on his bike and meets up with fellow illustrator Sophia Foster-Dimino to find inspiration, adventure and new perspectives.
But really, why would you want to watch these projects on inside the confines of a miniscule, eyeball-shredding Vimeo or YouTube window if you don't have to? The LA Film Festival offers you the unique chance to see these films on the big screen. Festival Passes are now on sale to Film Independent Members (join today for special Festival perks) as well as the general public.
General admission tickets to individual films go on sale to Film Independent Members beginning August 14 and to the general public beginning Tuesday, August 21. Contact Festival Box Office for passes, tickets and event information by calling 866.FILM.FEST (866.435.6337) or visit lafilmfestival.com.
Not sure what type of pass makes sense for you? Check out our cheat sheet, stars and sparks courtesy of official 2018 LA Film Festival poster artist Alia Penner: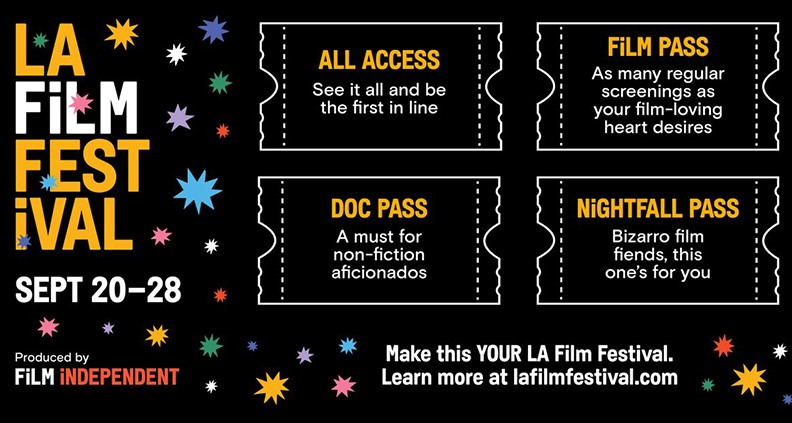 The 2018 LA Film Festival takes place September 20-28. Venues include the ArcLight Cinemas in Culver City, Hollywood and Santa Monica, as well as the new Loyola Marymount Playa Vista campus, the Wallis Annenberg Center for the Performing Arts and the Writers Guild Theater in Los Angeles.
For more pass, ticket and event information visit tickets.lafilmfestival.com and be sure to follow the 2018 LA Film Festival on Twitter, Facebook, Instagram and YouTube.
Presenting Media Sponsor is Los Angeles Times. Official Host Venue is ArcLight Cinemas. Platinum Sponsors are American Airlines, EFILM | Deluxe and HBO. The University Sponsor is Loyola Marymount University School of Film and Television. Venue Partner is Wallis Annenberg Theater for Performing Arts. Festival Supporters are Directors Guild of America, eTech Rentals, Kona Productions, TREETI and Visit Seattle. Festival Affiliates are 21st Century Fox Global Inclusion, ATK Audiotek, Konsonant Music, SAGindie and Writers Guild of America West. Additional support provided by National Endowment for the Arts. Stella Artois is the Official Beer. IMDbPro is the Official Industry Resource. CITI is the Official Credit Card. The LINE, NoMad Los Angeles and Freehand LA are the Official Hotel Partner. Essentia Water is the Official Water. Hillersden Estate Wines is the Official Wine. Getty Images is the Official Photographer.
(Header: web series Tracy Buckles)