Getting Lost in an Immersive Narrative: A Firsthand Dispatch from The Portal, 2019
Produced by Film Independent, and presented in partnership with Loyola Marymount University, The Portal took place September 20-22, featuring the best new works in immersive entertainment. We asked musician, writer and Film Independent blogger Cortney Matz to sample some of the event's room-scale narrative pieces.
***
At first, everything is dark. You look down and see your hands represented by outlines. You look up and see stars. No, you haven't been conked on the head in a Bugs Bunny cartoon. You're at The Portal, Film Independent's second-year XR and immersive storytelling showcase. And over the weekend, attendees of all ages and technological acumen milled throughout LMU's new School of Film and Television in Playa Vista, donning headsets and navigating various realities of a virtual, augmented or mixed nature.
From traditional theater settings to fully immersive and interactive worlds, the experiences programmed in the Portal's Room Scale section each offered a unique take on "XR"—virtual reality, augmented reality and mixed reality. Plus documentaries with a 360-degree view of your surroundings, seating you—intimately—in the seat next to an interview subject (more on The Portal's documentary section coming later.)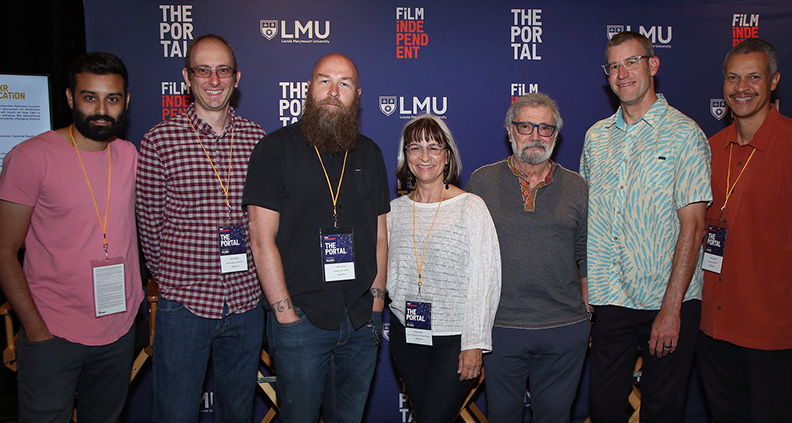 But whether you yourself are the star performer/protagonist of a given experience or merely a ghost-like observer, each piece—curated by Film Independent Artistic Director Jacqueline Lyanga—has been expertly crafted to help you believe you're somewhere else. Which is a pretty nifty way to tell a story.
Following the trail of headsets and tantalizing titles, your 360 journey begins with Wolves in the Walls: It's All Over. Based on the book by Neil Gaiman and Dave McKean (only the first chapter, so brace yourself for a tense cliffhanger ending) you enter young protagonist Lucy's world as her crayon drawing comes to life. Lucy is eight, and no one believes her story about the wolves. So it's your job to help her prove it.
Lucy assigns you interactive tasks along the way, tasks which you may or may not execute to her satisfaction. It's uncertain whether your dexterity and smarts impact the story, but you still don't want to let her down.
Grappling with objects in the room, you get to stack jam jars, draw on the walls and even take a Polaroid shot (it's possible you may have snapped a picture of the wrong thing.) Lucy's house is fully animated, so everywhere you look, you see a part of the room. Get on your knees, grab Lucy's hand to follow her, listen with her for the wolves—the story literally engages you.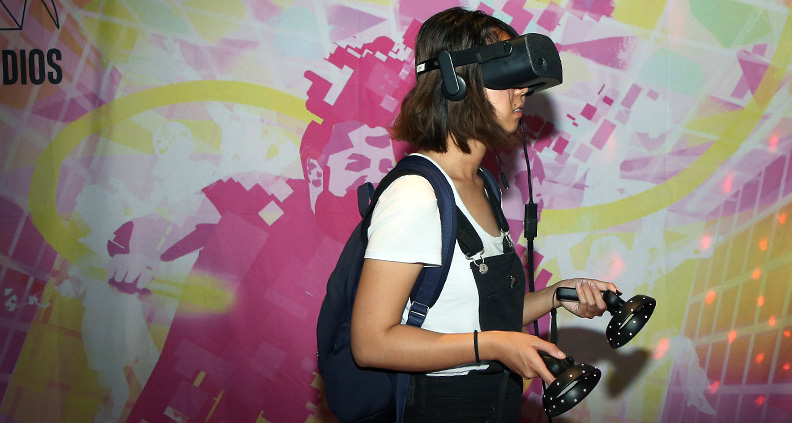 Ready for some music, courtesy of musician/comedian Reggie Watts? Kiira Benzig's Runnin' surrounds you with a record store where you can use laser-lite glowsticks in order to add new sound combinations to Watts' music. Reach out your hands and the man himself materializes on the turntable. Guess what? It's time for a dance party.
You are whisked away to a colorful, psychedelic nightclub where the rules of gravity don't apply. As Watts performs his 2018 single "Runnin'", you can teleport to different areas of the club. Suddenly, the DJ is soaring high above you, and other dancers are appearing all over the place. Zap around the "room" to dance on the ceiling, down the walls and into a grassy area off to the side. There are dancers everywhere, but you're still conscious that you're in the middle of an open exhibit hall wearing a headset (at least in this case.) So you keep it to a cool bop while the virtual gang around you struts their stuff.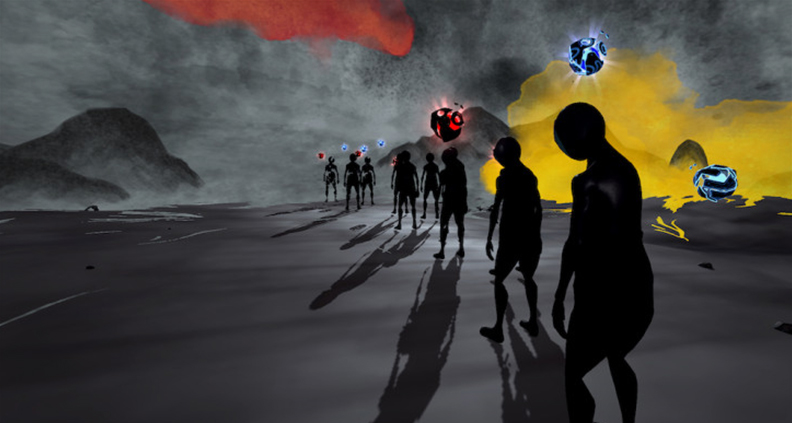 The Key's surreal and unsettling dream exploration of displacement is a unique take on the refugee story, as you help the mysterious Anna (voice of Alia Shawkat) uncover clues about her past. It's an incredible interactive, virtual world that allows you to make full use of the room, stepping deeper into the story as you navigate the physical space.
And as if virtual worlds aren't far enough away from the ordinary, Bonfire takes you to outer space. You start off trying to land a spacecraft (that doesn't go so well) and when the smoke clears, you're in completely foreign territory. Ready to explore the brightly animated planet on which you just crash landed? You're so far from earth—it's a mercy you have these highly nutritious food cylinders that look like marshmallows, the light of your bonfire and your robot sidekick Debbie (voice of Ali Wong.)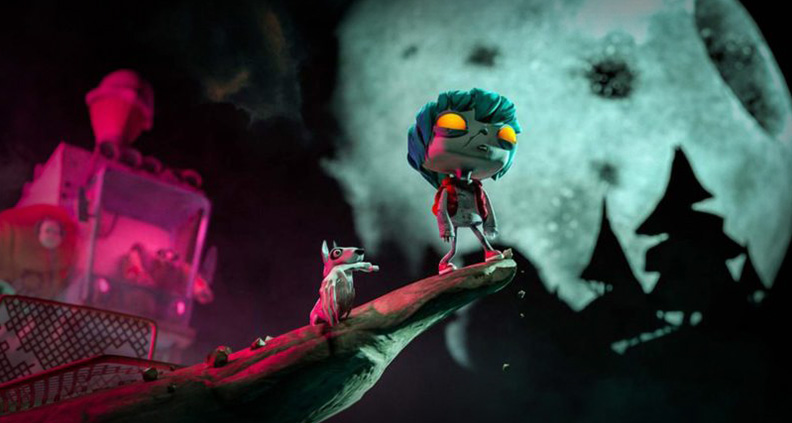 Last on the itinerary is the Burtonesque Gloomy Eyes, which has you entering a black box room with autumn leaves strewn on the ground. Before you've even put the headset on, you're already primed for an intriguing presentation. Inside the world, lush animation floats in a black landscape as Colin Farrell narrates the story of a girl, her fiendish uncle and her zombie lover.
Once inside the experience, you have a circle of light on the floor to stay grounded as the world unfolds in pieces, one part turning to reveal another, leading you naturally in a dance around the room. Imagine an intricate, beautifully lit doll house suspended in air, as rooms are added to it before your eyes. You can tilt your head to peek around corners, and duck down to eye level with boulders in the water as the action plays out above you. Move in close to see something in detail, then step back to get the big picture.
The piece is the second chapter in directors Jorge Tereso and Fernando Maldonado's three-part series about a forbidden zombie romance, so we'll have to wait and see what becomes of Gloomy and his beloved Nena.
Whether your love for digitally immersive experiences is new and awestruck or established and nuanced, The Portal offers an enticing array of talent from a diversity of voices to draw you in and pique your curiosity. Which is exactly what the Film Independent mission is all about.
Stay tuned to Film Independent's blog and YouTube for more coverage from the 2019 edition of The Portal, featuring round-ups of the showcase's 360 documentary program, augmented reality experiences and panel recaps. To view the complete program of work exhibited at The Portal this year, check out our event program.
A free event produced by Film Independent, and in partnership with Loyola Marymount University, The Portal took place September 20-22 at LMU's Playa Vista Campus. To learn how to become a Film Independent Member, click here.
Follow Film Independent…