Guest Post: 'Nomadland' Producer Mollye Asher on Being a Film Independent Fellow
For today's very special guest post we welcome producer Mollye Asher–whose Nomadland recently won Best Picture (!) at the Academy Awards, as well as Best Feature at the 2021 Film Independent Spirit Awards–to discuss her experiences as a 2014 Producing Lab Fellow.
Applications to the 2021 Film Independent Producing Lab are now OPEN. The Non-Member deadline is May 26. Member deadline is June 9. More Info. Apply now!
***
At the start of the pandemic, when the prospect of being in production any time in the near future seemed unlikely, I began teaching a remote course at Rutgers University called "Introduction to Producing." When I started writing my lesson plans, it suddenly became much less academic and much more personal. The prospect of teaching young filmmakers, just about to begin their careers, made me reflect back to the start of my own.
My path to filmmaking wasn't direct. I grew up studying dance and voice, dreaming of one day playing Sally Bowles on Broadway. I earned a Bachelor's in theater and didn't discover filmmaking until, out of frustration at a stalled career; I made a short film.
When I realized I wanted to venture down this new road, I went back to school, earning an MFA in filmmaking from NYU. I met the filmmakers there that I would ultimately begin my career with, but quickly realized that in order to push our feature projects forward, I needed to broaden my network. Enter Film Independent.
In 2014, I, along with eight other emerging producers, participated in the Film Independent Producing Lab–all with projects at various stages of development.
Over the course of the program, we received invaluable advice on our projects from producing mentors and our fellow lab participants. The program culminated with an opportunity to meet and pitch our projects to industry. While I did go to film school, the Producing Lab was the first time that I was surrounded only by producers. It was a revelation to me and not something I realized I needed. It was a safe space where we could not only help one another with our projects, but also openly discuss the challenges we, as producers, faced with our careers.
So much of filmmaking has no rulebook. You have to learn by doing. But, you can also learn from others. It was validating and motivating. The sessions would sometimes extend beyond the conference room to a local haunt for a drink after class or a BBQ on the weekend. Relationships were building.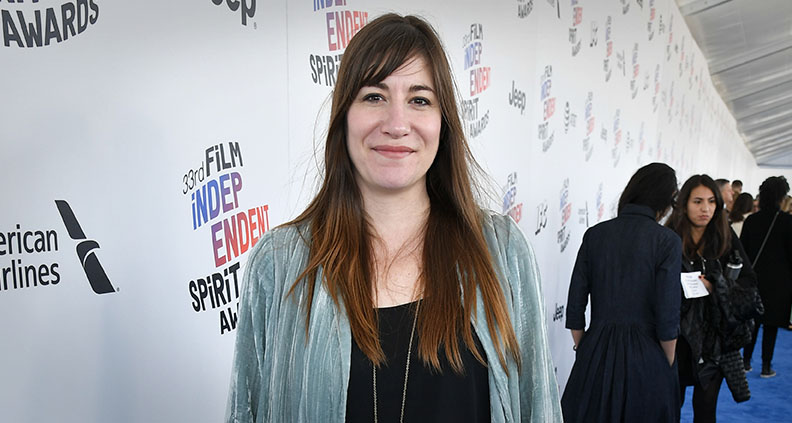 Another part of what made the lab so meaningful was the connecting of the emerging and the established. The mentors were the best of the best, producers of intimate award-winning films to big Hollywood blockbusters. We heard their personal stories of how they first navigated the industry, the challenges they faced, and the successes they found. We could see a vision of ourselves in the future in them, and my peers and I walked away with the confidence that it is possible.
I took that feeling to heart and, now, make it a priority of mine to mentor. For a young filmmaker, hearing that your ideas and your struggles are valid can be the difference between giving up or not. And, we need them not to give up. Nurturing and valuing new voices and perspectives is what grows our industry and brings empathy to the screen.
When I think back on my experiences at the Producing Lab, I realize that it shaped my belief that independent filmmaking is inexplicably linked to community. The movie industry is face paced, sometimes relentless in its difficulty. As much as we need creative collaborators, we also need someone to lament with us when we fail and celebrate with us when we succeed.
Seven years later, I still turn to the producers from my lab group and vice versa. I still go to my mentors when I need guidance and try to be there for those I mentor, just the same. Our peers, our mentors and new voices are our community. We simply cannot make independent films without them.
This past April, as my producing partners and I walked up on the stage to accept the Academy Award for Best Picture, I felt like we were walking up there with the entire independent film community.
The "Film Independent" community.
Mollye Asher is an Oscar-winning producer based in NYC. Most recently, she produced Nomadland, which won three Academy Awards, including Best Picture. It also won Best Picture at the BAFTAs, Golden Globes, Spirit Awards, Critics' Choice, and Gotham Awards, and the Venice Golden Lion and TIFF Audience Award, among many others. The Searchlight Pictures film stars Frances McDormand and is Mollye's third collaboration with writer-director Chloé Zhao.
Film Independent Artist Development promotes unique independent voices by helping filmmakers create and advance new work. To support our work with a donation, please click here. Become a Member of Film Independent here.
Keep up with Film Independent…
(Header: Mollye Asher and team accepting the 2021 Spirit Award for Best Feature)