How Forum Keynote Speakers Ted Sarandos and Ava DuVernay Shook Up the Indie Film Community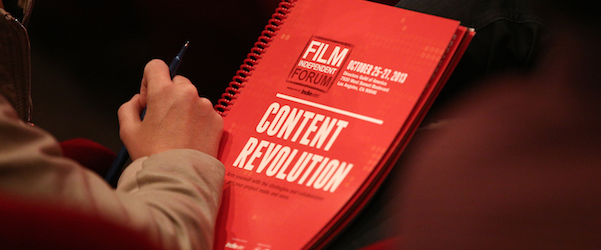 Given the "Content Revolution" theme of this past weekend's Film Independent Forum, it's not surprising that the indie film world was a bit shaken up by the bold calls to action by keynote speakers Ted Sarandos and Ava DuVernay.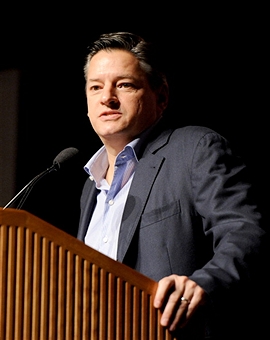 First, on Saturday, Netflix Chief Content Officer shook things up by declaring that by preventing digital releases during theatrical distribution windows, theater owners are jeopardizing the future of the film business. "Theater owners stifle this kind of innovation at every turn," he said. "The reason why we may enter this space and try to release some big movies ourselves this way, is because I'm concerned that as theater owners try to strangle innovation and distribution, not only are they going to kill theaters, they might kill movies."
"Why not premiere movies on Netflix the same day they're opening in theaters? And not little movies. There's a lot of people and a lot of ways to do that. But why not big movies? Why not follow with the consumer's desire to watch things when they want, instead of spending tens of millions of dollars to advertise to people who may not live near a theater, and then make them wait for four or five months before they can even see it? They're probably going to forget."
Sunday's keynote speaker, writer/producer/director/distributor Ava DuVernay, began her talk by joking that she and Sarandos had planned it out. "Do you want to be controversial and newsworthy, because I'm just going to keep it low key." But of course the first African-American woman to ever win the Best Director Award at Sundance (for 2012's
Middle of Nowhere
) did nothing of the sort.
In no uncertain terms, a candid and impassioned DuVernay incited the emerging filmmakers in the room with a call to action. "Knock it off," she said.
Three years ago, when she was just starting out, DuVernay revealed, "I wore my desperation like a coat. It was definitely the first thing you saw when you met me because it was draped over everything I said, everything I felt, everything I thought, everything I did. It had to be the first thing you saw when you met me because it's the first thing I see when I meet a lot of people, in a tweet, in an email, after a Q&A,… I see just this heavy coat of sinking, desperate to get whatever it is you're trying to make, made."
"I was desperate. I was sitting right there," she said, pointing to the seats in the DGA auditorium. "During that time when I was acting in a desperate manner, I needed help to proceed. I needed a break. I needed to nail the pitch. I needed someone to say yes. I needed a mentor. I needed a green light. I needed access. I needed the secret password. I needed a rich uncle. I needed everything I didn't have, so that I could make my movie and tell my story."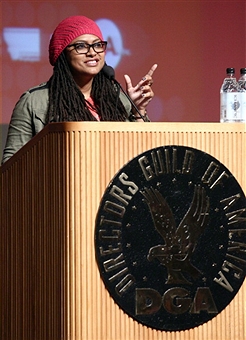 "During that time, I was feeling like, 'this is so big, what I want to do, and it's so big what you want to do or are doing. The odds are against you. The odds were against me, doubly so. Being black, being a woman, never having gone to film school. Not having access, not having a rich uncle, not having any of the things I needed or wanted or thought I deserved at that time."
"It was the first thing people saw when they met me, and I rarely meet people where it's not the first thing that I see. I can tell the desperation is there because I rarely meet people who tell me what they're doing. I often meet people who ask, 'Can you help me?' or 'I'd love to take you to coffee, just pick your brain a little bit' or 'Can I send you a script'? or 'Can you be my mentor?' All that energy, all that focus on trying to extract from other people is preventing you from doing."
"When I'm meeting people one on one and I'm feeling the desperation, I can't say to them in that moment what I'm about to say to you now because that would be rude: Knock it off. It doesn't work. It's never going to work for you, that feeling of, 'I need help. I need all these things to proceed.' And when I got that, a revolution happened for me and that's when things started to change."
"All of the time you're spending trying to get someone to mentor you, trying to have a coffee, is time you're not working on your screenplay, strengthening your character arcs, thinking about your rehearsal techniques, setting up a table read to hear the words, thinking about symbolism in your production design, your color palette…"
"I didn't stop being desperate because things started to go my way, I changed my mind and things started to go my way. I simply realized there's a difference between being hungry and passionate and desperate and depressing."
DuVernay says she explains how she has achieved so much in just three short years—having written, directed and produced two feature films, theatrically released and marketed them, started and run a distribution collaborative, directed three docs for television, directed two concert films, directed branded content, directed a sports documentary, just finished episodic TV, about to start to prep the next feature—"all because I knocked it off."
"By not pursuing the other," she says, "it left me hours and hours and hours to actually create work."
By Pamela Miller / Website & Grants Manager