ICYMI: Catch Up with November's Film Independent Presents Q&A Lineup
It certainly is a bustling time of year! Between announcing the 2023 Film Independent Spirit Awards nominations (!), the holidays, and 16 screenings from this month alone, you'll never run out of great indie films to enjoy! We've gathered all of November's offerings – both theatrical and virtual – to keep you in the loop on the documentary and narrative films coming soon to a theater near you.
Dive right in to these bold and exciting films and check out the Q&A conversations on YouTube. We're sure you'll walk away with more than a few insights for your own filmmaking journey!
We have a long list of screenings already in the works for December – check out our calendar and sign up here!
SALVATORE: SHOEMAKER OF DREAMS
Guests of honor: Luca Guadagnino (director), Dana Thomas (writer)
Synopsis: This year's Spirit Awards nominee for Bones and All and alum for Suspiria and Call Me by Your Name, Italian auteur Luca Guadagnino tracks Salvatore Ferragamo's life from his humble beginnings in Bonito, Italy, to California, to a storied studio in Florence, Italy. With Spirit Awards Robert Altman Award winner Michael Stuhlbarg (A Serious Man, Call Me by Your Name) narrating Ferragamo's 1955 memoir; a trove of 100-year-old archival footage; an extraordinary "shoe ballet" created by stop-motion artist PES; and commentary by Martin Scorsese, Manolo Blahnik, and Christian Louboutin, Salvatore: Shoemaker of Dreams is a portrait of a man whose vision, passion, and craftsmanship made him "shoemaker to the stars," an architect of Hollywood magic, and an enduring cultural, fashion, and artistic influence.
What critics are saying: "Guadagnino's carefully and lovingly detailed history lesson, free of stylistic flourishes, is as satisfying and methodical as that red shoe–making." Dave White, TheWrap
ART & KRIMES BY KRIMES
Guests of honor: Alysa Nahmias (director) and film participants Jesse Krimes and Russell Craig; moderated by Jenn Wilson (Senior Programmer, Film Independent)
Synopsis: While locked up for six years in federal prison, artist Jesse Krimes secretly creates monumental works of art – including an astonishing 40-foot mural made with prison bed sheets, hair gel, and newspapers. He smuggles out each panel piece-by-piece with the help of fellow artists, only seeing the mural in totality upon coming home. As Jesse's work captures the art world's attention, he struggles to adjust to life outside, living with the threat that any misstep will trigger a life sentence. The story unfolds through original footage and animations made in collaboration with award-winning animator Molly Schwartz and Jesse Krimes.
What critics are saying: "Although the film is structured as a straightforward biography, Nahmias has infused it with an artistic sensibility as well, gathering a team that has clearly been meticulously chosen." Elizabeth Weitzman, TheWrap
TAURUS
Guests of honor: Tim Sutton (writer/director) and star Colson Baker (aka Machine Gun Kelly).
Synopsis: A rising but troubled musician (Colson Baker) spends his days and nights searching endlessly for the inspiration to record his next song. His assistant (Maddie Hasson) wants to save him and his collaborators want him in the studio, while his dealer and his ex push him deeper into the void.
What critics are saying: "Set over a few days, this is an involving portrait of a lonely, angry man who's seeking solace in drink and drugs, while neglecting many people in his life." Anna Smith, Deadline
ARGENTINA, 1985
Guests of honor: Santiago Mitre (writer/director/producer) and Ricardo Darín (actor/producer); moderated by Bárbara Muschietti (Producer; Mama, It)
Synopsis: Argentina, 1985 is inspired by the true story of Julio Strassera, Luis Moreno Ocampo and their young legal team of unlikely heroes. In their David-vs-Goliath battle, they dared to prosecute Argentina's bloodiest military dictatorship against all odds in a race against time to bring justice to the victims of the Military Junta.
What critics are saying: "It's a forthright, muscular and potent movie." Peter Bradshaw, The Guardian
THE TERRITORY
Guests of honor: Alex Pritz (director); moderated by Jenn Wilson (Senior Programmer, Film Independent)
Synopsis: The Territory provides an immersive look at the tireless fight of the Indigenous Uru-eu-wau-wau people against the encroaching deforestation brought on by farmers and illegal settlers in the Brazilian Amazon. With awe-inspiring cinematography showcasing the titular landscape and richly textured sound design, the film takes audiences deep into the Uru-eu-wau-wau community and provides unprecedented access to the farmers and settlers illegally burning and clearing the protected Indigenous land. Partially shot by the Uru-eu-wau-wau people, the film relies on vérité footage captured over three years as the community risks their lives to set up their own news media team in the hopes of exposing the truth.
What critics are saying: "A striking first feature for cinematographer Alex Pritz, as well as a notable collaborative work." Sheri Linden, The Hollywood Reporter
BRUISER
Guests of honor: Miles Warren (director) and Trevante Rhodes (producer/star); moderated by Eric Kohn (Executive Editor, IndieWire)
Synopsis: In director Miles Warren's searing feature debut about fathers, families, and the effects of toxic masculinity, 14-year-old Darious (Jalyn Hall) explores the boundaries of his manhood through tumultuous interactions with Malcolm (Shamier Anderson), his strict but loving father, and Porter (Trevante Rhodes), a charismatic drifter. When Darious learns Porter's true identity, he is thrust into a conflict between the two men that may rip his family apart and threaten his safety.
What critics are saying: "Performances are what ultimately sets Bruiser apart as a debut and signal Warren's potential as a director…A mellow and compelling spin on a familiar story." Lovia Gyarkye, The Hollywood Reporter
LAST FLIGHT HOME
Guests of honor: Ondi Timoner (director) and Rachel Timoner (subject); moderated by Josh Welsh (President, Film Independent)
Synopsis: Behind a white picket fence on an unremarkable suburban street, we discover 92-year-old Eli Timoner, who founded Air Florida, the fastest growing airline in the world in the 1970s. During his final days, his extraordinary life filled with incredible success and devastating setbacks, and most importantly, the innate goodness that won him the enduring love and support of his family. Through stunning verité footage recorded by his middle child, Last Flight Home takes audiences on an unforgettable ride through Timoner's life, illustrating a modern-day success story built on the power of human connection.
What critics are saying: "Ondi Timoner's home-movie memoir is a heartbreaking and unexpectedly complex film about her elderly father in his final days." Peter Bradshaw, The Guardian
SR.
Guests of honor: Chris Smith (director); moderated by filmmaker Robert Greene (Procession, Bisbee '17)
Synopsis: Sr. is a look at the life, work, and last days of filmmaker Robert Downey, Sr. as he races to complete his magnum opus – a documentary on his own life – while his son, Robert Downey, Jr. tries to learn as much as possible about him in the process.
What critics are saying: "A non-fiction biopic that's infused with the unique humor and creativity of its subject, as well as steeped in the complicated but palpable love shared by a father and son." Nick Schager, Daily Beast
A LOT OF NOTHING
Guests of honor: Mo McRae (writer/director), Inny Clemons (producer), David Oyelowo (executive producer), and actors Y'lan Noel, Cleopatra Coleman, Lex Scott Davis and Shamier Anderson
Synopsis: James and Vanessa seem to be the perfect couple – happily married, successful and comfortable. One night, their lives are rocked to the core when, after watching a tragedy play out on the evening news, they realize their neighbor was involved. In a state of shock, and with opposing viewpoints on how to address the issue, they embark on a highly combustible journey to "do something" about it.
What critics are saying: "All the same, social and racial issues at the center of things here possess a real electric charge, the performances convey considerable heat and the filmmaking, especially in the first hour, pushes you into a feeling of great intimacy with the characters." Todd McCarthy, Deadline
RETROGRADE
Guest of honor: Matthew Heineman (director)
Synopsis: Retrograde captures the final nine months of America's 20-year war in Afghanistan from multiple perspectives: one of the last U.S. Special Forces units deployed there, a young Afghan general and his corps fighting to defend their homeland against all odds, and the civilians desperately attempting to flee as the country collapses and the Taliban takes over. From rarely seen operational control rooms to the frontlines of battle to the chaotic Kabul airport during the final U.S. withdrawal, Oscar-nominated and Emmy Award-winning filmmaker Matthew Heineman's latest film to offer a cinematic and historic window onto the end of America's longest war, and the costs endured by those most intimately involved.
What critics are saying: "Rather than have talking heads tell us what the ramifications were of the U.S. leaving, Heineman lets the reality of the evacuation shake us into a clarity about choices and consequences." Robert Abele, Los Angeles Times
SELENA GOMEZ: MY MIND AND ME
Guests of honor: Alek Keshishian (director/producer), moderated by Jazz Tangcay (Artisans Editor, Variety)
Synopsis: After years in the limelight, Selena Gomez achieves unimaginable stardom. But just as she reaches a new peak, an unexpected turn pulls her into darkness. This uniquely raw and intimate documentary spans her six-year journey into a new light.
What critics are saying: "Gomez has been open about her struggles with anxiety and bipolar depression, but her honesty about mental health has never been expressed as starkly as in the documentary, Selena Gomez: My Mind & Me." Noel Murray, Los Angeles Times
TURN EVERY PAGE
Guest of honor: Lizzie Gottlieb (director)
Synopsis: Directed by Gilbert Gottlieb's daughter, Turn Every Page explores Gottlieb's remarkable creative collaboration with Pulitzer Prize-winning writer Robert Caro, including the behind-the-scenes drama of Caro's The Power Broker and the LBJ series. With humor and insight, this unique double portrait reveals the work habits, peculiarities, and professional joys of these two ferocious intellects. It arrives at the culmination of a journey that has consumed both their lives and impacted generations of politicians, activists, writers, and readers, all of which converge to further our understanding of power and democracy.
What critics are saying: "A love letter to many aspects of the publishing world that have more or less fallen by the wayside." Owen Gleiberman, Variety
BAD AXE
Special guests: David Siev (director/producer/cinematographer), Rachel Siev (subject) and Daniel Dae Kim (executive producer); moderated by actor Eva Longoria (Desperate Housewives)
Synopsis: A closely knit Asian-American family living in rural Michigan fights to keep their American dream alive. As owners of a local prominent restaurant, they reckon with a global pandemic, racial tensions, and generational scars from Cambodia's killing fields.
What critics are saying: "It is not just among the finest and most important films of the year, but it will stand as a valuable historical and social document of these times." G. Allen Johnson, San Francisco Chronicle
TO LESLIE
Guests of honor: Michael Morris (director) and actors Andrea Riseborough, Marc Maron, Andre Royo and Stephen Root; moderated by Josh Welsh (President, Film Independent)
Synopsis: Leslie (Andrea Riseborough) is a West Texas single mother struggling to provide for her son (Owen Teague) when she wins the lottery and a chance at a good life. But a few short years later, the money is gone and Leslie is on her own, living hard and fast at the bottom of the bottle as she runs from the world of heartbreak she left behind. With her charm running out and nowhere to go, Leslie is forced to return home to her former friends Nancy and Dutch (Allison Janney, Stephen Root). Unwelcome and unwanted by those she has wronged, it's lonely motel clerk Sweeney (Marc Maron) who takes a chance on her when no one else will. With his support, Leslie comes face to face with the consequences of her actions, a life of regret, and a second chance to make a good life for herself and her son.
What critics are saying: "Morris' direction offers other filmmakers a template for how to make a small movie that feels big, just by making definitive choices and sticking to them," writes Matt Zoller Seitz, RogerEbert.com
BLONDE
Guests of honor: Ana de Armas (actor); moderated by film critic Amy Nicholson
Synopsis: Based on the bestselling novel by Joyce Carol Oates, Blonde boldly reimagines the life of one of Hollywood's most enduring icons, Marilyn Monroe. From her volatile childhood as Norma Jeane, through her rise to stardom, and romantic entanglements, Blonde blurs the lines of fact and fiction to explore the widening split between her public and private selves. Written and directed by Andrew Dominik, the film boasts a cast led by Ana de Armas and featuring Bobby Cannavale, Adrien Brody, Julianne Nicholson, Xavier Samuel, and Evan Williams.
What critics are saying: "… A horrifying indictment of fame, men and the American Dream itself. It's a tough watch, and is equally tough to shake." Adam Graham, Detroit News
NANNY
Guests of honor: Nikyatu Jusu (writer/director and Film Independent Fellow), Sinqua Walls (actor); moderated by journalist Gregory Ellwood
Synopsis: In this psychological horror fable of displacement, Aisha (Anna Diop), a woman who recently emigrated from Senegal, is hired to care for the daughter of an affluent couple (Michelle Monaghan and Morgan Spector) living in New York City. Haunted by the absence of the young son she left behind, Aisha hopes her new job will afford her the chance to bring him to the U.S., but becomes increasingly unsettled by the family's volatile home life. As his arrival approaches, a violent presence begins to invade both her dreams and her reality, threatening the American dream she is painstakingly piecing together.
What critics are saying: "A work of compassion and unease heralding a thoughtful, genre-probing talent." Robert Abele, Los Angeles Times
Join. Watch. Vote. Become a Film Independent Member today to get exclusive access to watch the 2023 Spirit Awards nominees and vote to determine the winners!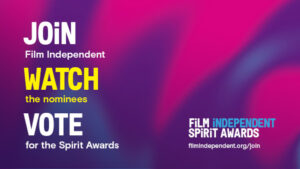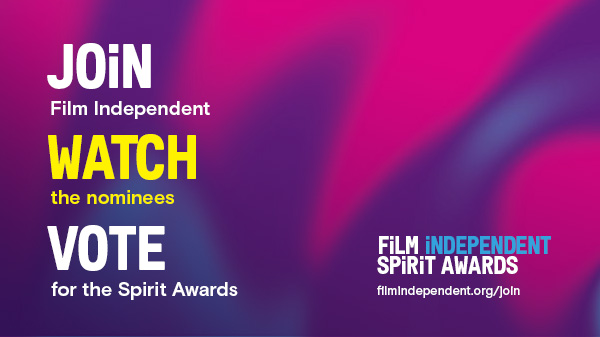 Film Independent promotes unique independent voices by helping filmmakers create and advance new work. To become a Member of Film Independent, just click here. To support us with a donation, click here.
Keep up with Film Independent…
[Header: 'Bruiser']