Inclusive Industry Reps on Changing the Face of Hollywood's Backroom
When people mention the words "inclusion" or "diversity" in relation to the entertainment industry, it can sometimes be difficult to know just what, exactly, they're talking about. Race, gender, disability status and sexual orientation are just a few of the categories that historically have been used (either overtly or unconsciously) to otherize disadvantaged creators, executives and journalists. But there are other stigmatized identities as well—ranging from age, to class, religion, veteran status and more, each of which requires their own unique efforts in order to be effectively integrated and to educate the uninformed.
The multitude of approaches in addressing these issues of inclusion among such overlapping communities was the subject of our October 19 panel The Inclusion Diaspora: Intersectional Stories & Audiences at Film Independent's The New Wave showcase earlier this year. Watch the full conversation and read up on some of the highlights below.
Moderated by Film Independent Artistic Director Jacqueline Lyanga, the panel included journalist Tre'Vell Anderson (Director of Culture and Entertainment, Out magazine), Elsie Choi (Executive Director, Rideback TV Incubator), Susan Lewis (Senior Vice President, Starz), Damien S. Navarro (Executive Director, OUTFEST), writer David Radcliff (The Rookie), Swati Shetty (Executive Vice President, International/Global Expansion, Imagine Entertainment) and Shelby Stone (President of Production, Freedom Road Productions).
THE INCLUSION DIASPORA
Public expression. "Something magical happens when you get various types of backgrounds to come together and experience things in a public way," said OUTFEST's Navarro, who stressed the importance of visible community-building occurring simultaneous to backroom industry networking. "There's an incredible amount of empathy that I see building every time we pull off something that attracts a great diversity of observers." The key, he said, is providing a safe environment for marginalized creators to express themselves, while also inviting the public to be participate in said expression.
Representation as shorthand. Radcliff—who has cerebral palsy—shared an anecdote reiterating the importance of media representation as a means of fostering more mainstream understanding and acceptance of underrepresented communities. "I was standing in a Subway sandwich shop on my crutches, and somebody came over to me and asked, 'What happened to your legs?'" to which Redcliff replied, "Do you watch Breaking Bad? I have what Walt Jr. [RJ Mitte] has." The question-asker replied (said Radcliff) simply: "Cool." That was that.
When data works—and when it doesn't. Lyanga asked about Hollywood's trend towards more and more data-driven decision-making in terms of its greenlighting process. "I think data's very empowering," offered Shetty. Speaking from a development exec's perspective, she said: "[Data] shouldn't limit your intuition, data should empower your intuition [so that] the risk you take is more informed." But data collection can be misleading or prejudicial in its own way, Anderson noted: "A lot of this data isn't as robust as it needs to be in talking to those of us"—like the sorts of communities represented on the panel, he said.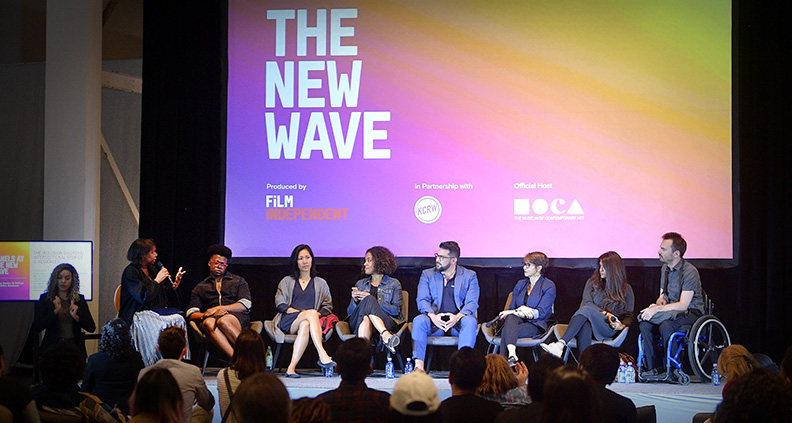 The executive ranks. While a diverse creative class remains important, the panel agreed that more must be done to change the makeup of Hollywood -behind-the-scenes power players. "They are not diverse places, by and large," said Stone of studio boardrooms, adding: "The people who make those [executive] decisions have not changed in the 30 years that I've been doing this." Said Anderson, "In the decisions made about who's going to lead which studio [or] production company, they could have hired a black person or brown person or a queer person, but they didn't." He added that studios need to go beyond their own diversity programs, with more initiatives to better educate people in positions of power.
Underrepresented groups. Part of understanding the inclusion diaspora, the panel agreed, is appreciating how more obviously marginalized groups intersect with less publicized otherized identities. "I like to say that the disabled are the one group everyone joins eventually, whether by age, illness or injury," said Radcliff. As part of her creator program, Choi supported participants, she says, of "different socioeconomic backgrounds, age, military veterans… for us, what we're really looking for life experience—that's really what we're trying to tap into," adding, "We believe those stories are worth investing in."
360-degree change. Circling back to the idea that inclusion needs to be able to permeate every aspect of the industry, Lewis said that when speaking to younger people, she advises them: "Don't just look at the glam side [of the industry]. Look at publicity, look at marketing—those are really the parts at my network [Starz] that drive everything." Part of the challenge, she said, is eliminating the disconnect between creatives and executives. "We have to be in those space. We can't just be writers." Part of the solution, Navarro said, is for senior leadership to work more closely with their HR teams and hiring managers to think outside the box when considering potential candidates.
"It's hard when you're in a room full of people and your different from everyone else," said Swati. "It's important to call out those implicit biases," she said. "The idea is to never give up."
The 2019 New Wave program consisted of keynotes, conversations, panels, community events and spotlight programming from Film Independent and KCRW, along with free admission to official host venues MOCA Grand Avenue and The Geffen Contemporary at MOCA.
The New Wave was produced by Film Independent, in partnership with KCRW and sponsored by official host, The Museum of Contemporary Art (MOCA). Supporting Sponsors are Easterseals Disability Services, Hulu, LA County Department of Arts and Culture, National Endowment for the Arts, Netflix, SAG-AFTRA, SAGindie, Warner Bros. and Writers Guild of America West.
Follow Film Independent…