In Memoriam: Picturing Peter Bogdanovich
New Hollywood filmmaker Peter Bogdanovich died last week at 82. In addition to being one of the finest film directors of his era, Bogdanovich was a critic, historian and consummate cineaste. To commemorate, we're re-running the below interview with author Peter Tonguette, who book of interviews with the director, Picturing Peter Bogdanovich, came out in 2020.
***
The "New Hollywood" era of American film—roughly seen as the 10-year period between 1967's Bonnie & Clyde and 1977's Star Wars—was defined in large part by the outsized celebrity of its emboldened, outspoken directors. It was time when marquee names such as "Coppola," "Scorsese," "Friedkin" and others were as integral to the marketing of a film as any movie star or studio. But even inside the context of such an auteur-driven epoch, one celebrity filmmaker was even more, well… celebrity-ish than the rest: Peter Bogdanovich.
A former critic, sometime actor and all-around gadfly, the New York-born Bogdanovich (now 80-years-old) first burst into the public's consciousness with his sophomore effort, 1971's The Last Picture Show, winner of two Academy Awards. Bogdanovich's success continued with What's Up, Doc? (1972) and Paper Moon (1973), before hitting a wall with a trio of flops: Daisy Miller (1974), At Long Last Love (1975) and Nickelodeon (1976). But then followed the critically acclaimed independent production Saint Jack (1979) and so on and so… all part of a long career—and personal life—characterized by wild swings in fortune.
Bogdanovich's life, career and filmography are the subject of a brand new book by culture writer Peter Tonguette, Picturing Peter Bogdanovich: My Conversations with the New Hollywood Director. Part in-depth Q&A, part critical survey and part fan memoir, the book is the result of a 17-year friendship between author and subject.
We recently caught up Tonguette, whose work has appeared in outlets such as The New York Times, Wall Street Journal, and Film Comment to talk about the man, myth and legend.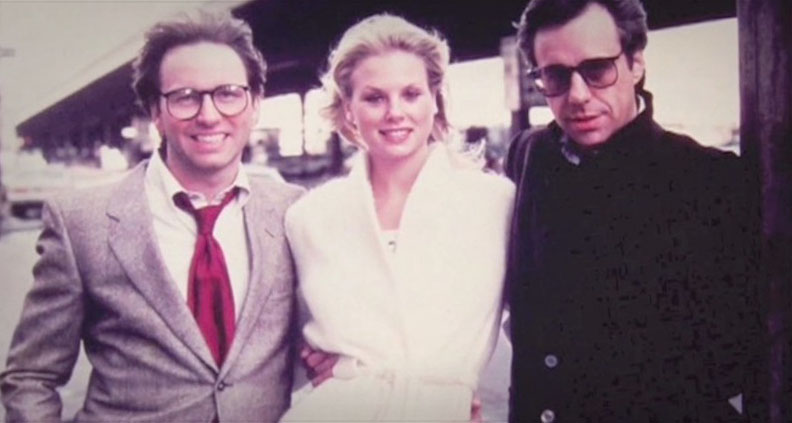 I'm a huge Bogdanovich fan myself, and I feel like he's really come back into the culture over the past couple of years, as someone film enthusiast circles are talking about again.
Tonguette: It's been an auspicious time—as Peter put it to me—for the book to come out, with the general presence he's had these last couple of years. He's even in It: Chapter Two in a cameo, as you may have seen.
To start, could you talk about the book a bit and how it's structured?
Tonguette: The first half of the book is the story of Peter's life and career, but also the story of how I experienced that life and career as a film fan. That's important, because Peter's celebrity was such that he reached someone in kind of flyover country. I thought it was an interesting way to tell his story. How an ordinary fan sought him out and began interviewing him and writing about his work—thereby kind of replicating what had happened with him in his 20s and early 30s, when he sought out directors and began interviewing them. I think from our first conversation, he sort of realized that I was sort of playing him circa the '60s, when he was interviewing Ford and Hawks and Hitchcock.
What about the second half of the book?
Tonguette: The second half is kind of a Hitchcock/Truffaut-style Q&A. I don't pretend to be Truffaut, but I do think Peter has some claim to being on par with Hitchcock. It's a Q&A derived from 17 years worth of interviews, where we go film by film through his entire career.
Hitchcock/Truffaut, but also the great book with Welles that Bogdanovich himself did, which was a favorite of mine in film school. 
Tonguette: Or any of his interviews in his book Who the Devil Made It. Certainly those were an inspiration for me. I called him up in 2003, when I was 20. I modeled myself on him—this young, wannabe film journalist—and I was asking him the sort of questions that he had asked all those famous old directors.
If you had to sum up the arc of Peter's life and career, what would it be? Also, do you see a thematic through-line in his films at all? Because I admit, even as a fan I don't always see that part of it.
Tonguette: Sometimes the best directors are like that though, don't you think? What I'd say about him is he's someone who came up from New York, who didn't have a lot of connections to Hollywood, but he was determined to start making movies—and he did. By happenstance, he met Roger Corman and got a couple of assignments. He began in this unlikely way, found himself at the pinnacle of New Hollywood in the early '70s, and was exiled after a few films didn't work with audiences. But he kept having this series of comebacks. Saint Jack, his reunion with Roger Corman, was a comeback. Mask, made after the murder of Dorothy Stratten and the failed release of They All Laughed, was a comeback. And now, this sort of third or forth comeback, where he's directing again.
What about the second question?
Tonguette: Certainly there's a tremendous nostalgia for the way movies were made during the Golden Age that Peter tried to resuscitate using New Hollywood means. He was working with top cameramen and editors and actors of the early '70s, but he was making movies that would have been much more of a piece with earlier times in Hollywood. So many of his pictures are set in the past, even if it's only the recent past. One of the films that remind me the most of his work is George Cukor's Holiday, that great movie with Cary Grant and Katharine Hepburn. It's been one of his favorite movies his whole life, and Peter's most personal movies always remind me of Holiday—that sense of young love, that effervescent optimism. Those movies he did have a hand in writing or developing, he returns, again and again, to young love. That's what he thinks he's most stimulated by.
Yes, I think I see that now. Okay—you sold me!
Tonguette: [laughs] Well, I'm glad! There's also this sense of missed opportunity, of melancholy. If you've seen Saint Jack recently—
I have. It's on Amazon Prime now, so I just saw it for the first time a couple of months ago.
Tonguette: There's just something very wistful about it. They All Laughed embodies both sides well—the tragic side and the very effervescent, optimistic side of his work. But it's all a bit backward looking, I find. It's all in hindsight. But certainly he's made very prescient movies as well. Targets, for example, is so prescient feeling with the subject of gun violence, which remains timely.
I do love Targets so much, it's such a flawless little thriller. Which, do you have a sense of Peter's feelings about genre filmmaking?
Tonguette: It's interesting how he used genre. I think he respects the traditions of old Hollywood, that if you make a personal film you don't just make it an autobiography. He was never going to be Ingmar Bergman or Woody Allen in that way. I think he sees genre as a means to an end.
What is Peter's relationship to creative collaboration? To what degree is he willing to let other people shape his films, do you think?
Tonguette: From the beginning, Peter has enjoyed working with the same people. The key production people on those early films—production designer Polly Platt, cinematographer Laszlo Kovacs, editor Verna Fields—that team was intact for the first part of Peter's Hollywood career. My sense is that Peter likes working with the same group, both behind the camera and in front of the camera. I do think Polly Platt's influence on his earlier movies has been rather overstated. It's sort of convenient, because his first big commercial failure was Daisy Miller, which was the first movie on which Polly Platt had not collaborated with him. But the person, I think, who guides the ship is indeed Peter. I do subscribe to the auteur theory, and Peter is a great example of that.
What's your sense of how Peter feels about his career at this point?
Tonguette: It's funny, because as willing as I found him to revisit his past glories—and also the tragedies—of his life, whenever I talk to him, he's all about the future. It's all about what he's working on next. The last chapter of our book is about a film he's been trying to get off the ground for decades now, which would be the most personal film he'll ever make. As proud as he is of what he's done, if given the choice between rehashing past glories or being on a movie set calling "action!" and "cut!" he'd rather be on the latter in a heartbeat.
Here's where to stream some of Bogdanovich's best work:
Film Independent promotes unique independent voices by helping filmmakers create and advance new work. To become a Member of Film Independent, just click here. To support us with a donation, click here.
More Film Independent…