Iris Inspires in Albert Maysles' Last Film and In Life
The rare bird of fashion made a rare landing in Los Angeles this week.
The witty and wonderful Iris Apfel captivated the audience at the Bing Theater Monday night, following a Film Independent at LACMA screening of Albert Maysles' last film, an endearing portrait of her—the one and only Iris, whose grand collection of glorious vintage fashion and unrelentingly flamboyant personal style have made her a beloved and respected figure in the fashion world.
KCRW's Madeleine Brand, who moderated the conversation with Apfel and three of the film's producers, had no choice but to start off with the inevitable, "What are you wearing?" It was vintage early seventies leather. "I love that it's embroidered. It's got posies on it somewhere." The necklaces? "Two separate pieces I married. Minority Chinese and Tibetan."
Madeleine: "How do you travel with all this?"
Iris: "I just throw it in a suitcase."
In the film, Iris tells the story of the moment in her life when she was a young girl, shopping on Bedford Avenue in "the wilds of Brooklyn," where she caught the eye of "Old Lady" Loehmann's [of Loehmann's department store]. "Young lady, you'll never be pretty, but you've got something better, you've got style."
"She was wonderful," Iris said. "She was the grand mama of all elegant discount shopping."
Iris didn't worry if she didn't have time to try on the clothes at the shop. "The fabric was always so gorgeous and it was always so well made," she said. "Oh the hell with it. I'll buy it," she'd inevitably decide. "If it doesn't fit, I'll make pillows."
"As I say ad nauseum, my mother worshipped at the alter of the accessory," said Iris. "I grew up in the Depression days and my mother would always preach that if I would learn to buy one little black dress and put my money into accessories, I'd always have a great wardrobe, because accessories are extremely transformative. You can put on the same outfit in the morning, go to work and keep the same basic black on all day and later go to a big soiree just by moving your accessories around. It really worked."
"Iris is an artist," says famed fashion photographer and friend, Bruce Weber in the film. "What she uses her clothing and accessories to do is compose a new vision." And she's been treated as such. For instance, in 2005 The Costume Institute of the Metropolitan Museum of Art presented the exhibition Rara Avis: The Irreverent Iris Apfel.
Iris doesn't mince words, and while she's loathe to criticize anyone's personal style, she does lament the lack of interest in craftsmanship and creativity on the part of the next generation of designers. "There's very little creativity any more," she said. "There's practically no originality. Everybody copies everybody else, and there's so much sameness. There's no history taught in the fashion schools any more. The kids think the world began with Tom Ford."
"Young people don't want to put the time in to really learn their craft. Nobody wants to apprentice. Everybody wants the corner office without the years of hard work. To know how to make a dress and construct a dress, you have to know more than to make a little sketch. So many of the young kids today yearn be on the red carpet and be media freaks. You can't just read it and study it. You have to learn how to cut and drape and sew, learn about fabrics and everything else. And that's all gone."
Beyond capturing Iris's abiding passion and influence, the film is a love story. Iris and her husband Carl have been married since 1948. (His 100th birthday party is in the film.) Their tenderness towards each other saturates every scene they share. When asked the secret to their enduring relationship, Iris stressed the importance of a sense of humor, not taking yourself too seriously and giving each other space. "My husband gives me all the space in the world. Except in the closet."
The producers—Albert's daughter Rebekah Maysles, Jennifer Ash Rudick and Laura Coxson—were also on hand to discuss the film. It was Rudick, who had known Iris, who brought the idea of the documentary to Maysles. "As you get to know Iris, she's unexpected. If you just see pictures of Iris in magazines or newspapers, you think she's a fashionista or a socialite or philanthropist, and I love this idea of peeling back the layers and seeing a portrait of Iris. She's just unexpected."
Iris was reluctant about the idea at first. "Most people don't think they would make an interesting documentary. Iris is just Iris. She doesn't understand the fascination. She did say she would consider it I found someone she could trust." Laughing, Rudick admitted she made her pitch via a blind email "to info@maysles.com"
When Albert occasionally is seen with his camera in the film, a sweet and warm presence, Iris seems smitten. As Variety put it in their review of the doc, "she's constantly trying to lure him out from behind the camera."
A few days after Maysles death [in March] Rebekah went with her sisters and friends to a screening of the newly remastered Grey Gardens, where a trailer of Iris ran. "I think when I saw it I realized how much fun everyone was having and there was all this performance and flirtation that was going on," Rebekah told Brand. "There are a lot of different ways you can think about comparisons with a lot of stuff and fashion, but for me, this intimacy and pleasure everyone had in making the film and filming the film."
"They're so alike in the way they both approach life. They live very authentically. They're both ageless and they both have a passion for what they do. The passion of an 18-year-old. I'm hoping that comes through in the movie."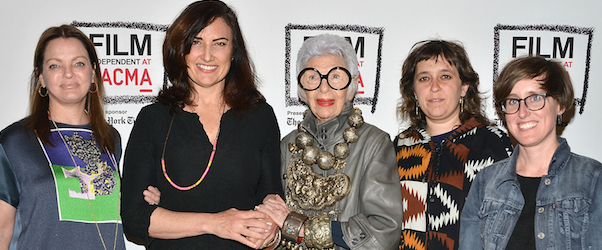 Pamela Miller / Website & Grants Manager