James Ponsoldt Initiates Flannel Movement for Star-Studded 'Singles' Live Read
Whenever strongly urged to "wear your flannel" by the host of an event—and the event is not the Lumberjack World Championships in Hayward, WI—an educated guess might lead you to want to prepare for some early-1990s Seattle grunge. And grungesploitation was precisely what filmmaker James Ponsoldt (The Spectacular Now, The End of the Tour) had in store November 5, making his Live Read directorial debut, taking on Cameron Crowe's classic 1992 Seattle-set rom-com Singles, an event which marked the beginning of a new season of Film Independent Presents at the Wallis Annenberg Center for the Performing Arts, following an unforgettable inaugural first year.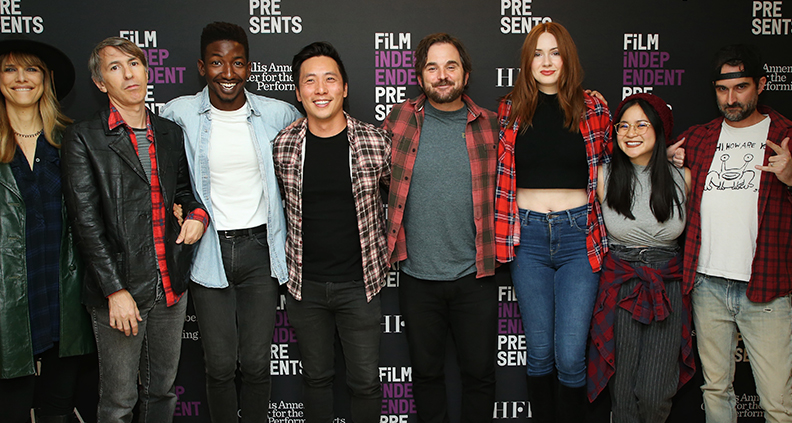 Before Ponsoldt and his cast took the stage, the evening kicked off with the West Coast premiere of The Claw, a short film directed by Lael Rogers and recipient of the third Seattle Story Award, presented by Film Independent in partnership with Visit Seattle. The quirky, vividly shot eight-minute, 30-second film fittingly featured a Seattle punk band, Return Policy, and their dilemmas as they prepare to play their largest show. Plenty of humorous band bickering ensues as the group gradually psyches themselves out before the biggest moment of their career.
"What if we just played the Seinfeld theme again and again and again until somebody called the cops," suggests the band's bassist, Tyler (Ian Edlund.) Initially, it seems as if the band's vocalist Kiran (Alaji Marie) is suffering from standard last-minute stage fright. But soon, we discover that she's afflicted by something quite a bit more unusual—something involving no small amount of Cronenbergian body horror.
Clearly an exciting new voice in the indie film world, director Lael Rogers was on hand for the event, along with actors Alaji Marie and Avital Ash. The Claw can be streamed in its entirety courtesy of Visit Seattle and Rogers' production company All Is Well Studios. Or, y'know, just watch it below:
Following The Claw, singer-songwriter Bart Davenport took the stage to perform the Paul Westerberg classics "Dyslexic Heart" and "Waiting for Somebody," two standouts from Singles' classic alternitive-rock-era encapsulating soundtrack. The multi-platinum album also boasts tracks by grunge gods Soundgarden, Alice in Chains, Smashing Pumpkins, Pearl Jam and Mother Love Bone, among others.
Davenport prefaced his stripped-down solo acoustic renditions of the songs with an anecdote—dating, appropriately, from the early '90's—about how his then-drummer actually had to cancel some shows with him in order to play some gigs with Westerberg. Two decades on, Davenport magnaminously buried his grudge against the Replacements' frontman and expertly performed the two songs.
A nice treat leading into evening's main event was an email from Singles auteur Cameron Crowe, which Ponsoldt read to the audience. "The movie came from a special time in my life," Crowe said. "I'd fallen in love with Seattle, and so many of the soulful members of the community." He went on to acknowledge the late Soundgarden frontman, who has a cameo in the film, saying: "Love live Chris Cornell!"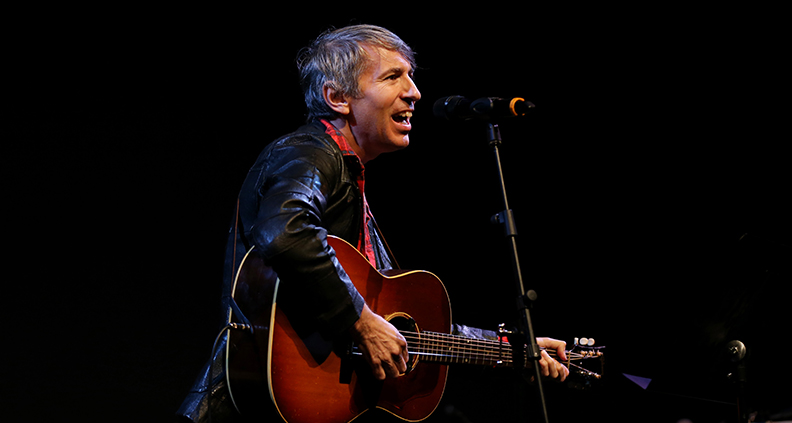 The Live Read cast then took to the stage, sitting in their chairs behind a sign which would indicate to the audience which character(s) they would be playing for the evening. Mamoudou Athie (The Front Runner) as Steve (originally played by Campbell Scott); Karen Gillan (Avengers: Endgame) as Linda (originally Kyra Sedgwick); Kelly Marie Tran (Star Wars: The Last Jedi) as Janet (Bridget Fonda); and Davenport, returning to the stage, to play Cliff (Matt Dillon.)
Filmmaker Lynn Shelton (Your Sister's Sister) played Debbie (originally Sheila Kelly), while Live Read veteran Jay Duplass (The Puffy Chair) and actor Kelvin Yu (Popular) each played a laundry list of miscellaneous characters—Yu's sign actually said "literally everyone else" to highlight the absurdity of how many roles he would have to fill. Duplass arguably won MVP of the night for playing the role of… an answering machine. Meanwhile, Ponsoldt would served as director, reading stage direction and setting the scene throughout.
While Singles is all but synonymous with the early 1990s due to its fashion and grunge scene milieu, the actual story at the film's center is timeless. Ideas about urban-dwelling 20-somethings struggling to find love and a sense of purpose in life are obviously just as relevant today as they were in 1992. Singles simply takes a template we all know and love and pours grunge on top (also: lots of Seattle Supersonics references!)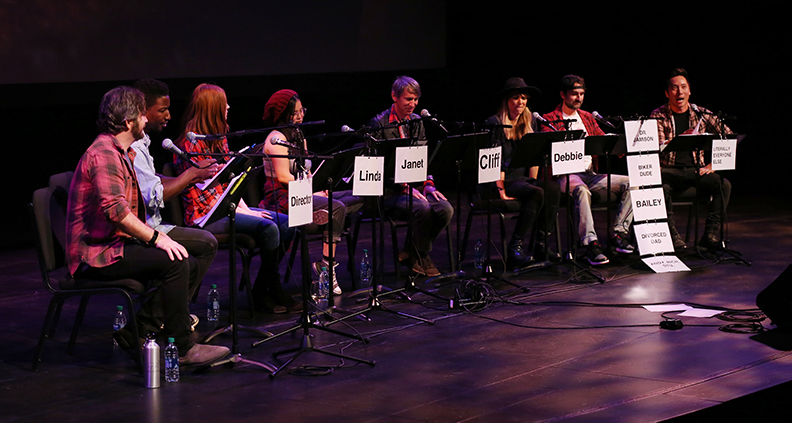 Classics quotes were abundant, but Davenport's rock star wannabe Cliff Poncier delivered one of the absolute best—substantiated by the audience's huge reaction—when he earnestly states: "Well, I don't like to reduce us to just being part of the 'Seattle Sound'… we're huge in Europe right now" talking about his undeniably very Seattle-sounding band (play in the film, in fact, by members of Pearl Jam.)
If you need more excuses to rewatch Singles—or discover it for the first time—just remember: this is a film where you get to see both Eddie Vedder and Tim Burton attempting to act, which also includes a "come as your favorite contraceptive" themed-party scene. Plus, it'll change the way you look at garage door openers forever.
Keeping checking the Film Independent events page for more information on events February 25, May 5 and June 30 in 2020 at the Wallis. Not a Film Independent Member yet? What are you waiting for—become one today!
Coming Up at Film Independent Presents…