From the Archives: Jordan Peele's Forum Keynote Unpacks 'Get Out's American Nightmare
EDITOR'S NOTE: The below recap originally ran as part of our coverage of the 2017 Film Independent Forum. This year's Forum takes place April 26-28. Click here to see a complete schedule and register to attend today by clicking here.
***
Day Three of the 2017 Film Independent Forum began with a note of gratitude and accomplishment, as moderator and Film Independent Curator Elvis Mitchell asked keynote honoree Jordan Peele what it felt like to be discussing Get Out, his feature directorial debut, in front of so many people. "This is something I've been shooting for my whole life, calling myself a director," said the 38-year-old filmmaker, who prior to Get Out has best been known for his comedy work. The keynote was supported by Universal Global Talent Development & Inclusion.
Peele observed that, "the things I was working towards with this movie [are] racially divisive," noting that it took a great care and attention to ensure that divisiveness wouldn't fracture his audience. Peele credited much of the film's universal appeal to lead Daniel Kaluuya, who plays Get Out's protagonist. "By the middle of the movie, or even earlier, everyone in the theater is [Kaluuya's character] Chris," he said.
Peele said that he first began to think of Get Out's story during what he called "the post-racial lie" of the Obama years. Originally, Peele's idea for the story involved a secret plot to re-enslave black Americans through hypnotizing them. Though the hypnosis angle was retained in part, Peele eventually reshuffled the narrative to be an exploration of white progressive micro-aggressions.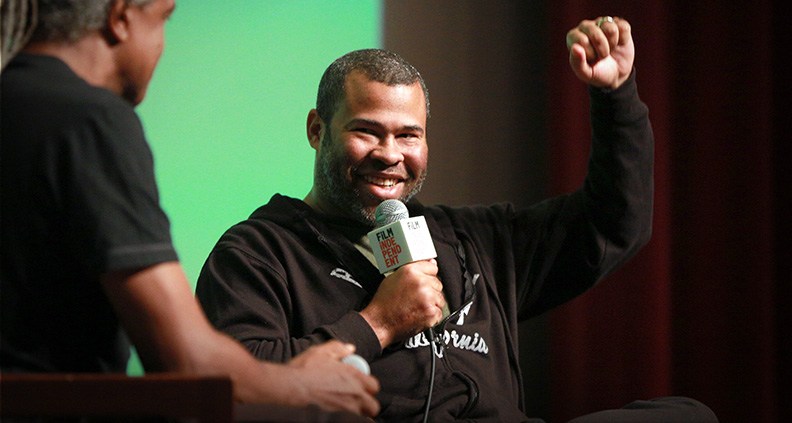 "What if I didn't make it a more typical kind of racism?" Peele asked himself. "What if it was the other side of that—the assimilation, the admiring of black bodies and culture?" To that end, Peele was inspired by the idea of creating "a social thriller [that] explores the horror of society."
Mitchell commented that after making the film, Peele could teach a class on genre tropes. The director laughed. "When I had the first cut [I remember] thinking, 'this is a ridiculous movie,'" he added, "I'm very thankful and humble that everyone working on the project took it as seriously as I did."
Peele had studied the work of pulp author Ira Levin, writer of Rosemary's Baby and The Stepford Wives—two key sources of storytelling inspiration. "This is so pulp," Peele said, "We have brain transplants and hypnosis." Still, Get Out's themes were nonetheless rooted in very real issues of race. "I internalized the system and the lack of representation in the system," Peele said, saying of his creative process, "I have to write my favorite movie that doesn't exist."
To complete the project, Peele said he had to make writing "the most fun thing to do with my time," saying that, "When you're having fun writing, that's when you get that East-West Bowl shit"—referring to Key & Peele's most famous sketch—"The process of having fun doing the work is visible to people."
The lights dimmed for a clip: Get Out's arresting opening scene ("How did you get that without credits on it?" Peele wondered.) Afterwards, Mitchell noted that the sequence—a single long take following Lakeith Stanfield's character's sudden, brutal abduction while wandering lost in a white suburban neighborhood—felt like a bad dream.
Peele agreed. "It needs to be tailor-made as the protagonist's worst nightmare," he said. Initially, the scene had been envisioned as a Hitchcock-inspired short film with extensive coverage. But when that vision failed to come together because of ill-timed rain, the sequence was re-calibrated as an economical (though well-choreographed) single take.
"Every moment of every day was negotiating what we couldn't do," said Peele of his limited budget and shooting schedule, using his limited resources to "force myself to make a stronger decision than I would have otherwise. The story you see is everything I couldn't change."
Mitchell asked about the film's approach to conjuring scares. It was an emotional response Peele said was not dissimilar to his comedy work. "Any good scary moment is not intellectual for me. It's a feeling and a vibe." A big part of creating a believable story, he said, was to engineer situations that wouldn't immediately send Kaluuya's Chris packing.
"As soon as you have something that satisfies the horror, motherfuckers need to get out of there," explaining that in Get Out, every step toward horror simply "looks like the actual horror of society." He said of the film's infamously chilling garden party sequence: "The reality [of that scene] is not that far off from parties I've been to."
Speculating as to the underlying root of Get Out's surprisingly wide appeal, Peele said: "People are drawn to the truth in art like magnets."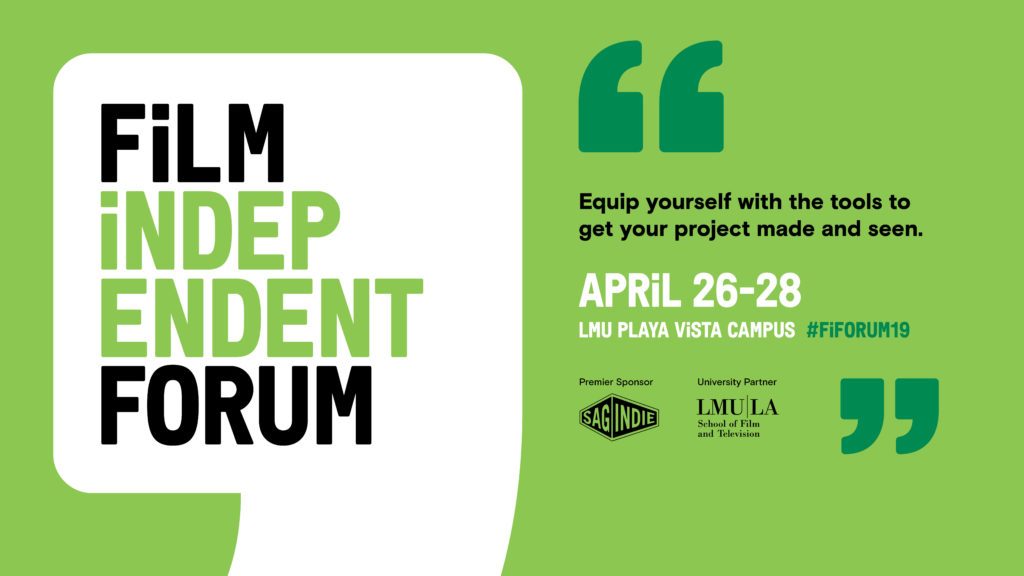 The 2019 Film Independent Forum takes place April 26-28 in the heart of Silicon Beach, at the new LMU Playa Vista campus. Click here to learn more. Buy your 2019 Forum pass today by clicking here. Passes are $195 for Film Independent Members and $265 for non-Members. Passes include lunches, receptions, screenings and free parking all weekend.
Not yet a Member of Film Independent? Click here to join. The 2019 Film Independent Forum is supported by Premier Sponsors SAGindie, Cast & Crew and University Partner Loyola Marymount University School of Film and Television.
Subscribe to our YouTube channel for exclusive interview clips, full panels and other exclusive material from the 2019 Film Independent Forum. Also: be sure to follow Film Independent on Facebook, Twitter and Instagram.