Juliette Binoche Tells Us What it Took to Become a Big Rig Truck Driver in 'Paradise Highway'
Juliette Binoche's long and illustrious acting career has seen her take on a wide array of roles—from mystical chocolatier, to aging theater diva, to interstellar fertility expert. But until now exactly zero of these roles have been as truck driver on the run from the FBI.
Norwegian filmmaker Anna Gutto's Paradise Highway, in theaters and streaming July 29 from Lionsgate, marks a completely new challenge for the venerable French Oscar winner, placing her in the driver seat of an 18-wheel big rig as Sally, a truck driver forced to deliver illicit cargo—a teenage girl—at the request of a prison gang that has threatened the life of her incarcerated brother (Frank Grillo).
Morgan Freeman costars as the FBI agent in hot pursuit, trying to save at least one of the estimated 100,00 children (per law enforcement statistics) that have been victims of sex trafficking in the U.S. Paradise Highway also examines the perils of life on the road specific to female truck drivers, as well as the power of community and connection.
We recently spoke to Binoche on Zoom, dialing in from her home in Paris to talk with us about her newest film, the issues it confronts and the process of becoming Sally.
JULIETTE BINOCHE
Paradise Highway is a different kind of role for you. Did you ever think that you would be playing a truck driver driving an 18-wheeler on the run from the police?
Binoche: Never in my life! That's probably why I did it.
For this role, you shadowed a real-life truck driver named Desiree Wood. Could you tell me a little bit about that experience?
Binoche: We went on a trip together and she was driving so I could ask her millions of questions. Because, you know, it's long hours sitting down driving through the same kind of landscape going into the Grand Canyon. She asked me where I wanted to go, and I said the Grand Canyon! It was wonderful. We spent time together, slept in the truck, ate at truck stops with unhealthy food and got fat in about five days.
She also taught you to drive an 18-wheeler, correct?
Binoche: She did, as well as other drivers. She taught me how to back up and use 13 different gears. That was an exciting part. I love learning things, and when it's physical it feels real. As actors we use so many emotions and feelings and sensations. To have something physical, it helps you relate to reality. Seeing those big trucks when you're driving, you're always frightened of them. You think they're going to kill you. But suddenly, being inside of it actually made it make sense. Now when I see a big truck I'm not that frightened, because I know that they can control themselves. You know the dangers and what you can do and can't do. It was a great perspective.
Binoche: Most importantly in the film is the journey that the characters are going through. The big one for my character, Sally, is the transformation of being caught up inside of a family situation that is unhealthy and traumatizing. But still, my character is a pleaser who wants to feed that relationship in order to maintain that relationship—how do you jump into making the choice of having a relationship that is saner and heart-oriented? It's a very interesting question of how you choose your family.
The main issue this movie confronts is human trafficking, specifically the trafficking of children. Is this something that drew you into working on the film in addition to the challenge of playing a truck driver?
Binoche: Yes, I've always been very aware of the children sex trafficking problem around the world. When I was pregnant with my son, I felt like I need to relate this child and myself to another part of the world where children are vulnerable. So I thought of Cambodia, because there are a lot of orphans and sex trafficking there. This script talking about sex trafficking in the Western world was very important to me, because we always want to point the finger outside of our own countries. But when it's in our own countries, it's a little more difficult in a way. I found it brave for the director to go into that subject. That's one of the biggest reasons I got involved in the film.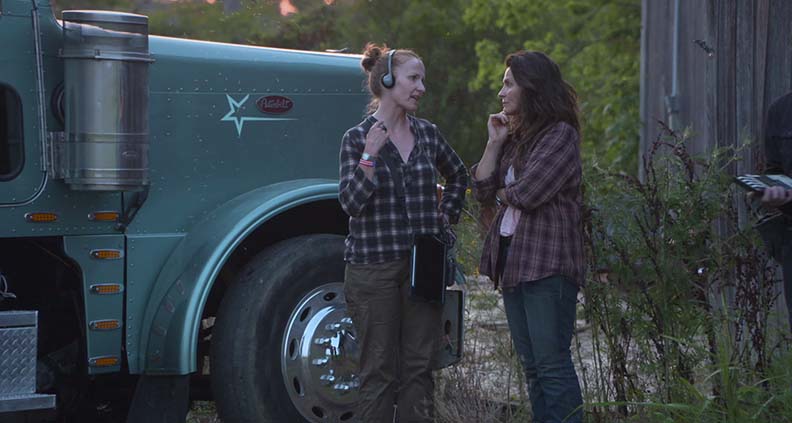 You've worked with so many great directors—Claire Denis, Leos Carax, Abbas Kiarostami, etc. I was curious if there's anything you see in Anna Gutto that you've seen in those directors?
Binoche: Anna was always very humble. She said "I will learn" throughout the journey. I knew she was going to confront some big issues that directors always have to confront. She was adapting to different situations that were very rough. The shooting was rough. Physically rough. It was very hot. We were in Mississippi in July with the mosquitos and we were shooting daytime and nighttime. We went back and forth five times in five and a half weeks, so you can imagine the state we were in. We were also shooting with this little girl, Hala, who could only work a few hours a day, so we had to decide how to divide the [time]. It was rough! Also, the truck was created specifically for the movie, and it wasn't ready in time. Sometimes it was falling apart. The door was opening while I was driving. Something was falling on my head. It was so rough that Anna and I had to laugh together because it was so crazy. It was so hard it made the journey even more intense, in a way. The roughness of the shooting made the thriller even rougher. The heat as well, you can feel the heat on the faces and the tiredness of it all. It was what they would've had to go through. It was a curse and a blessing together.
Hala Finley, your co-star, was 12-years-old during filming and is excellent in the film. How do you feel about working with child actors? Does it change your process at all?
Binoche: I was worried before shooting, because I didn't know who was going to be playing Lela. She's such an important character in the film, and the relationship between Sally and Lela is very intense and the root and heart of the film. If this didn't work out, it was going to be a catastrophe. The first time I played with her in the truck, I said, "This is it. She's amazing! She's an actress." She prepares. She's not waiting for the director to tell her "do this" or "do that." Her acting is so strong that I can only thank Earth and God that it was possible that we could go on this journey and give the strongest performances possible.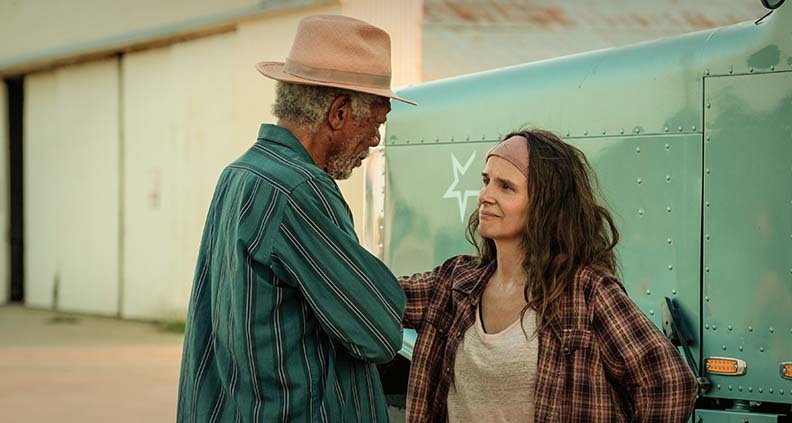 Another actor who has a little bit more experience is Morgan Freeman, who you worked with for the first time in this movie.
Binoche: I never thought I was going to act with him. I was just thrilled when he said "yes" to it. We shot in Mississippi because of him—he wanted to shoot there. I loved working with him. We only have two or three scenes together, but I was in love with him. He has this elegance. There's something in him that is from another world, from another time. There's a soul elegance I would say. I remember the last shot we did together, we started on him, and he only likes to do one or two takes. I like to do many, many takes. It was difficult for me because sometimes I only had one take and I was not happy. After asking for a second, third, fourth take, I could see on his face that he was like "Oh no, another one!" In the middle of the last take, he looked at me and he just grabbed me and embraced me, and we finished like that, and I didn't ask for another one. It was just joyful and meaningful and loving, and it will be something I'll remember when I'm old. I'll remember Morgan with a lot of melancholy.
The movie acknowledges the perils of the road, especially for women truck drivers, but also positions it as a place of solace for some, where they can find themselves. Do you consider yourself as someone who enjoys a nomadic lifestyle or are you more of a homebody?
Binoche: I'm pretty much a homebody, because I work a lot and need time by myself to learn my lines and do some research or recover from a hard day of shooting. That's my life! I have rhythm with family as well. I take care of my mother and I have two kids. I'm traveling quite a lot for work, but as little as possible due to climate change. But when I have to, I do. As actors we research quite a lot, so we have to go to the world and we have to learn about human beings, behaviors, circumstances, whatever is possible.
The film is very much about family and connection. What do you take away from what the film wants to say about these topics?
Binoche: Well, I believe that. You've got to choose your family, especially when [your natural family] is unhealthy. You've got to make the choice for yourself about what you need and what feels right and not feel guilty about it, which is difficult. You've got to work on yourself in order to really become the person you want to be.
Paradise Highway will be released digitally and in theaters this Friday, July 29.
Film Independent promotes unique independent voices by helping filmmakers create and advance new work. To become a Member of Film Independent, just click here. To support us with a donation, click here.
More of Film Independent…