Next Week's Live Read of 'Eternal Sunshine of the Spotless Mind' Will Be Unforgettable.
It's ironic that a movie about forgetting should turn out to be one of the most memorable films of the still-young 21st century. All but instantly upon its release in 2004 Michel Gondry's Eternal Sunshine of the Spotless Mind quickly became a classic of the dorm-room-DVD era. Based on an Oscar-winning original screenplay by Charlie Kaufman, Sunshine is at once melancholic and slapstick, with the quirky Frenchman Gondry's whimsical take on Kaufman's neurotic, high-concept tale of medically-assisted heartbreak erasure rapidly earning a permanent spot in the cinematic vocabulary of young filmmakers worldwide.
Among the 30-something generation of auteurs for whom Eternal Sunshine is an unshakable touchstone is NY-based writer-director Brett Haley—helmer of indie favorites such as Hearts Beat Loud (2018), The Hero (2017) and I'll See You in My Dreams (2015). Haley, in fact, will be guest directing a very special Film Independent Live Read of Kaufman's script onstage next Wednesday, March 4, at the DGA Theater on Sunset Boulevard in Hollywood. (And don't forget: there's still yet another Live Read tonight, of 1979's Breaking Away—tickets available!)
To perform Kaufman's tale of sad-sack dumpee Joel (played in Gondry's film by Jim Carrey) and his fumbling attempts to quite literally remove any memories of free-spirited ex-girlfriend Clementine (Kate Winslet) from his brain, Haley will oversee an all-star cast including Tessa Thompson, Adam Scott, Kiersey Clemons, Kelly Marie Tran, Bridget Regan and more. Check out our special event poster, designed by Film Independent's Patricia Lindberg: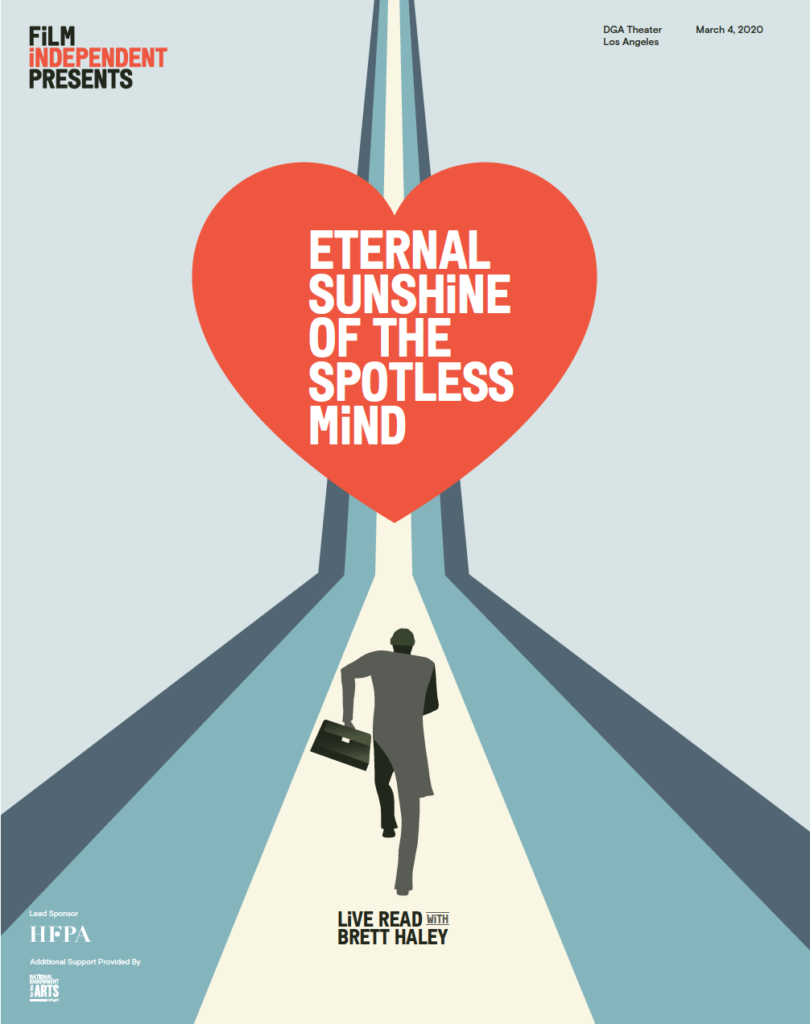 Past Live Reads have included Nick Kroll and John Mulaney's Oh, Hello!-inspired spin on My Dinner with Andre, Randall Park's all Asian reimagining of When Harry Met Sally and, recently, James Ponsoldt's grunge-engorged trip back to 1990s Seattle with Singles on November 5.
Get your tickets for next week here and keep reading to find out why we're pretty sure next week's live read will be, well… unforgettable.
ETERNAL SUNSHINE OF THE SPOTLESS MIND
One of the most celebrated screenwriters—and with 2008's Synecdoche, NY and 2015's Anomalisa, directors—of the 21st century, Kaufman developed the idea for what would become Eternal Sunshine based on an idea hatched by Gondry and his musical collaborator Pierre Bismuth: what if you could completely erase from your mind memories of an unhappy relationship? Having worked together on 2001's Human Nature, Gondry suggested the premise to Kaufman, who injected the idea with his own existential interests while also downplayed the idea's sci-fi elements in favor of more relatable relationship dynamics.
Devastated by his break-up with the more free-spirited (sometimes frustratingly so) bookstore employee Clementine, taciturn cartoonist Joel happens upon a commercial for the curiously low-rent "Lacuna, Inc.", which promises to extract and delete unwanted memories. Joel impulsively signs up for the procedure, but quickly realizes—one it's already begun—that he still values his time with Clementine, struggling to hang on to his memories of her as they begin to erode.
Famed throughout the '90s and early 2000s for his inventive music videos—including Foo Fighters' "Everlong," Daft Punk's "Around the World" and The White Stripes' "Fell in Love with a Girl," plus plenty more—the film was the Parisian drummer-turned-director Gondry's second feature, filmed in a style that uniquely blended gritty realism with surreal imagery, largely created through in-camera effects—in keeping with Gondry's signature "handmade" aesthetic.
BRETT HALEY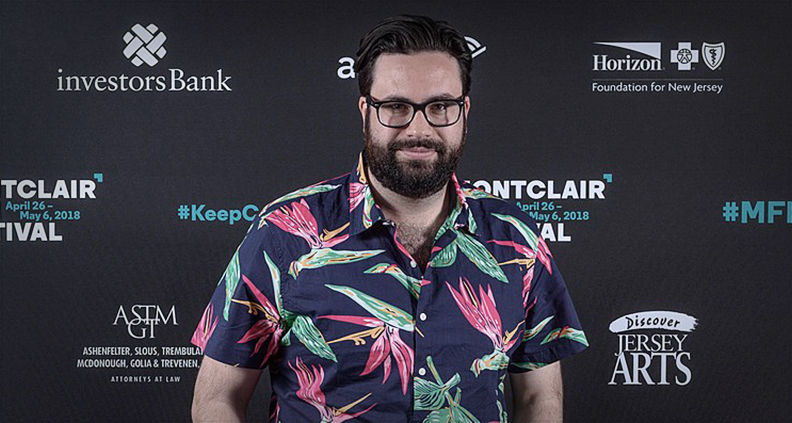 Born in Illinois and growing up in Chicago, Brett Haley eventually found himself in film school at the University of North Carolina, only to finally settle in New York after graduation. His debut feature, 2010's The New Year was produced for a reported $5,000 and won the Audience Award at the 2010 Sarasota Film Festival. His second feature, I'll see you in my dreams, premiered at the 2015 Sundance Film Festival, where his third feature, The Hero, would also premiere, in 2017 (The Orchard released the film later that year.)
Haley's most recent film, Hearts Beat Loud, was released in 2018 by Gunpowder & Sky, marking the filmmaker's widest release yet, following (you guessed it!) yet another Sundance premiere. The film stars Nick Offerman and Kiersey Clemons as an estranged father-and-daughter, who find common ground and begin to rebuild their relationship over a shared love of creating music. Clemons and Haley, in fact, will be reunited next week, with the 26-year-old joining Haley's star-studded Live Read cast—and even promising to perform a few songs!
Coming soon is the director's All the Bright Places. Based on the bestselling novel by Jennifer Niven (who also wrote the film's screenplay), the Elle Fanning and Justice Smith starring drama will premiere on Netflix this Friday, February 28. Also upcoming: Sorta Like a Rock Star, based on the novel by Matthew Quick and starring Auli'I Cravalho, Justina Machado and Fred Armisen.
Tickets for next week's Eternal Sunshine of the Spotless Mind Live Read are $30 for Film Independent Members, limit two tickets per Membership. Tickets are $50 for the general public, limit two tickets per order.
Direct ticketing:
Follow Film Independent: