LA Film Festival: We Watched Every Episode of 'Documentary Now!' on the Big Screen
Day Four of the 2017 LA Film Festival drew fans of both fact and fiction to the ArcLight Theaters in Culver City Sunday afternoon for an unprecedented six-hour mockumentary-marathon of every episode (to date) of IFC's critically acclaimed comedy series Documentary Now!
Honestly, what better way to beat the weekend heat then watching back-to-back (to-back-to-back-to-back…) parodies of nonfiction classics like Grey Gardens and Jiro Dreams of Sushi—all courtesy of SNL alumns Fred Armisen and Bill Hader, who double as both onscreen talent as well as the brains behind this appreciatively satirical dive into the history of nonfiction filmmaking. (Armisen had previously appeared at the Festival in person on Thursday for the panel Portlandia: A Look Back and a Look Forward.)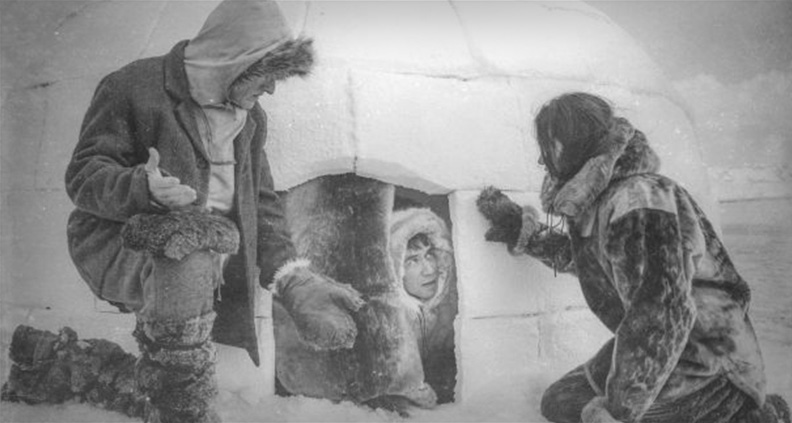 The comedy—whose creative team also includes Seth Meyers (NBC's SNL and Late Night with Seth Meyers), director Rhys Thomas (SNL) and writer John Mulaney (SNL again, not to mention co-host of the 2017 Film Independent Spirit Awards)—seeks to parody popular documentary films, from slick gonzo-style reporting, to Maysles-inspired cinéma vérité, to concert films and more. Each spoof mimics the formal style of its IRL inspiration perfectly—down to the approximation of era-appropriate film stocks—bringing an air of realism to each 20-minute comedic segment.
Sunday's marathon included Seasons One and Two of the TV series—a total of 14 episodes total (all currently available on Netflix)—shown side-by-side with archived scenes from the original documentaries that each episode was based on.
Armisen and Hader are particularly spectacular in their comic approximations of well-known figures, such as George Stephanopoulos from the The War Room (in the second season Documentary Now! episode "The Bunker") or the Inuit hunter "Nanook" from Nanook of the North (from Season One's "Kunuk Uncovered").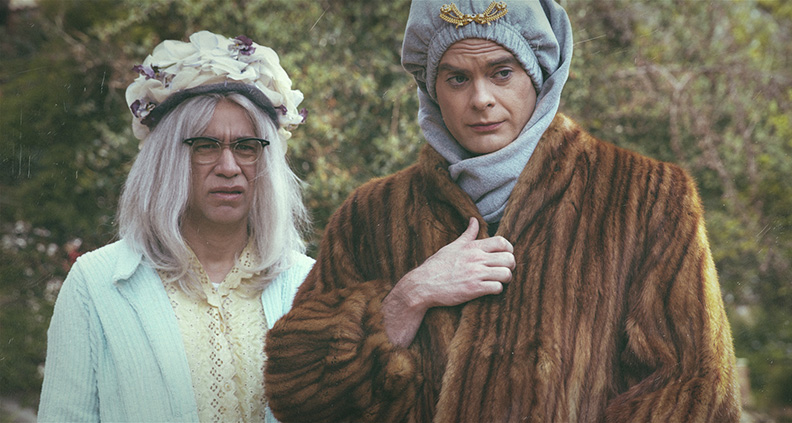 The marathon opened with "Sandy Passage", depicting the daily lives of two eccentric socialites as they waste away in their crumbling estate. Sound familiar? That's because it's a take on the Maysles' 1975 classic Grey Gardens, which follows two formerly upper-class relatives of Jackie Kennedy Onassis from the decay of their derelict mansion in East Hampton, New York.
Watching every episode of the the show in such quick succession, it's clear that Armisen and Hader enjoy pushing the comedic envelope—like showing Armisen's "Vivienne 'Big Vivvy' Van Kimpton drinking alcohol from a fish bowl filled with ice (in Gardens, "Big Edie" actually uses a mason jar!) The episode ends with Kimpton and her daughter "Little Vivvy" luring the camera crew to their home's sinister basement to… Well, we'll leave the rest of the episode to your imagination. But let's just say it has major horror movie vibes!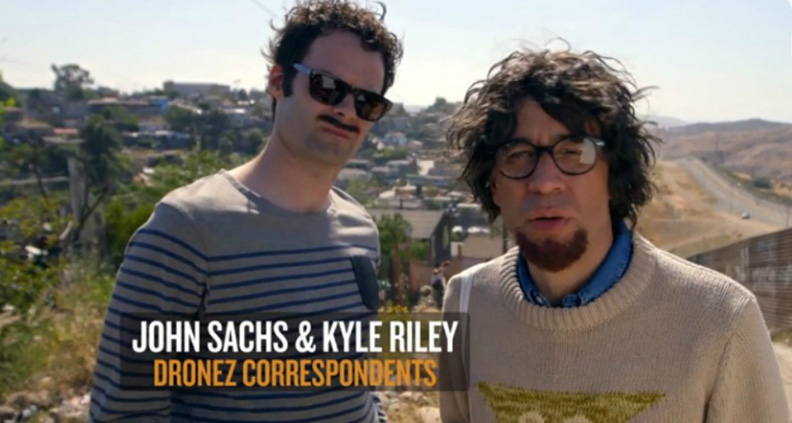 Another season one stand out is "DRONEZ: The Hunt for El Chingon," Documentary Now's spoof of Vice News, which originally aired in August 2015. The episode follows three pairs of journalists who can't seem to make the right decisions while chasing after an infamous drug lord (one that strongly resembles El Chapo). Darkly comedic and at times culturally poignant, the episode sheds real light on areas affected by drug war and the ways in which news stories today are suffused, good and ill, with first-person narratives.
It's no surprise that Documentary Now! was named to the New York Times "Best TV Shows of 2015" list, or that it's been renewed for a third season. It's not easy to forget a show that wraps perfectly timed humor together with the occasional absurdities of filmmaking into such a beautiful, 20-minute package. That's a fact.
The 2017 LA Film Festival is currently underway, June 14—22, headquartered at the ArcLight Cinemas Culver City, with additional screenings at ArcLight Hollywood, ArcLight Santa Monica, LACMA and The Theatre at Ace Hotel. Check out the Festival Guide here.
Stay tuned to our Twitter, Facebook and Instagram for the latest new additions and updates. And don't forget to subscribe to our YouTube channel for more exciting announcements. Tickets and passes are on sale now.
Sold out screenings? Get in with a Festival pass. In addition to screenings and special events (even when sold out) Festival passes provide entry to our super-fun Festival Lounge, featuring a 21+ hosted bar and the opportunity to rub shoulders with Festival filmmakers and other film industry professionals. Buy yours. Film Independent Members save up to 25%.