Stage Dives, Strippers and James Van Der Beek highlight memorable Ferris Bueller Live Read
The very first Live Read staged at Film Independent at LACMA was John Hughes' The Breakfast Club. So it's only fitting that for the inauguration of the series' fifth season, Live Read creator Jason Reitman chose another legendary John Hughes classic: Ferris Bueller's Day Off. The landmark teen comedy turns 30 next year, so it's just the right time to honor it.
Reitman announced his cast on Twitter the day before the event:
Fred Savage as Ferris Bueller
Clark Gregg as Mr. Rooney
Martin Starr as Cameron
Catherine Reitman as Sloane
Mae Whitman as Jeanie
Michaela Watkins as Grace
Richard Speight, Jr. as Economics Teacher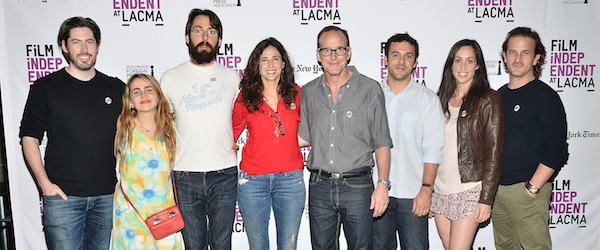 Bueller…
When veteran character actor Speight was announced for the role immortalized by Ben Stein, we were left wondering whether his iconic roll call would be part of the evening's proceedings.
We shouldn't have worried. It was grand. Speight dropped a deadpan "Bueller…" to rival the original. Some thought Stein's reportedly improvised lines might not make it to the stage. But they were read and the crowd roared.
Twist and Shout
Another question we had going in was how all of the musical numbers in the film would translate to the stage. Well, they translated right off the stage as Savage went all out for the parade scene. Backed by the film's rendition of the Beatles hit, Savage lept to his feet and into the audience as the rest of the cast danced and cheered him on.
GRACE!
The excitement over Clark Gregg's take on Mr. Rooney was palpable, but his partner-in-crime was equally unforgettable. Michaela Watkins was utterly hilarious as Rooney's secretary Grace, bumbling and ditsy, offering little help to the already stressed dean of students. Gregg made the most of his very physical role, playing out Rooney's agony as he fails again and again to best Bueller.
Strip Club?
Missing from the film is a scene in the original screenplay where Bueller, Cameron and Sloane fake their way into a strip club. The bizarre little sequence brought the house down, especially when Starr's Cameron began to question the stripper's tassel technique.
"How does she do that? One goes one way, one goes the other."
Van Der Volbeck
In the film, Charlie Sheen makes a memorable cameo as a druggie teen who shares words of wisdom (and some lip action) with Ferris' sister Jeanie. Reitman brought in someone special to play the part: James Van Der Beek. Mae Whitman, a standout performer all night long, threw her arms around the Dawson's Creek star as they "made out" while Watkin's Katie Bueller spoke to the cops.
The night was filled with laughs and applause and marked a promising start to another season of Live Reads at Film Independent at LACMA.
Daniel Larios / Film Independent Blogger