Maggie Gyllenhaal Unpacks the Biggest Moments of Her Career
If you're as big of a Maggie Gyllenhaal fan as we are, then there was no better place to be last Friday than the Wallis Annenberg Center for Performing Arts in Beverly Hills, where Film Independent welcomed the acclaimed actor-turned-filmmaker to the stage for an extended conversation about her work and career. The event—"An Evening with Maggie Gyllenhaal"—was the third of five Wallis events during an extremely action-packed week, featuring highlights from Gyllenhaal's nearly three-decade (!) career as she unpacked the intersecting experiences of working, acting, parenting and being a woman—all of which culminate in her latest project, a cinematic adaptation of the Elena Ferrante novel The Lost Daughter.
Journalist Stacey Wilson Hunt moderated the engaging conversation with the charming and always-lovely Gyllenhaal, eventually arriving at her much-anticipated directional debut, based on the pseudonymous Italian author Ferrante's 2006 fiction novel of the same name. The Lost Daughter will be streaming on Netflix starting December 31.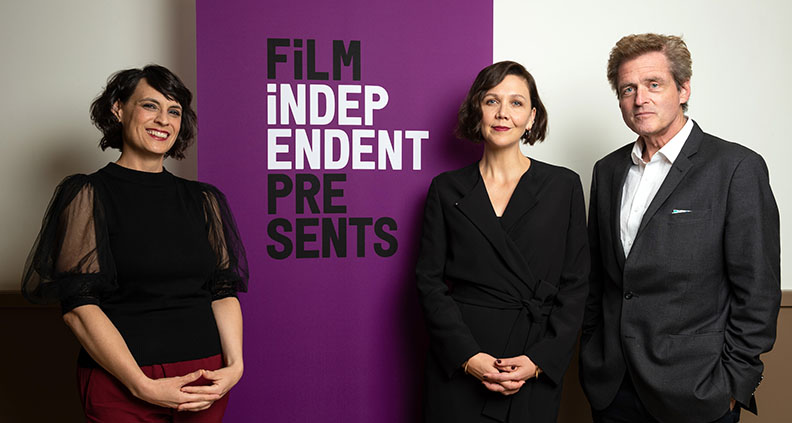 Of her breakout role in Steven Shainberg's 2003 workplace S&M fable Secretary (which earned her a Film Independent Spirit Award nomination for Best Female Lead), Wilson Hunt observed that in light of the #MeToo movement, there had been some renewed interest in the film and if, for her, the project feels any different now that it did when it was released.
Said Gyllenhaal: "It doesn't feel [different] to me. I think it's dangerous and it was dangerous then and I'm really proud of it." Adding, "The story is almost like an unsolvable puzzle at this moment: What do you do with a character who is actually made alive, empowered—turned on in every way—by this relationship with her boss? It doesn't fit into a black and white way of looking at the world, and I'm really proud of that," though she also said she wan't sure if such a film could be made now.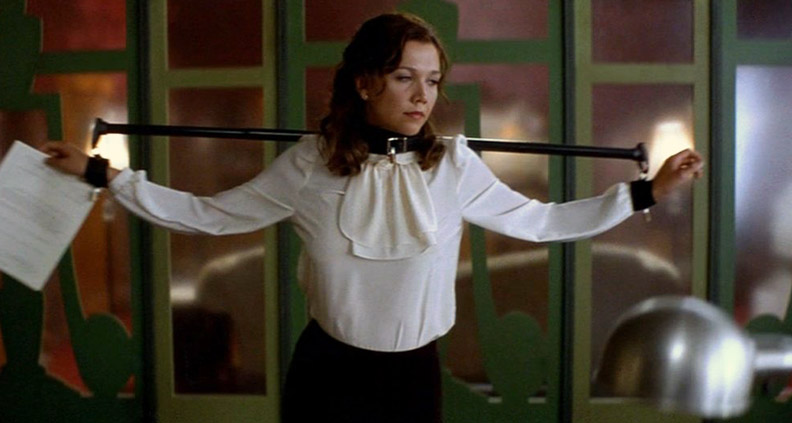 Regarding her work in Laurie Collyer's Sherrybaby (2006), Gyllenhaal was asked what kind of research she did to capture the nuances of a single mother, just returned from prison and struggling to keep on the straight-and-narrow. To become Sherry Swanson, Gyllenhaal said, she had to do a lot of research. "I hung out with Laurie and we went to this prison on 20th Street and the West Side Highway… I spent time at all these halfway homes; I met a lot of women [and] it was really helpful," adding: "It was a world that I really didn't know about, and had to really give these women respect."
Gyllenhaal also reminisced about working her acting teacher, Penny Allen. "She became this really powerful force in my life and [was] an incredible teacher, but just like any teacher, just like anyone who's offering you something, you have to know how to receive it in order for it to have any value," she said, poignantly.
Of her Oscar-nominated performance in the acclaimed country music drama Crazy Heart (2009), Gyllenhaal said that in order for the movie to work, her single-mother character Jean Braddock had to genuinely be in love with costar Jeff Bridges' doomed troubadour Bad Blake. "It has to be a tragic love story—if you're not rooting for them then you don't have a movie, and we both knew that. So we knew we had to create that love."
Gyllenhaal said that director Scott Cooper once visited Gyllenhaal as she was getting ready to do a scene in the motel room, saying, "Scott came over and said, 'Maggie, I love you!" Gyllenhaal said she realized that if you are loved as an actor, you can feel safe to "go beyond what you know about yourself and learn something onscreen."
Regarding Gyllenhaal's foray into television with The Honorable Woman, which aired for the BBC and Sundance TV in 2014, Gyllenhaal spoke to what she learned about herself, having to shoot in a foreign country with her two (very young) children in tow. "I turned 36, and I just think everything in my life changed around making that show. I grew up," she said.
Amidst some normal feelings of panic around caring for her children during an incredibly demanding shoot, "I called a friend of mine and she said, 'It makes total sense that you're scared, but you just have to go to work one day at a time' and that really helped me." At the same time, Gyllenhaal's acting teacher Penny Allen was experiencing the loss of her husband and so they, together, met "at this amazing place" where they both wanted to bury themselves in creating the character. "For some reason, the part just hit me at a moment where I needed to learn something, and it took me across a little bridge where I feel like I became a woman."
And finally, The Lost Daughter, with Gyllenhaal taking on the challenge of directing her first film during the COVID-19 pandemic. "I was like, maybe this is easier for me, I don't know what it's like any other way," she said of adhering to her set's strict COVID protocols, adding that since everyone was in isolation for so long, getting to be on location on a Greek island, "Everyone was so happy to be there, there was such an open-heartedness, such a gratitude that we all had for being at work and being together."
"I was interested in using a kind of classic—like Italian neorealist or a classic thriller form—to lay a groundwork for story." Bringing up the subject of the male gaze, in referencing the adoration or observation of women by men on film "in ways that we are so taken by," Gyllenhaal thought of actress Monica Vitti or any of the women featured in Jean-Luc Godard's films, saying, "What if we start with that respectful adoration, respectful kind of objectification—an elegant kind of objectification—observation," which was certainly on her mind during the shooting of the film.
Lastly: What was it like for Gyllenhaal to work with  husband Peter Sarsgaard on her film? "Nobody could play this part like him," Gyllenhaal shared, authentically. "There isn't anybody who could even begun to create what he created." Two days later following a Film Independent Presents screening of the film at the Pacific Design Center in LA, Sarsgaard would joke: "I thought it was the most commercial script I had ever read. Everyone has a mother. Everyone. Not everyone has spice or whatever from Dune, but everyone has a mom."
More Film Independent at the Wallis…
For our Film Independent Presents The Lost Daughter Q&A, see below:
Film Independent Presents is supported year-round by Lead Sponsor the Hollywood Foreign Press Association. Additional support for these special events at The Wallis provided by Warner Bros., Searchlight Pictures, Netflix, Apple Original Films and Lionsgate.
Film Independent promotes unique independent voices by helping filmmakers create and advance new work. To become a Member of Film Independent, just click here. To support us with a donation, click here.
More Film Independent…