Mary-Lyn Chambers Projects Art and Advocacy with New PSA
When not fully engulfed in the all-encompassing (yet infrequently-achieved) flames of feature film or TV projects, most working filmmakers' portfolios are rounded out by a motley assortment of small-scale passion projects and for-hire gigs—music videos, commercials and PSAs. In each case, it helps if the product or service being pushed falls in line with the filmmaker's own interests and values. And if the project gives the filmmaker an opportunity to flex her creativity as well, then all the better. Just ask Project Involve Fellow Mary-Lyn Chambers.
Earlier this year, the New Zealand-born filmmaker was selected to receive a production grant presented in partnership between Film Independent and LA-based advocacy, educational and child-services organization Children's Institute, to create a public service announcement touting the Institute's trauma-informed services—and, hopefully, to de-stigmatize the act of asking for help. The spot Chambers and her collaborates created together is a powerful and poetic piece of work—equal parts art and informational.
We recently spoke to Chambers about the spot and her approach to doing work-for-hire that's meaningful and compelling. We also talked about the challenges of production and what she might be up to next. Here's the conversation:
MARY-LYN CHAMBERS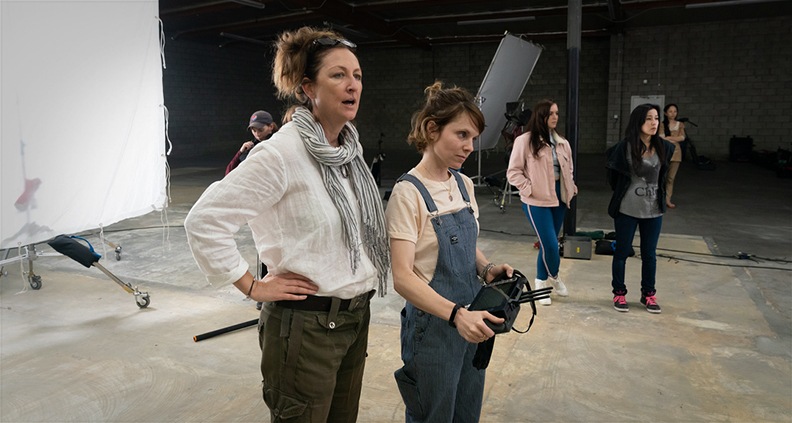 First, I wanted to ask how this PSA project came your way.
Chambers: I received an email on a Friday evening saying, "We think you'd be a good fit for this, would you be one of our Directing Fellows to come up with an idea and throw your hat in the ring to create this PSA?" I could not have been more thrilled because I had been doing a lot of narrative films in the social justice space. I don't do documentaries—I just do narrative film. If you bring people into a compelling story with strong characters, you have a chance to introduce an issue and hopefully effect change.
I think that's absolutely true.
Chambers: There are some pretty clear examples [of that] right now with Ava DuVernay's When They See Us and even Chernobyl. That's kind of the world I've been hanging out in. So when I got this, I was really excited. I've always wanted to do PSAs, I've always wanted to do commercials.
So how did the process of getting this opportunity work, then?
Chambers: I literally had five days to come up with a concept. I came up with three and sent along the strongest. I then came up with a budget and spoke to my DP and producer right way. We weren't sure how it was going to land with Children's Institute. The premise itself is about the effects of trauma; how trauma affects the hormonal system and brain development in young children, how it can lead to behavioral problems and health problems later in life. I learned a lot about the definition of trauma and how it affects people. I was able to look at my own traumas and how it's affected my life. It ended up being a topic I was really interested in, so it was perfect timing.
What was the prompt or what direction were you given?
Chambers: [Children's Institute] wanted a three-to-five minute video and they wanted a one-minute [version] to push out on social media. They just wanted something to educate parents to take a breath to consider whether or not your child has been exposed to trauma. Next to that, that there are free resources at Children's Institute where you can get more help to intercept any issues with brain development or behavioral problems or any health problems that could show up later. I chose to project images of trauma onto these children as opposed to having them perform scenes with intense traumas. What we wanted to convey visually, metaphorically, is that children are often exposed to trauma. So that was a really powerful way to show that.
You mentioned that you had wanted to do more PSAs and commercial work. When you're working on a piece like this for another organization, who do you imagine the intended audience?
Chambers: It was important to me that Children's Institute ended up with a tool to bring people in and get them what they need. It was less important for me to have a creative experience or have my own creative stamp on it, even though I feel that my creative stamp is definitely there. It mattered to me that Children's Institute was involved, that they were reading the voiceover, that they were free to say this and not that. It was paramount for me that they got the tool that served their initiative. And I just factored everything into it from that point.
There are an incredible number of individual vignettes you had to stage for this. How did it all work? 
Chambers: Yeah! When I first gave the budget to my producer,Cynthia Bravo, she said, "You know, it's really not enough." So it's really about paring down the concept to fit the budget. So we figured out shooting for two days. The vignettes were shot one day; we rented a house for $800 and shot 17 vignettes in one day. And I strive not to go over 12 hours.
So all those scenes are the same location?
Chambers: We had an incredible production designer, Vane Plaza Lazo. She literally went in there and created all these different homes and worlds in one place. My DP, Ludovica Isadori, went in there and prepared thoroughly to make sure we were never turning the camera around to see something else that would reveal that we were in the same location. When it looked like the background was the same we flipped the frame, so if the actor were on the left side he'd be moved to the right, just to throw the viewer off—lots of little low-budget tricks.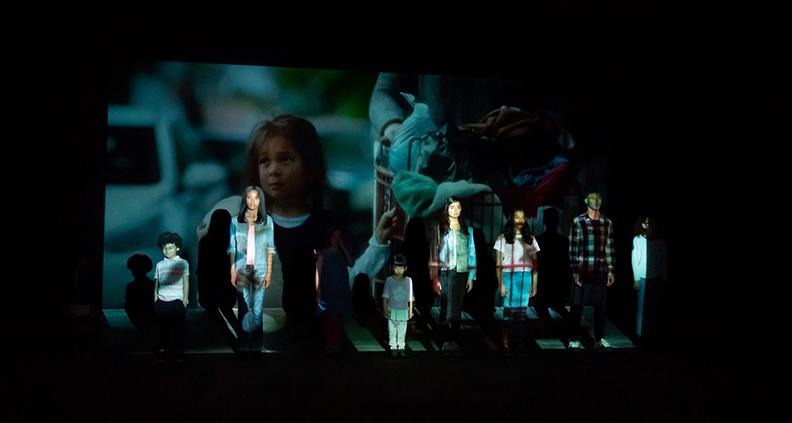 What was the casting process like?
Chambers: Casting was a mix of things. We found a lot of those actors on LA Casting. The approach was to cast on the street, in the sense of, like, people who really look like they're from Los Angeles. We saw a lot of people and a lot of people sent in tapes. So it ended up coming sort of from lots of different places—a cast of 30, which is really ambitious. A couple days before the shoot I was having a conversation with my producer, and she said, "It feel like we're working on a feature film because we have such a big cast!"
That's so cool. I'd like to end things by asking what you're working on now or what you may have coming up.
Chambers: Well, the same creative team that worked on this, we created a pilot set in 1920s Mexico that happens during U.S. Prohibition. We're in the process of signing a contract with a TV producer and writer to help us prepare it to pitch. And I have a feature film that I'm optioning at the moment, and another one that I'm writing. So my year is pretty much full-on loads of projects.
---
To learn more about Mary-Lyn Chambers, check out her website. To watch her 2015 Project Involve short film Debris about the US-Mexico border crisis, check out our 2018 interview with the filmmaker here.
To learn more about Children's Institute, click here.
Get More Involved…