Stranger in a Strange Land: Kristen Stewart and Olivier Assayas Talk 'Personal Shopper'
At Members-only screening at LACMA's Bing Theater on March 6, director Olivier Assayas and actress Kristen Stewart sat down with Film Independent at LACMA curator Elvis Mitchell to discuss their new Paris-set mystery drama, Personal Shopper. Immediately following the screening, Assayas and Stewart delved into an intense 20-minute conversation about their connection as collaborators as well as what drew them to Shopper—out now in limited release and on VOD.
As with Assayas and Stewart's prior collaboration on the director's 2014 Clouds of Sils Maria, Shopper reflects the theme of women uncovering facets of their identity while experiencing the world around them. Stewart plays Maureen, a young American woman living in Paris working as a personal shopper for a spoiled celebrity. It's gradually revealed that Maureen is also a medium using her uncanny abilities to communicate with her dead brother, whom she was very close. From there, the film takes audiences on a journey through Maureen's self-discovery during the somewhat mundane life that followed her brother's passing, as well as her thrilling (and decidedly not mundane) encounters with unknown spirits.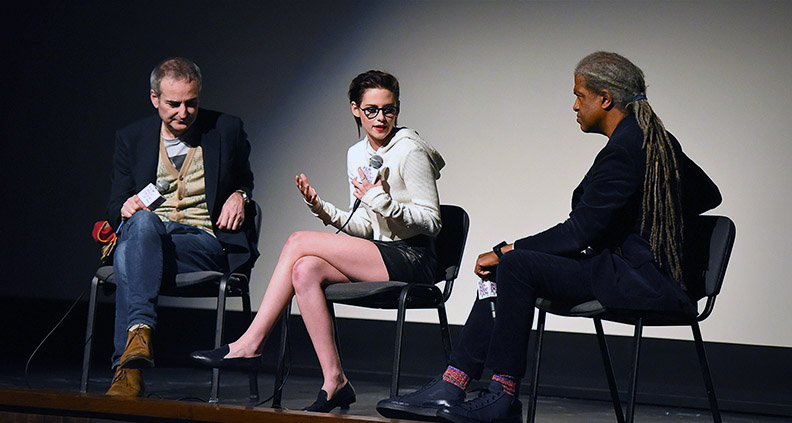 Assayas began the Q&A by giving the audience some insight into just how sure he was of Stewart's ability to play Maureen. He said it came naturally to give her the screenplay, because the story "didn't make sense" without her.
"I'd always been a fan of her work, but I didn't know how far we could go or how we could function together," Assayas said. "It was gradually on the set of Sils Maria that I realized we could go further. I had no idea where the limit was, and I still don't know."
Assayas praised the human quality and authenticity that Stewart brings to the screen, saying that Stewart gave (and gives) him the confidence to try things and explore areas he wouldn't dare to go without her—just the type of collaboration he wanted for Personal Shopper.
Clearly, for those who have suffered the death of a loved one the experience can be disarming. It can be a struggle to find your ground after something so confronting. In Personal Shopper, Maureen is a dismantled, stark version of a person trying to put her life together again—a challenge Stewart endeavored to portray.
"I think every response to this movie is entirely individual, so my own interpretation took a second," said Stewart. "But very ambiguously, I knew that it was something that was worth doing, and I was very intimidated by it. But I knew that I really loved working with [Assayas]."
To portray the character, Stewart said she had to know what being "alone" felt like. She needed to put herself in a mental space where she felt completely isolated in order to channel the feeling of grief required to portray Maureen.
Mitchell asked Assayas and Stewart if they thought they trusted each other enough prior to production to push the normal boundaries of filmmaking. With great chemistry comes great creative collaboration; the relationship between director and actor is important for the evocative atmosphere intended for a film like Personal Shopper.
"It gives you this sense of security knowing that he does good work, and it sounds really simple, but it's true," Stewart said of her director.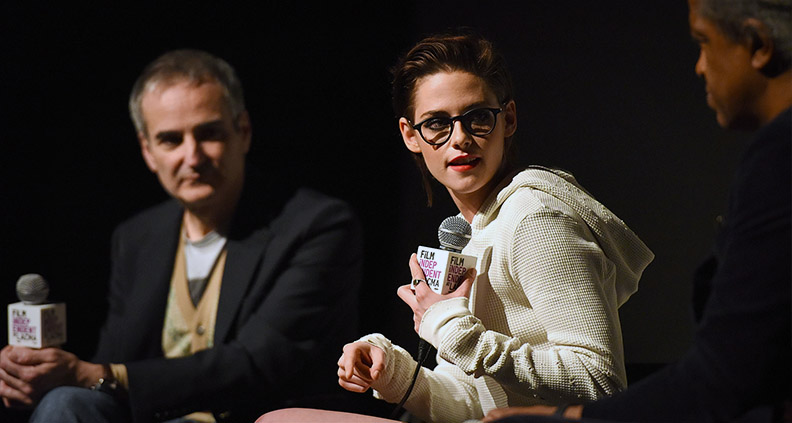 Assayas knew that because of Stewart's relaxed composure as an actor she would perfectly what Personal Shopper was about. But her ability to go beyond her limits encouraged and inspired him as a director.
"I think we made this film together, because she reinvents with me. We were completely complimentary," he said.
It's obvious that Clouds of Sils Maria and Personal Shopper are both united by a common motif. Mitchell was curious to know where this inspiration came from and why Assayas thought he gravitated toward stories about the relationship between women and identity.
Assayas shared that growing up in France the son of immigrants—a Jewish-Italian father and a Hungarian mother—finding his own identity was often a struggle. According to him, the women depicted in his films more or less reflect his past. He's always been interested in "a stranger in a strange land" and the decisions foreigners have to face in a culture they don't fully understand, writing about people who have to make sense of the world around them. Since, he said, we're all trying to discover ourselves on a day-to-day basis, it was his goal to translate this trouble-filled process to film.
Assayas admitted to a complex relationship with the abstract process of turning his screenplays into movies. He explores each script word-by-word and in filming those words takes them much further—especially with the help of Stewart. When filming with Assayas, Stewart said that everything belongs to the environment and because of that, Personal Shopper was a film she was proud to do.
To learn more about upcoming Film Independent at LACMA events—including our innovative new film and live music series Bring the Noise—just click here. Not a Member of Film Independent yet? Become one today.