VIDEO: We Really Love this 'Really Love' Conversation with the Film's Cast & Crew
Love is universal. Transcending beyond the parameters of what is acceptable. It knows no bounds. Do you remember the first time you felt it? The first time it consumed your entire soul? 2014 Project Involve Fellow Angel Kristi Williams wants to unearth those memories with her new film (and feature debut) Really Love, now streaming on Netflix.
Why unearth such feelings? Possibly to bring closure? Possibly to remind you of a love forgotten, hoping you remember a time when a love so pure lit your path, into the unknown?
At an in-person Q&A with cast and crew following the August 26 Film Independent Presents Really Love screening at the Harmony Gold Theater in Hollywood, Williams talked about how the Baltimore-shot, Washington D.C.-set love story came to be…
Working on the script for two years in-between her full-time jobs—including one as a Film Independent Artist Development Manager—Williams and writer Felicia Pride (Screenwriting Lab, 2016) knew they had to tell this story. Both from Baltimore, they wrote a love letter to their community and their culture.
"We [black people] don't think about racism 24/7. We are messy. We have our own hang ups… There are a range of black people. Especially if you go to D.C. You have black people from across the diaspora," said Pride.
Williams had a magical experience filming in her hometown, too. "My grandmother's house is in the film. It was beautiful to come back and make work. My family was bringing food to the house. My producers were eating crabs. You don't get to do that in LA," she laughed.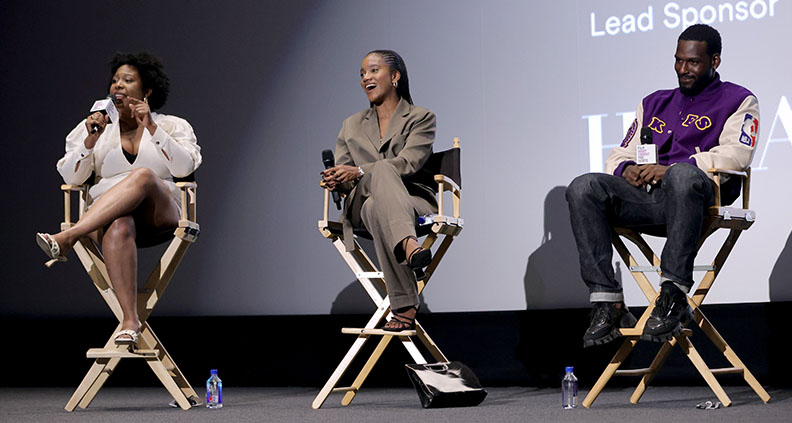 "I wanted every frame to look like a painting," said Williams, as she spoke about the cinematography. She then went on to talk about her new appreciation for film scoring: "I've always been intimidated by scoring a film because you don't know what it is going to sound like," she said, saying she wanted Really Love's score to feel "timeless."
Working with composer Khari Mateen, the emotions of Really Love's leads—struggling painter Isaiah (Kofi Siriobe) and abitious law student Steve (Yootha Wong-Loi-Sing)—can be felt through the use of the trumpets and cellos. The result is as if you've known this music your entire life, especially as it swells around you.
One key moment in this collaboration was a question posed to Williams by her Mateen. He asked her: "What if each [character] had their own instrument?" He then asked: " Where do they play solo, together, where do they fight each other?" These were key questions that allowed for the music to aid in her story telling.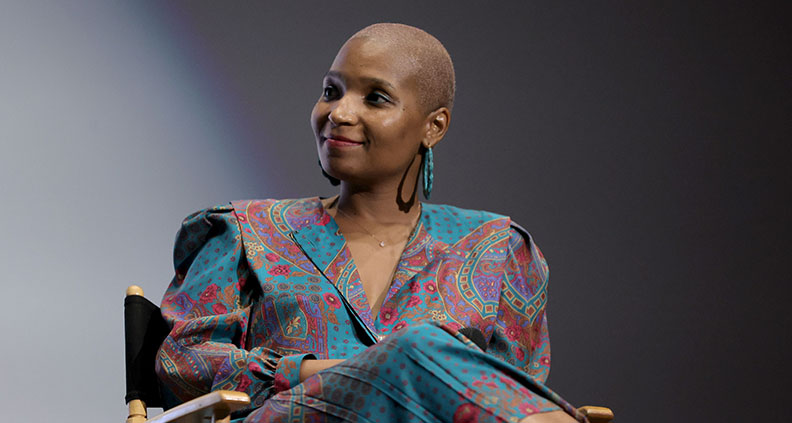 This is not just a story about first love, but intimacy—a noun many fear and cling to once attained. Yet, actors Kofi Siriboe and Yootha Wong-Loi-Sing showed us a portrait of love. "Everyone knows Kofi. If you are into beautiful things you know Kofi. Kofi is a great actor. I told him straight up you though aren't my screensaver," Yootha laughed, adding: "We dove deep and made sure y'all felt it."
"Making a movie like this requires a real level of vulnerability," Kofi added. Which was a constant presence on screen. They both knew they had to do this project, even though it felt raw and dangerous to them. This feeling was universal and transcended to Williams and Pride. A calling, a yearning for this piece to be made. Which is how it landed at Macro and on Netflix, too. "This film told us what it wanted to do. Including how it wanted to reach its audience," said Williams.
Pride, who used to work in film distribution, said, "I always talk about what your goals are for the film. Streaming allows for this to be viewed by millions of people. I'm excited by the global reach."
Which it will have. However, Williams was still a little saddened by the lack of a theatrical release. Speaking to her grief at the cancellation of SXSW (where Really Love was initially meant to premiere in 2020) and the fact that she will not have the live audience reactions to the film that she once imagined.
Since its release on Wednesday August 25, Twitter has been comparing the film to another iconic Black love classic, Love Jones. When asked about this Williams gushed in response. "For anyone to compare it to that is the highest compliment in my opinion. I used to watch that on VHS before I had ever been in love," she said.
Williams and company are hoping the audience has a positive take away from the film. Williams wants you to think of a fond platonic or romantic love story from your own life. "I want you to think of someone else," she said. For her these characters were so much more than just something on screen, "They are the one person in each other's eye they will never forget," she said.
"Maybe it is not always about staying together, maybe it is about that role they have in their life for that moment," said Yootha.
Kofi added, he wanted people to be inspired and dig deeper. "I want this to stick with people forever," he said.
As a former Film Independent employee and Fellow, Williams felt at home with her crew—many of them are Fi Fellows and former employees as well. "I am happy to be an ex-employee and a Fellow," she said. "[Film Independent] is hosting the screening because they support us. When they support you, they never stop."
Film Independent promotes unique independent voices, providing a wide variety of resources to help filmmakers create and advance new work. Become a Member of Film Independent here.
If you are in a position to support our efforts, please make a donation. Your impact will double, dollar-for-dollar, with the generosity of our long-standing Arts Circle Member Susan Murdy. All donations made to Film Independent before September 23 will be matched up to $50,000.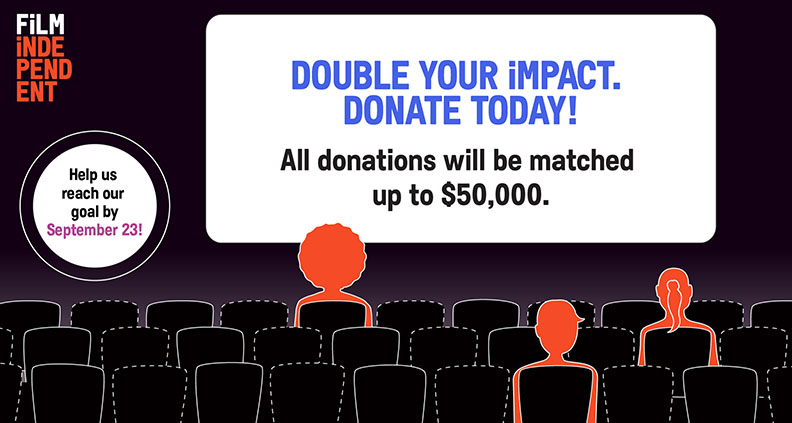 Follow Film Independent…