Megan Mullally and Nick Offerman to Host the 2022 Film Independent Spirit Awards
Cleopatra and Julius Caesar. Queen Isabella and King Ferdinand. Pam and Tommy Lee. Throughout history, the arc of civilization has been shaped by will and whims of power couples. And perhaps no power couple has this century has captured the hearts and minds of comedy fans like that of Meagan Mullally and Nick Offerman. She: a high fashion, helium-voiced wit edges sharper than a paper cut. He: a burley, mustachioed woodworker whose wheelhouse is salt-of-the-earth characters coated with a molasses of low-key psychopathy.
The fact that the two performers are married IRL would seem a lethal dose of comic domesticity. Yet, it appears to work. And now, the duo are your official hosts of the upcoming 2022 Film Independent Spirit Awards on March 6.
"We are sincerely excited to be hosting the 2022 Film Independent Spirit Awards. We hope to get a little rowdy, but it'll mainly be legitimate cinematic discourse," said Mullally and Offerman in a joint statement. "Although, with the two of us involved, it's more likely to be intercourse."
Alluding to the Spirit Awards long-awaited return to its usual home on the Santa Monica Beach, Josh Welsh, President of Film Independent, added: "The dream team! Why have just one host when you can have two? We're delighted to have Megan and Nick onboard to bring the magic back to the beach. I can't wait to see what they have in store for us!"
Nominees for the 2022 show were revealed in December, in a special video announcement featuring special guest presenters Naomi Watts, Regina Hall and Beanie Feldstein.
Watch the entire announcement below:
Now, we can't stress this enough: the participatory aspects of the 2022 Spirit Awards do not permit you to be legally adopted by Mr. Offerman and Ms. Mullally. But don't worry, we have something even better you can do…
VOTE! That's right: voting for this year's Spirit Awards winners is now open. Only Film Independent Members decide who takes home hardware, so join today.
Said IFC General Manager Blake Callaway: "The Spirit Awards are back. After a year away, it is exciting to be back at the beach, live and in-person, with this spectacular duo. Megan and Nick will make this year—and this stop on the awards calendar—one to remember." The network once again returns as the show's exclusive broadcaster and on OTT streaming counterpart AMC+.
Lastly, aside from just being a yearly celebration of the best in independent film (or some form of elaborate marital foreplay), the #SpiritAwards are the primary fundraiser for Film Independent and its wide variety of year-round filmmaker support programs—including artist development labs, international programs, film education, screenings, mentorship and more. So we appreciate your support.
The 37th Film Independent Spirit Awards will be broadcast exclusive on IFC Sunday, March 6 at 5:00 pm ET. Check out all of this year's nominees here.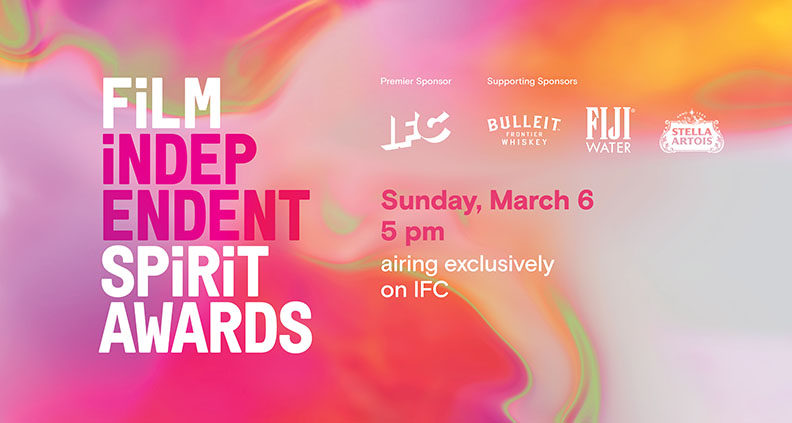 The Film Independent Spirit Awards are supported by Premier Sponsor IFC and FIJI Water, the Official Water. To join Film Independent and vote on the Spirit Awards, please visit filmindependent.org/join
To learn more about supporting Film Independent's mission and programs, contact Jennifer Murby at jmurby@filmindependent.org.
For sponsorship opportunities, please contact Stephanie Terifay at sterifay@filmindependent.org.
Keep up with Film Independent…