Mekko Offers Hope For Future of Native American Cinema
Each year the Los Angeles Film Festival offers audiences a chance to see the world from new perspectives.
On Wednesday, fans of Native American cinema had the opportunity to see Mekko (pronounced meeko), the new film from Oklahoma writer-director Sterlin Harjo screening in the festival's U.S. Fiction Competition.  Harjo was back home in the Sooner State attending another screening of the film, but Jasper Zweibel (who, along with Film Independent Fellow Chad Burris, produced the film) was on hand for a post-screening Q&A. Zweibel said Harjo's mission from the start was to tell a story that felt true to where he is from.
The film, which tells of the struggles of a Native American man trying to re-assimilate after a 20-year prison sentence, was shot on location in Tulsa, Oklahoma, and features a cast that includes real homeless Native Americans, often speaking their native Muscogee (Creek) language.
While the subject matter sounds bleak, Zweibel said it was the inextinguishable spirit of the people that led them to the project.
"Despite all the terrible things [they deal with]—alcoholism, mental illness, things of that nature—they seem to really be enjoying themselves, and we wanted to capture that and tell their story a little bit."
But the cast wasn't entirely non-professionals.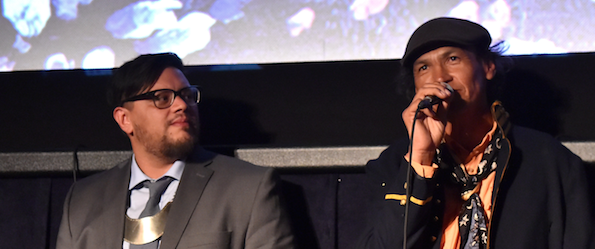 Harjo found the film's lead, Rod Rondeaux while watching the documentary Reel Injun, which details the history of Native Americans in movies. Rondeax was featured in the film because of his extensive work as a stuntman in films such films as Wild Wild West, 3:10 to Yuma and The Lone Ranger.
Zweibel said for most of the documentary Rondeaux was "doing all this wild stuff." But the stunt work wasn't what caught Harjo's attention. "There's a shot of him, leaning on his arm like this on a fence looking out into the distance," said Zweibel. "Something about that moment really spoke to Sterlin and he said, 'That's Mekko.'"
A face that might be even more familiar to audiences is that of Zahn McClarnon, who plays Bill, the embodiment of evil who terrorizes the homeless community. McClarnon's credits include recent television series Longmire and Fargo. He will be seen in the upcoming Kurt Russell Horror-Western Bone Tomahawk.
Sonny Skyhawk, founder of American Indians in Film and Television, was in the audience and said he hopes Mekko, as well as the larger scale projects like HBO's Lewis and Clark and National Geographic's Saints & Strangers, point to a brighter future for Native Americans on the big screen.
"Native people have not been in films like this because there hasn't been many films like this," said Skyhawk. "But I'm hoping that we will see more, maybe not as dark as this, but hopefully more films."
Tom Sveen / Film Independent Blogger