My First Movie: Doc 'Cat Daddies' Taps Into Community Screenings for Maximum Impact
In this series of special guest posts, we're asking first-time feature directors (narrative and nonfiction) to share what they've learned from these debut outings, focusing on one specific aspect of production. This month: alternative distribution.
***
A year ago, I found myself trying to release my first documentary feature in the middle of a global pandemic. As film festivals pivoted to virtual and in-person events were shrinking, there were times I wondered if audiences would be able to see Cat Daddies on the big screen that I painstakingly crafted it for. Cats are all over the internet; I wasn't interested in making more cute cat content for audiences to watch on their phones. I'm making a movie-movie, shot in 4K and finished in Dolby Atmos sound, an immersive experience like no other cat film. I wanted to bring cat-loving communities together in one space, bringing awareness to our local cat rescue and TNR operations, while hearing the laughter meant for the shared experience.
Submitting to film festivals in 2021 was a gamble for every filmmaker. Would festivals return to normal, go virtual again, go hybrid? Most filmmakers just accepted that if a festival turned virtual, so be it. I submitted to film festivals in cities where I really wanted to launch the film in a meaningful way—namely, where I knew there were proud cat loving communities or where some of my cat-dad subjects from the film resided, so they could invite their friends and families.
After it seemed clear that my targeted cities were not panning out, I decided to not be precious with premiere statuses and try supplementing some of the film festivals I was getting into with self-organized community partner screenings.
Now for some filmmakers, this is the last thing they want to do. After the years of sweat and tears, does anyone have the energy to then fund and promote their own screenings? Frankly, no. But because I have a past career in running film festivals, securing a venue, setting up online tickets and putting it all on a credit card felt second nature for me.
As I meet other filmmakers, this DIY approach is very surprising for them to hear about. Because in pre-pandemic times, pretty much everyone was discouraged from breaking premiere status protocol. No one dared create their own premiere, in the rare case that it ruined your chances of getting into a film festival in a particular town, or because it was something distributors frowned upon. The thinking has been, Don't waste your precious audience on screenings that you can't profit from! 
But after all we've been through, do any of those rules still apply? Film festivals have evolved and broken their own rules in order to hold virtual versions of their events. So too do filmmakers have to evolve and not place so much importance on some of these film festivals. Look—film festivals are great and I used to run them, but what I'm saying is: I didn't get into many of the ones I wanted and I took that disappointment and turned it into positive action to create an even better event than I could imagine…. and you can too!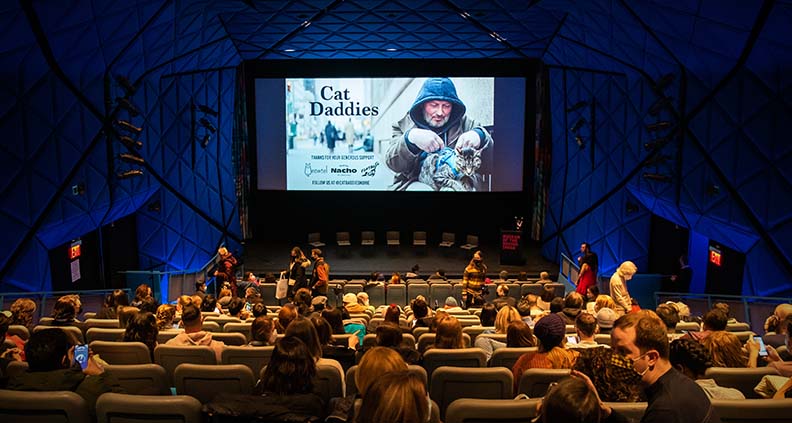 My best example was New York City. With its sky-high venue rentals, I just couldn't make the math work; even if I sold out every seat, I could not break even. So I decided that if I'm gonna go big, might as well GO BIG. So I rented the Museum of the Moving Image—my dream venue—with its 270 seats. Simultaneously, I planned a virtual screening to supplement the revenue. If I sold a little bit to the in-person and some to the virtual, I'd break even. The virtual livestream with a Q&A was set for one week after the in-person screening, in order to allow time for word-of-mouth. I decided to charge just a little more for the virtual event, in order to entice more people to choose the in-person event. I ended up almost selling out the museum seats, and 200 tickets to the virtual.
My hybrid fundraiser was a huge success. But the cherry on top is that while I was planning all of this and sweating over the cost of the venue, a cat-sitting app reached out to me after seeing the film at the festival. They asked how they could help me and so I told them about the NY Premiere that I was organizing myself. They immediately came on board as a sponsor and we played their commercial before the screening, displayed some signage and handed out gift bags (with coupons and other gifts!) to the in-person audience. A cat food brand also came on board with samples for all the in-person attendees. We donated all of the proceeds—after expenses—to the nonprofit rescue featured in the film. Because of the sponsorship, our costs were covered, and we raised almost $10K for the charity! This wasn't just a win-win, this was a triple win!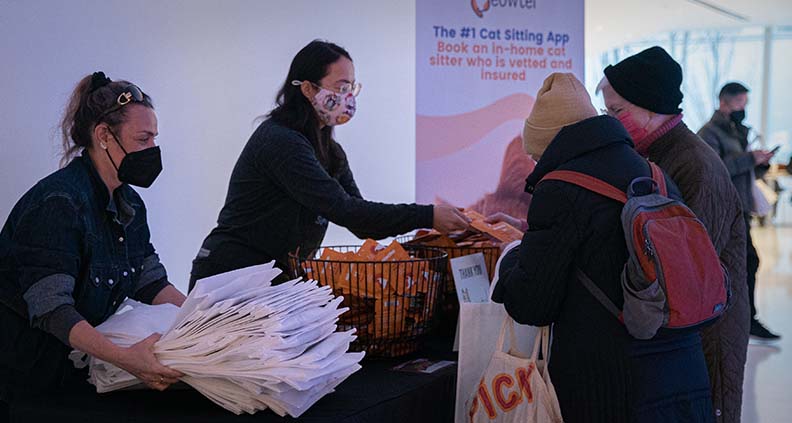 In the end, this ended up being better than what any film festival could offer me, because everything was under my control. I got to pick the date, the time, the moderator and I could comp as many guests as I wanted (so I could include my crowdfund backers and crew without any hassle). I even added some fun and unique elements to the event, such as a cat-themed playlist to play in the theater to warm up the audience, humorous cat-themed signage and a guy wearing a giant cat head (leftover from Halloween) to scan in patrons. Best of all, our Q&A didn't have to feel rushed, and we recorded the entire discussion for YouTube posterity.
In another example, I licensed my film for special events simultaneously with my film festival roll out—something unheard of in the old days. In Long Beach, we licensed the film to the Little Lion Foundation for a one-time fundraiser at the charming Art Theatre of Long Beach.  Some of the cast and crew like myself were able to drive down for a moderated Q&A. I charged the nonprofit a nominal fee and the rest of the proceeds went to the organization. Little Lion booked the theater, set up the online ticketing and promoted to their email list and social media followers. They ended up filling the theater and raising almost $4K.  They sold their pre-existing merchandise and raffle tickets at the show, so a lot of the revenue simply came from those sales as well as direct cash donations onsite.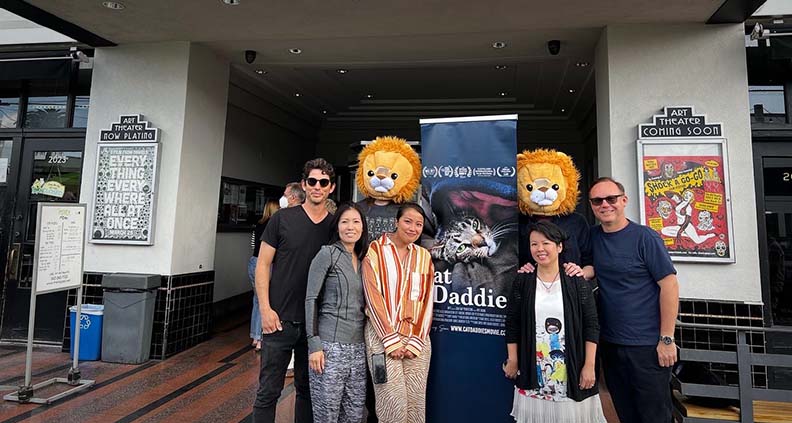 At other fundraising events, we encouraged the nonprofits to organize cat food drives and mobile adoption events. After not being able to have in-person events for the past few years, it was a welcome opportunity for these nonprofits to be able to engage with their community and volunteers again. In the future, I would love to offer events that encourage foster parents to bring their little bottle babies (orphaned kittens that must be bottle fed every two hours) to the movie, similar to a "Mommy and Me" screening. If there's anything we've learned in these past two years, it's that we have to think outside the box and keep reinventing the movie-going experience.
So here are a few takeaways…
1. Create your own event
Plenty of independently owned movie theaters are open to renting out the space on off-peak hours, so think Sat/Sun mornings or weekday evenings.
2. Collaborate with other organizations
Can't do it all yourself? Offer the film to another organization to do it for you—plenty of organizations are ready to engage with their constituents.   Your film may be the perfect reason. Let them run with it, take a small fee.
3. Hybrid events
Try spacing out the in-person from the virtual event so that one audience can spread the word for the next event.
4. Activate your email lists and social media followers
Use little to no advertising dollars to spread the word! Your cast, crew, crowdfund backers, sponsors, moderator, etc. should help amplify the event too.
5. Add the FUN
Create giveaways or bring in a famous guest moderator, or have a friend dress up in a mascot or costume. There are so many ways to make your event stand out and be something the audience wants to post on social media about.
6. Capture your event for social media and your sponsors
Hire a photographer or ask a friend. Plan out a shot list of the kind of curated stills and videos you need like attendees holding up giveaways, crowd shots, and sponsor signage with audience members. Sponsors will appreciate the follow-up.
If your film has a target audience, you can find ways to collaborate with others to create your own events. Work together to fill the seats, eventize it and offer incentives for people to come. Give the audience an experience to remember and for you to remember why you made your film in the first place!
Film Independent promotes unique independent voices by helping filmmakers create and advance new work. To become a Member of Film Independent, just click here. To support us with a donation, click here.
More Film Independent…
(Header: Cat Daddies Q&A at MOMI, photo: ManSee Kong)