Davis Guggenheim Says He Was A 'Mid-wife' to Malala's Story
At the recent L.A. premiere of his new documentary He Named Me Malala, director Davis Guggenheim called the day a tale of two screenings.
Before joining Film Independent Curator Elvis Mitchell for a conversation at Film Independent at LACMA, Guggenheim screened the film for 6,000 high school girls at a downtown venue. "You could hear a pin drop when Malala gets shot," he said. "But you could also hear the roar of the audience when she gave the speech at the United Nations."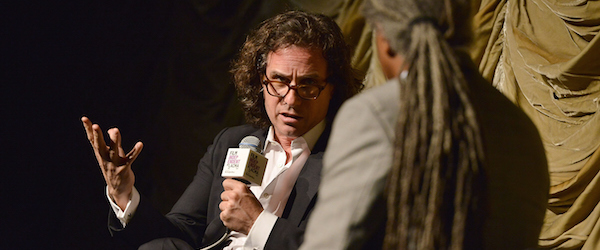 It was important to Guggenheim that an audience of young high school students was able to watch the film. The director behind such acclaimed politically-charged documentaries as An Inconvenient Truth and Waiting for Superman, Guggenheim was recruited by producers Laurie MacDonald and Walter Parkes to direct a documentary about Malala Yousafzai, the young and outspoken Pakistani education activist who survived an assassination attempt by a member of the Taliban in 2012. A central question in approaching the story, he explained, was how a girl living in a patriarchal society could feel so comfortable speaking out and advocating for the right of young women to receive an education.
To Guggenheim, Malala's story became a father-daughter story. Her father, Ziauddin Yousafzai, is a fierce supporter of his daughter's outspokenness and Guggenheim wanted the documentary to follow that thread and the strength of their relationship.
His own father, Charles Guggenheim, was a filmmaker and he fondly remembered tagging along at five years old when his father was working on a documentary about Bobby Kennedy. One thing his father always emphasized, he said, was the story, not the issues. Davis Guggenheim took this lesson to heart. In 2002, the elder Guggenheim passed away, just as his son was embarking on An Inconvenient Truth.  Davis Guggenheim made sure that his film, with all of its graphs and information, was ultimately the story of Al Gore.
To get to the heart of Malala's story, Guggenheim approached his subject the same way he had with Gore, first visiting her and her family at their home in the U.K. with no crew and letting them speak on their own terms. It was telling, he said, that unlike westerners used to sharing their stories on social media, Malala and her family did not have a public narrative already crafted.
Mitchell highlighted the recurring theme of hope in Guggenheim's documentaries, referencing the short film he made in 2008 about then-candidate Barack Obama, which stirred up the audience at the Democratic National Convention. But Guggenheim said he doesn't have a master plan for his documentaries. "In this case," he said, "I was a midwife giving birth to their story.
Diana Buendia / Marketing Assistant