Nick Kroll and John Mulaney Prep for Spirit Awards, New Presenters and How to Stream the Show
If you heard that electric crackling in the air, fret not. It's not a lightning storm, just the 2017 Film Independent Spirit Awards approaching "shockingly" fast and touting a laundry list of late-breaking updates about this year's ceremony, including three hilarious new host promos, presenter announcements and tips for how to watch the complete show online after it airs on IFC on February 25 (2pm PT / 5pm ET). Learn more about how to watch here.
First on the docket: if you've been watching IFC lately (which you should be, always) you may have spied our amazing 2017 Spirit Awards hosts Nick Kroll and John Mulaney looking sharp in fitted tuxedos and cracking wise against a featureless white void. That wasn't a hallucination. It was just one of three new promos offering a quick glimpse into some of what you can expect when the duo takes the stage inside the Spirit Awards tent on February 25.
In the first spot, Nick and John demonstrate that just because you're working with an indie-movie budget doesn't mean you can't have great music. Just watch them groove to the oh-so-smooth, license-free yacht rock of "Sedona Sunrise":
Here, our BFF hosts shout-out their smash-hit Broadway collaboration Oh, Hello! and brag/complain about all the many, many hours they get-to/are-forced-to spend together—yay friendship!
Lastly, we all know that social media can be a confusing tangle of hashtags, handles and custom promo codes. Luckily, Nick and John are here to (not really) tell you how (again, not really) follow the Spirit Awards online:
But Nick and John are far from the only luminaries set to track the goldenrod sands of the Santa Monica beachfront onto our (blue) arrivals carpet with their stylish Rodeo Drive footwear. The Spirit Awards have also announced five new presenters, including some returning favorites.
Currently announced: Jessica Chastain (twice-nominated for Best Supporting Female, in 2011 and 2014), David Oyelowo (2017 Honorary chair, nominated in 2012 for Best Supporting Male and in 2014 for Best Male Lead), 2017 Spirit Awards Nominations Press Conference host Edgar Ramirez, Vice Principals funnyman-auteur Danny McBride and, last but not least, prestige TV superstar and ubiquitous comedy-world fixture Jon Hamm.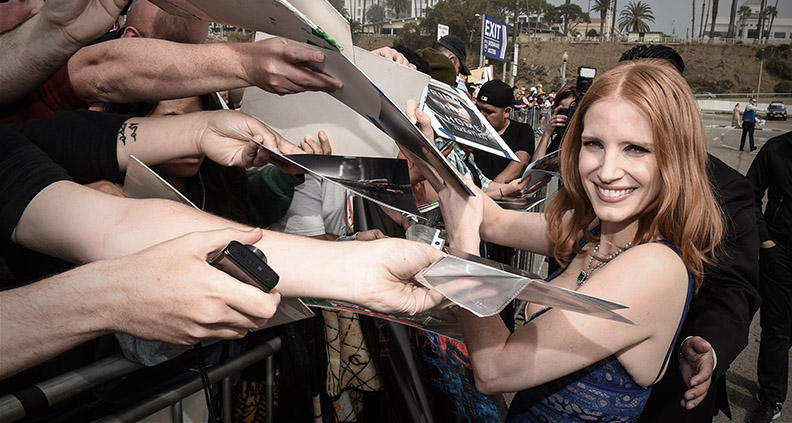 Lastly, 2017 will mark the first time that the entire Spirit Awards ceremony will be available to stream online. The entire broadcast will be available to live-stream on Sundance Now and available on-demand shortly after the broadcast.
So if you're one of these cord-cutting types, don't worry: you can sign-up for a free seven-day Sundance Now trial and stream the 2017 Film Independent Spirit Awards—just go to sundancenow.com for details. Ready, set… stream!
The 2017 Film Independent Spirit Awards will be held Saturday, February 25 on the beach in Santa Monica and broadcast exclusively LIVE on IFC at 2:00pm PT / 5:00pm ET.
For more information about the Spirit Awards, click here and subscribe to our YouTube channel to watch speeches and highlights (also: Twitter, Facebook and Instagram). Not a Member of Film Independent yet? Become one today.