Old v. New: Female Relationships in 'Ingrid Goes West' and 'All About Eve'
In our occasional feature Old v. New, Kimberly Marcela Duron compares a newer independent release with an older classic to see what similarities they share, how they diverge and hear what the conversation between the two films says about filmmaking.
ALL ABOUT EVE v. INGRID GOES WEST
2017 will go down in history as a year that pushed forward the equality of women across all industries—from the Women's March to #MeToo and #TimesUp.
As we look forward to a new era of empowerment of women, it's interesting to sit back and enjoy the progress depicted in films like Thelma and Louise, The Sisterhood of the Traveling Pants and the recent Girls Trip and Lady Bird; heart-warming films that explore dynamic female characters and strong, genuine female bonds.
But what about stories of clashes between women? Can a film truly portray authentic female characters if it only explores the darker nature of female relationships? Relationships that form from envy, idolatry or even obsession? There are at least two films that would say yes, absolutely.
If you haven't seen it, you've probably at least heard of All About Eve. The 1950 drama written and directed by Joseph L. Mankiewicz, stars Bette Davis as veteran Broadway star Margo Channing and Anne Baxter as star-struck ingénue Eve Harrington. The third-most Oscar-nominated film in history, the film centers on the drama that ensues when Eve insinuates herself into Margo's life, to the point of trying to steal her boyfriend and—even worse!—her career.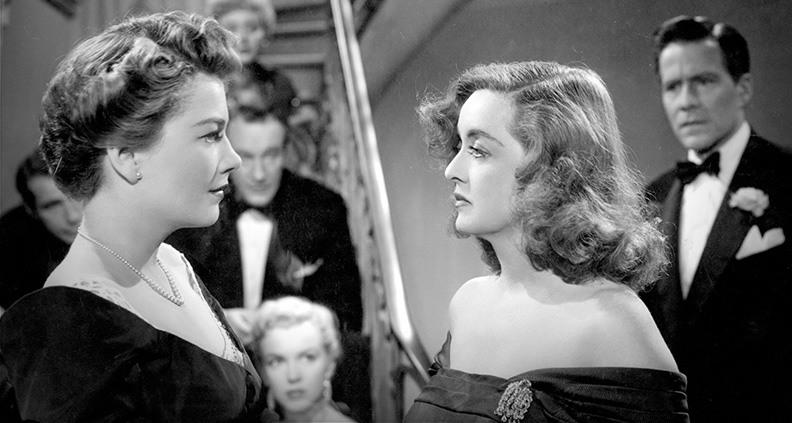 This same exploration of an idol/fanatic relationship was presented in the uber-millennial 2017 film Ingrid Goes West.
Directed by Matt Spicer and written by Spicer and Davis Branson Smith, the black comedy stars Aubrey Plaza as Ingrid Thorburn, a mentally unstable Instagram stalker who moves to LA to befriend Elizabeth Olsen's Taylor Sloane, a free-spirit social media influencer. (The film is currently nominated for two Film Independent Spirit Awards for Best First Feature and Best First Screenplay.)
These two films approach seemingly stereotypical female tropes (jealousy over a man and/or career, aging vs. youth, etc.) in a more complex and insightful way than one might expect coming from two male writer/directors.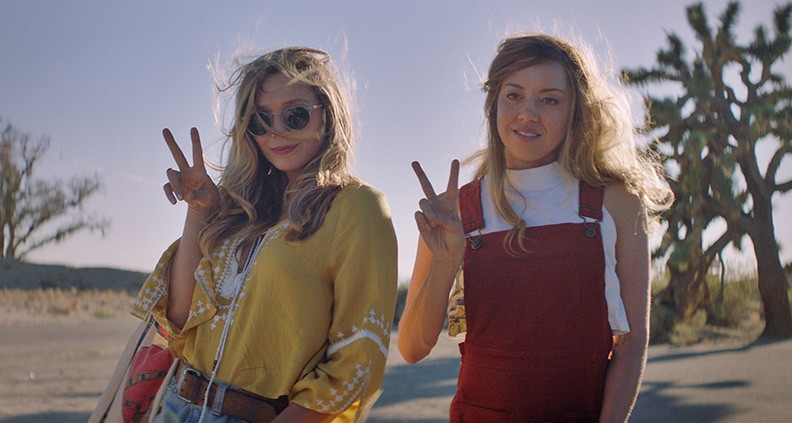 In All About Eve, Margo takes Eve, her doting fan, into her home, giving her the role of personal assistant. When Eve seems to be going too far with Margo's younger boyfriend/director Bill (Gary Merrill), Margo becomes paranoid that Bill will leave her for Eve.
The feud intensifies when Eve becomes Margo's understudy, eventually landing a role intended for Margo through a "chance" audition. Despite Margo's dramatic behavior (she is a thespian, after all) the film suggests that it is not, in fact, all about Eve… it's about the pressure Margo feels to be the perfect woman.
At one point, Davis delivers a powerful monologue about the impossible balance between being a career woman and being "a woman" as society defines it (read: wife/mother). She laments how people will undermine any success in her career because without a man, "You're something with a French provincial office or a book full of clippings, but you're not a woman."
Modern-day feminism posits that women can have it all—and we've seen great examples of this. But there's still a great deal of pressure for a woman to still be complete outside of her career.
As the millennial version of this narrative, Ingrid Goes West runs the risk of leaving audiences hating digital natives even more than they already do. Plaza's absurd character spends hours refreshing her Instagram notifications. When her obsessive attempt at becoming Taylor Sloane's best friend is thwarted by Taylor's frat-boy brother, she goes overboard.
Despite Taylor's portrayal as a happily married, carefree SoCal influencer, the film uses Ingrid's point of view to reveal the dents in her marriage, the vulnerabilities she has with her reckless brother and the carefully curated online persona that Taylor has managed to use to distance herself from a preppy sorority girl past.
But Ingrid doesn't act the way she does because she's "just crazy." She feels the same pressure to be a certain type of woman—just like Margo. The difference is that this pressure can now come from a woman on the other side of the country, through a simple Instagram post.
Neither film ends happily. In both, celebrity and stalker realize that #girlpower alone isn't enough to make them BFFs for life. And both stories drive home the idea that these archetypes are cyclical. By All About's conclusion, Eve herself becomes the subject of adoration, as an ingénue eerily similar to her younger self appears in her hotel room. In IGW, Ingrid eventually gets what she wants—love from strangers on the internet—but the audience is left feeling uneasy, knowing that this would only create another version of Taylor.
Another underlying theme in both films is the role of powerful men in these toxic relationships between women. Despite whatever terrible actions the female stalkers in each film may have engaged in, there comes a point at the end of the second act where a man comes in, recognizes their vulnerabilities and takes advantage of them for their own gain.
Eve is exploited and even physically attacked by a sardonic theater critic who wants to claim responsibility for her rise to stardom. Ingrid is blackmailed by Taylor's drug-abusing brother once he discovers her motives.
On the other hand, both films feature a wonderfully crafted male ally character that demonstrates what it looks like to not abuse male privilege. Margo's boyfriend smoothly deflects Eve's unsolicited romantic requests and fights for his relationship with Margo until the very end. Ingrid features a scene-stealing O'Shea Jackson Jr. as Ingrid's loyal landlord-turned-boyfriend-turned-lifesaver.
Despite any collateral damage that may have driven the other men in these women's lives away, these characters still come back, acknowledging that everyone has vulnerabilities and deserves to be loved.
Ultimately, exploring hostile female relationships in films can be just as insightful as their uplifting counterparts. They reflect the outdated standards and often hidden factors that drive women to act in unthinkable ways. More importantly, they present dynamic female characters get to be villains—not as "sexy killers" but as actual human beings with faults and insecurities like everyone else.
---
To learn more about Film Independent, subscribe to our YouTube channel or follow us on Twitter and Facebook. You can catch up with the rest of our blog here. To learn how to become a Member of Film Independent, just click here.