Oprah Winfrey Returns to LACMA with 'The Immortal Life of Henrietta Lacks'
Rebecca Skloot's hit 2010 nonfiction book The Immortal Life of Henrietta Lacks chronicles the real-life story of its titular subject, Henrietta Lacks, an African-American woman diagnosed with cervical cancer in the 1950s whose unique "HeLa" cancer cells became part of what is now termed the immortal cell line, able to be grown for prolonged periods of time in vitro. HeLa is the oldest and most commonly used human cell line and has an imperative role in 20th century medical and scientific research. A journalist and freelance science writer, Skloot's acclaimed account focuses on the ethics medical research as related to race, as well as Lack and her family's experience under the (literal and figurative) microscope.
On April 20, Film Independent at LACMA hosted a screening of The Immortal Life of Henrietta Lacks, HBO's new film adaptation of Skloot's nonfiction novel. Following the screening, Film Independent at LACMA curator Elvis Mitchell sat down for a conversation with director George C. Wolfe and Henrietta Lacks executive producer and star Oprah Winfrey, who plays Henrietta's conflicted daughter Deborah. The film co-stars Renée Elise Goldsberry as Lacks herself, Rose Byrne as Skloot and Reg E. Cathey as Deborah's brother Zakariyya.
FINDING THE UNIVERSAL IN THE EXTRAORDINARY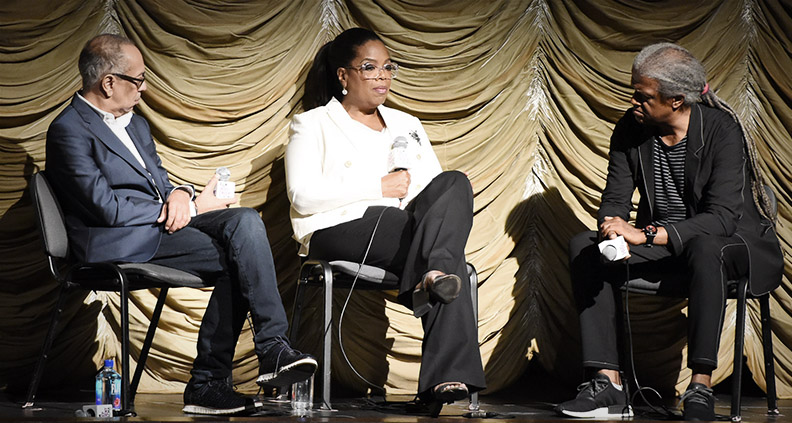 Although Lacks and her story hail from Baltimore, a city where Winfrey lived and worked for eight years as a news reporter in the late 1970s, she'd never heard of Lacks—which was one of the main reasons she wanted to be a part of this project. After reading Skloot's book Winfrey discovered the only other person she knew who was familiar with Lacks was Dr. Oz, though even he only knew of HeLa cells and was not familiar with the actual woman who unwittingly donated the cells. It thus became Winfrey's goal to bring the story to a larger audience.
"I wanted to tell her story because I live to tell stories that allow people to see African-American women, in particular, as culturally relevant. To deepen and widen the bond of humanity that we all have," Winfrey said.
Winfrey said that there was also a commonality in the human experience found in Lacks' story, and referred to a quote from Maya Angelou: "We are more alike than we are different."
Winfrey and Harpo Films' Carla Gardini commissioned writers to begin adapting The Immortal Life of Henrietta Lacks with an eye toward Winfrey to star, but it wasn't until Wolfe came along that they finally found an "in" to the story.
"It became about longing to know your story," said Wolfe. "Not all of us have cells that transform modern medicine, but we all want to know who our parents were more than we already know."
CAPTURING AUTHENTICITY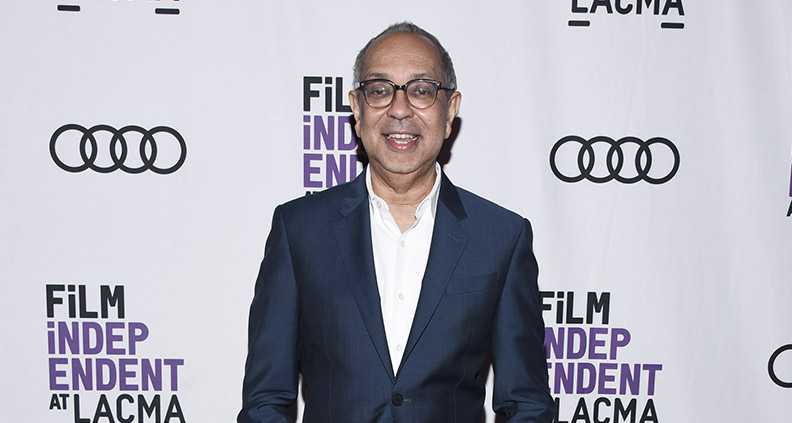 The nakedness of Skloot's story and the Lacks family's ferocious desire to better understand their mother was what drove the filmmakers to tell the story how they did. Wolfe decided to shoot in a consecutive order, feeling that the reactions from actors were more genuine. He also thought it was important for the actors to get to know each other better and develop their characters' feelings more authentically in chronological order.
Winfrey admired Wolfe's ability to see emotion in an actor's eyes and movements. During filming, Wolfe told Winfrey to channel the feeling of her character, Henrietta's daughter Deborah, from an "internal" rather than "external" place.
POWER DYNAMICS AND FAMILY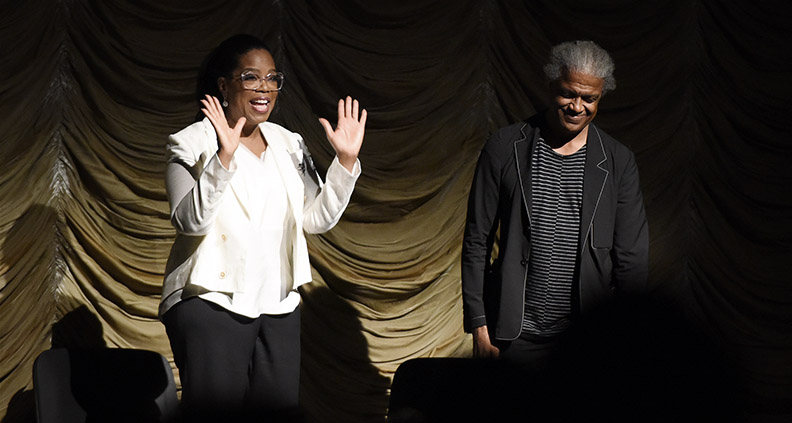 The issue of power dynamics was a big topic in Thursday night's Q&A; specifically, the power of knowing and withholding information and determining how that information will be unveiled. Interestingly, Winfrey and Wolfe found that the memories each of Lacks' family held about their mother's ordeal varied, fluctuating wildly with regard to the power dynamics between characters.
Wolfe and Winfrey both originally hail from the South. They agreed that if you don't get out of the region, then you "become the crazy that you're from"—especially when trapped there during the scorching summer heat and humidity.
It was through this idea that Wolfe used to describe the mental state with which Deborah Lacks struggled, claiming there was logic within the chaos that Deborah endured. Wolfe felt that his job was to maintain that emotional metronome. "When you're smart and you have no release, you turn it inward. It can start to eat away [at you]" he said.
DEBORAH'S STORY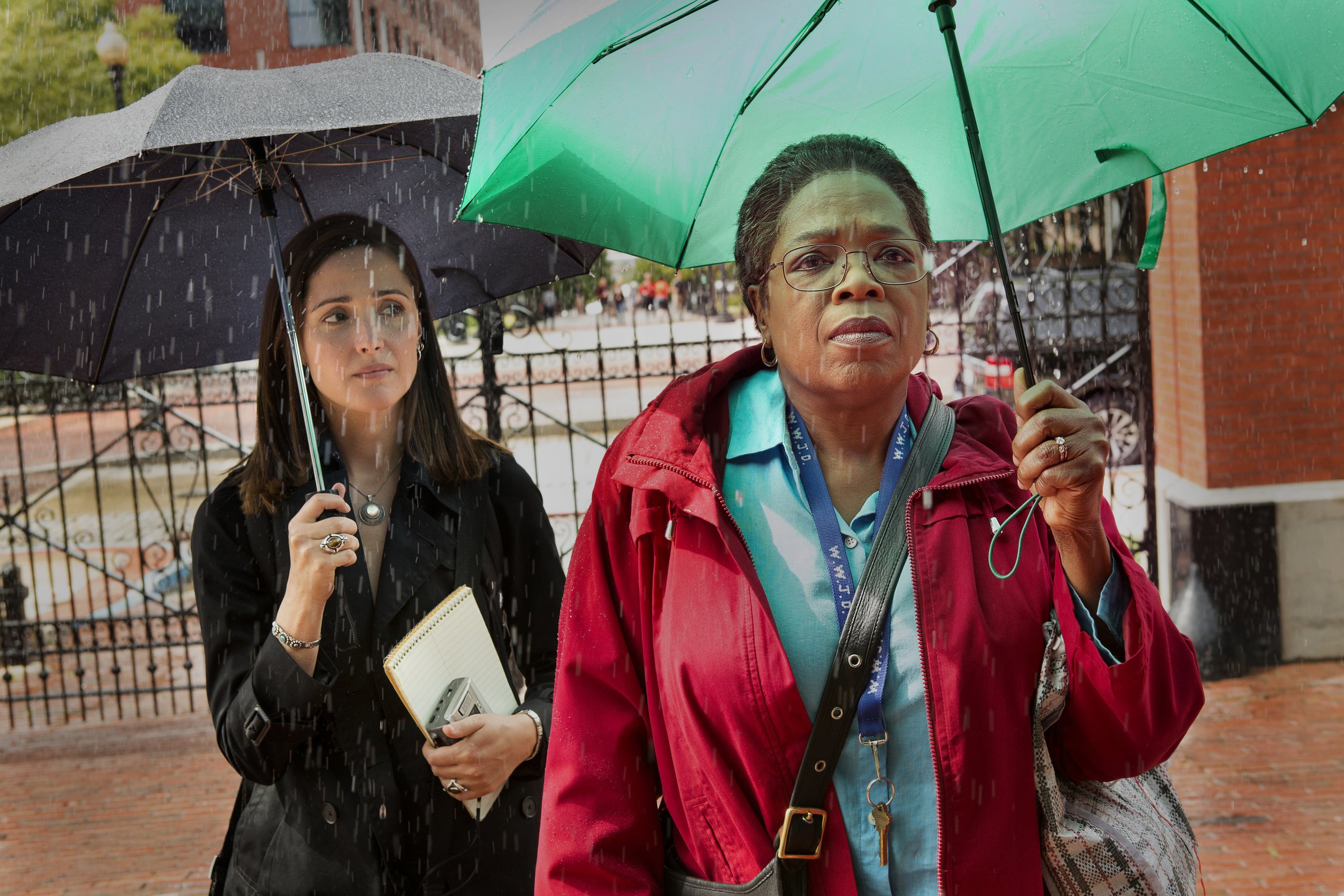 Wolfe believes that because of Deborah's history with journalists and an unprotected childhood, she perpetually tested Skloot and their relationship throughout the writing of the book—a dynamic that becomes a forceful source of dramatic tension and a central focus of the film adaptation.
Thanks to Skloot, Winfrey and Wolfe were able to hear hours of recorded tapes of Deborah made before HBO and Harpo's involvement. In these tapes, Deborah says that she wants Oprah to play her in the movie version of Skloot's book. After learning that, Winfrey couldn't resist hopping on board.
One thing that Winfrey was sure of was that screening The Immortal Life of Henrietta Lacks in front of a group of people like those in the Bing Theater is exactly what Deborah (who died in 2009) would have wanted. Winfrey speculated that she would have wanted people to know her family and mother's humanistic value, and that Henrietta Lacks was a deeper and more complex human being than just the HeLa she gave to the world.
The Immortal Life of Henrietta Lacks premiered on HBO on April 22 and is available to watch on HBO Now and HBO Go. To learn more about upcoming Film Independent at LACMA events, click here.
Not a Member of Film Independent yet? Become one today and follow us on Facebook, Twitter and Instagram. And be sure to subscribe to our YouTube channel.