Pitch Perfect: Five of Our Favorite Soccer Movies
With the release of Oscar-winning filmmaker Asif Kapadia's newest documentary Diego Maradona on HBO, we thought it'd be interesting to ask a bona-fide soccer expert—Tim Frechette of sporting website Athletic Lift—to weigh in on what he thinks are the greatest films ever made about "the beautiful game."
***
Soccer is more than just a sport. It's the most popular sport in the whole world, followed fanatically by "ultras" of every demographic. Soccer brings out both the best and worst parts of fans' personalities, and in some areas is essentially a religion. For others, soccer is a key part of their national identity. But despite its global dominance, soccer has been underrepresented in film relative to other sports, with just a few notable exceptions.
So let's take a look at, in our opionion, the five best soccer movies of all time and see how they've portrayed this game which affects the lives of millions of people—where a single goal can make a nation roar and bring people together. These five titles not only feature soccer as part of the plot, but show how football impacts peoples' lives.
BEND IT LIKE BECKHAM
Directed By: Gurinder Chadha
Starring: Parminder Nagra, Keira Knightley, Jonathan Rhys Meyers, Anupam Kher
Where You Can Stream: Amazon Prime
Why We Love It: Bend It Like Beckham tells the story of 18-year Jess (Parminder Nagra), who is growing up in the UK in family of Punjabi Sikhs. She's obsessed with soccer, but due to her family's culture is forbidden to play because she's a girl. But Jess is nonetheless discovered by plucky footballer Jules (Keira Knightley), who asks her to try out for local women's team. Jess secretly joins the squad, and soon leads the team to the top of the table. Beckham tells a great story about a woman defying cultural norms to pursue her passions. To date the film has an 85% on Rotten Tomatoes, and garnered awards in Pyongyang Film Festival (2004) for Music Prize, British Comedy Awards (2002) for best comedy film, ESPY Awards (2003) for the best sports movie and GLAAD Media Awards (2004) for an outstanding film in wide release. You also don't want to miss David Beckham's cameo in the movie—the film's title was inspired by the soccer star's ability to "bend" the ball while scoring a goal past a wall of defenders.
ZIDANE: A 21ST-CENTURY PORTRAIT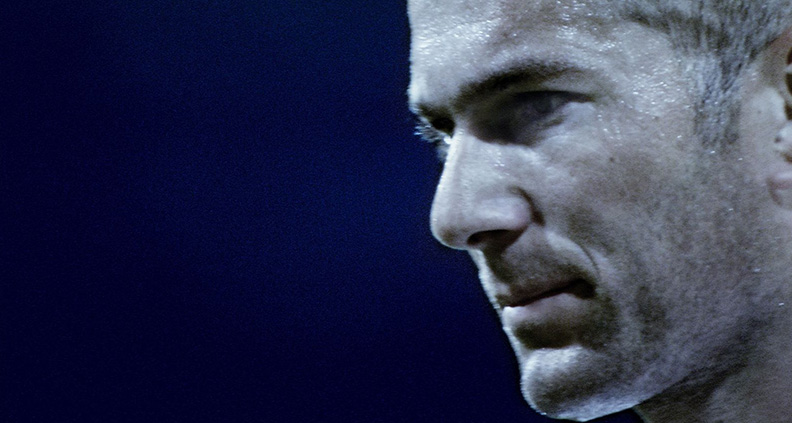 Directed By: Douglas Gordon, Philippe Parreno
Featuring: Zinedine Zidane
Where You Can Stream: Amazon, iTunes (rental), Blu-Ray
Why We Love It: This unique documentary focuses on the playing style of legendary French footballer Zinedine Zidane, and takes place entirely during one single game—a 2005 Spanish La Liga match between Real Madrid (Zidane's club) and Villarreal. The film uses 17 different cameras to capture every aspect of Zidane's performance, in real-time. Rather than being a simple biography of Zidane's life and career, the film focuses on how Zidane actually plays during a typical match. If you're soccer fan, this movie will awe you with it's slow-motion rendering of the legendary midfielder in action. The film was featured at the 2006 Edinburgh International Film Festival, and has a soundtrack by the innovative Scottish post-rock band Mogwai.
UNITED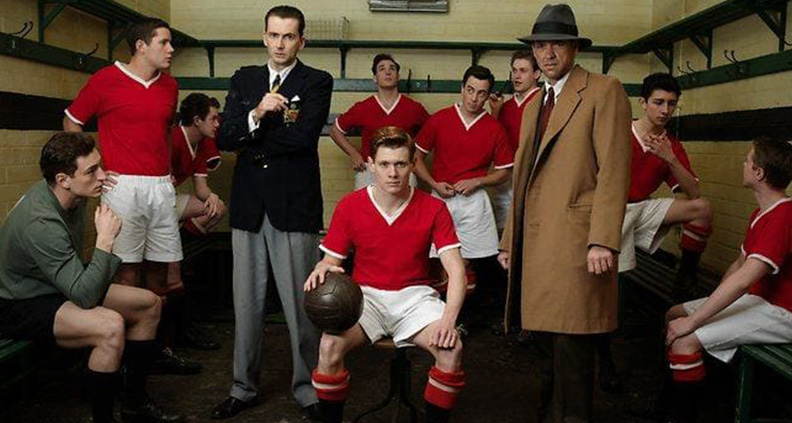 Directed By: James Strong
Starring: David Tennant, Jack O'Connell, Sam Claflin, Dougray Scott
Where You Can Stream: Amazon Prime
Why We Love It: United is a British made-for-TV movie based on Manchester United's famed "Busby Babes" squad of the 1950s and the story leading up to—and following—the 1958 Munich aircraft accident that claimed the lives of eight players. The film is centered around Manchester United assistant manager Jimmy Murphy (David Tennant) and midfielder Bobby Charlton (Jack O'Connell), chronicling the formation of the "Busby Babes" (so named for manager Matt Busby) and their meteoric climb, only to be halted by tragedy. Man U's Surviving members must learn to overcome their trauma to honor their fallen teammates by taking the championship. The film encountered some controversy upon its release for not focusing equally on all of the air disaster's victims, and the Busby family also objected to the portrayal of Matt Busby. Nonetheless, the film received positive reviews from film critics at The Telegraph and the Guardian.
THE TWO ESCOBARS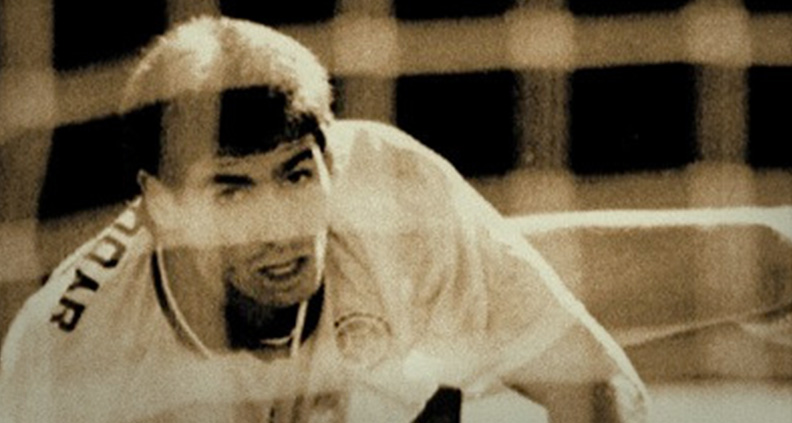 Directed By: Jeff Zimbalist, Michael Zimbalist
Featuring: Maria Ester Escobar, Alexis Garcia V.
Where You Can Stream: Amazon Prime
Why We Love It: The Two Escobars is one of the most acclaimed entries of ESPN's excellent 30 by 30 documentary series, focusing on Columbia's two most famous "Escobars," who, although unrelated to each other, each exerted a tremendous influence upon the nation. The first Escobar—Pablo—is a drug cartel leader and an avid supporter of the Colombian national team, creating the world of "Narco-soccer." The second Escobar—Andres—was Columbia's national team captain and poster boy for national pride. The film explores the relationship between the worlds of Colombian soccer, drugs and crime, culminating in how Andres' own-goal in the 1994 World Cup semifinals cost him his life. The filmmakers expertly intertwine the rise and fall of the Colombian national team with the rise and fall of Pablo Escobar's drug cartel.
THE DAMNED UNITED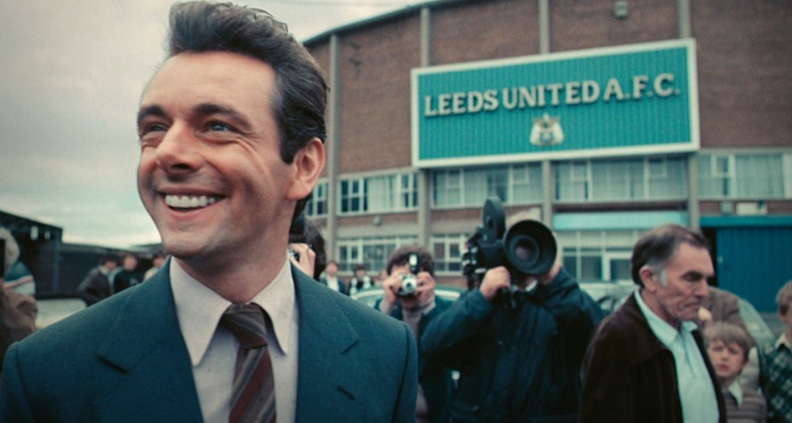 Directed By: Tom Hooper
Starring: Michael Sheen, Timothy Spall, Colm Meaney, Jim Broadbent
Where You Can Stream: Amazon Prime
Why We Love It: The Damned United is a 2009 British period drama about controversial football manager Brian Clough's (Michael Sheen) ignominous 44-day stint at the head of Leeds United in 1974. The film is based on David Peace's bestselling novel The Damned Utd. and tells the story of Brian Clough's journey to becoming the unlikely leader of Leeds—a club he openly despises for their "rough and dirty" style of play. Clough's previous team, Derby, had had success but was routinely defeated by Leeds. Further stoking the animosity is that fact that Clough's Leeds predecessor, Don Revie (Colm Meaney) failed to ever acknowledge Clough as a peer—even though they both grew up in Middlesbrough and both played for pro club Sunderland. Apart from the rivalries, the film also depicts how friendships made in the high pressure world of English soccer, and how they can be destroyed by single-minded obsession, as Clough's relationship with his assistant manager Peter Taylor (Timothy Spall) begins the fray as the Leeds experiment goes belly-up.
Soccer truly affects people's lives—for better and for worse. These five great soccer films showcase both the good and bad side of the sport, and how we avid fans interact with the game on every level.
Get More Involved…