Questlove Brings 'Summer of Soul' to Light and Gets Us Back in the Theater
The July 10 Film Independent Presents screening of Summer of Soul (…Or, When the Revolution Could Not Be Televised) was the first live, in-person event held by Film Independent since March 4, 2020. Fittingly, the first true occasion to bring people back together—masked and socially distanced, of course—was to celebrate a critically acclaimed new film that was created to celebrate a long-lost piece of music history. For when an event as significant as the 1969 Harlem Cultural Festival is lost to time, seemingly forgotten and ignored, it's all the more tantalizing when finally discovered.
Soul was directed by first-time filmmaker Ahmir "Questlove" Thompson: musician, drummer, DJ, songwriter, author and journalist; a pleasure to hear speak in any venue, sharing his unique, hyper-literate perspective on composition, performance, recording and music history in general. But despite his knowledge and access, Questlove himself had been skeptical that footage of the 1969 concerts in Harlem's Mount Morris Park—featuring icons such as Stevie Wonder, The Staples Singers, Sly Stone, B.B. King and many more—even existed, as the event had been so thoroughly eclipsed by Woodstock.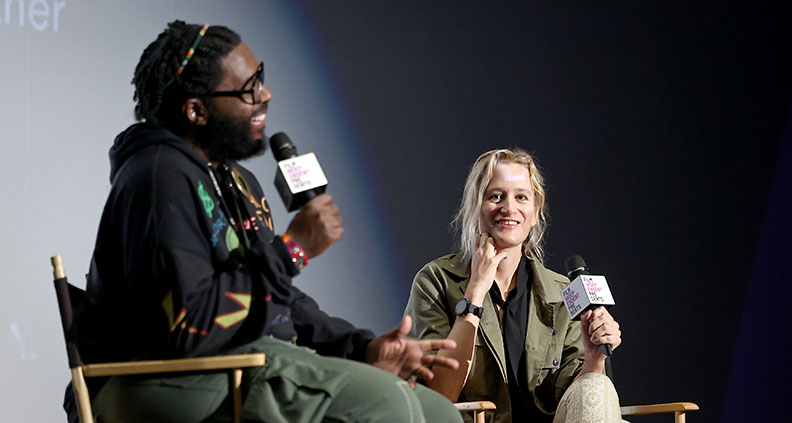 Following the screening which took place at the Harmony Gold Theater in Hollywood, Questlove was on hand to answer questions, in conversation moderated by Be Here to Love Me filmmaker Margaret Brown. But first, Film Independent President John Welsh was on hand to open the proceedings, welcoming audiences back after the impromptu 2020-21 hiatus. His first word—whispered but audible before speaking into his mic—was "Wow." He thanked Searchlight, Hulu and Film Independent's sponsors, staff and Members. For our part, it felt good to applaud our collective coming together and breath a sigh of relief. We were back.
Over the course of many weekends throughout the summer of 1969, The Harlem Cultural Festival was attended by a mostly Black audience and gathered together many of the most important pop and soul acts of the time. And while Questlove is able to provide a succinct historical frame, the true heart of the Summer of Soul film is its lengthy performance sequences by the era's leading Black artists: Stevie Wonder, Nina Simone, B.B. King, Mahalia Jackson, The Staple Singers, Gladys Knight & the Pips, The Chambers Brothers, The 5th Dimension and Sly and the Family Stone are just a few.
Summer of Soul has been met with wildly positive reviews. The Guardian called it "one of the best concert movies of all time"—an argument I absolutely side with. As a fan and musician myself, I was happy to see the film maintain a high level of excitement. While there's a substantial number of contemporary interviews and other contextualizing archival material, the film never strays for too long away from the concerts themselves.
In the Q&A, we learned that the raw footage first presented to Questlove ran more than 40 hours. He described how they created a video loop to run on any of the multiple screens in his home. While he was going about his daily activities, he could familiarize himself with the content of the footage.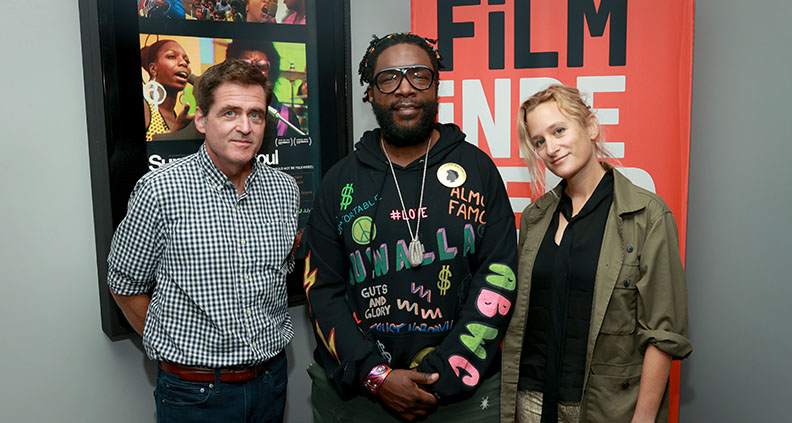 Questlove then described the process of discovering how to frame the film. After attempting to focus on the production of the actual event itself, he assessed that such an approach would not be a good fit. In speculating about a 50-year-old concert's relevance to modern audience, Questlove says he realized that today's Millennials and Gen Z were in fact experiencing many of the same challenges—socially and politically—that the Harlem Cultural Festival audiences would have been experiencing five decades prior.
A huge impetus for the original Harlem Cultural Festival were the ongoing Civil Rights and Black Power movements following the assassinations of Dr. Martin Luther King, just a year earlier, and Malcolm X, in 1965. Also happening the same time as one of the festival days was the moon landing—which occurred at the same time that Stevie Wonder was performing. Summer of Soul shows that when concert attendees were asked what their perspective was on the event, many offered their opinion that the funds spent on the moon shot would be better spent in Harlem, taking care of people on Earth.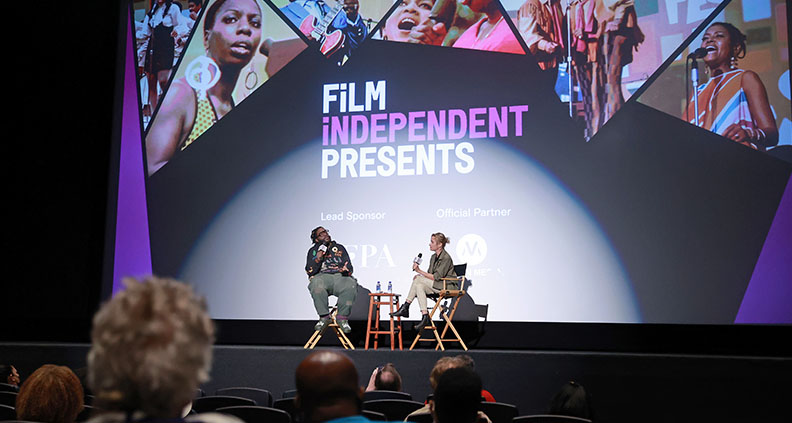 In total, the evening was a relief—a long time coming after a lengthy period without any in-person Film Independent events. The film was filled with great music and a reminder of many of the stark racial issues we still contend with today. I could feel the sense of watching "for the first time" a concert that had been almost completely forgotten. But now, 50 years later, Summer of Soul is unforgettable.
Summer of Soul is now available, playing in theaters nationwide and streaming on Hulu. Film Independent Presents is supported by Lead Sponsor HFPA and Official Partner Vision Media.
Film Independent promotes unique independent voices by helping filmmakers create and advance new work. To become a Member of Film Independent, just click here. To support us with a donation, click here.
More Film Independent…
(Header photo by Getty Images)