From the Rio Olympics to the LA Film Festival, 'Tracktown' Crosses the Finish Line
We all know that multi-hyphenate talents are common amid the indie film world. But regardless of any other abilities they may have (or how many squats they might be able to cram in between shots) very few writer-director-actors are also Olympic-caliber athletes. In fact, we can think of just one: Alexi Pappas, who along with partner Jeremy Teicher is the co-writer/co-director the 2016 LA Film Festival hit Tracktown—in theaters this Friday.
Pappas stars as Plumb Marigold, a budding Olympian who has spent her entire life inside an all-consuming bubble of elite athletic training. When doctors forbid her to run for a few days in order to recover from a minor injury, Plumb is forced to reexamine her routine and contemplate, perhaps for the first time, a life beyond competitive running. It's a character Pappas—who competed for Greece in the 2016 Rio Olympics last year, coming in 17th worldwide in the 10,000-meter event—says isn't autobiographical, but rather "a collage of experiences."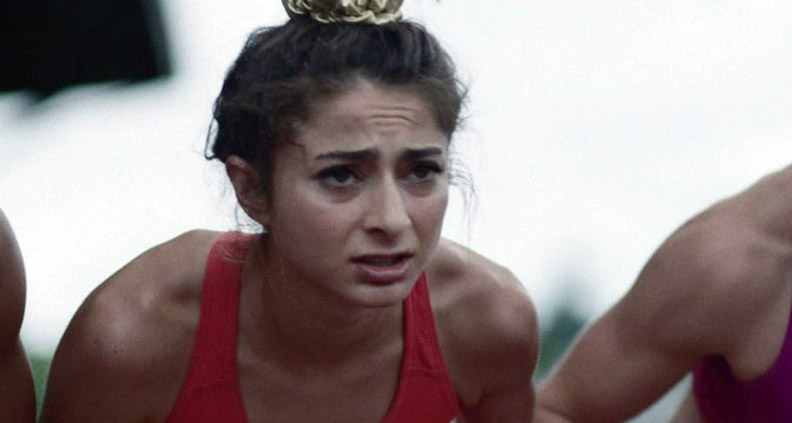 We recently spoke to Teicher and Pappas from their home near Oregon's titular "Tracktown" training facility to learn more about collaboration, favorite sports movies and finding the right audience for such a unique story:
TRACKTOWN
So tell me a little bit about Tracktown.
Pappas: Tracktown is about Plumb Marigold—a girl who in the days between her Olympic trials is forced to take a day off, due to a little injury in the prelims. During that time off she discovers more about herself and the world of "Tracktown" that she grew up in, but that she never really knew before.
How would you describe the tone of the film?
Teicher: I think it's been called a sports/coming-of-age/comedy/drama. Like, very multi-hyphenated. We claim there are more real-life Olympians as actors appearing in the movie than in any other running film that's not a documentary. All of our athletes in the film are real-life athletes—including Alexi.
Do you see this as primarily a sports movie, or just a movie that happens to have the sports world as its setting?
Pappas: I think sports are more of the environment and the backdrop. A lot of the movie takes place off the track, but Plumb's athletic background and competitiveness are the foreground the whole time.
Teicher: It's an alternative sports movie. It's an angle into this world that we've never seen before.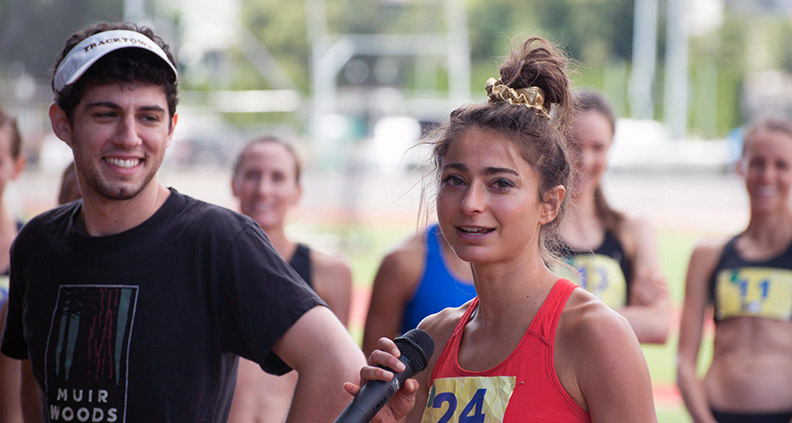 Alexi, how autobiographical is the story? In what ways are you similar to Plumb or how are you different?
Pappas: Plumb and I have some similarities, but also differences. Plumb is sort of a collage of my experiences, but also my observations about this world [of Olympic running]. So she could exist, but it's not my story directly.
How difficult is it to star in a film and also co-direct it while training for the Olympics? Were you running during production?
Pappas: No, I took a month off from running at the end of the season—one that a lot of athletes take. We strategically planned to shoot around that time so that I could be 100% there as an actor and co-director. The rest of the filmmaking process was definitely a balance. That's where, as a team, Jeremy and I could accomplish more than just one of us alone. I see filmmaking as a team sport.
How did you guys collaborate together on set?
Teicher: Every step leading up to production was super-collaborative. We divided and conquered where we could and collaborated in different ways in the writing and the preparation [of the film]. On set, we divided our focus a little more selectively; and during the editing process, it was back to full collaboration. Of course, Lexi had to take time to nap and train every day, so I picked up the slack where I could.
Tell me a little bit about your experience last year at the LA Film Festival.
Pappas: The whole team embraces the filmmakers in a way we've never seen before. I think one of the highlights was definitely the retreat. Also, [our] screening was filled with film lovers, runners and fans of running. Which, in a way, feels like the movie itself. So I think LA was the right [Festival] for the film.
Were there any specific elements of being a track athlete that you took care to depicted accurately?
Pappas: Just what it looks like to be an elite runner. That was part of why we wanted to recruit real elite athletes to play those roles—it wasn't difficult to get them into the mindset. It was in their instincts, and that was important for us to have shine through. Running is a lifestyle that occupies every element of your life, from sleep to fuel to your own self-confidence. Those are all parts of being an athlete, not just competing.
What are some of your strategies for getting this film out there and finding it the right audience? 
Teicher: Through social media [we've] connected with that core audience of runners. There's a group of people who have been following and interacting with the film since almost before we shot it. That's how we sold out our screening so quickly at the LA Film Festival. The strategy is connecting with a community early on and bringing them along through the entire process. Hopefully this film will speak to a wider audience, but it definitely speaks to that young, running, athletic female core that we cared so much about bringing to screen in the first place. That's why I go see independent films—to get these windows into specific worlds that I never knew about before.
Tracktown opens Friday, May 12 in select theaters. To learn more about the film and when it might be playing near you, visit the film's website or Facebook page. To learn more about Pappas's running career, click here.
The 2017 LA Film Festival takes place June 14-22, headquartered at the ArcLight Cinemas Culver City, with additional screenings at ArcLight Hollywood, ArcLight Santa Monica and more.
Stay tuned to Film Independent's Twitter, Facebook and Instagram for the latest new additions and updates. And don't forget to subscribe to our YouTube channel for more exciting announcements. Passes are on sale now. Film Independent Members get early access and save up to 25% so become one today.