RZA Shares How Kung Fu Movies Shaped His Music and Changed His Life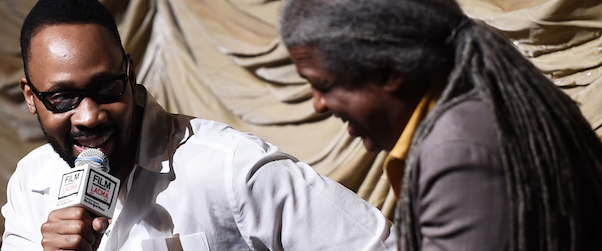 Wu-Tang clan founding member RZA was nine years old when he first saw The 36th Chamber of Shaolin. "In New York City we had Channel 5, three o'clock movies. Back when the Wu-Tang started we didn't have DVDs," he revealed to Elvis Mitchell, amidst laughter. As the invited guest for the Q&A that followed the Film Independent at LACMA 35mm screening of the now-classic 1978 kung fu film, RZA spoke reverentially of the film he watched repeatedly, memorizing the audio cues that ultimately became the foundations for the Wu-Tang Clan's first album Enter the Wu-Tang (36 Chambers).
RZA and the other Wu-Tang members weren't just watching kung fu movies, they were absorbing them, then "spitting out a whole new world." It was a form of escapism, growing up as a black kid in America in a dog-eat-dog environment, he said. "That film took us back hundreds of years to a place called Shaolin," RZA explained. "They say an image is worth a thousand words and with film moving at 30 frames per second, who knows what films do to our conscious or subconscious."
For Enter the Wu-Tang, the group set out to make an audio movie, RZA explained, not just sampling audio from the films but taking listeners through an experience, with chapters and a narrative. Different members identified with different characters of the movie—Ol' Dirty Bastard took on the drunken style of Rice Miller Six, for example, while others fought over claiming the title of Master Killer (the film's original title). It was an unprecedented approach to making an album—one that required some convincing of record label executives.
The 36th Chamber influenced RZA personally, demonstrating the importance of loyalty, self-discipline and sacrifice. "When all the monks went to sleep [San Te] was up working out," he said. He paralleled that to his experience making the beat for Ice Cream, a Raekwon single, an example met with audience applause. He was the last man standing in an all-nighter until he finally came up with the beat, surprising the others. Kung fu films also taught RZA and Wu-Tang members about brotherhood; It was not common, and it's still isn't where they grew up, he said. When Mitchell asked him about his favorite fight scene from the movie, RZA went with the second time San Te fights one of the monks. To combat the butterfly knives the monk had used to defeat him, San Te gets to actually meditate on the loss, RZA said, and comes up with the three-section staff that he uses to defeat the monk. The film's spiritual explorations sent RZA down the path of studying Buddhism.
It's not lost on RZA that he was 23 years old when Wu-Tang released that first album, and it was identifying with San Te's strength that gave them all the confidence to do it. "At the age of 23, we felt we could take over the world. I felt like a kung fu master," RZA said. Was he worried about the album's success, Mitchell asked. "I don't mean to be egotistical," RZA responded, "But I knew it would work and I knew it had to work."
Diana Buendia / Marketing Assistant