See What's Playing at the 2016 LA Film Festival: Competition Lineup Announced
(header image: Political Animals — see: Documentary Competition)
Look, it doesn't take a MacArthur-level genius to see that the world could use some good news right about now. A reason to celebrate and get excited. A reason to fill your cup up with anticipation and cheer. In short: something to look forward to.
Unfortunately, we here at Film Independent do not (currently) have the ability to provide kitties and puppies to each and every US and global citizen in need of total and immediate emotional uplift. But luckily, we can do the next best thing: reveal the complete lineup for the 2016 LA Film Festival.
In case you haven't heard, this year's LA Film Festival will take place June 1-9 at the ArcLight Cinemas in Hollywood and Culver City. Still playing catch-up? Please refer to our LA Film Festival blog archive for more information—and tell your friends!
Last week we teased you with the early unveiling of the non-competition Buzz and Limelight sections. But now, after seven long days of holding in our programming secrets until our tongues have been all but chewed in half, we can finally, with great pride and relief, announce our full lineup exceptional, boundary-pushing LA Film Festival titles across each and every section of this year's Festival.
"Our programming team killed it," said LA Film Festival Director Stephanie Allain in a press release issued this morning, adding: "The lineup echoes Film Independent's mission to celebrate diversity and showcase a multitude of fresh, innovative voices."
"We look for films with conviction in perspective, style and voice," said the Festival's Director of Programming, Roya Rastegar, adding: "Discovering stories is our d'être."
"Angelenos have a uniquely homegrown love of cinema," commented Jennifer Cochis, the Festival's Creative Director. "It's with true film lovers in mind that we [designed this] program," she said of the 2016 slate, which features a whopping 42 world premieres out of 56 total films, plus 58 short films and 13 short episodic works and web series.
But enough contextualization! We can feel you anxiously tapping your foot in anticipation of the big reveal. So without further preamble, here (along with the previously-announced) Buzz and Limelight sections) is your complete 2016 LA Film Festival lineup:
---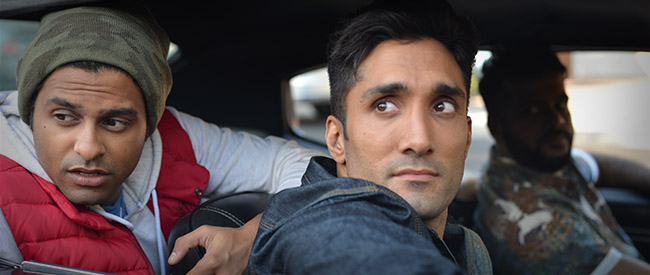 US FICTION COMPETITION
11:55 – USA (DIRECTORS Ari Issler, Ben Snyder WRITERS Ari Issler, Ben Snyder, Victor Almanzar PRODUCERS Danny Mendoza, Joshua Blum, Gia Walsh, Kara Baker, Matthew Thurm CAST Victor Almanzar, Shirley Rumierk, Elizabeth Rodriguez, David Zayas, Julia Stiles, John Leguizamo) – Upon his return home, a U.S. Marine must face up to the consequences of a shameful tragedy that has defined his past before he runs out of time. World Premiere
72 Hours: A Brooklyn Love Story? – USA (DIRECTOR Raafi Rivero WRITERS Raafi Rivero, Bilal N'Dongo PRODUCERS Vincent Harris, Stephanie Williams CAST Melvin Mogoli, Andrea Rachel Parker, Erinn Westbrook, Bilal N'Dongo, David Shaw, Enrique Miller, Khadim Diop) – A charismatic teen is thrown into a crisis of life and love when he must decide whether to leave his rapidly gentrifying Brooklyn community to pursue a prestigious academic scholarship. World Premiere 
Blood Stripe – USA (DIRECTOR Remy Auberjonois WRITERS Kate Nowlin, Remy Auberjonois PRODUCERS Schuyler Weiss, Julie Christeas, Remy Auberjonois, Kate Nowlin CAST Kate Nowlin, Tom Lipinski, Chris Sullivan, Rusty Schwimmer, Rene Auberjonois) – After a third tour of duty in Afghanistan, a Marine sergeant returns home to find herself hemorrhaging anxiety and paranoia from unseen wounds. World Premiere
Chee and T – USA (DIRECTOR Tanuj Chopra WRITERS Tanuj Chopra, Chee Malabar PRODUCER Sohini Sengupta CAST Sunkrish Bala, Dominic Rains, Asif Ali, Noureen DeWulf, Rebecca Hazlewood, Bernard White, Karan Soni, Scott Rogers, Himanshu Suri) – A delirious ride with two hot henchmen, who are tasked with getting their South Asian boss's out-of-control nephew presentable for his engagement party by day's end. World Premiere
Destined – USA (DIRECTOR/WRITER Qasim Basir PRODUCERS Tommy Oliver, Rick Rosenthal, Matt Ratner CAST Cory Hardrict, Jesse Metcalfe, Margot Bingham, Robert Christopher Riley, Jason Dohring, Zulay Henao, Hill Harper, Lala Anthony, Mo McCrae) – A man navigates parallel realities: one as a hardened criminal who has spent years building his drug empire; the other as an ambitious architect who has been working his way up the corporate ladder. World Premiere
Dreamstates – USA/France/Rwanda (DIRECTOR/ WRITER Anisia Uzeyman PRODUCERS Maripol, Dave Guenette, Anisia Uzeyman, Saul Williams, Annie Maurette, Neptune Frost, Mai Lucas CAST Saul Williams, Anisia Uzeyman, Beau Sia, William Nadylam, CX KIDTRONIK, Guillermo Brown, Julien Chirol, Zach Prewitt, Mervin Sealy Sr.) – Created in collaboration with Saul Williams, this non-linear tale is about two wayward souls discovering their love for one another, as reality and fiction blur on a tour across the United States with pivotal figures of the Afro-Punk movement. World Premiere
GREEN / is / GOLD – USA (DIRECTOR/ WRITER Ryon Baxter PRODUCERS Anthony Burns, Ryon Baxter CAST Jimmy Baxter, Ryon Baxter, David Fine, Liz Clare, Shelley Mitchell) – After his father goes to prison, a wayward tween has nowhere to live except with his high school dropout brother, who is building—at all costs—a marijuana business. World Premiere
My First Kiss and the People Involved – USA (DIRECTOR/ WRITER Luigi Campi PRODUCERS Mayuran Tiruchelvam, Andy Nguyen, Ko-Rely Pi CAST India Salvor Menuez, Robert Beitzel, Josh Caras, Liza Thorn, Carmen M. Herlihy) – Sam doesn't speak; she hums with the trees and the cracks in the walls. When her caregiver mysteriously disappears from the group home, Sam steps into the world to find her. World Premiere
Paint it Black – USA (DIRECTOR Amber Tamblyn WRITERS Amber Tamblyn, Ed Dougherty PRODUCERS Wren Arthur, Anne Hubble, Amy Hobby, Amber Tamblyn CAST Janet Mcteer, Alia Shawkat, Alfred Molina, Emily Rios, Rys Wakefield) – Barely able to process the death of her true love, Josie is drawn into a twisted relationship with the deceased's mother as irrational grief explodes in beautiful and terrifying ways. World Premiere
Tracktown – USA (DIRECTORS/ WRITERS Jeremy Teicher, Alexi Pappas PRODUCERS Laura Wagner, Alexi Pappas, Jeremy Teicher, Jay Smith CAST Alexi Pappas, Chase Offerle, Rachel Dratch, Andy Buckley) – A bright, talented and lonely long-distance runner twists her ankle as she prepares for the Olympic Trials and must do something she's never done before: take a day off. World Premiere
The View from Tall – USA (DIRECTORS Erica Weiss, Caitlin Parrish WRITER Caitlin Parrish PRODUCER Amanda Pflieger CAST Amanda Drinkall, Michael Patrick Thornton, Carolyn Braver) – A precocious high school senior finds an unlikely lifeline in her court-mandated therapist after she is ostracized from school after a sexual transgression with her English teacher goes viral. World Premiere
Woven – USA (DIRECTORS Salome Mulugeta, Nagwa Ibrahim WRITERS Salome Mulugeta, Ryan Spahn, Kristin Hanggi PRODUCERS Salome Mulugeta, Nagwa Ibrahim, Ryan Spahn CAST Salome Mulugeta, Ryan O'Nan, Alemtsehay Wodajo, Larisa Polonsky, Ryan Spahn, Vincent Agnello, Mickey Macras, Tibebe Solomon Borga, Mona Ibrahim) – When a mysterious crime takes the life of her only brother, an Ethiopian American woman searches for the truth behind his death, while struggling to reconcile cultural expectations with her own pursuit of self-identity and love. World Premiere
---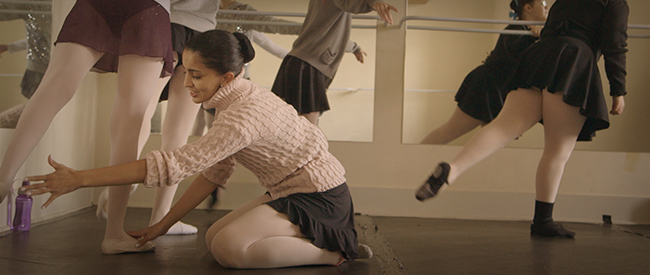 DOCUMENTARY COMPETITION
Company Town – USA (DIRECTORS Natalie Kottke-Masocco CO-DIRECTOR Erica Sardarian PRODUCERS Natalie Kottke-Masocco, Erica Sardarian, Edgar Sardarian, Adam Paul Smith) – Almost every resident of Crossett, Arkansas, has worked for (or is currently employed by) Georgia-Pacific, a company privately-owned by the Koch brothers. Now, one by one, former employees are getting sick and dying of cancer. World Premiere
Denial – USA (DIRECTOR Derek Hallquist WRITERS Derek Hallquist, Aaron Woolf, Anoosh Tertzakian PRODUCER Aaron Woolf) – Filmmaker Derek Hallquist was in the midst of filming an environmental documentary about his father's innovative quest for alternative energy sources when he uncovered a shocking aspect of his father's life that transformed a global crisis into a personal one. World Premiere
Dr. Feelgood – USA (DIRECTOR Eve Marson WRITERS Eve Marson, Mark Monroe, Sara Goldblatt, David Boodell PRODUCERS Eve Marson, Sara Goldblatt) – An examination of the ethics behind a medical practice of prescribing pain-relieving drugs, featuring Dr. William Hurwitz, who prescribed thousands of opioid prescriptions before being sentenced to 25 years in prison for drug trafficking. World Premiere
Dying Laughing – UK (DIRECTORS/PRODUCERS Lloyd Stanton, Paul Toogood) – Riveting interviews lend insight into the creative craft of comedy and the psychology behind some of the world's greatest stand-ups, including Chris Rock, Kevin Hart, Jerry Seinfeld, Sarah Silverman, Jamie Foxx, Steve Coogan, Billy Connolly and Amy Schumer. World Premiere
The House on Coco Road – Grenada/USA (DIRECTOR/PRODUCER Damani Baker WRITERS Damani Baker, Jon Fine, Eisa Davis, Cameron Russell) – An activist and teacher abandons the racial violence permeating Oakland in the 1980s in pursuit of the utopic possibilities of Grenada's revolution—only to put her family in harm's way during a brutal invasion by the U.S. military. World Premiere
Jackson – USA (DIRECTOR Maisie Crow PRODUCERS Maisie Crow, Jamie Boyle) – A single mother, an abortion clinic director and fervent pro-lifer lay bare their stakes in the fight of one of the last remaining abortion clinics to stay open against the pro-life movement's efforts to make abortions illegal in the Deep South. World Premiere
The Last Gold – USA/Germany (DIRECTOR Brian T. Brown WRITERS Brian T. Brown, Casey Barrett PRODUCERS Chuck Wielgus, Mike Unger, Dan Klein) – One of the strongest U.S. women's swimming teams in history is met at the 1976 Summer Olympics in Montreal by a team from East Germany who got big overnight following the most extensive steroid doping program in sports history. World Premiere
Looking at the Stars – Brazil/Nicaragua/USA (DIRECTOR Alexandre Peralta WRITERS Alexandre Peralta, Melisa Rebelo Kerezi PRODUCERS Alejandro Ernesto Martinez B., Alexandre Peralta, Melisa Rebelo Kerezi, Corina Maritescu, Chao Thao, Thais Peralta) – At the world's only ballet school for the blind, located in São Paulo, Brazil, a prima ballerina and her teen protégé boldly take on the unique challenges of their visual impairments to develop new forms of self-expression through dance. World Premiere
Olympic Pride, American Prejudice – USA (DIRECTOR/ WRITER Deborah Riley Draper, PRODUCERS Deborah Riley Draper, Blair Underwood, Amy Tiemann, Michael A. Draper) – Follow the historic story of 18 African American athletes who competed in the 1936 Berlin Olympics, undermining the fallacy of Aryan supremacy and exposing the hypocrisy of life under Jim Crow laws in the U.S. World Premiere
Out of Iraq – USA/Canada/Lebanon/Iraq (DIRECTORS Eva Orner, Chris McKim PRODUCERS Fenton Bailey, Randy Barbato, Eva Orner, Chris McKim) – Two Iraqi men meet in the middle of war-torn Ramadi in 2004; one is a soldier for the Iraqi Army, the other is a translator for the U.S. military. They fall in love. World Premiere
Political Animals – USA (DIRECTORS Jonah Markowitz, Tracy Wares WRITER Jonah Markowitz PRODUCER Anne Clements) – The first openly gay California State Representatives, Sheila Kuehl, Jackie Goldberg, Christine Kehoe, and Carole Migden, had to utilize cunning, strategy and endurance when authoring and introducing the legislation that fundamentally changed the landscape of LGBT rights. World Premiere
They Call Us Monsters – USA (DIRECTOR Ben Lear PRODUCERS Sasha Alpert, Gabriel Cowan) – Behind the walls of The Compound, L.A.'s most violent juvenile offenders await their trials. To their advocates, they're kids. To the system, they're adults. To their victims, they're monsters. Who are they to you? World Premiere
---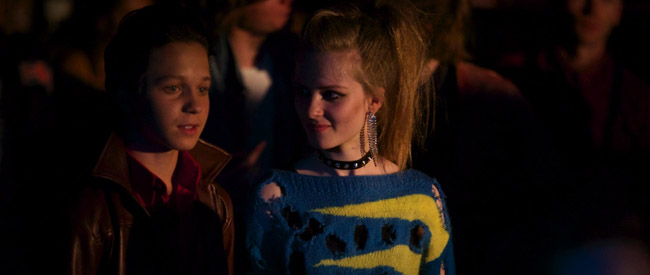 WORLD FICTION COMPETITION
HEIS (chronicles) – France (DIRECTOR/WRITER/PRODUCER Anaïs Volpé CAST Akéla Sari, Matthieu Longatte, Anaïs Volpé, Emilia Derou-Bernal, Alexandre Desane) – A millennial artist returns to her mother's home in Paris, only to have her personal ambitions confronted by her family's expectations in this energetic and visually distinct debut film. World Premiere
Like Cotton Twines – USA/Ghana (DIRECTOR/WRITER Leila Djansi PRODUCERS Amanda Marshall, Akofa Djankui, Whitney Valcin, Dave Harper, Leila Djansi CAST Jay Ellis, Ophelia Dzidzornu, Miranda Bailey, Yvonne Okoro, Luckie Lawson, David Dontoh) – An African American volunteer accepts a teaching job in a remote Ghanaian village and is ensnared in a battle between tradition and freedom when he is compelled to save one of his students from becoming a slave to the gods. World Premiere
London Town – UK (DIRECTOR Derrick Borte WRITER Matthew Brown PRODUCER Sofia Sondervan, Christin Vachon, Tom Butterfield CAST Jonathan Rhys Meyers, Daniel Huttlestone, Dougray Scott, Natascha McElhone, Tom Hughes) – A 14-year old boy's life changes forever when his estranged mother introduces him to the music of The Clash in 1979 London. World Premiere
Lupe Under the Sun – Mexico/USA (DIRECTOR/WRITER Rodrigo Reyes PRODUCER Su Kim CAST Daniel Muratalla, Ana Muratalla) – After a lifetime working in the California fields, Lupe learns that he is about to die and desperately struggles to return home to his family in Mexico to make amends—before it is too late. World Premiere
A Moving Image – UK (DIRECTOR/WRITER Shola Amoo PRODUCER Rienkje Attoh CAST Tanya Fear, Hussina Raja, Yinka Oyewole, Aki Omoshaybi, Alex Austin, Yrsa Daley Ward) – Reality and fiction merge in this personal reflection on gentrification in Brixton, told from the perspective of a sincere, yet stifled, young artist who struggles with her own complicity as she confronts the changing landscape of her South London neighborhood. World Premiere
Play the Devil – Trinidad, Bahamas, USA (DIRECTOR/WRITER Maria Govan PRODUCER Abigail Hadeed CAST Petrice Jones, Gareth Jenkins, Akil Nicholas, Penelope Spencer) – Set against the backdrop of Trinidad and Tobago's mystical Carnival, a gifted and struggling young man becomes the object of intrigue for an older, well-meaning businessman until their worlds collide. World Premiere
---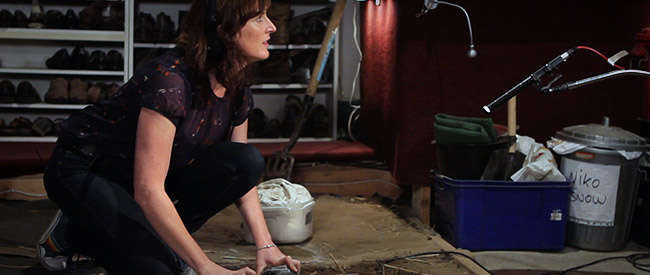 LA MUSE
Actors of Sound – USA/Ireland/India/Finland/Germany/Argentina (DIRECTOR/ WRITER Lalo Molina PRODUCERS Lalo Molina, Gustavo Bernal, Zoe Willoughby) – Will Hollywood's low-tech sound artists survive as digital technology consumes modern moviemaking? Foley artists, the unsung heroes of movie sound effects, recreate the sounds—from footsteps to bone crack—at the heart of film magic. World Premiere
Girl Flu. – USA (DIRECTOR/ WRITER Dorie Barton PRODUCER David K. Wilson, Jay Lowi CAST Katee Sackhoff, Jade Pettyjohn, Jeremy Sisto, Heather Matarazzo, Judy Reyes) – Bird, a smart level-headed tween, and her immature stoner mom gracelessly navigate the arrival of Bird's first period, which she gets on the last day of school… in front of the entire class. World Premiere
Manchild: The Schea Cotton Story – USA (DIRECTOR Eric "Ptah" Herbert WRITERS Michael Landers, Eric "Ptah" Herbert PRODUCERS Dr. Howard Mango, Eric "Ptah" Herbert, Oscar "Cali" Quiroz, Mack Tompkins, Jason Hart, Marcus Gradney, Schea Cotton) – One of the biggest mysteries in basketball's history is why Los Angeles legend Schea Cotton, one of the most highly touted high school athletes of a pre-social media era, never made it to the NBA. World Premiere
Namour – USA (DIRECTOR/ WRITER Heidi Saman PRODUCER Matthew Keene Smith CAST Karim Saleh, Mona Hala, Waleed Zuaiter, Nicole Haddad) – Set in the City of Angels during the economic recession of the late 2000's, a twenty-something Egyptian American valet driver must come to grips with his dead-end job, disintegrating family and disappearing relationships in this stylish homage to Los Angeles. World Premiere
No Light and No Land Anywhere – USA (DIRECTOR/ WRITER Amber Sealey PRODUCERS Amber Sealey, Drea Clark, Alysa Nahmias CAST Gemma Brockis, Jennifer LaFleur, Kent Osborne, David Sullivan, Jade Sealey, Deborah Dopp) – Grieving over her mother's death, Lexi abruptly leaves her life and husband in London to come to Los Angeles in pursuit of the father who abandoned her when she was three. World Premiere
Sensitivity Training – USA (DIRECTOR/ WRITER Melissa Finell PRODUCER Megha Kohli, Melissa Finell CAST Anna Lise Phillips, Jill Alexander, Quinn Marcus, Amy Madigan, Charles Haid, Amy Vorpahl, Andy Gala, Michael Laskin, Gregory Itzin, Finnegan Haid, Courtney Fansler, Tessa Goss, Challen Cates) – A grumpy microbiologist is forced into sensitivity training at work and forms an unlikely friendship with her overly vivacious coach. World Premiere
---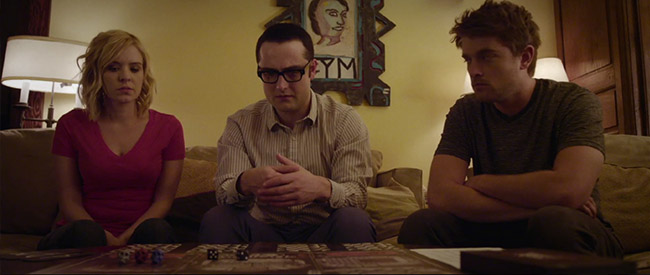 NIGHTFALL
Abattoir – USA (DIRECTOR Darren Lynn Bousman WRITER Christopher Monfette PRODUCERS Jessica Berger, Brent C. Johnson CAST Jesse Lowndes, Joe Anderson, Lin Shaye, Dayton Callie) – A reporter unearths an urban legend about a home being constructed from rooms where horrific tragedies have occurred, giving new life to the term "haunted house." World Premiere
Beyond the Gates – USA (DIRECTOR Jackson Stewart WRITERS Jackson Stewart, Stephen Scarlata PRODUCERS Amanda Mortimer, Barbara Crampton, Ian Keiser, Jon Kondelik, Jackson Stewart, Stephen Scarlata CAST Graham Skipper, Chase Williamson, Brea Grant, Barbara Crampton, Matt Mercer, Justin Welborn, Jesse Merlin, Sara Malakul Lane, Henry LeBlanc) – Two estranged brothers dig through their missing father's video store, discovering a VCR board game that holds a connection to their father's disappearance and deadly consequences for anyone who plays it. World Premiere
Don't Hang Up – UK (DIRECTORS Alexis Wajsbrot, Damien Macé WRITER Joe Johnson PRODUCERS Jason Newmark, Laurie Cook, Romain Philippe, Farah Abushwesha, Alexis Wajsbrot, Damien Macé CAST Gregg Sulkin, Garrett Clayton, Bella Dayne, Sienna Guillory) – An evening of drunken prank calls becomes a nightmare for a pair of teenagers when a mysterious stranger turns their own game against them, with deadly consequences. World Premiere
Mercy – USA (DIRECTOR/WRITER Chris Sparling PRODUCERS Andrew D Corkin, Kyle Franke, Robyn Bennett CAST James Wolk, Caitlin Fitzgerald, Tom Lipinski, Dan Ziskie, Michael Godere, Michael Donovan, Dion Graham, Constance Baron) – Brought together at their childhood home over their dying mother, an estranged family is thrust into a deadly fight for their own survival in a tense home invasion thriller. World Premiere
Officer Downe – USA (DIRECTOR M. Shawn Crahan WRITER Joe Casey PRODUCERS Skip Williamson, Mark Neveldine, Joe Casey CAST Kim Coates, Tyler Ross, Lauren Luna Velez, Meadow Williams) – Based on the cult graphic novel by Joe Casey and Chris Burnham, a rookie is tasked with shadowing Officer Downe, a no-nonsense LAPD cop with regenerative powers, as he wages an ultra-violent war against the nefarious villains of Los Angeles. World Premiere
Villisca – USA (DIRECTOR Tony Valenzuela WRITER Owen Egerton PRODUCER Seth Caplan, Kevin Abrams, Michael Wormser CAST Robert Adamson, Jarrett Sleeper, Alex Frnka, Conchata Ferrell, Jon Gries) – Three ghost-hunting high schoolers visit the Moore House in Villisca, Iowa—the site of one of America's most grisly unsolved mass murders. After their private tour is interrupted, the group sneaks back in at night, unaware of the otherworldly terror that awaits them. World Premiere
---
Festival passes are now on sale to both Film Independent Members and the general public, so don't delay—click here to buy yours today.
General admission tickets will be on sale for Members beginning Thursday, May 5 and open to the general public starting Tuesday, May 10. Mark your calendars and earmark that disposable income accordingly!
The 2016 LA Film Festival will take place June 1-9. For more info, please visit our website, stay tuned to this blog and subscribe to our YouTube channel. To learn how to become a Member of Film Independent, click here.