Shooting the Old West: 'Outlaws and Angels' Filmmaker JT Mollner and Star Francesca Eastwood
After making eight previous short films, writer and director JT Mollner opted to make for his feature debut a modern day Western under classic conditions. Crediting his late grandfather with introducing him to the genre he calls his "cinematic comfort food", Mollner teamed with cinematographer Matt Irving to take on the ambitious project, shooting on 2 perf 3MM Kodak Film with vintage Panavision cameras and lenses. The result is a gritty, grainy piece of filmmaking that Mollner hopes will leave audiences with the feeling they've just discovered an old film print that's been dusted off and rereleased.
Combining elements of revenge thriller, cat-and-mouse style suspense movie and shoot-'em-up action adventure, Outlaws and Angels is Mollner's vision of the true and untold story of the Old West. The film stars Chad Michael Murray, Luke Wilson and Teri Polo, and features a breakthrough performance by Francesca Eastwood, daughter of Hollywood legend and Western movie icon, Clint.
Film Independent recently spoke with Mollner about the challenges of working with vintage equipment, how making eight short films prepared him for his ambitious feature debut, and how fortunate he feels to see his vision come to fruition uncompromised.
Also included in the conversation was Eastwood, who gave us her thoughts on taking on such a powerful lead role and the pressure that comes along with her iconic last name, as well as some of her advice and insights for aspiring actors. Here's the conversation:
---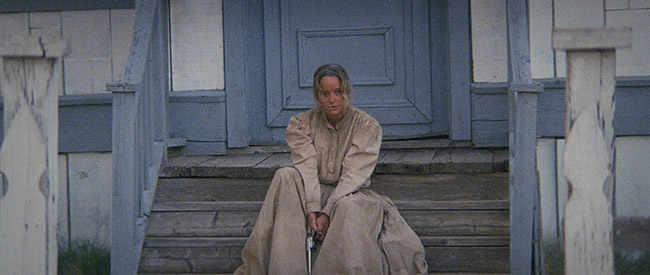 You made several short films before Outlaws. Would you suggest aspiring filmmakers follow the same path? Did the shorts prepare you for your feature?
Mollner: Anyone making films has their own path. I came from a writing background and always loved film, but didn't know I would end up making films. [I knew I wanted to], but couldn't handle writing [screenplays] and handing over projects for someone else to make. So I thought to myself, I can either go to film school, or I can just start making films. I spent eight years making shorts and the only negative to doing that versus going to film school is that my [student films] are on display. Even though I'm proud of those first couple shorts, I wouldn't do it the same now. But I'm glad I waited to make this feature, because it wouldn't have turned out the same had I done it [back then]. Now I know how to communicate what I want.
What were the pros and cons of shooting in such a classic format?
Mollner: Honestly, shooting on film and with the vintage Panavision cameras and equipment was nothing but a benefit, in my opinion. There was the highest level of focus [from the cast and crew], knowing that we were shooting on film and it can be expensive. With 35MM 2-perf format and in using lenses from the '60s we achieved exactly the look [we had set out to]. Even when some of the old equipment would start to present a problem, we embraced it and part of that was because we knew the imperfections were very deliberate.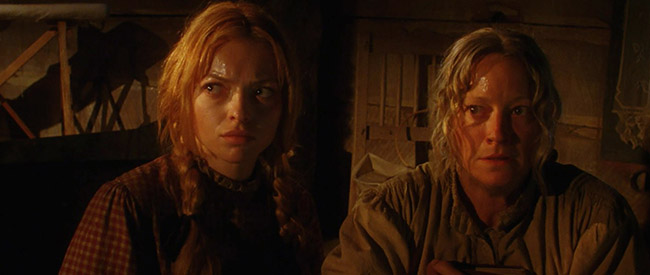 Do you plan on sticking with the Western genre, or venturing into various other types of films?
Mollner: I don't really see myself making another Western [anytime soon]. It just happened that this story fit within the genre so well and had so many of the traditional thematic elements you'd find in [classic Westerns], so it was just an interesting way to [combine] rooting for revenge, death without consequence, shoot 'em up [style action]. It's very self-aware of genre stereotypes that it was breaking, but I really wanted to ask questions like: What does revenge mean? What does violence mean? So while this story works as a Western, I don't think I'll make another film in this genre anytime soon. My next film will probably be a contemporary drama.
How did Francesca Eastwood get involved, being cast as Florence Tildon?
Mollner: Fran was actually recommended by our casting director Chadwick Struck. We wanted a complete unknown, and I had never seen anything she had done but [admittedly] considered her family name could potentially be a distraction. We also wanted someone much younger for the role, because originally the character was meant to [grow] from child to young woman. As the character was [reworked], Fran came in to read and she just earned the part fair and square. We couldn't take our eyes off of her. She has the grace and beauty of her mother (Frances Fisher, who also stars in the film), a screen legend, and it's a cool thing that her dad is passing the torch down to his daughter.
---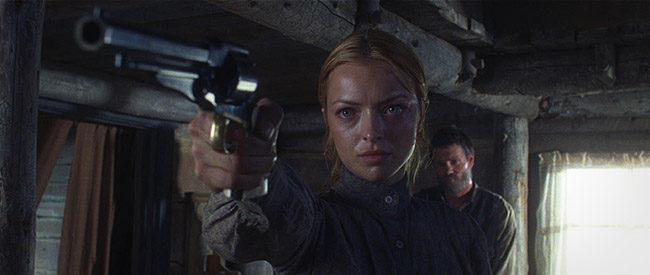 Prior to Outlaws, Francesca Eastwood had starred in a few TV movies and had had bit roles in a few of father's films like Jersey Boys and True Crime. But it wasn't a case of Hollywood favoritism when it came down to the final casting decision. Through Skype sessions with Mollner, Eastwood won the part of the feisty Florence by asserting a genuine commitment to the director's vision. In the end, Mollner admits that Murray and Eastwood were the "two best final leads" he could've ever hoped for. Even so, the pressure was on for Eastwood to make her family proud—but not just because her breakthrough role just so happened to be in a Western.
Did you feel any pressure being the daughter of such a Hollywood icon? Especially one who's made so many Western?
Eastwood: The pressure is in just doing the best job, not necessarily because it's a Western. I was nervous just for my parents to see my work [because] I want them to be proud.
How did you prepare for the role of Florence? Did you watch any Westerns to prepare?
Eastwood: My mother coached me on physicality; ways of speaking… and then I just developed a backstory on my character and took it [to set] with me. I didn't want to think about [or emulate] old Westerns, I wanted to bring my own interpretation. I started watching them later, but while we were filming and even growing up, I didn't watch [those films].
What did you learn making this film?
Eastwood: This truly was a life-changing experience working with JT and the entire cast. [This project] showed me the type of stories I want to tell, the type of characters I want to play, the type of actress I want to be. I hope to always grow.
Last question: What advice would you give to aspiring actors?
Eastwood: To read The Intent to Live, by Larry Moss. My mother always said, "tell the truth, no matter what"—find what's true [to you] in the scene. My father would tell me "to watch and listen to other actors". In putting my own spin on that, just make sure to always be in the moment.
---
Outlaws & Angels opens this Friday, July 15 in theaters, on iTunes and VOD. For more information, please visit the film's IMDb page.
To learn more about Film Independent, subscribe to our YouTube channel or follow us on Twitter and Facebook. To learn how to become a Member of Film Independent, just click here.