Sian Heder, Marlee Matlin and Eugenio Derbez add a 'CODA' to Their 2021 Indie Hit
Now more than ever, true representation on film is needed. And at this particular time, what the world definitely needs more of are uplifting, heartfelt stories championing underrepresented communities, including the deaf and other people with disabilities.
The latest feature from 2009 Directing Lab Fellow Sian Heder, CODA—which stands for children of deaf adults—tells the story of a teenager Ruby, who, being the only hearing-person in her otherwise all-deaf family, finds herself conflicted between the choice to remain at home with her family to help run the family business, or pursue her love of singing at music school.
One of this year's biggest Sundance hits (and acquisitions!), CODA is now available to watch on Apple TV+. But on September 14, Heder was in attendance for a very special in-person Film Independent Presents screening of the film at Hollywood's Harmony Gold Theater.
Alongside an audience eager to see the film on the big screen, Heder was joined by CODA stars Marlee Matlin (an Oscar winner!) and actor-comedian Eugenio Derbez. Film Independent President Josh Welsh moderated the panel discussion.
Heder spoke to her interest in the project:. "I thought that role [Ruby, played by newcomer Emilia Jones] was interesting—being the person who is raised in deaf culture, but who, as a hearing person, sort of navigates these two worlds and feels a part of both, but also part of neither." She noted that the project also gave her an opportunity to cast authentically, using deaf actors and exploring the use of sign language as a storytelling tool—one of the film's most notable aspects.
Heder added that it was important for her to shine a light on the fishing community in Gloster, Massachusetts, where the film is set—where the filmmaker spent her summers as a kid—and the kinds of struggles this community has faced throughout the years. "It felt like an interesting place to set a story," she said.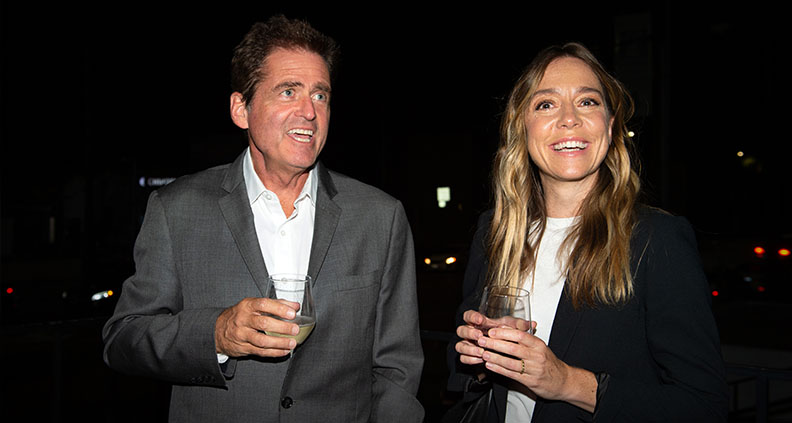 On her involvement with the project and her impressions upon first reading the script, Matlin said: "I was hooked, immediately. I was like 'Okay, this belongs to me. Jackie Rossi belongs to me!'" She shared that after first reading the script, she noted how authentic it felt, each character portrayed "so clearly on the page," she said. Matlin also spoke to rarely seeing scripts with three deaf actors cast as the leads, concluding, "I knew this movie had to be made, and it had to be seen."
As for Derbez—who plays the role of a stern yet loving high school choir teacher—his journey to the film was a bit more complicated. "I met with Sian, and we loved each other immediately. She said 'You're the guy [for the role].'"
However, a scheduling conflict interfered with Derbez' involvement with the project, until three months passes and Derbez gets a call from team CODA asking if he'd be free to shoot the film. Derbez says, "[The film] came back to me like three times, and thank God! I'm very happy."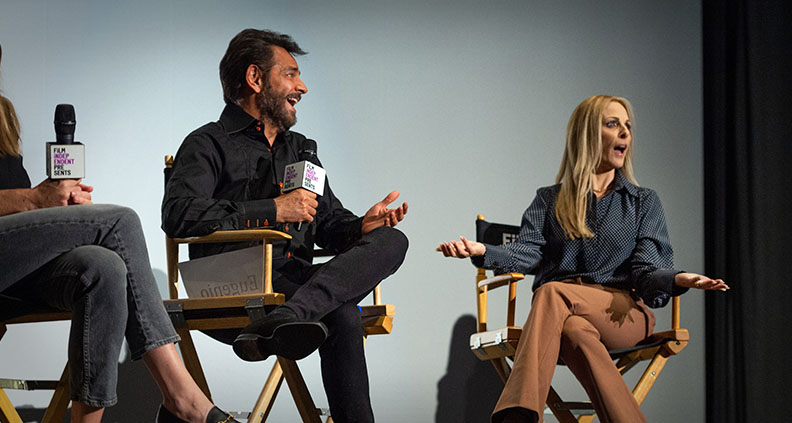 Heder chimed in, "It's just funny, I had Eugenio in my head after I had met with him—it was like I couldn't see that part as anyone else and I had sort of imagined it as him."
What sticks out about CODA is the love shared amongst its central family, amidst some normal familial dysfunction. Welsh describes the Rossis' dynamic as "the heart and soul" of the film. Said Heder: "Chemistry is a really hard thing to create on film. You hope that as a director that will happen… So when I was casting, I certainly had instincts and I think it helped that Marlee admired Troy and had worked with him before, and Troy was a giant fan of Marlee."
Heder also shared during the cast lived together in Gloster during the shoot and hung out regularly, developing their own dynamic that made its way to screen.
"Something really did happen on this movie, which has never happened to me before, in the way the Rossis bonded and clicked." She added that being in Gloster this past summer, Heder felt that she'd run into the Rossis. "It just felt like they exist and they're in the world and that is a testament I think to these actors and the way that they bonded and connected."
Film Independent promotes unique independent voices, providing a wide variety of resources to help filmmakers create and advance new work. Become a Member of Film Independent here.
If you are in a position to support our efforts, please make a donation. Your impact will double, dollar-for-dollar, with the generosity of our long-standing Arts Circle Member Susan Murdy. All donations made to Film Independent before September 30 will be matched up to $75,000.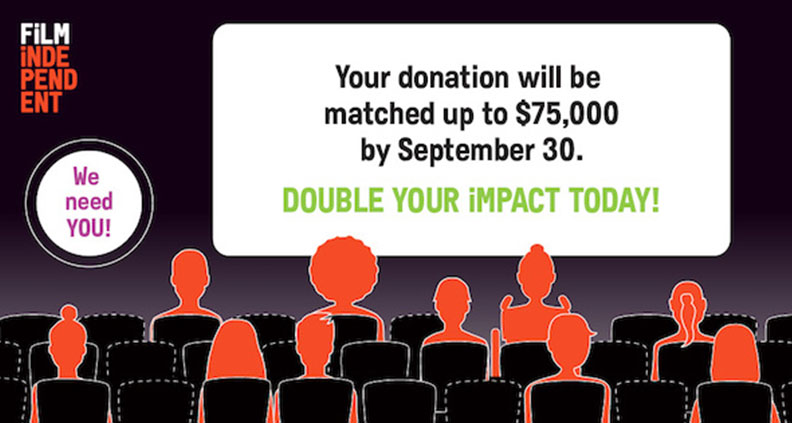 Keep up with Film Independent…
(Header photo credit: Getty)