Someone We Watched: 'Gimme the Loot' Award Winner Adam Leon
Each year, the Film Independent Spirit Awards give the Someone to Watch Award to an emerging filmmaker of singular vision. In this column, critic David Bax revisits some of the grant's recipients to see how their work and careers have continued to develop. The 26th Someone to Watch Award, presented by Bulleit Frontier Whiskey, will be given January 4, 2020.
***
If I were to describe to you a movie about urban street crime—about young hustlers dippin' up the block to rob and steal—the film you'd conjure in your mind probably wouldn't look or feel too much like Gimme the Loot, writer/director Adam Leon's 2012 Someone to Watch Award-winning feature debut (also nominated for Best First Feature, ultimately going to Stephen Chbosky's The Perks of Being a Wallflower.)
The movie's charm stems from its complete disinterest in moralizing or, conversely, romanticizing the hardscrabble lives of its characters. Instead, it lets their point of view become its own. By treating the multiple criminal schemes that unfold within Loot's brief running time as if they're no different than the quixotic, get-laid ploys of the dudes from Superbad, Leon subtly collapses the walls between the white, middle class suburban kids of that film and the young, black and broke protagonists of this one.
Sofia (Tashiana Washington) and Malcolm (Ty Hickson) are two minor New York City taggers who decide the best way to make a name for themselves is to "bomb the apple," aka sneak in to Citifield (they still call it Shea Stadium, though) and secretly graffiti their names onto the apple that rises from behind centerfield whenever the Mets hit a home run. The next time Ike Davis (or whoever) hits one out of the park, the whole city will know who Sofia and Malcolm are.
They even find a Citifield employee willing to sneak them through the gates in the early morning, provided they hand over a $500 payoff. Thus sets Gimme the Loot's ticking clock and its ostensible plot engine, as the pair have roughly 36 hours to come up with the dough through whatever means necessary. But Sofia and Malcolm's petty thefts—of spray paint cans, cellphones and weed—keep getting erased when they are themselves relieved of bikes, shoes and cash by other members of their milieu. It all culminates with a very poorly planned jewel heist but, by this time, we've realized that all of these vignettes have only assembled to address the movie's real interest: a tour of New York City from the point of view of its least advantaged inhabitants.
Stylistically, Gimme the Loot resembles early Godard or Truffaut, with a fresh, handheld, catch-as-catch-can shooting method and a loose, almost jittery, forward propulsion. But, in its heart, it has more in common with Mean Streets in its love for New York City and its humanist affection for those who scrape its depths, even if they're not upstanding, law-abiding citizens.
Unlike Mean Streets, Gimme the Loot's lead characters aren't white. Leon, however, is. Still, Malcolm's encounters with Janus-faced rich girl Ginnie (Zoë Lescaze) exhibit a knowing awareness of the ways in which the Manhattan-born, Penn-educated Leon is likely to have a different experience of the city than his protagonists.
Leon's 2016 follow-up, Tramps, takes a different tack on race, focusing instead on a pair of white leads in Callum Turner and Grace Van Patten (notwithstanding a wordless cameo from Washington as a bagman, who I'd like to imagine is meant to be Sofia, graduated to slightly more elaborate crimes.)
With so much remaining from Gimme the Loot—the small-time schemers, the ticking clock, New York—it's hard not to focus on what's different, and that the fact that faces here are slightly more recognizable, from Green Room's Turner to Sleepwalk with Me's Mike Birbiglia. Second lead Patten would make an impressive turn as Adam Sandler's daughter in The Meyerowitz Stories the following year. And though things can't possibly feel as crisp the second time around, Turner and Van Patten's chemistry does manage to rival that of Washington and Hickson.
But despite the paler color palette, Leon doesn't abandon his skill for depicting specific subcultures and everyday lawlessness. Turner's Danny is a first generation Polish-American who helps his mother run an illegal off-track betting operation from their small apartment. When his older brother is arrested, Danny takes his place as a stolen goods delivery driver for a day, where Birbiglia's semi-connected lackey pairs him up with Van Patten's Ellie, who's come from Pittsburgh for the job to make some quick scratch. When the hand-off goes wrong and the package ends up where it's not supposed to be, Danny and Ellie have to track it down before crime boss Jimmy (Louis Cancelmi, recently of The Irishman) catches up to them and makes his dissatisfaction known.
Tramps´ best section finds Danny and Ellie stranded in the wealthy suburbs where, despite being the same color as everyone around them, their clothes and carriage mark them as suspicious outsiders. Like in Malcolm's interactions with Ginnie in Loot, Leon here shows us how upper-class civility (or incivility) is a code designed to identify and remove outsiders.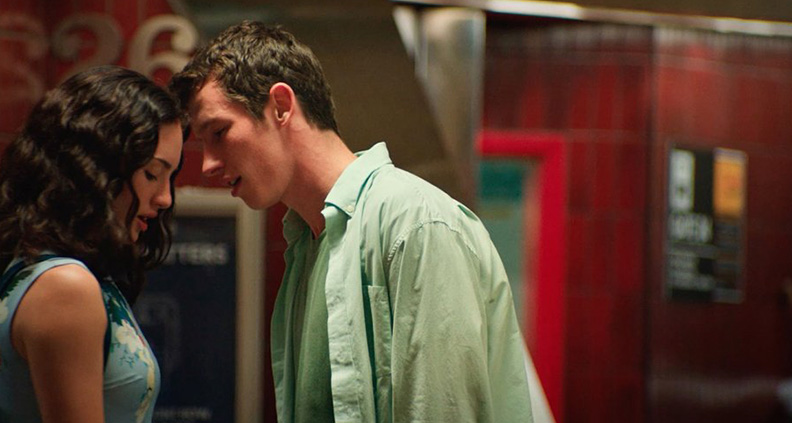 Where Sofia and Malcolm are platonic pals, Danny and Ellie's story is overtly a high-stakes, unconventional courtship. But as previously stated, Tramps has more in common than not with Gimme the Loot. From his love of amoral underdogs to fondness for old-timey needle drops (Gimme the Loot opens with King Coleman's "Let's Shimmy" and Tramps features Johnny Horton's "Cherokee Boogie") to his deceptively slapdash but acutely observed shooting style, Leon seems, so far, to be fulfilling the promise of the Someone to Watch Award. He's shaping up to be an auteur.
Gimme the Loot is available to rent on from Amazon, YouTube, Google Play and iTunes. Tramps is currently streaming exclusively on Netflix. Leon's as-yet-untitled third feature is currently in post-production, starring The Crown's Vanessa Kirby.
Other nominees: David Fenster, nominated for directing Pincus, returned to documentaries with 2017's Opuntia. Rebecca Thomas, meanwhile, nominated for directing Electrick Children, has moved into series directing, helming an episode of Stranger Things and multiple installments of Limetown on Facebook Watch.
The 35th Film Independent Spirit Awards will be broadcast exclusive on IFC Saturday, February 8 at 2:00 pm PT / 5:00 pm ET. Check out all of this year's nominees here.
Interested in attending the 2020 Film Independent Spirit Awards? Contact Jennifer Murby at 323.556.9353 or jmurby@filmindependent.org to learn more.
The Film Independent Spirit Awards are sponsored by Premier Sponsors American Airlines, IFC and Mazda. Bulleit Frontier Whiskey is the Official Spirit. FIJI Water is the Official Water. Getty Images is the Official Photographer. Town & Country Event Rentals is the Exclusive Rental Company.
Follow Film Independent…
(Header: Gimme The Loot)