'Her Story': How a Web Series Can Save Lives
After a wild, year-long ride around the festival circuit, the pilot episode of the acclaimed web series Her Story screened last Sunday, October 23 at the Film Independent Forum at the Directors Guild in Los Angeles. It had been exactly one year since the show premiered at NextFest last year, in a panel moderated by Orange is the New Black star Laverne Cox.
One Emmy nomination, 127 countries and 10 language-translations later, co-writer and co-star Jen Richards (I Am Cait, After Ellen) was still blown away by the success of the six-episode web series. The low-stakes project she envisioned making for $10,000 to share with friends has taken quite a turn. "It's especially fulfilling to see it being played in Brazil—three-hundred trans women have been murdered in Brazil this year alone." (You can watch the panel in its entirety below, or on our YouTube channel.)
Richards, a media creator actively working to build resources for the LGBTQ community, specified that she primarily wrote the series for other trans women like her. Passionately concerned for this high-risk population, she said, "I don't want to overstate it, but it's true—this content is saving lives."
Opening on a lesbian writer attempting to interview a trans waitress (Richards), Her Story's pilot introduces a group of complex women who acknowledge the awkwardness of their situations and support each another through them. According to Richards, this close-up look at what the queer community is going through is providing hope to a community of trans women who are under incredible duress, with nowhere else to go.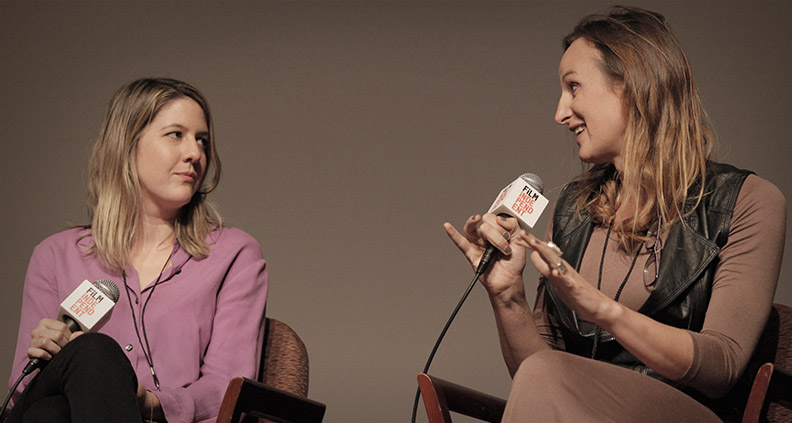 Creating for a Community
When producer Katherine Fisher (One Billion Rising) came on board, the project immediately began to grow. After raising $40,000 through crowdfunding, landing two grants and drawing funds from Fisher's grad school savings, the series budget eventually climbed to $150,000. "This basically was my grad school," Fisher concluded.
On this point, Richards is still incredulous: "How could you have anticipated that this would be successful? And why did you keep spending so much money?" asked moderator Paul Cowling, Film Independent Associate Director of Film Education. Fisher maintained that the potential she and director Sydney Freeland saw demanded high production value and promotion. "We needed the best chance."
Promotional efforts began before the first frame was even shot. The team drew on support from Richards's existing network and celebrity friends, but worked hard to expand on that. Fisher recruited PR support from Sylvia Desrochers, President of Big Time PR & Marketing, for the crowdfunding campaign, launch and advertising outreach to the TV Academy.
"This community is very vocal with each other, so they became our mouthpieces," said Desrochers, who recommended making use of every press outlet. "We needed both grassroots and traditional press. The New York Times, the LA Times and Twitter."
Her Story garnered great celebrity support as well. In addition to advocacy from Laverne Cox, Eve Ensler (The Vagina Monologues) came on as an executive producer. Kerry Washington's tweets in praise of the show went into the press pitches. As Desrochers concluded, "It's nice to have famous friends."
Most of Richards' friends started in theater and film before moving into social justice work, which informed the shape Her Story eventually took. "I basically knew every trans person in the country because of the work I'd been doing, and they all felt kind of like they owed me. I was on E! every week when we were trying to fundraise this—anything relating to [Richards' colleague] Caitlyn Jenner was wanted."
Using NextFest as a platform to push the behind-the-scenes clips they'd been releasing for audience engagement, Her Story was able to build an audience ready to consume all six episodes when they went on YouTube in January 2016.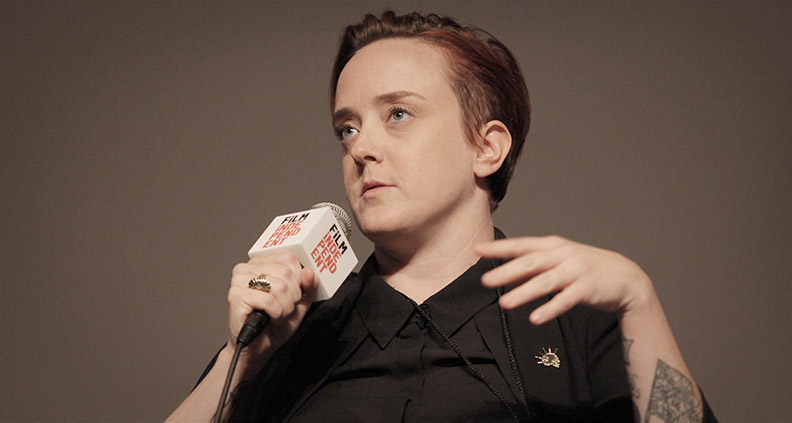 How to Launch
Desrochers's advice on launching a web series (or any content that will live on in perpetuity, like VOD) is to get the press involved for that first moment of availability—to capture the freshness, if you will. "Not that you can't find an audience later, but the press wants to be part of that moment. Kate came to me months in advance, we had time to plan—it was a smart move."
Fisher expressed her surprise that festivals would be so interested in a web series. But showing at some of the big ones—Seattle, Melbourne and the LA Film Festival—she concluded that short-form format is becoming more prevalent. "Binge TV watching is helping us, I think," Richards added. "Festivals played all six of our episodes like a film."
The Response
A cool $200 made from popup ads notwithstanding, the team does not factor financial return into the success of the series. Co-writer and co-star Lara Zak explains the free availability and the eight-minute episodes as a purposeful choice. "The format is consistent with the community we're engaging with. Our viewers are connected online already, so we thought it best not to be behind a paywall."
Richards found it telling how many people—professional crew, locations and Desrochers herself—discounted their rates because they believed in the story and wanted to be part of it. "We're an anomaly, our whole process is inexplicable. I'm a writer with my first script and a producer is telling me she wants to spend more money on it! This is not a common problem to have!"
As Richards and Zak prepare a 10-episode proposal to take Her Story to television, Richards marvels at the wealth of material from the trans community she hopes to cover, issues that are still yet to be addressed on TV. She sees this material as part of the next Hollywood revolution.
"People keep calling [Her Story] 'Innovative!' and 'Groundbreaking!'—but it's a fucking love story! People like me have always been a punchline for the straight male characters. But what's her story? Now all of us who've been 'other-ed' by straight white men have a chance to explore that."
Watch Her Story on YouTube here.
The 2016 Film Independent Forum happened from October 21-23 at the Directors Guild of America in Los Angeles. Not a Member of Film Independent yet? Become one today.
The 2016 Film Independent Forum is supported by Premier Sponsors Directors Guild of America, Loyola Marymount University School of Film and Television and SAGindie, with Principal Sponsors Brandwood Global, Montana Film Office, and The Virginia Film Office.
(header, L to R: Laura Zak, Sydney Freeland, moderator Paul Cowling, Katherine Fisher and Jen Richards)