Ten of Our Favorite Spirit Award Comedy Bits of All-Time (Until This Sunday)
If the Film Independent Spirit Awards are famous for anything, it's undoubtedly the vociferous championing of innovative emerging cinematic voices. If the Spirit Awards are famous for a second thing, it would perhaps be the show's irreverent presentation; encompassing everything from our unlikely beachfront home to the show's perverse embrace of bold fashion choices, pet participation and—of course—comedy. From Buck Henry's early-day quips to Kevin Pollak's Miramax-era industry jibes to the elaborate sketches, parodies and musical numbers of today, at the #SpiritAwards, funny rules.
One can only imagine what sort of shenanigoats 2022 Spirit Award hosts (and egregiously funny marrieds) Megan Mullally and Nick Offerman and any attendant comedy world pals might have in store just around the corner—the show airs this Sunday, March 6, at 5:00 pm ET/2:00 pm PT exclusively on IFC and AMC+—but guts are assured to be busted.
Meanwhile, Film Independent President Josh Welsh isn't leaving anything to chance, donning his celebrated "Meatyard" country music persona and taking to the Santa Monica Pier to remind viewers that—after a year away wrestling with COVID protocols—the Spirit Awards are back at the beach. Come sing along:
So while sneaking in some extra deep-stretch yoga to prep our funnybones for a hardcore weekend workout, we decided to take a look back at some recent Spirit Awards history and revisit some of our favorite funny moments from the show:
FINN WOLFHARD SACRIFICE (2019)
Why We Love It: No one loves a witchy cold open quite like back-to-back (2019 and 2020) host Aubrey Plaza, joined in this unsettling blood sacrifice by coven co-conspirators Marcia Gay Harden, Christina Ricci, Roseanna Arquette, Sharon Stone, Marissa Tomei and (weirdly) Brian Tyree Henry to offer up Stranger Things cutie Finn Wolfhard to the forces of darkest evil.
KATE MCKINNON GLOVE LUNCH (2016)
Why We Love It: Midcentury lesbians are to artful flirting what LeBron James is to basketball. For proof, look no further than this Carol parody from 2016, in which Spirit Awards co-host Kate McKinnon inserts herself into the Cate Blanchett role in order to summon crush object Rooney Mara to a "clandestine glove lunch"—only to be rudely interrupted by waiter Kumail Nanjiani.
SAMBERG DOES VEDDER BETTER (2017)
Why We Love It: Only '90s kids will fully appreciate the exactitude of Andy Samberg's ace Eddie Vedder impression, in this baritone-voiced musical tribute to all those global film luminaries who did not die in 2016, including Viggo Mortensen, Tim Allen, Craig Robinson, Hailee Steinfeld and Fred Armisen—or maybe not Fred Armisen, as it turns out. Make 'em laugh in heaven, Freddy.
ONE NIGHT WITH MELISSA (2021)
Why We Love It: Even a global coronavirus pandemic wasn't enough to harsh 2021 host Melissa Villaseñor's front-street horniness for Minari bae Steven Yuen, who was promised—via song and discount graphics package—a single night of passion in the arms of the plucky SNL impressionist as an adjunct to a potential Best Male Lead win. Regrettably, both parties would depart empty-handed.
THE GREAT 'FAY FONTAINE' (2018)
Why We Love It: If cringe is what you seek, look no further than this awkward bit of celebrity senility, when 2018 hosts John Mulaney and Nick Kroll welcomed aging indie film legend "Fay Fontaine" (bearing a suspicious resemblance to funnywoman Kristen Wiig) to the stage to commemorate her myriad industry contributions. The result? A very long—but weirdly hilarious—four minutes.
AWARDS CAN BE A DRAG (2019)
Why We Love It: Drag superstar Shangela brought the "Death Drop" to the Spirit Awards stage to devastating effect in 2019, during a musical medley dedicated to that year's Best Feature nominees. With the Spirit Awards tent turned briefly-but-gloriously into a pulsating dance Mecca, a helpless Aubrey Plaza and mutinous show director John Waters look on from backstage.
SECRETLY GAY INDIES (2020)
Why We Love It: The Spirit Awards were somehow even more queer-friendly the following year, when the Gay Men's Chorus of Los Angeles presented a tuneful ode to the film year's most stealthily gay moments. Naturally this all quickly spiraled into a gospel tribute to Marriage Story co-star Laura Dern, who was equal parts delighted and deeply perplexed by the sudden turn of events.
EXPERT ADVICE (2021)
Why We Love It: Before taking the stage to deliver last year'smonologue, 2021 host Melissa Villaseñor got a quick pep talk (over Zoom, naturally) from some of the show's most distinguished hosting alumni—Sarah Silverman, John Mulaney and Kate McKinnon. Also, by sheer coincidence these three individuals also happen to be three of Melissa's best impressions. Weird, huh?
BIRDLASH VS. WHIPMAN (2015)
Why We Love It: Backstage at an award show can be a chaotic place, with lots of technicians and performers running around in brief vignettes reminiscent of iconic moments from the year's top movies. And for the Spirit Awards' 30th anniversary, hosts Fred Armisen and Kristen Bell navigated just such an environment in a staggering single-take, with Miles Teller providing the drumbeat.
ANVIL DROPS THE HAMMER (2010)
Why We Love It: 'Cause it rocks, dude.
The 37th Film Independent Spirit Awards will be broadcast exclusive on IFC Sunday, March 6 at 5:00 pm ET. Check out all of this year's nominees here.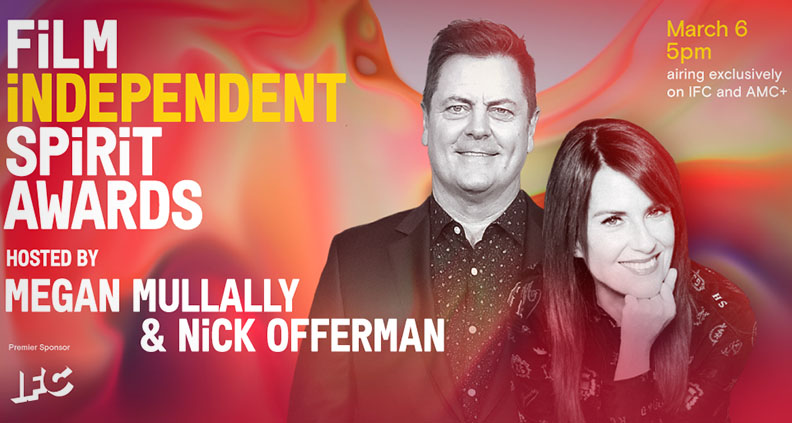 The Film Independent Spirit Awards are supported by Premier Sponsor IFC and FIJI Water, the Official Water. To join Film Independent and vote on the Spirit Awards, please visit filmindependent.org/join.
To learn more about supporting Film Independent's mission and programs, contact Jennifer Murby at jmurby@filmindependent.org.
For sponsorship opportunities, please contact Stephanie Terifay at sterifay@filmindependent.org.
Keep up with Film Independent…