The Must-List: Seven of Our Favorite Cronenberg-Influenced Body Horror Movies
David Cronenberg has been steadily making movies for almost 50 years. In this time the acclaimed, provocative and occasionally controversial Canadian auteur's work has spanned a variety of genres—from racing drama (Fast Company, 1979), to crime thriller (Eastern Promises, 2007), to queer romance (M. Butterfly, 1993). But regardless of the surprising breadth and depth of his filmography, the 79-year-old filmmaker will forever be associated with the discomforting "body horror" genre he helped pioneer in such landmark as The Brood (1979), Videodrome (1983), The Fly (1986), Crash (1996) and others.
But despite this, the director's newest film Crimes of the Future—distributed in the US by Neon, in theaters now—is Cronenberg's first foray back in the subgenre he helped popularized since 1999's prescient MR gaming caper eXistenZ. That's over two decades without any signature Cronenbergian mutated flesh or repulsive (yet weirdly erotically charged) biomechanical shenanigans on display! Which isn't to say the genre has at all been dormant…
On the contrary, a whole new generation of transgressive filmmakers have been ably carrying the body-horror torch in their clammy tentacle-like fingers—and winning major film awards in the process. Here now are some of our favorites:
POSSESSOR (2020)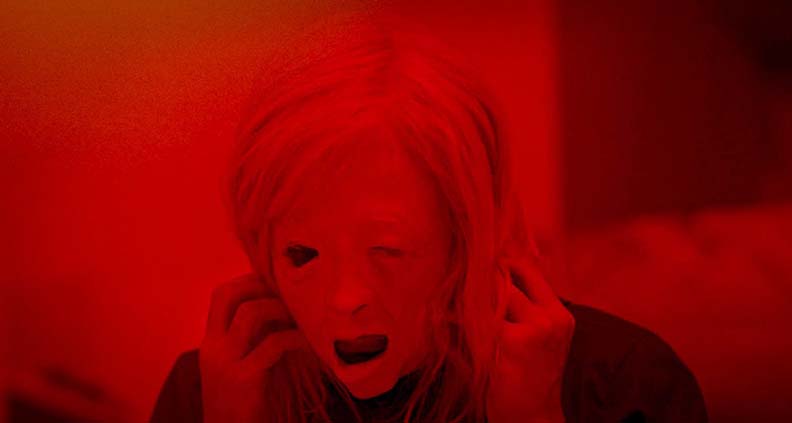 Writer & Director: Brandon Cronenberg
Producers: Fraser Ash, Niv Fichman, Kevin Krikst, Andrew Starke
Starring: Andrea Riseborough, Christopher Abbott, Jennifer Jason Leigh
Why We Love It: Look, we already burned Crimes of the Future as the peg for this piece (peg = blog industry lingo for tortured excuse to talk about), but it would be an egregious breach of protocol for a body-horror listicle to not include the name "Cronenberg" in some way. So we shift our attentions instead to David's son, Brandon, who proves that the genetically modified biomech apple doesn't fall far from the genetically modified biomech tree. Cronenberg the Younger's most recent feature is plays like a grimy mash-up of Blade Runner, Avatar and Being John Malkovich. In either the near future (or perhaps an alternate present), hired assassin Tasya Vos (Riseborough) uses an advanced projection technology to assume control of other people's bodies in order to carry out her assignments—at the cost of her own fracturing identity. Things finally come to a head when a seemingly simple mission venturing inside the mind of corporate drone Colin (Abbott) goes haywire, spilling into Tasya's personal life and drawing danger close to home to threaten both her husband and her daughter.
Where You Can Watch: Hulu, Kanopy
KUSO (2017)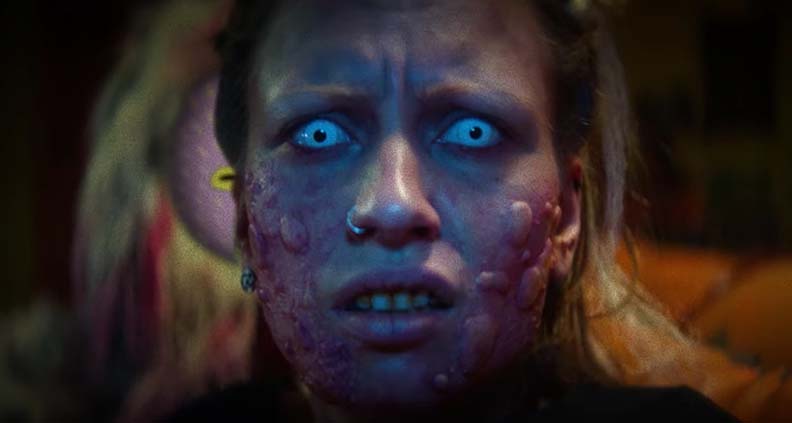 Director: Flying Lotus
Writer: David Firth, Flying Lotus
Producers: Eddie Alcazar, Javier Lovato
Starring: Hannibal Buress, George Clinton, David Firth, Byron Bowers
Why We Love It: Not for the faint of heart, stomach, bowels or urinary tract, musician-producer-filmmaker Flying Lotus's (Steven Ellison) debut feature is a kaleidoscopic fever dream of weirdness, featuring a panopticon of interlocking nightmare vignettes perfectly calibrated to ruin your day—and we mean this as a compliment! With an obsessive focus on decay, taboo and primal revulsion, it's no surprise that so many of FlyLo's visions here focus on distortions of the human body, ranging from comedic (funk icon George Clinton as a shit-obsessed physician) to highly creepy (a woman compelled to eat concrete, who in turn is swallowed up by the sidewalk, depositing her into a terrifying subterranean hole-kingdom.) But whatever the case, it's all extremely, well… goopy. Seriously—the KY line item in the film's budget must have been substantial, right along with brown food coloring. And if this all sounds like a bit much, trust us: it is.
Where You Can Watch: AMC+, Direct TV, Shudder
SPRING (2014)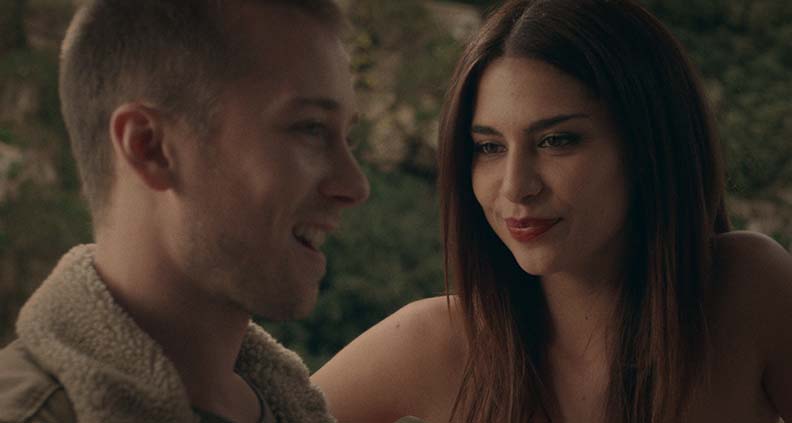 Directors: Justin Benson, Aaron Moorhead
Writer: Justin Benson
Producers: Justin Benson, Aaron Moorhead, David Lawson Jr.
Starring: Lou Taylor Pucci, Nadia Hilker
Why We Love It: The collaboration between Justin Benson and Aaron Moorhead (Resolution, The Endless, Syncronic) is justly praised by cineastes for its innovative approach genre storytelling and empathetic exploration of character dynamics—traits that are both on full display in the duo's sophomore feature, Spring. A skillful blend of horror, romance, European travelogue and Del Toro-esque fairy tale, the story follows American tourist Evan (Pucci) on a solo sojourn to southern Italy, where he meets gregarious local Louise (Hilker), with whom he quickly develops a sun-soaked romance. The only complication—spoilers!—is that Louise is, well… a 2,000-year-old mutant who on occasion transforms into a giant octopus monster. But hey. Love is love, right?
Where You Can Watch: Hulu, AMC+, Tubi, Shudder
TITANE (2021)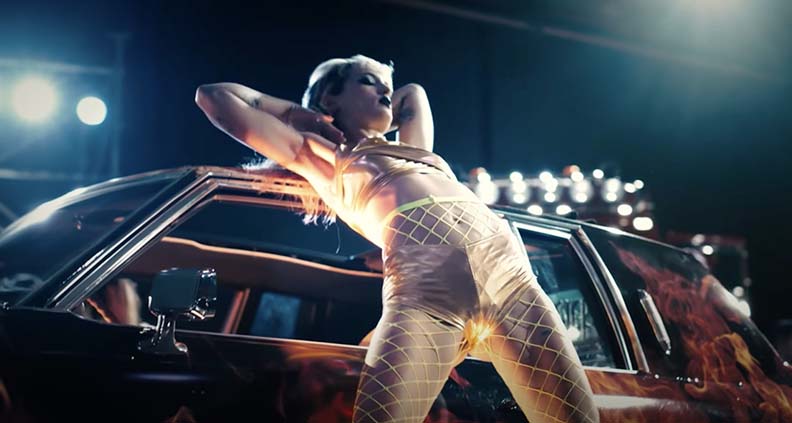 Writer & Director: Julia Ducournau
Producers: Amaury Ovise, Jean-Christophe
Starring: Agathe Rousselle, Vincent Lindon
Why We Love It: A maximalist experience in every way possible, Julia Ducournau's controversial Palm D'or winner takes its exploration of gender, mechanization and mechanized gender to surreal extremes, essentially told as a diptych following the bizarre transformation of onetime car show model and overall automotive enthusiast (to say the least!) Alexia (Rousselle) into "Andrien," the long-lost sire of a steroid-abusing, masculinity obsessed fire chief (Lindon.) The result? A surprisingly sensitive portrait of the relationship between fathers and sons—imagine a sort of French toilet-acid greaser version of Field of Dreams. At least it is when the movie isn't unleashing an unrelenting parade of nightmare visuals like corrosive fetal-abdomen binding and vaginal gearshift penetration. So yeah… you might want to give your local Mommy & Me screening of this one an extremely hard pass.
Where You Can Watch: Hulu
SWALLOW (2019)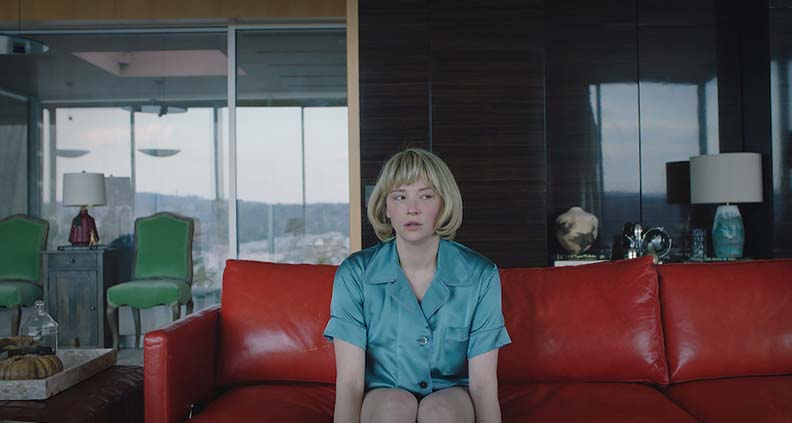 Writer & Director: Carlo Mirabella-Davis
Producers: Mollye Asher, Carole Baraton, Frédéric Fiore, Mynette Louie
Starring: Haley Bennett, Austin Stowell, Denis O'Hare, Elizabeth Marvel
Why We Love It: That Swallow is far more grounded in reality than the other titles on this list only makes its depiction of "pica"—the uncontrollable psychological urge to eat unusual items—even more harrowing. Hunter (Bennett) is an upwardly mobile young newlywed marooned at home following her union to corporate heir Conrad. Left swimming in a sea of existential dread in her relationship and life in general, she begins a habit of compulsively swallowing an increasingly dangerous menu of items include marbles, thumbtacks, batteries and more. A frank depiction of deteriorating mental health suffused with the foreboding tone of a horror movie, Hunter's journey through the psychiatric wringer is a cautionary tale about depression and denial. Guaranteed: viewers will never react to someone using the term mouth feel the same way ever again.
Where You Can Watch: AMC+
SAFE (1995)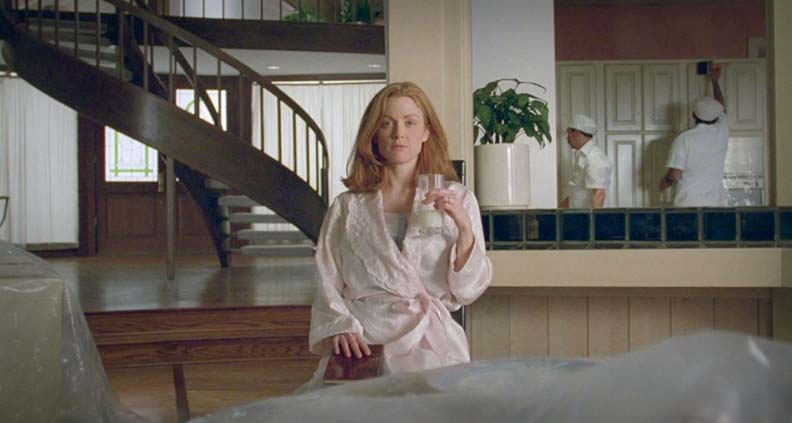 Writer & Director: Todd Haynes
Producers: David Brown, Richard D. Zanuck
Starring: Julianne Moore, Xander Berkeley, Peter Friedman, James Le Gros
Why We Love It: Weirdly prescient in the era of COVID, Todd Haynes' landmark 1995 indie drama doesn't offer easy answers, implicating in its complex narrative both external environmental polluters as well as internal neurosis, self-obsession and hypochondria. A direct antecedent of Swallow, Safe follows 1980s San Fernando Valley housewife Carol (Moore), whose bland routine of mother-and-wife duties gradually falls apart as she suddenly finds herself allergic to… well, pretty much everything. This kicks off a journey of psychological and medical self-discovery that eventually leads Carol to a cult-like New Age community for the supposedly immunocompromised. Full of slow-burn dread, the film boasts one of Moore's greatest—and most chilling—performances. Note: perhaps triggering for those of us who feel literally sick of ourselves.
Where You Can Watch: SVOD rental
AMERICAN MARY (2012)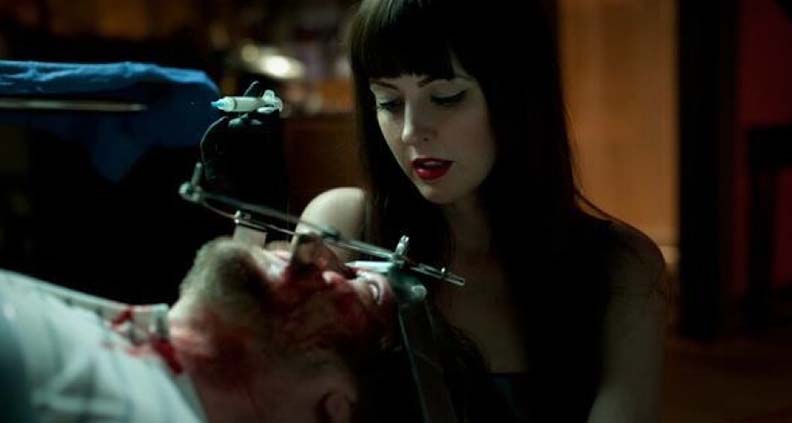 Writers & Directors: Jen Soska, Sylvia Soska
Producers: John A. Curtis, Evan Tylor
Starring: Katharine Isabelle, Antonio Cupo, Tristan Risk, David Lovgren
Why We Love It: With themes that echo the performance art details of Crimes, Canadian "Twisted Twin" cult auteurs Jen and Sylvia Soska's American Mary follows the descent of cash-strapped surgical student Mary (Isabelle) into the underground world of extreme plastic surgery and body modification, after a brief fill-in gig as a mob doctor. Full of disturbing images deployed to interrogate the blurred line between self-expression and self-annihilation, the sisters' sophomore feature—after 2009's evocatively titled Canuxploitation thriller Dead Hooker in a Trunk—will make sure you never look at your piercings or tattoos the same way again.
Where You Can Watch: AMC+, Tubi, Shudder
Film Independent promotes unique independent voices by helping filmmakers create and advance new work. To become a Member of Film Independent just click here. To support us with a donation, click here.
More Film Independent…
(Header: Crimes of the Future)