The Must-List: Three Comedies and Two Dramas About Unplanned Pregnancy
Over the past week or so our already polarized national discourse has been further electrified, thanks an uncharacteristically leaky Supreme Court, which let slip recently with details about a shock overturning of the landmark 1973 civil rights case Roe v. Wade. But what the ensuing cacophonous reaction—online and otherwise—to this news too often left out were the experiences of actual women whose lives would and have been most affected by America's complicated web of jurisdictional restrictions and pervading stigmas surrounding abortion.
Of course, cinema is the ultimate way to peer through a window into someone else's experiences, good or bad. Which is why there are so many compelling abortion stories being told in film across a variety of genres—from dramas, to mainstream rom-coms, to vulgar teen comedies, horror movies and beyond.
Below, we've picked out five great indies—two dramas and three unabashed comedies—capturing just a fraction of the scope of experiences surrounding the termination of an unwanted pregnancy; great stories that deserve an audience.
OBVIOUS CHILD (2020)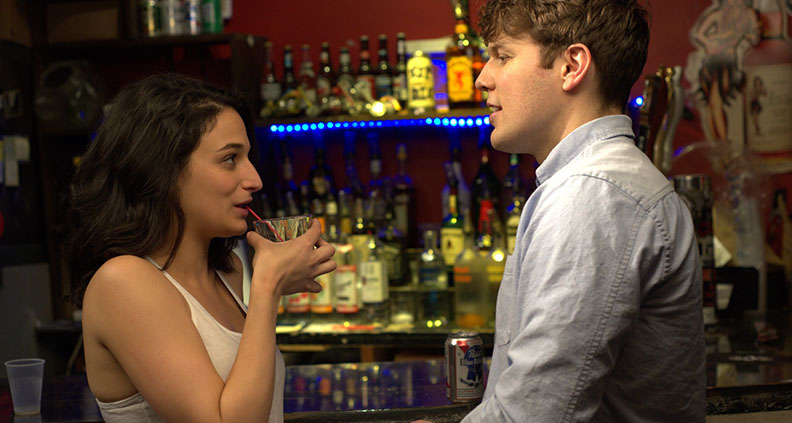 Writer & Director: Gillian Robespierre
Starring: Jenny Slate, Jake Lacy, Gaby Hoffman
Producer: Elisabeth Holm
Why It's Important: The perfect vehicle for star Jenny Slate's oddball comic energy, Obvious Child somehow manages to be both cringe and cozy at the same time. A portrait of how the termination of an unwanted pregnancy might play out in properly functioning, if not entirely ideal, circumstances, writer/director Gillian Robespierre's debut follows Donna, a struggling New York stand-up whose chaotic love life eventually leads to fleeting encounter with amiable doofus Max (Jake Lacy), resulting in a situation that requires the quarterlife-crisis-plagued Donna to do a little bit (but not too much!) growing up in order to make what she feels is the right decision for her—a messy, empathetic and contemporary rom-com instant-classic.
Where to Watch: Fubo TV, Showtime, Hoopla, Kanopy, Direct TV
NEVER RARELY SOMETIMES ALWAYS (2020)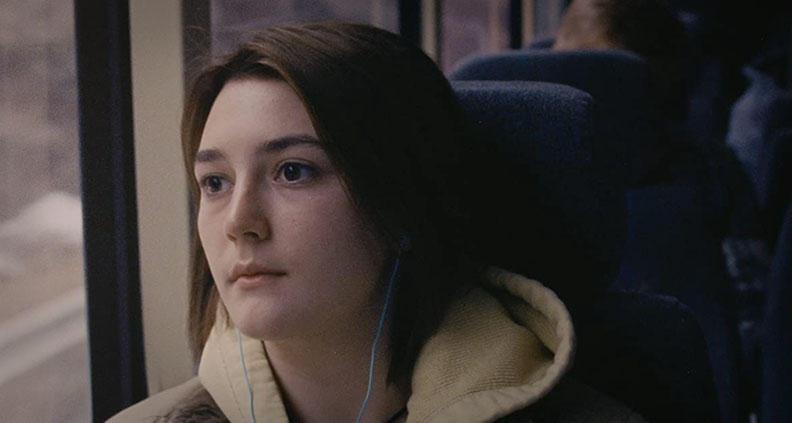 Director & Writer: Eliza Hittman
Starring: Sidney Flanigan, Talia Ryder
Producers: Sara Murphy, Adele Romanski
Why It's Important: With nods for Best Feature, Director, Female Lead, Supporting Female, Cinematography, Screenplay and Editing (phew!) at the 2021 Film Independent Spirit Awards, Eliza Hittman's third drama feature features a standout lead performance by newcomer Sidney Flanigan as—you guessed it!—a 17-year-old Pennsylvania woman struggling to navigate her options after a pregnancy test turns up affirmative. Barred from seeking an abortion in her home state without parental consent, Sidney and cousin Skylar (Ryder) boost some cash from their local grocery store and hit the road to terrifying New York City in search of Planned Parenthood. With elements of thriller-like tension, surrealism and social realism, Rarely is always unforgettable.
Where to Watch: Max Go, Freevee, SVOD rental
PLAN B (2021)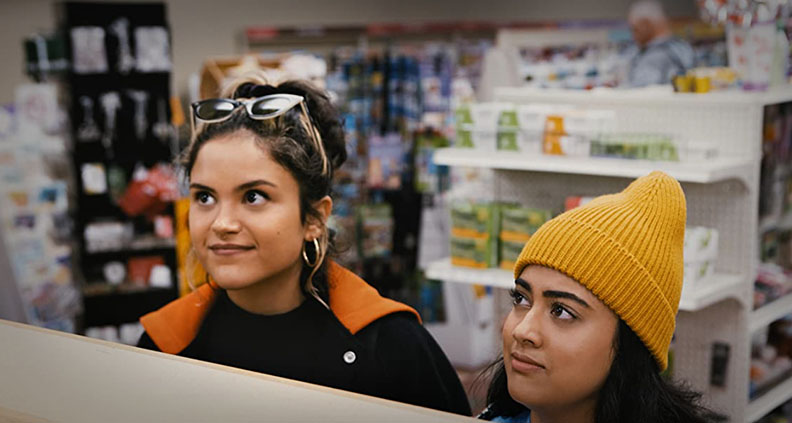 Director: Natalie Morales
Writers: Joshua Levy, Prathiksha Srinivasan
Starring: Kuhoo Verma, Victoria Moroles
Producers: Ryan Bennett, Jeremy Garelick, Josh Heald, Dina Hillier, Jon Hurwitz, Mickey Liddell, Matt Lottman, Will Phelps, Hayden Schlossberg, Pete Shilaimon
Why It's Important: Set in conservative South Dakota, newly sexually active honors student Sunny (Verma) faces down a pregnancy scare courtesy of a sloppy encounter with class nerd Kyle (Mason Cook) in the bathroom during a rare party appearance. Too scared of her mother's to seek the parental blessing required to purchase the morning after pill locally, Sunny and outspoken queer BFF Victoria (Moroles) set out on an impromptu road trip to procure the pill more quietly. But the results are anything but stealth, as Sunny and Victoria run into a Harold & Kumar-ish succession of property (and penis!) destroying misadventures en route to their ultimate goal. Though Booksmart-funny, the film is nevertheless an indictment of the artificial impediments foisted upon many young women simply looking to be proactive about their own healthcare.
Where to Watch: Hulu
HAPPENING (2021)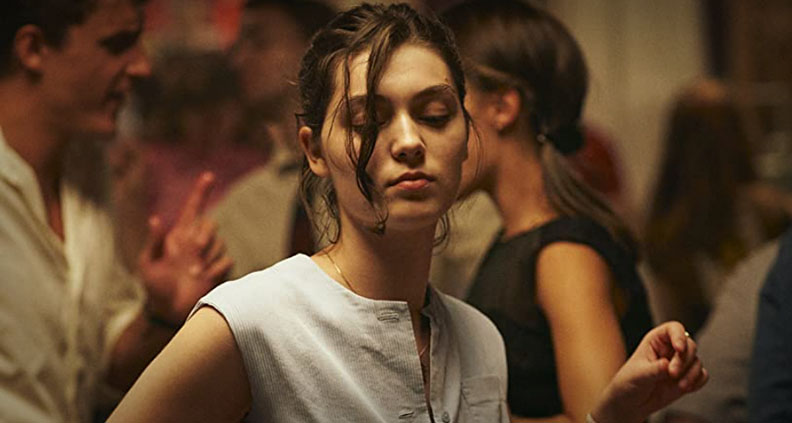 Director: Audrey Diwan
Writers: Marcia Romano, Audrey Diwan, Alice Girard, Anne Berest
Starring: Anamaria Vartolomei, Kacey Mottet Klein, Luàna Bajrami, Louise Orry-Diquéro
Producers: Alice Girard, Edouard Weil
Why It's Important: France, 1963. Studios middle class go-getter Anne suddenly finds her ambitions for the future in peril after an unwanted pregnancy seizes control of her careful routine. Watching her options dwindle in real time, she contemplates the shame—and myriad risks—of an illegal abortion. Currently rating "100% Fresh" on Rotten Tomatoes, KPCC film reviewer Claudia Puig said of Happening: "It feels like it was made for this moment… it's eerily prescient." Of the film (out now) and its powerful lead performance, RogerEbert.com's Tommris Laffly writes: "Vartolomei masters the art of silence, somehow managing to react, consider, and protest, often without saying a single word."
Where to Watch: Theaters, SVOD
UNPREGNANT (2020)
Director: Rachel Lee Goldenberg
Writers: Rachel Lee Goldenberg, Ted Caplan, Jenni Hendriks, Jennifer Kaytin Robinson, William Parker
Starring: Haley Lu Richardson, Barbie Ferreira
Producers: Greg Berlanti, Erik Feig, Sarah Schechter
Why It's Important: If you've already seen Plan B—see earlier in this list—you may experience a bit of déjà vu tucking into Rachel Lee Goldenberg's super-fun road trip comedy Unpregnant. The two films share more than a few elements: two teenage pals—one queer, one under threat of an unwanted pregnancy—hitting the road together in search of basic medical care, in the face of increasingly absurd obstacles. And also like Plan B, Unpregnant is funny and engaging, full of great performances, grand comic set pieces and lots and lots of heart. Frankly, the fact that there's an entire microgenre of films springing up centered on this same basic premise should tell you all you need to know about what young women in America are feeling anxious about, right about now.
Where to Watch: HBO Max
Film Independent promotes unique independent voices by helping filmmakers create and advance new work. To become a Member of Film Independent, just click here. To support us with a donation, click here.
More Film Independent…
(Header: Plan B)