ICYMI: Review all of September's Film Independent Presents Q&As
We've been busy here at Film Independent, with the resumption of in-person Film Independent Presents screenings and Q&As—in a vaccine-required, COVID-safe environment, of course—in addition to our ongoing slate of remote-viewing friendly virtual events. You can be forgiven (this time!) for not being able to keep up with it all. So in case you missed it, here was September's slate of incredible Fi Presents Q&As.
AMERICAN RUST
Guests of honor: Jeff Daniels (actor) and Maura Tierney (actor); moderated by Jenelle Riley (Editor, Variety)
About the show: In an economically devastated Pennsylvania steel town, a complicated and compromised chief of police (Daniels) is forced to decide how far he's willing to go when the son of the woman he loves (Tierney) is accused of murder. A harrowing journey into the lives of a small town with big secrets, where people are driven by loyalty, love and desperation–and bad choices come far too easy.
What critics are saying: "The plot revolves around an apparent homicide in the depressed Pennsylvania town of Buell and touches upon a litany of relevant social and political issues including, but not limited to, the failing economy, the opioid epidemic and the lack of labor protections," writes Angie Han, The Hollywood Reporter.
BIRDS OF PARADISE
Guests of honor:Kristine Froseth (actor), Jonako Donley (producer) and Ellen Reid (composer); moderated by Janelle Riley
About the film: A story of friendship, betrayal, sexual awakening and redemption set against the cutthroat culture of Parisian ballet. A cutting-edge twist on young adult drama, based on the book of the same name by A.K. Small. For fans of Black Swan, Mean Girls, The Red Shoes and back-stabbing competition.
What critics are saying: "Ellen Reid's score leaps and twirls and dangles, and coupled with the athletic cinematography, aggressive color design and surreal dream sequences, the film feels like a waking nightmare, inspired by the female-driven hysteria of The Red Shoes, or Darren Aronofsky's ballet-on-the-brink-of-madness Black Swan starring Natalie Portman. Birds of Paradise is far less effective than those films… but it's still spry, sexy, visually hypnotic and perfectly in rhythm with the ever-changing ballet," writes Asher Luberto, LA Weekly.
BLUE BAYOU
Guests of honor: Justin Chon (writer, director, actor); moderated by Josh Welsh
About the film: Antonio LeBlanc (Chon), a Korean adoptee raised in a small town in the Louisiana bayou, is married to the love of his life Kathy (Oscar winner Alicia Vikander) and stepdad to their beloved daughter Jessie. Struggling to make a better life for his family, he must confront the ghosts of his past when he discovers that he could be deported from the only country he has ever called home.
What critics are saying: "Blue Bayou is not subtle, but the issue at hand isn't subtle either," writes Sheila O'Malley, RogerEbert.com.
CODA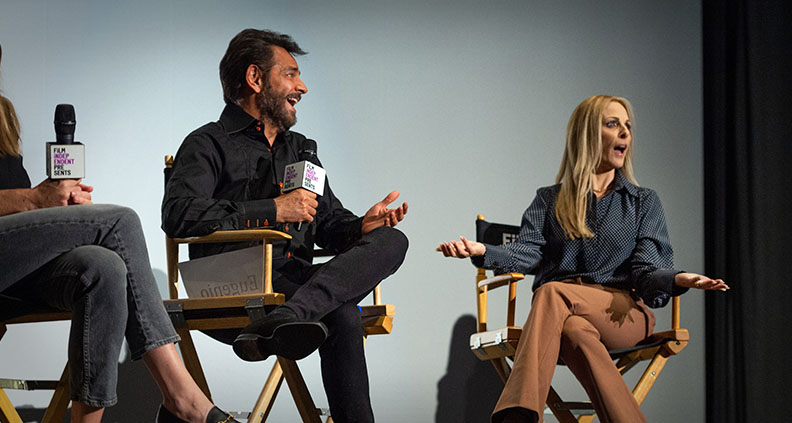 Guests of honor: Siân Heder (writer, director; Directing Lab, 2009), Marlee Matlin (actor) and Eugenio Derbez (actor); moderated by Josh Welsh (President, Film Independent)
About: Seventeen-year-old Ruby (Emilia Jones) is the sole hearing member of a deaf family–a CODA, child of deaf adults. Her life revolves around acting as interpreter for her parents (Marlee Matlin, Troy Kotsur) and working on the family's struggling fishing boat every day before school with her father and older brother (Daniel Durant). But when Ruby joins her high school's choir club, she discovers a gift for singing and soon finds herself drawn to her duet partner Miles (Ferdia Walsh-Peelo). Encouraged by her enthusiastic, tough-love choirmaster (Eugenio Derbez) to apply to a prestigious music school, Ruby finds herself torn between the obligations she feels to her family and the pursuit of her own dreams.
What critics are saying: "The actors work together seamlessly, the blue-collar coastal setting is richly realized and the family's cohesiveness solidly established," writes Jeannette Catsoulis, The New York Times.
THE GUILTY
Guest of honor: Jake Gyllenhaal (actor, producer); moderated by Josh Welsh (President, Film Independent)
About the film: 911 operator Joe Baylor (Jake Gyllenhaal) works relentlessly to save a caller in grave danger—but soon discovers that nothing is as it seems, and facing the truth is the only way out. Filmed (safely) during the height of the 2020 pandemic, director Antoine Fuqua's one-man Netflix thriller features an all-star voice cast of Riley Keough, Peter Sarsgaard, Ethan Hawke, Paul Dano and others.
What critics are saying: "Gyllenhaal is the center of everything here and rivets viewer attention as his character desperately, with decreasing success, tries to cover his tracks," writes Deadline's Todd McCarthy.
LANGUAGE LESSONS
Guests of honor: Natalie Morales (writer/director/actor/executive producer) and Mark Duplass (writer/actor/executive producer); moderated by Josh Welsh
About the film: When Adam's (Mark Duplass) husband surprises him with weekly Spanish lessons, he's unsure about where or how this new element will fit into his already structured life. But when tragedy strikes, his Spanish teacher, Cariño (Natalie Morales) becomes a lifeline he didn't know he needed. Adam develops an unexpected and complicated emotional bond with Cariño. Bittersweet, honest and at times darkly funny, Language Lessons is a disarmingly moving exploration of platonic love.
What critics are saying: "Language Lessons is plainly a feat of quarantine-era production, with its two-actor, two-location, two-screen setup making it pretty much a model of what can be accomplished in lockdown conditions. Yet COVID itself plays no part in Morales and Duplass' free-flowing, necessarily talky script, which could be set at any point in the recent past, and gives its characters other causes for physical or emotional isolation," Guy Lodge, Variety.
NO MAN OF GOD
Guests of honor: Amber Sealey (director), Elijah Wood (actor/producer), Luke Kirby (actor); moderated by Jenn Wilson
About: In 1980, serial murderer Ted Bundy was sentenced to death lethal injection by the State of Florida. In the years that followed, he agreed to disclose the details of his crimes, but only to one man. No Man of God is based on the true story of the strange and complicated relationship that developed between FBI agent Bill Hagmaier and an incarcerated Ted Bundy in the years leading to Bundy's 1989 execution.
What critics are saying: "Director Amber Sealey manages to partially deconstruct the interview-room genre with an edgy, semi-experimental approach, bringing a fresh eye to the subject," writes Leslie Felperin, The Guardian.
PLAN B
Guests of honor: Natalie Morales (director); moderated by Jenn Wilson (Senior Programmer, Film Independent)
About the film: After a regrettable first sexual encounter, a straight-laced high school student (Kuhoo Verma) and her slacker best friend (Victoria Moroles) have 24 hours to hunt down a Plan B pill in America's heartland. For fans of Booksmart, HBO Max's Unpregnant and (last but not least) a woman's right to choose.
What critics are saying: "Morales' movie walks in the footsteps of various recent female-centric pictures—the top-shelf studio comedy Blockers with a fiercely sex-positive message, the delightfully vigorous Booksmart and to a degree, even the devastating Never Rarely Sometimes Always with its fearless plunge into America's shameful anti-abortion leanings. And it does so with such energy and singularity," writes Tomris Laffly, RogerEbert.com.
REALLY LOVE
Guests of honor: Angel Kristi Williams (writer, director, producer; Project Involve, 2014) and Felicia Pride (writer, executive producer; Screenwriting Lab, 2016); moderated by Gil Robertson (President, African American Film Critics Association)
About the film: Set against the backdrop of a gentrifying Washington DC, Isaiah, an emerging black painter is on the brink of breaking out or giving up when he meets Stevie, an intriguing beauty with big brains. After love, heartbreak and time apart, Isaiah runs into Stevie as his career has taken off. Dormant feelings bubble to the surface. But Isaiah's life isn't what he imagined, and he's forced to face the truth: can he give her what he knows she deserves?
What critics are saying: "Really Love is a beautiful portrayal of Black intimacy—one that causes you to pause and consider the ways in which our love stories have not been considered as ubiquitous as other iconic couples like Jack and Rose. Rarely are Black characters written with the intent of loving tenderly, but Really Love does just that with a gentleness in their interactions: long eye contact, forgiving touches, noses buried in natural hair," writes Kristin Corry, VICE.
SHIVA BABY
Guests of honor: Emma Seligman (writer, director, producer), Rachel Sennott (actor); moderated by actor and comedian Jordan Firstman
About the film:While at shiva, a ritual gathering that follows a Jewish funeral, a college student has a series of awkward encounters with her nosy and overbearing relatives, her ex-girlfriend, and her secret sugar daddy.
What critics are saying: "This clever, abrasive debut is a notable achievement for Seligman who has expanded it from an earlier short film. It all feels closely observed, no doubt inspired by real characters, which makes it all the funnier," writes David Stratton, The Australian.
THE STARLING
Guests of honor: Ted Melfi (director), Matt Harris (screenwriter)
About the film: After a married couple suffers a hardship, Jack heads off to deal with grief while Lilly remains in the "real" world, dealing with her own guilt and a crippling internal struggle. As if Lilly's troubles weren't bad enough, a starling bird that has nested in her backyard begins to harass and attack her. This starling comes to represent all of Lilly's problems, and she becomes comically obsessed with killing it. Lilly eventually finds guidance from Larry, a quirky psychologist-turned-veterinarian with a troubled past of his own. The two form a unique and unlikely friendship as both help the other to explore, acknowledge and confront their problems.
What critics are saying: "The truth is that you might cry. It's kind of hard not to when a drama centers people who have gone through the unimaginable grief of losing a child," writes Brian Tallerico, RogerEbert.com.
THE VOYEURS
Guests of honor: Michael Mohan (writer/ director/executive producer); moderated by Matt Warren (Film Independent Senior Manager, Digital Content)
About: Innocent curiosity turns into full-blown obsession when a young couple in Montreal (Sydney Sweeney and Justice Smith) spy on their eccentric neighbors (Ben Hardy and Natasha Liu Bordizzo) across the street. A stylish, sexy and well-crafted throwback to the erotic thrillers of the 1980s and 1990s and influenced by the work of genre masters such as Alfred Hitchcock and Brian De Palma.
What critics are saying: "There's never a dull moment in these two full hours, which blaze through affairs, hookups, sexy Hamburglar costumes, explanations of laser physics, some deaths and the occasional flash of true emotion with a winning savviness. Every time a viewer might think they know where it's all going, the nimble script hops one step ahead," writes Charles Bramesco, The Guardian.
WORTH
Guests of honor: Sara Colangelo (director), Max Borenstein (writer, producer) and Laura Benanti (actor); moderated by Kate Erbland (Executive Editor, IndieWire)
About the film: Following the horrific 2001 attacks on the World Trade Center and Pentagon, Congress appoints attorney and renowned mediator Kenneth Feinberg (Michael Keaton) to lead the September 11th Victim Compensation Fund. When he locks horns with Charles Wolf (Stanley Tucci), a community organizer mourning the death of his wife, his initial cynicism turns to compassion as he begins to learn the true human costs of the tragedy. Based on true events, Worth is a moving reminder of the power of empathy and the value of human connection.
What critics are saying: "Worth [distributes] its attentions democratically among a large cast of characters, giving a number of supporting actors and bit players spotlight moments that don't just illuminate the issues," writes Matt Zoller Seitz, RogerEbert.com.
Film Independent promotes unique independent voices by helping filmmakers create and advance new work. To become a Member of Film Independent, just click here. To support us with a donation, click here.
More Film Independent…
(Header, L-R: Really Love's Kofi Siriobe, Angel Kristi Williams, Yootha Wong-Loi-Sing)