Theater Crawl: 'Camp Frida' Compliments OC Theater's Robust Calendar of Cult Cinema
Halloween in the age of COVID-19 is a bit tricky. After all, not every child of appropriate trick or treating age (between four and 28-years-old) can hit the suburban streets safely ensconced inside an authentic replica Aliens loader suit, its eight-foot steel pincers the ideal barometer for maintaining appropriate social distancing.
And while the classic bedsheet-ghost ensemble would certainly count as a Fauci-approved face covering, better to instead just Postmates some bulk-buy Rite Aid candy to your door and bunker up from the safety of home for an extended horror movie marathon. And sure, you could click around and guess what to what yourself—but why not let he professionals handle it?
For the fourth year in a row, our friends at The Frida Cinema—Orange County's only nonprofit art house theater—are staging Camp Frida, a 12-hour, all night horror movie marathon featuring a unique, specially-curated selection of hard-to-find titles, interspersed with special guests and interactive elements. And, while Camp Frida normally takes place at The Frida Cinema's two-screen facility in downtown Santa Ana, this year will necessarily be different, streaming online.
We recently spoke to Frida Programming Director Trevor Dillon about the forth installment of the theater's signature spook-a-thon, as well the organizations continued success in readjusting to the realities of film exhibition in 2020. Here's the conversation:
CAMP FRIDA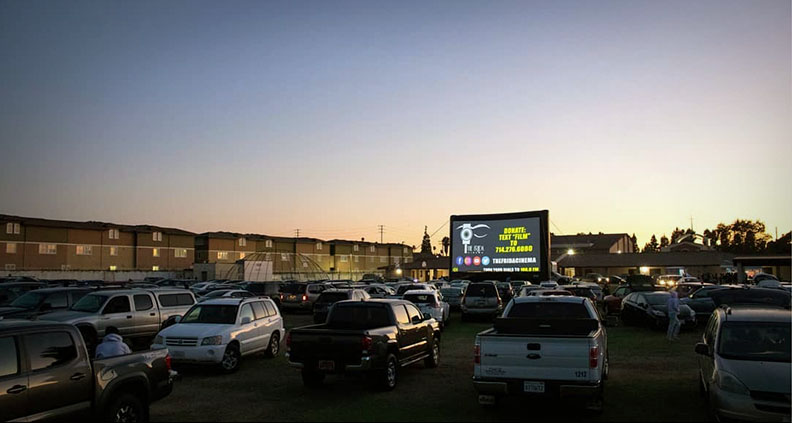 Could you describe what your role is at The Frida? Both what that job normally entails, and what it's like currently?
Dillon: Yeah, my business card says I'm the Programming Director and Special Events Coordinator at The Frida. We're Orange County's only nonprofit art house theater. I used to put together the schedule, selecting the titles that we would show in the theater and reaching out to the distributors. We have two auditoriums at the theater and, depending on the week, we would have two, three films a day. I always wanted one auditorium to be one brand-new independent release and the other auditorium to be reparatory stuff. We do really well with reparatory stuff, but the newer stuff is what keeps people coming through the door. Since quarantine, we're now averaging about 13 drive-in events a month. My days are mostly spent waking up, answering emails, doing the programming. Evenings are grabbing the truck—with the insane amount of equipment we need to do these events—heading to the venue, setting up the equipment and basically running the event with a team of Frida staff members and volunteers. I go on the mic at the beginning and end to say "hi" and "bye" to people, then I break everything down, I take the truck back and I go home. I've been able to be extremely busy during quarantine, which has been interesting.
The community really seems like they've turned out to these events, to support you at a time when you're not able to use your theater space.
Dillon: Tonight will be the 53rd [drive-in] we've done since June. We've sold out about 45 of them and the other ones have been totally fine. We haven't played Ghostbusters or E.T. or Back to the Future yet, a lot of the normal stuff you'll see popping up at drive-ins. I like to keep doing the kind of programming that we would basically be doing in the theater. And sometimes those are selling out and sometimes those are like, 60 cars—which, I've looked around at what other art houses are doing and their massive sellouts are 60 cars. So that we've been able to get 170 cars out to some of our events is just, like, on another level. I'm really proud of our team. I've been on the art house scene for four years now and it's been the highlight of my career as a programmer.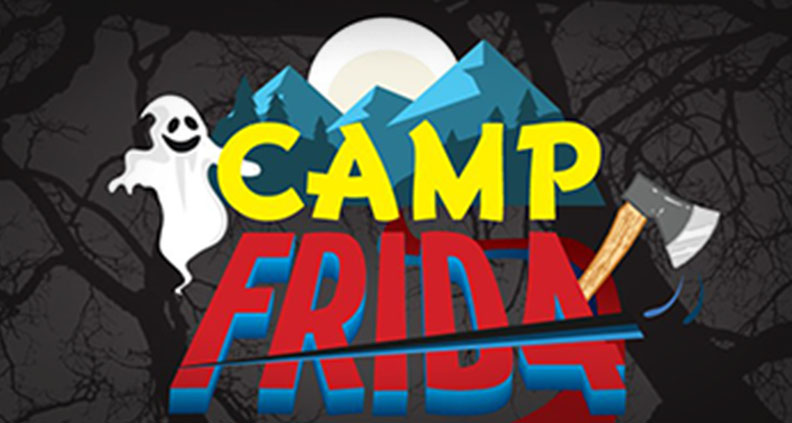 How does your programming strategy shift around a holiday like Halloween?
Dillon: We're not a very stuffy art house. I would never describe us at this, but if people want to throw it on us like, "Oh, that's the place that plays weird, cult-y stuff"—well, that's where weird movies are supposed to play: the art house. So I wouldn't say my programming has really changed that much, other than we've upped the horror a little. But when November and December and January come around you'll still see 3-4 horror movies a month. But when I say "cult" I don't necessarily mean a horror movie; you know, you've got your Eraserheads and your Godzillas and the other stuff that's cult-y but not necessarily horror.
One of the fixtures that's been a big part of The Frida's Halloween season for several years is Camp Frida. Could you describe what that is in a normal year, and how it's different this year?
Dillon: A normal year of what we call "Camp Frida" is a 12-hour horror marathon experience. As I mentioned before we have two auditoriums, so you buy your camp pass and we have you walk into The Frida, we have the lobby all done up as if it was a camp setting—we have trees and cobwebs, it's all spooky—and we start up in Auditorium One. We welcome all the campers and say, "Hey, this is going to be your experience." We don't tell you any of the programming. That's the biggest thing: that we've been able to sell out three years of Camp Frida on just the idea. Normally it's just a night where you show up, you trust us and we give you a build-your-own adventure experience where you stay in Auditorium One to watch a movie or you go to Auditorium Two to watch a different movie, all the way until 8:00 am. And throughout the night we have guests who show up, we have little skits that we do, either live or projected up on the screen. It's really fun. Obviously, this year has to be a little more different…
How does it work this year?
Dillon: We're using online platforms, so you have to stream it. And we actually announced the program this year [in advance]. If you look at the titles, it's very reminiscent of what the programming usually is. But normally people show up and they don't know what movies are coming. But we're going to do the exact same thing; we're going to do different "cabins" with different rooms that you can go into digitally. We're going to be playing different movies in each room and have guests, either live or prerecorded. I've very proud of the programming. It's extremely weird this year, which I want. I want Camp Frida's programming to get weirder and weirder and weirder each year.
Give us one title you're particularly excited about this year.
Dillon: There's a title we're playing third called Spookies. It's in that 2:00 am slot now because it's the thing that's going to revitalize the whole thing. It's this crazy movie—it had three directors who all got fired and locked out of the editing room, and two other directors came on and the film is truly a mess in every way. It's like one of those movies where people are stuck in a house and are being attacked by, like, everything: zombies, vampires. It's a movie that just throws everything against the wall. People may remember the VHS cover from when they were kids. That's kind of the centerpiece of the whole thing. It's the third movie of six. And just like everything else in the marathon, you can't just stream Spookies anywhere—I want to stream movies you can't stream anywhere else.
One last question: do you have any other great Halloween titles you would recommend?
Dillon: I recently re-watched Trick 'r Treat from 2007, which is literally a movie that came out and went straight to DVD. And now, 10 years later, it's risen up at this complete Halloween classic; I see iconography from that film all over the place. And I re-watched it this year and was like, "Wow, this movie is so fun."
To learn more about The Frida Cinema, please visit their website. Catch up with all of our past Theater Crawl columns here.
Film Independent promotes unique independent voices by helping filmmakers create and advance new work. To become a Member of Film Independent, just click here. To support us with a donation, click here.
More Film Independent…
(Header: Mausoleum, part of Camp Frida's 2020 programming)