Discovering The Danish Girl with Director Tom Hooper
Production for Tom Hooper's The Danish Girl began in early 2015 and the film's star, Eddie Redmayne, spent an entire year preparing for the role before filming began. Just two weeks into the shoot, Redmayne asked for a long weekend off work.
"I thought [that] was a kind of outrageous request," Hooper recalled at a recent screening of The Danish Girl at Film Independent at LACMA. "And then he said, 'Well, there was this little matter of the Academy Awards on Sunday…'"
Redmayne, of course, took home the Oscar for Best Actor for his performance as Stephen Hawking in The Theory of Everything—then he went straight back to work on The Danish Girl. "There was no sense that he wanted to have a month for a victory lap, or even a week," Hooper said.
It's not unlikely that Redmayne will have to take another long weekend off his next project this coming February; he's been getting rave reviews for his performance in The Danish Girl since it premiered at Venice in September. The film is based on the true story of Lili Elbe (Redmayne), who was the first person to undergo gender confirmation surgery, and Gerda Wegener (Alicia Vikander). In 1926 Copenhagen, Gerda, a portrait artist, asks her husband, fellow artist Einar Wegener, to try on some stockings and women's shoes because she needs to finish a portrait and her model can't make it to pose. To both of their surprise, wearing the clothes awakens something in Einar that he had long repressed—Lili.
The film is quite timely for its focus on a transgender protagonist, as trans issues have gotten significant attention lately with Caitlyn Jenner's emergence as a public figure and the greater visibility of trans characters in pop culture, with series like Orange Is the New Black and Transparent. The film is also timeless, however, for its deeply human story. "We all have blocks in ourselves between us and the true version of ourselves, whether it's shyness, insecurity, addiction, depression," Hooper said. "But to not identify with the gender you're assigned at birth, surely, is the most profound of blocks I can imagine a human being facing."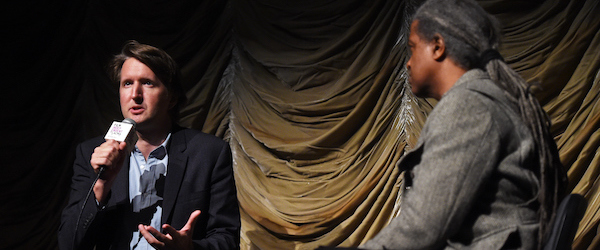 Hooper said he "fell in love" with Lucinda Coxon's script seven years ago while he was working on The King's Speech. He first met Redmayne when the actor had a small part in his 2005 miniseries Elizabeth I, starring Helen Mirren. (Redmayne also played Marius in Hooper's 2012 musical Les Misérables.) "Most English actors are in some kind of dialogue with their own reserve or they're emotionally repressed—not like English directors, I assure you," Hooper said. Redmayne's "extraordinary, raw performance" on that project 10 years ago made Hooper decide he wanted to cast him in a starring role someday.
In addition to identifying his future leading man, Hooper learned something else on Elizabeth I—from Mirren. "The really great actors come to the set with a vision of what they want to do," he said, "and if you don't at least give them the chance to do it once, you'll never know what that was."
It's an approach that's worked for him ever since. In addition to Redmayne and Vikander's stunning performances in this most recent effort, both of his last two films, Les Misérables and 2010's The King's Speech, have won acting Oscars.
Film Independent Curator Elvis Mitchell observed a connection between The Danish Girl and those two movies, calling them a trilogy of sorts. "There is something interesting at the center of all three movies; the films speak about the transformative possibility of being loved," Hooper acknowledged. "Given the time [The Danish Girl is] set in the 1920s, where there was no sort of road map of transition, I think it was only this extraordinary marriage and this love in that marriage that created the space for that transformation to be possible."
The Danish Girl hits theaters November 27.
Mary Sollosi / Film Independent Blogger