True Best: Meet the 10 Projects and 21 Fellows Joining Our 2022 CNN Docuseries Intensive
The occasional Squid Games aside, it appears increasingly that the content type most likely to animate water cooler conversation on a mass scale are serialized, nonfiction narratives. Whether true crime investigations, forensic snapshots of major world events, deconstructions of institutions and systems, athlete and artist biographies or even—yes—reality shows, our perplexing IRL existence continues to provide compelling characters and captivating drama.
Why, then, does there seem to be a lack of great networking and development resources for emerging docuseries creators?
Enter Film Independent's third annual Docuseries Intensive—a three-day remote workshop starting today, aiming to give filmmakers the tools and access need to develop and present their nonfiction series to potential collaborators, broadcasters and distributors.
Supported by Founding Sponsor CNN Original Series (Anthony Bourdain: Parts Unknown, Stanley Tucci: Searching for Italy), the Intensive helps Fellows walk away with a deeper understanding of the industry through executive and peer mentorships, creative workshopping and industry networking.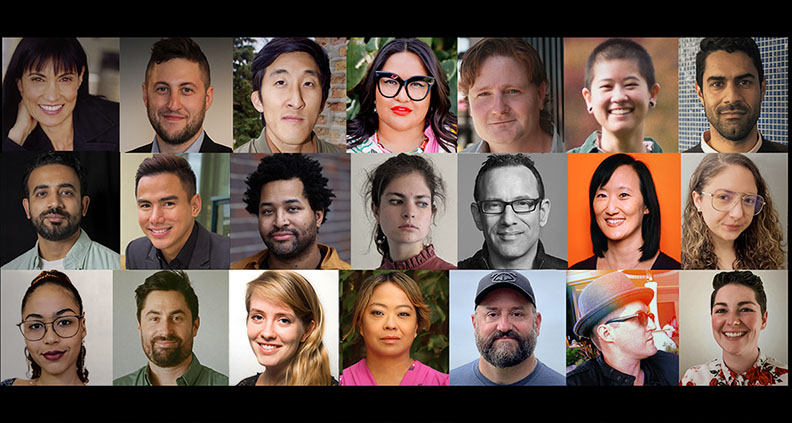 "We're thrilled to be partnering again with CNN Original Series to provide opportunities to filmmakers telling compelling true stories," says Daniel Cardone, Manager of Nonfiction Programs for Film Independent. "This year's Fellows are creating episodic documentary content that encompasses a huge range of topics and styles, exploring physical, emotional and political landscapes."
2022 Docuseries Intensive Creative Advisors and Guest Speakers include: Andie Beckerman (House of NonFiction), Nick Cammilleri and Zackary Drucker (The Lady and the Dale), Nancy Glass (Glass Entertainment Group), Jodi Gomes (Malfunction: The Dressing Down of Janet Jackson), Sarah Hoberman (Trilogy Films), Domini Hofmann (Watergate: Blueprint for a Scandal), John Marks (Fiasco), Liz Massie (Discovery), Tyler Measom (Murder Among the Mormons), Eric Neuhaus (Glass Entertainment), Ted Passon (Philly DA), Maureen Ryan (Columbia University), Courtney Whitaker (SpringHill Company), Steve Yaccino (Left/Right) and Fay Yu (Part2 Pictures).
The 2022 Docuseries Intensive projects are:
Title: EJ Lee: All American
Director: Jason Rhea
Producers: Razi Jafri, Cindy Martin
Logline: Before Jeremy Lin and Yao Ming, there was Eun Jung Lee. EJ Lee: All-American is a documentary that follows the "Korean Magic Johnson" and her quest to become a great collegiate head coach.
Title: Fruitbowl: An Oral History of Queer Sex
Director: Dave Quantic
Editors: Bayley Boecker, Danny Tayara
Logline: Fruitbow is an interview-driven docuseries that explores the many ways queer people discover their sexual preferences and identities.
Title: The Long Rescue
Writer: Jennifer Huang
Producer: Jethro Patalinghug
Logline: The Long Rescue follows Filipina teen sex trafficking survivors for six years in an intimate journey of recovery. Can they overcome a callous society—and their embodied trauma—to thrive?
Title: Lust on Earth: The Global Cultures of Infidelity
Director: Michael LaPointe
Producer: Dara Diaz
Logline: In this stunningly candid exploration of infidelity, adulterers and victims of unfaithfulness in 40 countries break their silence to compare norms, laws and taboos while also revealing their own personal escapades.
Title: Never Too Late
Director: Nancye Ferguson
Logline: Never Too Late is a compelling, heartwarming and humorous five-part docuseries that follows single seniors as they explore and navigate the unpredictable world of love, dating and relationships at this late time of their lives.
Title: No Handicap
Director: Derek Dabkoski
Producers: Ian McClellan, Paige Draney
Logline: Disabled players and their allies are finding ways using advocacy and technology to fight stigmas and enact change to make electronic gaming accessible to a community neglected by game developers.
Title: Proxy: The Cold War We Weren't Taught in School
Creator/Executive Producer: Melinda Pinecone
Executive Producer: Marc Smolowitz
Logline: Proxy chronicles eight of America's covert regime change operations of the Cold War. Animated recreations, archival footage and narration from world-class writers bring stories of covert warfare to life.
Title: Uvalde
Writer/Director/Producer: Marissa Díaz
Logline: Uvalde becomes the site of nationwide interest when a teenage gunman opens fire inside Robb Elementary School, killing 19 students and two teachers while 376 law enforcement officers wait outside.
Title: Vs. Goliath
Director/Co-Creator: Nate Birnbaum
Producers: Marielle Olentine, Pulkit Datta
Logline: A retired schoolteacher, a former oil refinery worker, a veteran and a group of Indigenous students make up a diverse coalition of activists from across the country fighting to protect their homelands from further destruction by the fossil fuel industry. Together, rooted in their faith, deep commitment and service to their communities, they stand firm in the shadow of Goliath, refusing to back down.
Title: You Don't Know My Name
Director: Tommy Franklin
Logline: After being separated from his incarcerated mother at birth, the filmmaker searches for her while coming to grips with his own identity as a parent and Black man in America.
"CNN Original Series is proud to partner with Film Independent on this enduring initiative to showcase and support emerging voices in the nonfiction community," said Amy Entelis, Executive Vice President, Talent & Content Development, CNN Worldwide.  "We're impressed by the projects helmed by these diverse voices and look forward to helping them bring their creative visions to life." This year's Episodic Lab Fellows are: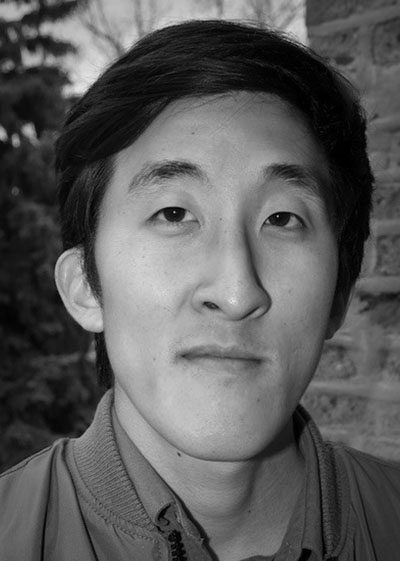 Jason Rhee (director, EJ Lee: All American)
Jason Rhee is a Korean-American filmmaker with a passion for telling stories centered around his childhood and the AAPI community. Jason was selected as a Conan script intern and writers' PA as well as The Onion's intern, contributor and writer's assistant. With a background in screenwriting and comedy, he helped create three one-woman shows with comedian Kellye Howard, including sold-out run at the Steppenwolf Theater. Jason is currently workshopping a documentary about the female "Korean Magic Johnson" through the Kartemquin DVID fellowship. He is a proud member of the Asian American Documentary Network and the Writers Guild of America.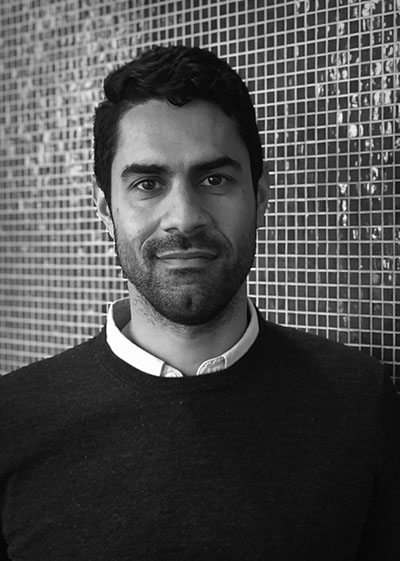 Razi Jafri (producer, EJ Lee: All American)
Razi Jafri, producer of EJ Lee: All American, is a Detroit-based documentary filmmaker. His work focuses on race, religion, immigration, democracy and the changing cultural landscape in America. Razi's documentary films include Hamtramck, USA, which made its world premiere at the SXSW Film Festival (2020), Ashura in Detroit which premiered at the Freep Film Festival (2021) and The Moon on My Uniform, a 2022 ITVS grantee and currently in post-production anticipating a PBS broadcast in the Fall of 2023. Razi holds a Bachelor's degree in engineering and an MFA, both from the University of Michigan.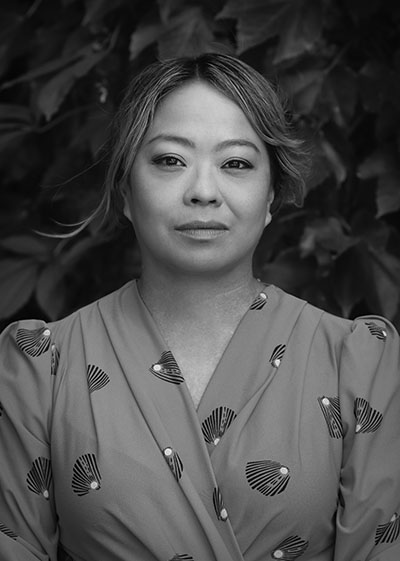 Cindy Martin (producer, EJ Lee: All American)
Cindy Martin is an award-winning Filipina-American documentary filmmaker from Chicago committed to enhancing voices from underrepresented communities, with a focus on BIPOC and women's stories. In 2022, she was named a Diverse Voices in Docs Fellow at Kartemquin. Cindy received a Bachelor's in Broadcast Journalism from the University of Illinois. Before docs, she lived and worked in London and LA as a Producer/Reporter/Cameraperson for over 20 years for video news outlets: Reuters, AP, Getty, ABC and Sky. She is a member of the Sundance Institute, A-Doc, AAJA, IFA, Mezcla and Doc Chicago.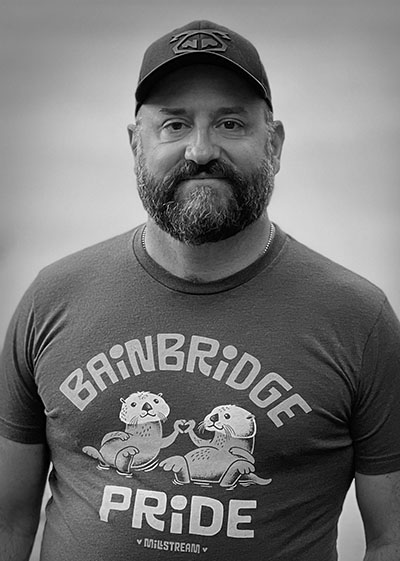 Dave Quantic (director, Fruitbowl: An Oral History of Queer Sex)
Fruitbowl creator Dave Quantic is a graduate of UCLA's MFA Film Directing program and is a veteran queer filmmaker, having produced over 20 queer shorts in the last two decades. Dave's films have been shown at every major queer film festival in the US including NewFest, Frameline and 11 different Outfests as well as Palm Springs International, Provincetown International, Ann Arbor and HUMP. He is currently the senior video editor for the Crosscut news website and KCTS 9, Seattle's PBS affiliate. You can view his portfolio at davidquantic.com.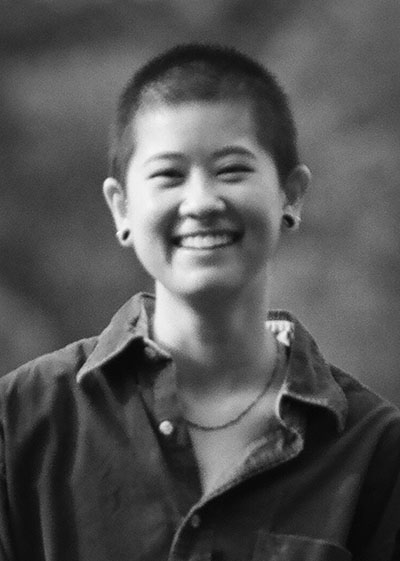 Bayley Boecker (editor, Fruitbowl: An Oral History of Queer Sex)
Bayley is a young, queer, nonbinary video editor based in Brooklyn, NY. They are passionate about storytelling and uplifting queer voices. In their free time, they enjoy watching movies, reading and hanging out with their partner and cat.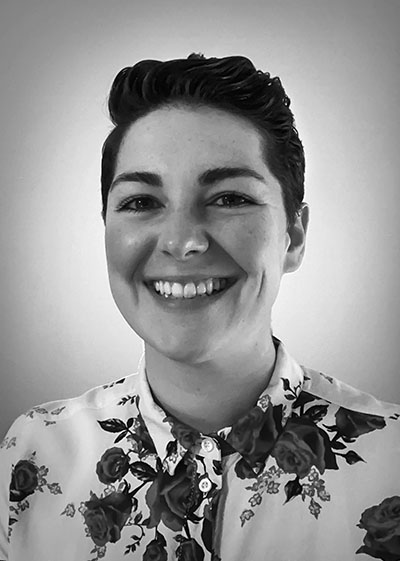 Danny Tayara (editor, Fruitbowl: An Oral History of Queer Sex)
Danny is a queer designer, filmmaker and animator in Seattle. Their films have screened in 15 countries, earning notable awards including "Judge's Pick" at UW Climate Change Film Festival, "Most Controversial Film" at Queersicht Film Festival and Best Documentary at the Roving Eye International Film Festival. After working as Festival Director for the Seattle Queer Film Festival, they received their B.A. in Film Studies from Seattle University, focusing heavily on scientific film, data visualization and XR. They also illustrated the book Clitaurus Chronicles. Danny is currently Production & UX Research Director at VR Ulysses. Learn more about their work at dannytayara.com.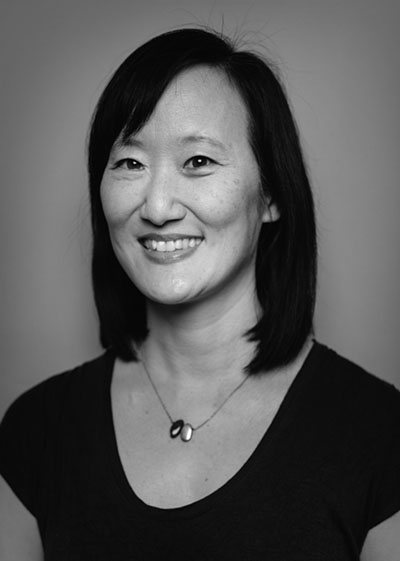 Jennifer Huang (director, The Long Rescue)
In 17 years of production, Jennifer has been detained in Papua New Guinea, leapt from a crashing snowmobile in Colorado and been saved from a sinking boat by Filipino fisherpeople. She is currently directing The Long Rescue, following trafficking survivors in the Philippines, and distributing her first short documentary, This Adventure Called California. Previously, she co-produced From Baghdad to the Bay and Standing on Sacred Ground. At Lucasfilm, wrote and produced Harlem's Hellfighters: Black Soldiers of World War I. Other projects include the American Masters documentary, Jacques Pepin: The Art of Craft and Free for All: Inside the Public Library.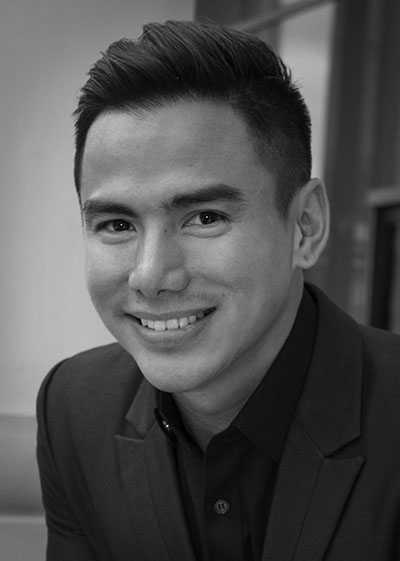 Jethro Patalinghug (producer, The Long Rescue)
Jethro's first feature documentary film, 50 Years of Fabulous, premiered as the opening film at QDocs Film Festival. He was a fellow for the National Media Maker 2016 Program at Bay Area Video Coalition for his film #MyNameIs. His documentary My Revolutionary Mother was cited as the best documentary film in the Philippines for 2015 9 by pinoyrebyu.com. Jethro has also produced content for CSAA Insurance Group, Bluewolf, an IBM company, NextGen Climate, Google Street View and MTV Philippines, among others. Jethro is also known as the drag persona "Virginia Please" on TikTok and teaches queer and trans representation.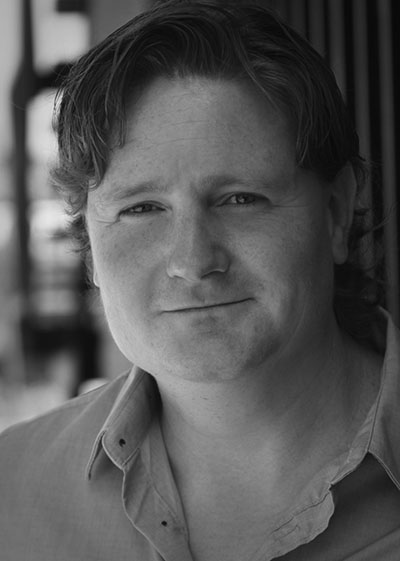 Michael LaPointe (director, Lust on Earth: The Global Cultures of Infidelity)
Michael LaPointe is an Emmy Nominated Video Editor and Producer/Director. He has provided content for Sony, Fox, WB Records, Syfy, Showtime and many others. The least expensive project Michael has been involved with: The Blair Witch Project. The most expensive: Ghostbusters (2016). The mean (average): The Americans. Michael has filmed quadruple amputees, snipers, the occasional movie star and sunsets. He has made trailers and sizzly things for clients ranging from Steve Harvey to Harry Potter.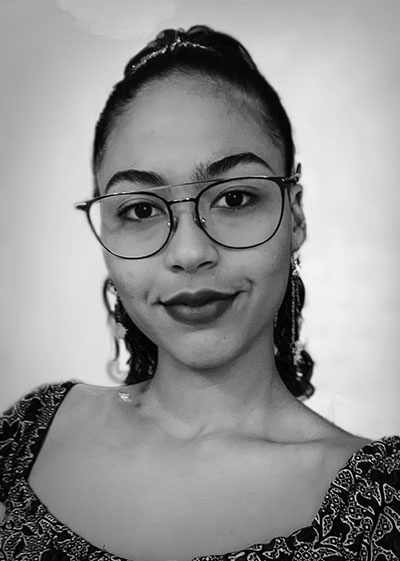 Dara Diaz (producer, Lust on Earth: The Global Cultures of Infidelity)
Dara Diaz was born and raised in Nicaragua. She's currently working as an Associate Producer in Los Angeles, California. Nicole has directed multiple award-winning short narratives and a short documentary, which have premiered at international film festivals in Latin America and Los Angeles. She conducts a documentary summer camp for rural children in her home country and creates nonprofit organization social media films. She has five years of experience in grant writing, fundraising and community outreach. She is ambidextrous and enjoys solving Rubik's cubes.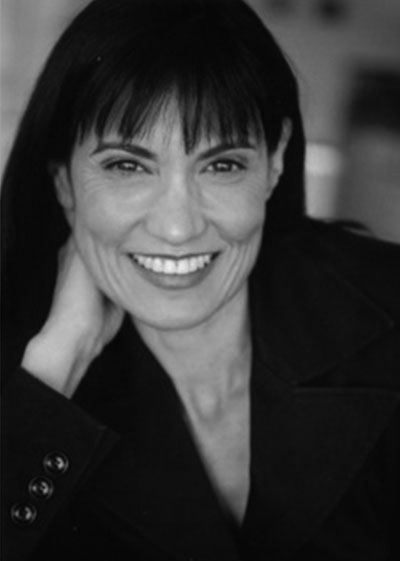 Nancye Ferguson (director, Never Too Late)
Through her company Atomika, Nancye created, developed, produced and directed both television and feature film projects for Disney, Nickelodeon, Noggin, Fox, Fox Family, MTV, Lionsgate, Klasky Csupo, Film Roman, Columbia Pictures Television and others. Nancye produced, wrote and co-directed her first award winning and critically acclaimed documentary feature Robert Williams Mr. Bitchin with Rhino Films,now streaming on Amazon. Recently, Nancye directed and produced an award-winning documentary short, SUE about how her now 103-year-old mother found love at 97 through online dating.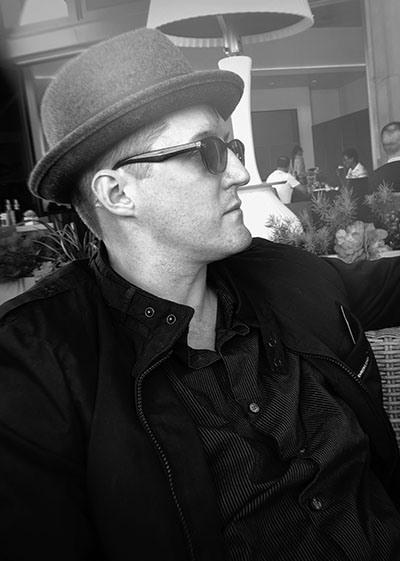 Derek Dabkoski (director, No Handicap)
A native of San Francisco, Derek Dabkoski is an award-winning filmmaker whose projects have screened at festivals around the world, including the San Francisco and Vancouver International Film Festivals, the SF Doc Fest, Imagine Science Film Festival, Portland Film Festival and Oaxaca FilmFest. He completed his undergraduate degree from NYU despite a physical attack that left him permanently paralyzed on his right side. He achieved his MFA from USC's School of Cinematic Arts in film and television production, where he pursued his dream of telling stories about the underserved disabled community of which he is a part.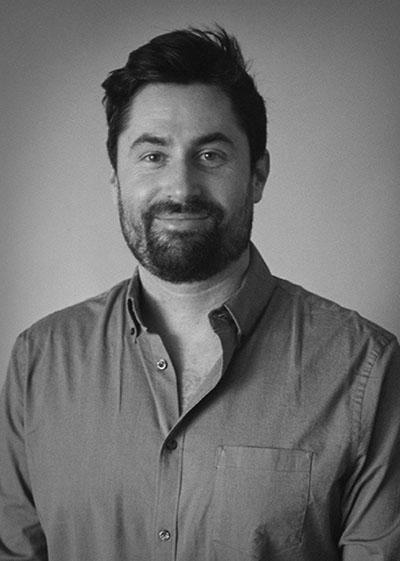 Ian McClellan (producer, No Handicap)
Ian McClellan started as a company electrician on the 2012 Sundance Grand Jury Prize-winning film Beasts of the Southern Wild. He went on to associate produce for Academy Award-winning filmmakers Rob Epstein and Jeffrey Friedman on their documentary The Battle of AmfAR (premiered Sundance 2013). He earned his MFA at USC in film and television production in December 2016. The last thesis he produced, Lalo's House, won a Student Academy Award in 2018. He now runs commercials and narrative content from his production company Island Time Pictures. His feature film Derek Changes His Mind is currently in the festival circuit.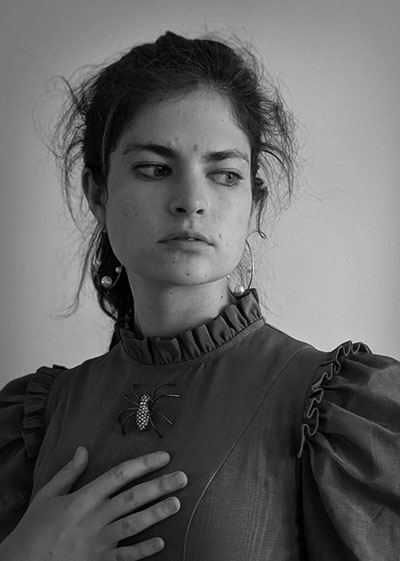 Paige Draney (producer, No Handicap)
Paige Draney earned her B.F.A. in costume design from the California Institute of the Arts and went on to design The Tin Can Brother's Wayward Guide, Neutrogena and the Ghetto Film Schools short film En Avant and Open Screenplay's award-winning short film Kin. She began producing after the pandemic, making the short films Cricket and It's Just True and line producing numerous music videos and commercials. Paige is currently associate producing the feature film First Gens, shooting this fall. She looks for stories that capture the whimsy and sincerity of the human heart.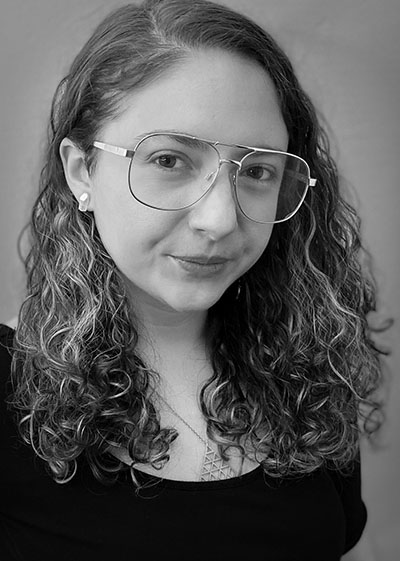 Melinda Pinecone (creator/executive producer, Proxy: The Cold War We Weren't Taught in School)
Melinda Pinecone is a producer/editor and activist from Brooklyn, NY. With a career in documentary filmmaking and advertising, Melinda aims to create media that captivates a wide audience and sparks political change. Melinda's documentary credits include: co-producer/editor of Ezinma (Tribeca, 2021), additional editor of The Big Payback (Tribeca, 2022) and Arming Sisters (Big Sky, 2020), associate producer/editor of Jackson Pollock: Blue Poles (DOC-NYC, 2019), associate editor of Netflix's Who Killed Malcolm X? and assistant editor of HBO's King in the Wilderness (Sundance, 2018). Melinda's commercial credits include spots for Intel, Neutrogena, Aveeno, Kroger, Pure Leaf and Merck.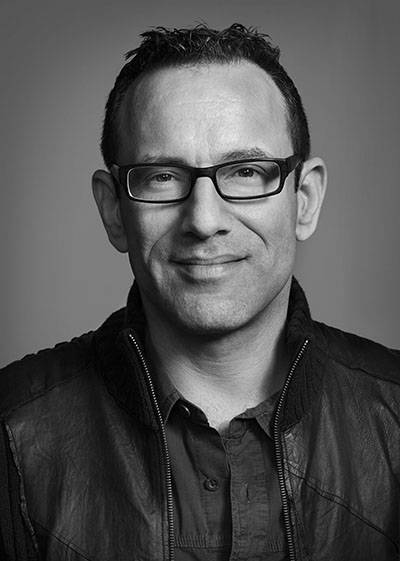 Marc Smolowitz (executive producer, Proxy: The Cold War We Weren't Taught in School)
Marc Smolowitz is a multi-award-winning director, producer and executive producer. He has been significantly involved in 50+ successful independent films. The combined footprint of his works has touched 250+ film festivals and markets on five continents, yielding substantial worldwide sales to theatrical, television and VOD outlets, notable box office receipts and numerous awards and nominations. His films have screened at top-tier festivals including Sundance, Berlin, Venice, Tribeca and Locarno, among others. In 2016, he received the prestigious Gotham Fellowship to attend the Cannes Film Festival's Producers Network, marking him as one of the USA's most influential film producers.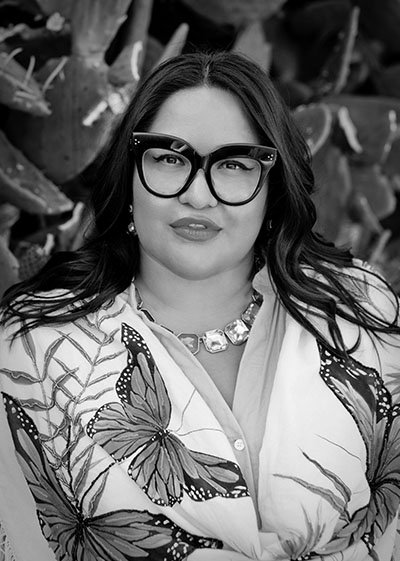 Marissa Díaz (writer/director/producer, Uvalde)
Marissa Díaz is a Tejana writer, director and producer working in scripted and unscripted film and television. Currently, Marissa is writing and producing a feature documentary for Netflix. She worked on Girls (HBO), produced queer teen series Generation (HBOMax) and wrote Welcome to the Blumhouse Live (Blumhouse, Amazon Studios). Previously, she worked at Lena Dunham's Good Thing Going, Fox Searchlight, MGM Studios, Bravo TV, Martin Scorsese's Sikelia Productions and The Weinstein Company. Marissa is a Film Independent Episodic Lab Fellow, a Film Independent + CNN Original Series Docuseries Intensive Fellow, and a Producers Guild of America Create Fellow.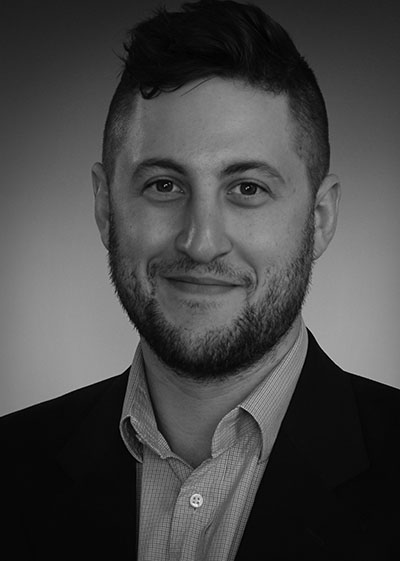 Nate Birnbaum (director/co-creator, VS. Goliath)
Nate Birnbaum is an award-winning documentary filmmaker and writer. He has dedicated his career to environmental and climate-storytelling, starting at the D.C. Environmental Film Festival, then as producer and co-founder of the award winning nonprofit film production company The American Resilience Project. He is now a director and producer at Tikkun Olam Productions. Since 2018, Nate has been developing and producing Tikkun Olam's forthcoming feature documentaries Generation Green New Deal and Israelism. Nate is currently focused on directing and producing VS. Goliath, a documentary series he co-created at Tikkun Olam Productions in partnership with Fossil Free Media.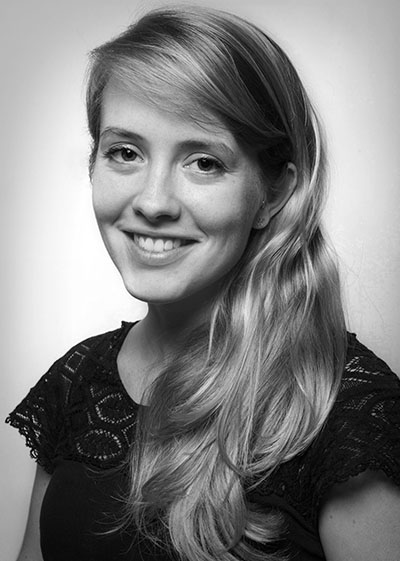 Marielle Olentine (producer, VS. Goliath)
Marielle Olentine is a filmmaker championing regenerative approaches to documentary storytelling. Her work has appeared on VICE, Al Jazeera, Huffington Post, and HBO and at TIFF and SXSW. She began her career assisting director Erin Lee Carr on doc projects including Thought Crimes and Mommy Dead & Dearest. Her upcoming Palestinian-directed film Three Promises has won Doc-in-Progress awards at Cannes Marché du Film, AIFF, and MAFF. As Co-ED of Tikkun Olam Productions she's developing feature docs Generation Green New Deal & Israelism. Vs Goliath is her first docuseries. Marielle's an alum of SFFILM's Catapult Documentary Fellowship & Gotham's Documentary Lab.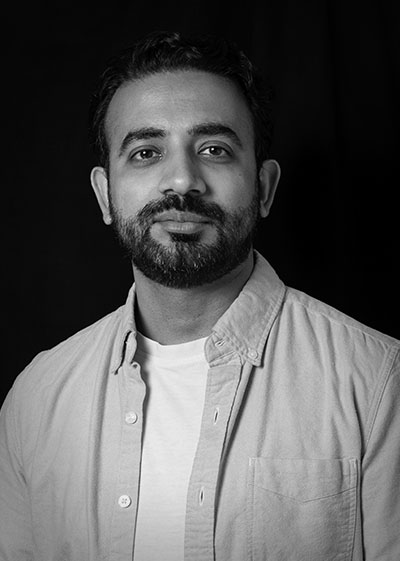 Pulkit Datta (producer, VS. Goliath)
Pulkit Datta is a filmmaker with experience on a wide range of international projects, including narrative films of various genres, documentaries, commercials and music videos. His films have screened at festivals such as Toronto, Tribeca, Atlanta, Cleveland, Cinequest, LAAPFF and InsideOut. He produced the award-winning short documentary Do We Belong? (The Atlantic, NBC Digital), feature doc Invisible, award-winning sci-fi shorts Doppelbänger and Coming Out with the Help of a Time Machine and magic realism short Beast (executive produced by Indeed and Lena Waithe's Hillman Grad Productions). Pulkit was also a Fellow at Center for Asian American Media and Impact Partners.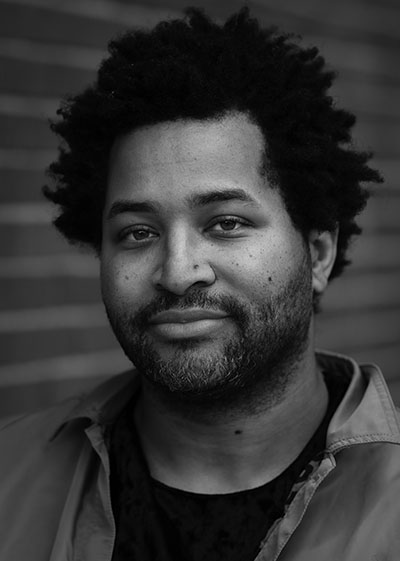 Tommy Franklin (director, You Don't Know My Name)
Tommy Franklin is a filmmaker, writer, producer and the creator of the Weapon of Choice podcast and Special Menu Productions. He's a 2020 Sundance Short Documentary Film Fund Grantee, 2020 Kartemquin Diverse Voices in Docs Fellow, 2020 SPNN New Angle Docu Fellow, Metropolitan Regional Arts Council 2020 Next Step Awardee, a 2021 Jerome Foundation Film Production Grantee and was a finalist for 2021's Sundance Episodic Lab. He is currently a mentee in the 2022 Sundance BIPOC Mentorship Program. A survivor of incarceration (born in prison and having served time in adulthood), Franklin radically reimagines power structures, focusing on abolition and Black liberation.
Film Independent promotes unique independent voices, providing a wide variety of resources to help filmmakers create and advance new work. Become a Member of Film Independent here.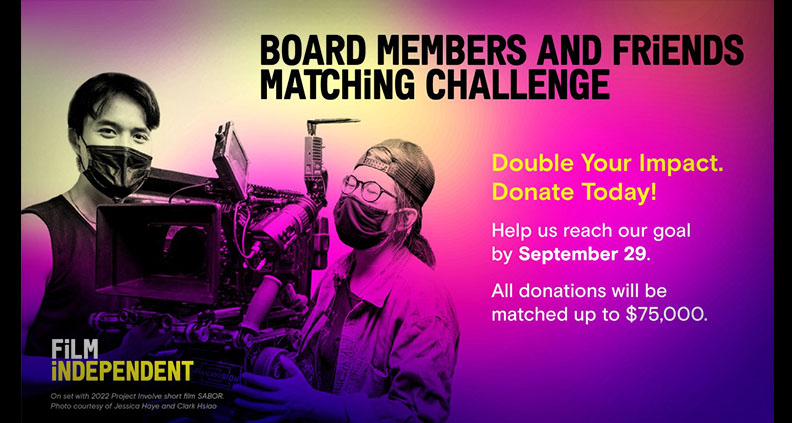 Film Independent promotes unique independent voices by helping filmmakers create and advance new work. To become a Member of Film Independent, just click here. To support us with a donation, click here. Your donation–and impact–will be doubled through our Board Members and Friends Matching Challenge, available through September 29.
Keep up with Film Independent…