Unveiling the Official 2017 LA Film Festival Poster with Artist Yoskay Yamamoto
This year's LA Film Festival doesn't officially begin until June 14. But you'll start getting to know about it soon enough, thanks to the peaceful visage of a smartly dressed, baby blue moon creature benevolently hovering above the City of Angels on billboards and bus benches from Silverlake to Santa Monica. That's right: Festival season kicks off today as we unveil the official 2017 LA Film Festival poster—created by Japanese-born, LA-based artist Yoskay Yamamoto.
Following on the acrylic-splattered heels of such past Festival poster artists as Ed Ruscha, Noah Davis and Carolyn Castaño, Yamamoto's design is yet another in long tradition eye-catching images meant to capture the uniqueness and diversity of both the Festival and Los Angeles itself.
"I'm thrilled to have Yoskay Yamamoto as this year's Festival artist," said Jennifer Cochis, LA Film Festival Director. "I immediately fell in love with his work and was drawn in by its dreamy, story-like qualities. I'm excited for people to see his work around the city in the lead up to the Festival." So here it is: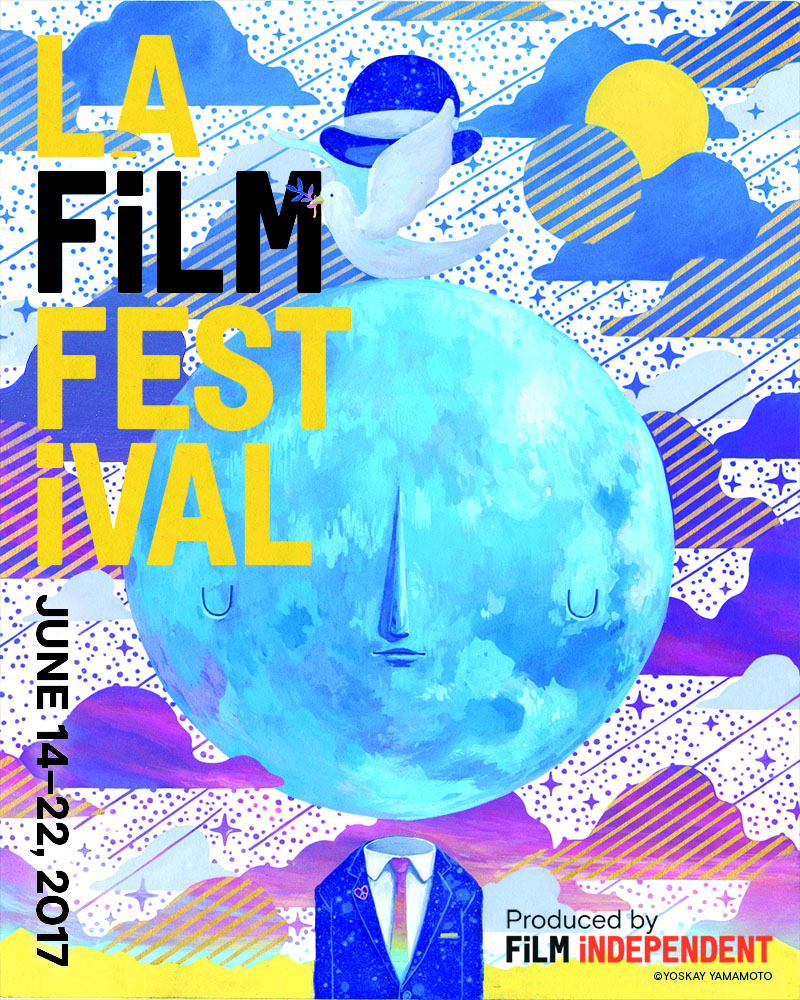 We recently caught up with Yamamoto at his home studio in Long Beach to talk about his approach to designing this year's poster, what makes the moon such a fun image to draw, Manga and much, much more. Here's the conversation:
YOSKAY YAMAMOTO
How did you become involved with designing the poster for the 2017 LA Film Festival?
Yamamoto: My friend Kate has been helping at the Giant Robot gallery, where I do my exhibitions in LA. She helped me connect with her friend, Jennifer Cochis, and Jennifer liked my work. That's kind of how we got connected. This is the type of project I really enjoy doing. There's not much art direction. Jennifer was really generous, so I had complete freedom as long as there wasn't anything offensive.
Tell me a little about the poster itself.
Yamamoto: I wanted to make something that was playful, fun, whimsical, peaceful. A peaceful image was something that came up in my head, because I feel like it's such a weird, chaotic time right now. I know this is going to be shared in public so if it's going to be in the view of audiences, I wanted to make sure that I was creating and image that was peaceful and playful so people could connect and relate to it.
Why choose the moon as a central image?
Yamamoto: Part of the reason is because I feel like [the moon] is gender-neutral—even though some cultures believe "Luna" is more feminine and goddess-like. I've always liked the moon because it has a unique muse quality. It gives off creative energy, especially when I'm painting late at night. When I was little, I used to think everyone had a moon. Because everywhere I went, the moon followed me; I thought it was my own personal moon. So I always had this personal connection to the moon. It has a simple shape and it's fun to paint. To me, the composition [of the poster] is very Japanese. In Zen culture they use a lot of circular shapes.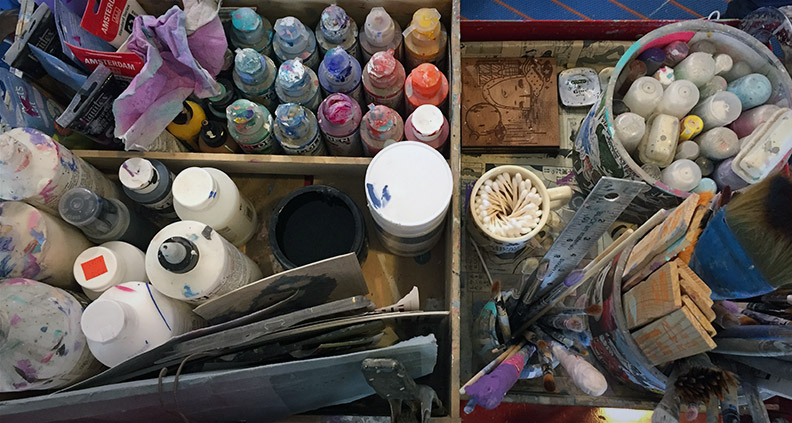 What's your background as an artist?
Yamamoto: I had my 10-year anniversary as a professional artist last week. Growing up I read Manga comics, so I always drew. When I got to the US, music flyers and skateboard graphics are what got me into urban culture. I met my mentor doing an internship during my last semester in college. Later, he was creating a show in Santa Barbara and included me as one of the artists. I sold a painting there for the first time. I realized, "Oh my god, this is something I can actually pursue and make a living out of!"
Who are your influences?
Yamamoto: I love Taiyō Matsumoto. He's definitely my favorite Manga artist. For the poster, Rene Magritte was an inspiration. I like the storytelling in his work, it just looks like a surreal scene out of a movie. The poster is a combination of visual elements, textures and patterns that I really like. You can see that some parts are completely flat and the other part, you can see this gradual gradient of a sunset in the background. I studied graphic design, so I like adding graphic elements to my work sometimes. Then, it's just building layers and making sure the colors are working.
What are some of your favorite visuals or images from film?
Yamamoto: One director whom I always enjoy is Wes Anderson. I just think he has such a good stylistic composition and visual quality [to his films]. Even a telephone on the counter, I can see that he has a preferred shape and color. Everything seems like Wes Anderson's world. Nothing seems out of place and everything seems like it belongs there.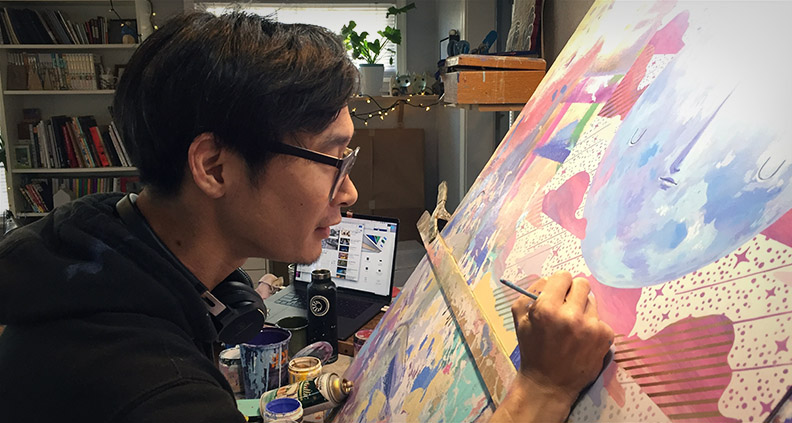 Do you have any favorite LA movies?
Yamamoto: I like The Big Lebowski. I think that's a great LA movie. [I like] Blood In, Blood Out, about Mexican gangsters. I used to live in East LA, so I had my phase of watching gangster movies. But living in LA kind of ruins the movie magic sometimes. I lived in North Hollywood, and when you see that movie Nightcrawler, you know that whole 15-minute car chase was shot within three blocks.
What are you looking forward to at the LA Film Festival this year?
Yamamoto: I just love seeing all those different films. Last year there was this short documentary called Tokyo. It had three different directors and I thought it was so great. I'm just looking forward to it because [the Festival] is one of those situations I get to discover. Everything is so accessible and convenient.
Are you excited that this poster is going to be up all over town?
Yamamoto: I still can't wrap my head around it. I told my mom, and I told my American mom about it, too. She gets way more excited about my stuff than I do sometimes. She was freaking out because she knows what a big deal it is. I told her Ed Ruscha did one [in 2017 -ed.] and she thought that was so great. It was kind of stressful in the beginning because I was thinking, "Holy shit, I'm going to be repping LA with my art!" I didn't realize this, but this might be the biggest gig of my career so far. But I'm happy. I love sharing my art. It gives me such joy.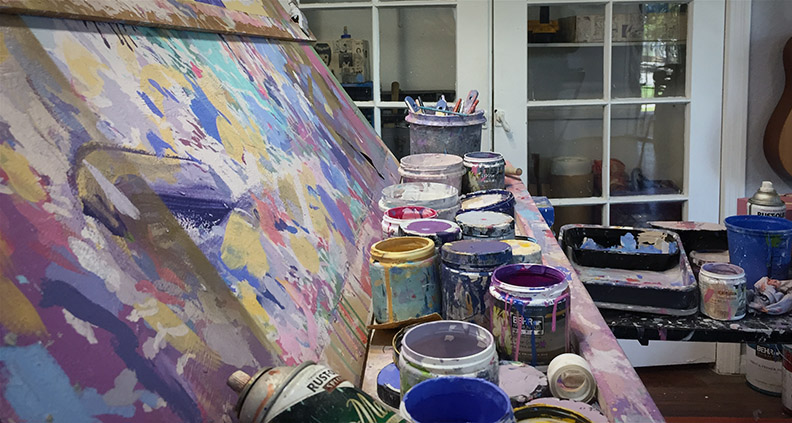 Festival passes go on sale to Film Independent Members beginning tomorrow at 10:00 am PT. Not a Member of Film Independent yet? Click here to learn about exclusive Member perks and savings at the Festival and join today.
Festival passes go on sale to the general public on April 25. The 2017 LA Film Festival will take place June 14-22 headquartered at ArcLight Cinemas Culver City, with additional screenings at ArcLight Hollywood and Santa Monica and more. Visit our website, stay tuned to this blog and follow us on Twitter, Facebook, YouTube and Instagram for more info.