VIDEO: 'We The People' and the Intersection of Art, Politics and Rebellion
Taking a quick look at the media landscape, it would be hard to argue against the idea that people's identities are currently being informed by a sense of social consciousness largely unprecedented since the turbulent end of the 1960s. It could be that this increase in engagement can be pegged to the results of 2016 U.S. Presidential election and movements such as Black Lives Matter and #MeToo. Or maybe these paradigm-shifting moments are themselves expressions larger social trends, finally reaching a concurrent boiling point.
Either way, we're just now seeing an explosion of politically minded cinema being produced for mass commercial consumption. Whether an explicit piece of rabble-rousing agit-prop like BlacKkKlansman, the civically inclined nonfiction of RGB or the subtler exploration of identity as an underpowered minority in Roma, politics and protest have suddenly found their way to the top of the call sheet.
Such was the focus at the Film Independent We The People panel "Get Up, Stand Up: Politics, Art and Rebellion"—taking place at the 2018 LA Film Festival in September mere weeks before the 2018 Midterm elections last year.
Moderated by Rolling Stone Senior Writer Jamil Smith, the panel included Rock the Vote Director of Policy and Civic Tech Jen Tolentino, Participant Media Chief Impact Officer Holly Gordon and actor/writer/poet Rafael Casal, co-writer and star (with Daveed Diggs) of the Film Independent Spirit Award nominated film Blindspotting. Watch the full panel below:
POLITICS, ART AND REBELLION
The role of the artist. Said Gordon: "Artists are like the canaries in the coal mine; often, they're the first to see a revolution on the horizon." Founded by eBay co-creator Jeffrey Skoll, the politically conscious production shingle Participant boasts a filmography chockablock full of social-justice-friendly titles such as An Inconvenient Truth, The Look of Silence and The Post, among others. She mentioned that often the filmmakers Participant partners with are working on their films several years in advance of their eventual release, which often seem to catch a particular cultural zeitgeist—speaking to the filmmakers' prescience.
Translating emotion into action. One of the big challenges? How to convert the passion an audience might feel after seeing a politically charged film into tangible civic action. For Gordon, it's about bridging the gap between community organizers and artists, building relationships between the two. And according to her, technology is helping bridge that gap. "Young people are born with a platform," she said. "This generation is incredibly altruistic," added Tolentino.
What sort of content is effective? There are as many different styles of approach as there are social issues themselves. But what sort of approach converts most directly into positive action? Says Casal: "Fear is infectious, but it's not desired. It's easy to lead with fear, but it's not a sustainable emotion to provoke." Tolentino concurred: "What actually mobilizes people is joyful, hopeful, communal, uplifting messaging"—not cynicism, she says.
Who gets to tell whose story? "How do we create authentic messengers?" asked Tolentino. The politics of which artist gets the tell the story of which individual or group is tricky—and best evaluated, the panel generally agreed, on a case-by-case basis. Gordon cited two recent Participant projects: America to Me, Steve James' 12-part documentary series about one year in the life of a Chicago high school, and Roma, Alfonso Cuarón's semi-autobiographical tale of a native female domestic worker in bourgeoisie Mexico City. Gordon said she was "grateful" for both projects (helmed by a white man and a Mexican man, respectively) but that "it's not where we need to land, ultimately" vis-à-vis empowering diverse creators to tell their own stories, while also conceding, "We can be quick to judge when it comes to the co-opting of stories."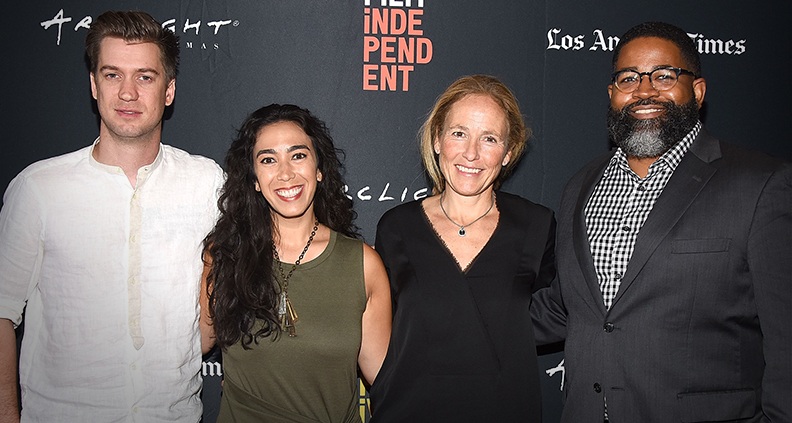 The Trump of it all. Smith brought up Donald Trump, and asked for the panelists' thoughts on the new president's relationship to online media. Said Gordon: "Our current President is a genius at messaging"—noting Trump's ability to use Twitter to rally his base and "get what he wants." Casal, too, speculated that the Trump's 2016 owed in large part to the candidate's ability to use narrative structure in his messaging—a tool that can be used in equal measure by the resistance. "Content is a tool that can be used at scale," Gordon said, adding: "We're in a battle for the future of the world that we want to see.
After Trump. Tolentino compared the Trump presidency to a forest fire. "It's damaging, but without it there's no new growth," she said, noting the influx of new and diverse candidates heading into the 2018 Midterms. "More people are paying attention [to the issues] now," she said, speculating that a Hillary Clinton win in 2016 likely would have yielded far less engagement. Regarding her work at Rock the Vote, Tolentino said: "We're constantly looking for and pursuing different messengers, to find people outside of our bubble."
Blind spots and "Blindspotting." Asked how his film—about two friends who find themselves in opposition along racial and criminal lines in modern-day Oakland, CA—speaks to the specific political moment, Casal said: "A boiling point has been reached where Blindspotting is commercial enough [to make]" based on the media exposure of issues explored in the film. "I'm happy the film got made, but I'm not happy it had to exist," he said, noting: "There's a political elements to the way art gets created and who gets to live on the main stage." 
A mirror, or an instrument? Says Tolentino: 'Its interesting to think of art as a tool for influencing politics. How does our culture reflect itself back in art, but also, how can art be leveraged to uplift people and break through the rhetoric?" The answer, of course, continues to be something explored both onscreen and off.
---
For more information about upcoming Film Independent events, click here. To learn more about our Film Education programs, click here.
To learn about Film Independent's own Artist Development labs, click here. Learn how to become a Member of Film Independent by visiting our website.